AT Days 72-75: Big Peaks in Southern Maine
This four day section of the Maine AT was packed with big peaks:  Saddleback, the Crockers, and the Bigelows.  Here's the daily summary:
Day 72 –

 

Piazza Rock Lean-to to Poplar Ridge Lean-to (9 miles)
Day 73 – Poplar Ridge Lean-to to Crocker Cirque Campsite (14 miles)
Day 74 – Crocker Cirque Campsite to ME Route 27 and Mountain View Campground (7 miles)
Day 75 – ME Route 27 to Safford Notch Campsite (11 miles)
Slices of Piazza
I absolutely loved my hammock spot at Piazza Rock shelter.  It was a nice flat spot very close to a bubbling stream.  Better yet, the weather forecast showed clear skies – so I'd go tarpless and feel the cool air as I looked up at the sky.
But all of that changed at about 1 AM when I felt …. raindrops??  What the ??? I launched into scramble mode, jumping down from my hammock with my headlamp on and scrambling to put up my tarp. I got the whole thing up in mere minutes, and it was my MMM (Most Memorable Moment) of the day.  I'd gone tarpless many times on my AT trek and had NEVER had rain fall.
I also must mention the memorable privy at Piazza Rock.  Wittily called "Your Move", it features two seats with a cribbage board in the middle, as you can see below:
Now I'm not sure what percentage of the earth's population desires to play cribbage while pooping with another person on a mountain ridge.  But in case you happen to get that urge, dear blog reader, you now know to go to Piazza Rock Shelter.
Spectacular Saddleback
I'd planned a short nine mile hike on Day 72 to accommodate a high peak climb over Saddleback Mountain and The Horn.  Both are Maine 4000 footers on an open ridge with amazing views.
The scenery did not disappoint, and I was glad to be able to spend ample time on each peak (and ridge mate Saddleback Junior) to really enjoy the views.
The thing that bugs me about Maine
Time for a little blog rant here.  There's SO much to like about Maine:
Miles of pristine green forests
Beautiful blue lakes and ponds
Cool evergreen shade over the trail
But man, the bugs in this state are simply off the charts!  I'm very familiar with New Hampshire's notorious black flies and mosquitoes – but the Maine versions are like street-tough fighters!  They do not give up once they find you!
And there are new types of bugs here I've never even seen.  As I set up camp on Day 72 at Poplar Ridge these tiny black beetle-like bugs started swarming on every clear, white, or bright colored surface.  As I cooked dinner with other hikers my green water bottle had dozens of these crawlies on it within a minute!
When hiking the bugs are somewhat subdued, but camp mornings and evenings almost require DEET and a bug mask!
Rain on the ridge
I found a wonderful airy hammock spot on a ridge that night, but promptly found out at 9 PM that it was also an ideal spot for thunderstorm winds to gust heavily.  I emerged dry and unscathed in the morning after a bouncy wild ride!
The new rain made for some beautiful waterfall views on the trailside rivers.  Although the morning was cloudy, my MMM of Day 73 was the blue sky that emerged as I climbed to the summit of Spaulding Mountain.
The hiking day ended with my arrival at Crocker Cirque Campsite, a beautiful location with three streams running through it.  Below is a close-to-sunset picture of the deep glacial cirque that abuts the site: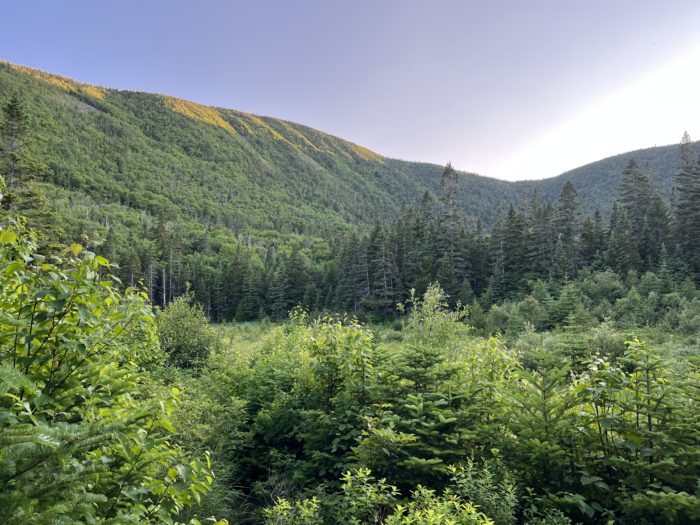 The Crockers, Trail Magic, and In-Town
Day 74 started with a steep ascent of South Crocker and North Crocker, two more Maine 4000 foot peaks.  As you can see from the shadowy picture below, I arose very early to knock these peaks off.  My goal that day was to quickly get down to the town of Stratton for resupply, shower and laundry.
And when I did manage to pop out of the woods at 10:30 AM what did I see? The biggest trail magic setup I'd seen yet!  Bricks (seated) and Chief had coolers of beer and soda, hot dogs, chips and snack cakes for passing hikers to enjoy!
I was overjoyed to woof down two hot dogs, a bag of Doritos and a Pabst Blue Ribbon before noon. I felt like I got my Fourth of July barbecue right there on the side of Maine Route 27!  Thanks to these guys and others who offer trail magic!
My lodging choice in Stratton was a bit unconventional:  I'd stay at hiker-friendly Mountain View Campground rather than a hostel.  It turned out to be a fantastic decision, as the camp's rec room had WiFi, a full kitchen, and showers and bathrooms.  After a trip to town for laundry and food, I'd hang out in the room for dinner.  I even made pancakes there the next morning!
Unfortunately I did have another "raindrops with no tarp" incident that night at 2 AM!  I was going to have to be more cautious with the weather here in Maine.
The Bold Bigelows
My route on Day 75 would take me to the top of two 4000 foot peaks in the Bigelow range.  These peaks provided incredible views of where I'd just been and where I was headed next.  Check out this view of Sugarloaf, the big ski mountain:
I loved the ruggedness of the peaks in this range.  Check out Horns Pond in the picture below- it's a glacial tarn that sits right at the base of the two big Bigelows:
And as I hiked up these rocky giants they seemed to get more and more rugged.  It was a fantastic day high in the sky!
I'd hang my hammock that night at Safford Notch campsite and doze off pretty quickly.
These four days offered  some great views from high summits, and I also realized that the roughest of Maine's terrain was now behind me until I reached Katahdin.   That iconic mountain peak – which I had yet to catch a glimpse of – was still over 170 miles away by trail.
Affiliate Disclosure
This website contains affiliate links, which means The Trek may receive a percentage of any product or service you purchase using the links in the articles or advertisements. The buyer pays the same price as they would otherwise, and your purchase helps to support The Trek's ongoing goal to serve you quality backpacking advice and information. Thanks for your support!
To learn more, please visit the About This Site page.