AT Days 80-84: Maine's 100 Mile Wilderness
In order to reach Baxter State Park and Mount Katahdin, northbound AT hikers have to load up their packs for a one hundred mile hike without access to resupply or other trail services.  I've summarized my five 100 Mile Wilderness hiking days into a single post.  Here's the detail:
Day 80 – Monson cutoff to Long Pond Stream Lean-to (18 miles)
Day 81 – Long Pond Stream Lean-to to Sidney Tappan Campsite (23 miles)
Day 82 – Sidney Tappan Campsite to Antlers Campsite (25 miles)
Day 83 – Antlers Campsite to Rainbow Stream Lean-to (22 miles)
Day 84 – Rainbow Stream Lean-to Abol Pines Campground (15 miles)
Do I get bonus points for doing 103 miles?
In my eagerness to get to Monson (and depart the frustrating "hamster wheel" trail) I had taken the earlier of two trail exit routes to get to Shaw's.  That decision got me to a much-needed beer earlier on Day 78 but it would add three miles on Day 80 – as well as an extra 1.5 mile road walk.  All of my fellow NOBO hikers were starting further up the trail.
After the hostel's big hiker breakfast (yum!) I departed at 7:30 AM into a cool blue sunny morning.  I was sure that the residents of this lakeside yurt in Monson would also enjoy the beautiful day.  What a location!
About a half mile into my road walk a car stopped and asked if I'd like a ride to the trailhead.  The driver, a local resident, was himself an AT section hiker who went by the trail name E.T.  We had a great hiking conversation as he happily dropped me off in front of the AT sign.  It's truly amazing sometimes how "the Trail provides" for its hikers!
I'd zip through those first three miles and soon catch up with familiar faces such as Straps, Cakes, and Croaker.  The 100 Mile Wilderness stretch had begun!
Beauty at every turn
Most of my first two days within the 100 Mile Wilderness were an absolute delight.  Perfect hiking weather- sunny, clear, light breeze, high 60's – was the backdrop for incredibly beautiful scenery.  The trail offered rivers, ledges, and pristine ponds like this one:
Late in the afternoon of Day 80, Straps and I came across this piece of trail art.  A hiker wanted everyone to know that Mount Katahdin was 100 miles from that spot.  I certainly hoped to get my first glimpse of the mystical peak sometime soon.
As 5 PM approached I knew I didn't have the trail legs to take on the 1700 foot climb to Barren Mountain.  So I turned in at Long Pond Stream as my hiking colleagues pushed on up to four miles further.  I'd enjoy a restful night solo at the shelter under a thick veil of stars while the stream gushed pleasantly nearby.
23 and me
In the morning I attacked the trail before 6 AM with fresh legs and got some wonderful early ledge views:
My ascent of the 3.1 mile, 1700 foot rise to Barren Mountain took me just 90 minutes.  I'd determined that if I could pull off a 23 mile day over Day 81's rough terrain I'd be a lock to complete the 100 Mile Wilderness in five days rather than six.  That would enable me to set my Katahdin ascent day, which drove my shuttle, hostel and travel arrangements.   As of now all of this was undetermined.
I would ultimately complete that 23 mile stretch in one day.  My reward at Sidney Tappan Campsite would be one of the clearest, coldest springs I'd encountered thus far on the AT.  Such refreshing water!  You know, somebody ought to bottle water from these Maine springs – that might be a great business!
Katahdin proves elusive, holding its mystery
Despite forty miles of climbing up and down ledge-filled mountain peaks in my first two days, I'd not yet reached a place where the great peak of Katahdin could be seen.  This certainly adds to the mystery of the mountain, as it holds its own court far away from numerous other Maine peaks.  It's a stark contrast to New Hampshire's Mount Washington, which can be seen from many points all around the state on a clear day.
I thought that I'd glimpse the big peak on Day 82 as I'd scale White Cap Mountain, a 3000+ footer known for its Katahdin views.  But alas, early morning haze hung all around me.
My first-ever glimpse of "the big K" wouldn't occur until the morning of Day 83, and this cloud-filled vista would be my sole view of the day:
A later opportunity on Nesuntabunt Mountain was hyped as "a spectacular view" – but for me it was all clouds.  It was like the mountain didn't want to be seen!  This elusiveness just added to the anticipation of the pending climb for me.
Changes in bugs and terrain
As incredible as the weather and scenery had been for the first day and a half of this section, this had been topped by the complete disappearance of any pesky bugs.  It was almost magical!
Unfortunately, a deep descent to river-filled Gulf Hagas on Day 81 flipped the script.  In one single two-hour period that afternoon I had six black flies fly into my right eye!  So for Days 82 and 83 I had to again bring out the serious gear:
I'd actually wear my bug net while hiking most of both days – something that really detracted from the experience.  Instead of being a part of the surroundings I was viewing them through a filter, just as a video screen can't replicate being in a place.
The terrain had changed as well.  After climbing Little Boardman Mountain midday on Day 82, the next day and a half (over 40 miles!) would be flat as a pancake.  I'd never hiked such a long stretch without some type of climb.  How did I handle it?  Well, let me explain it through a food analogy.
Peppers and Onions and Mushrooms
I really like peppers and onions and mushrooms.  Sautéed and browned in oil, man – it's borderline love!  Just the smell of them cooking is incredible.  But I could never foresee myself putting the delicious veggies on a plate or a sub roll all by themselves.  To me, they are the perfect complement to a wonderful steak or hamburger, sausage, or even chicken (marsala!) – that's their perfect role.
I learned in that flat water-filled terrain of Day 82 and 83 that I feel exactly the same way about ponds, rivers, and bogs.  I view them as a perfect complement to mountain climbs, but for me, they can't be the main dish.  In short, I discovered that the mountains are the meat.  They are the reason I signed up for a 2,000+ mile journey.  I crave the steep climbs, the cool ridge breezes, the magnificent vistas – that's why I came here.
I discovered that the mountains are the meat.  They are the reason I signed up for a 2,000+ mile journey.
And when the meat was pulled off of my trail table, I found that my appetite for hiking waned.  Maybe there are a few "mountain vegetarians" out there that find rivers and ponds to be satisfying eating.  But I clearly was not one of them.
Now don't misconstrue from the above that there was nothing to see on the trail.  Even in this stretch there were incredibly beautiful places:
The Rainbow Stream Cascades were my Day 83 MMM (most memorable moment).  Quite simply they were one of the most beautiful areas of mountain waterfalls that I'd ever seen.
Likewise, Nahmakanta Lake also was a magical spot with its high sky and surrounding mountains:
Thinking deeply about the 100 Mile
Thunderstorms rolled in around 6 PM on Day 83, forcing me and the rest of the huge group of hikers at Rainbow Stream Lean-to into their shelters early.  As the raindrops bounced off of my hammock tarp above I reflected on my first four days in this storied "wilderness":  discovery, beauty, challenges, solitude, struggle, even a bit of emptiness.
It struck me then that the 100 Mile Wilderness is the act of commitment before the celebration event, like:
The season of Lent before Easter, a time of sacrifice and introspection
Traditions of fasting before a holy day, purifying the body and mind by purging
Walking across the long carpet towards the medieval king's throne, contemplating power and greatness
It's as if the Great Katahdin was asking us northbound hikers to prove our worthiness before climbing to the summit.
"Go ahead, prove that you can embrace wilderness in all of its forms without the worldly fallbacks of delis, hostels or pizza joints.  Prove it, and maybe you can ascend these mighty ridges."
Katahdin (and real food) appears!
Well, I believed that I'd proven myself worthy over the last four days – and it seemed like Katahdin agreed.  The rain having departed overnight, Day 84 was sunny and clear.  I'd have my MMM of the day with my first ever clear look at the massive peak from Rainbow Ridge: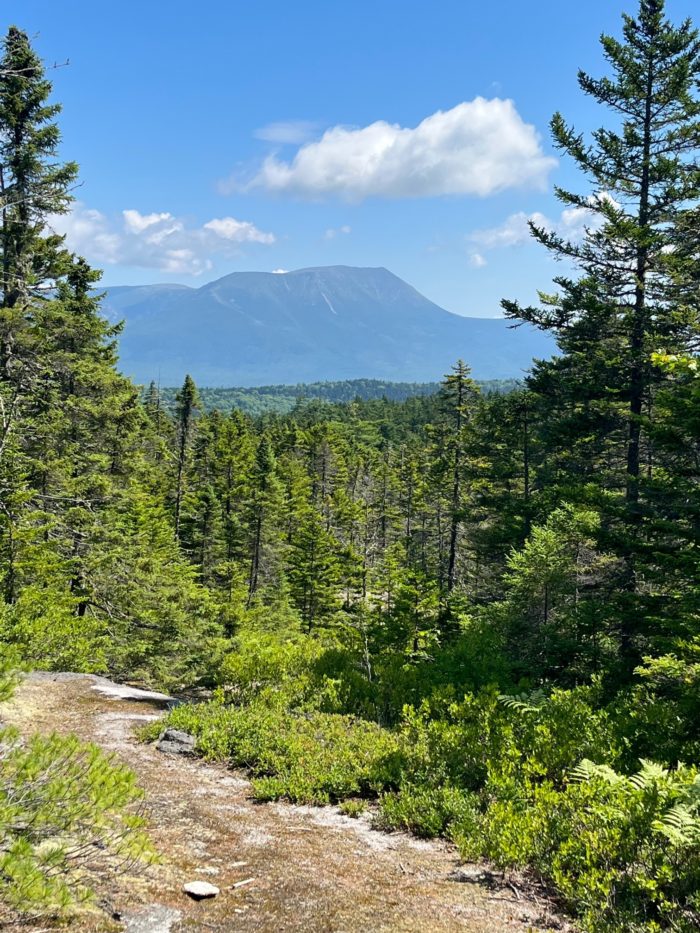 And an awesome closeup several miles later from Abol Bridge:
I'd reached Abol Bridge around midday.  After setting up my hammock at the state-run Abol Pines Campground, I'd head to the restaurant for chicken wings, a brisket sandwich, and of course a beer or two: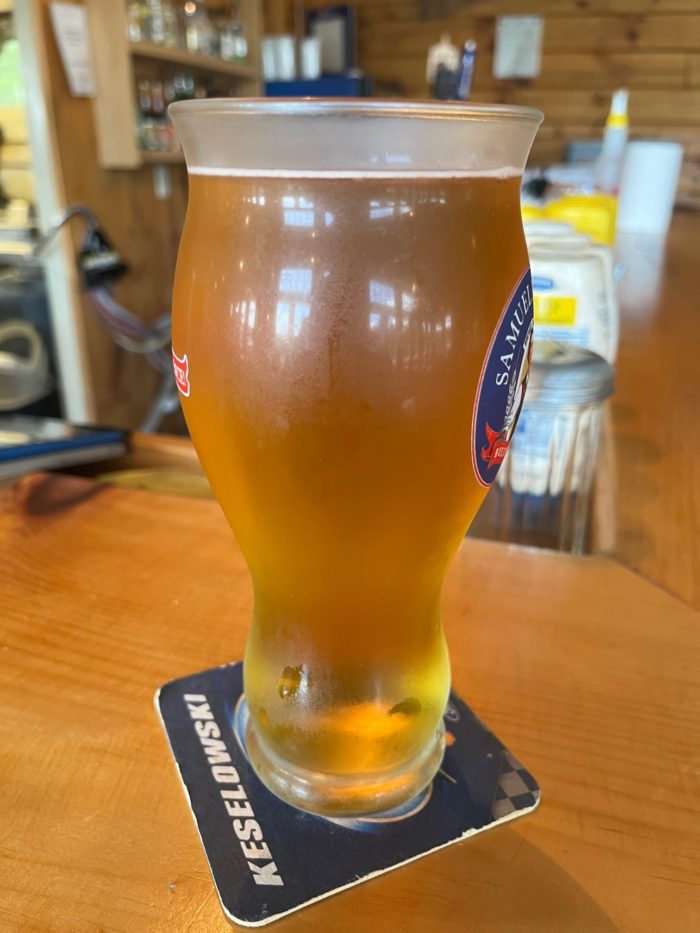 That's a Boothbay Brewing lager above.  As an IPA drinker I appreciated that it was a bit denser and chewier than most lagers.  And I'd finish it off with some absolutely scrumptious raspberry cheesecake chimichanga bites:
I'd be summiting Mount Katahdin in two days, and I felt ready to do so in mind, body, spirit, and now belly!  I hoped that I'd demonstrated my worthiness and commitment in the 100 Mile Wilderness, and that my upcoming climb would be glorious.
You, dear reader, will find out in my next post!
Affiliate Disclosure
This website contains affiliate links, which means The Trek may receive a percentage of any product or service you purchase using the links in the articles or advertisements. The buyer pays the same price as they would otherwise, and your purchase helps to support The Trek's ongoing goal to serve you quality backpacking advice and information. Thanks for your support!
To learn more, please visit the About This Site page.