AT Days 85-86: Katahdin delivers!
At the doorstep of Baxter State Park and Mount Katahdin, only two short hiking days remained to complete the northern half of my AT flip-flop hike.  Here's the summary:
Day 85 – Abol Pines Campground to The Birches (9 miles)
Day 86 – The Birches Campground to Mount Katahdin Baxter Peak (5 miles)
The Waiting Game
For NOBO AT hikers there's a bit of irony that plays out if you follow "the recommended process" in climbing Mount Katahdin.  It's the fact that after you've busted your tail with lots of 15, 20, and 25 mile days to get here, you are put through some gating steps where you wait and wait some more.
Now I completely understand the reason for such a process:  Baxter State Park is filled in the summer, and thru-hikers must be limited each day.  But as someone who has just gone through the process, I can say that it's a strange contrast to the typical AT pace.
The scene below shows many of our summit group waiting at 6:30 AM on Day 85 for an ATC representative to arrive at the sign-up kiosk at the Baxter State Park entrance.  This entire group slept about a half mile away at Abol Pines the prior night. In the foreground are Forest Dump, Ivy, Firecracker, and Straps:
The first 12 hikers in line by 7 AM get a camping spot at The Birches, a campsite 9 flat miles up the trail.  So my Day 85 consisted of just this short trip.  There were very few Katahdin views on this trail, but Big Niagara Falls was fairly impressive:
I ultimately found myself eating lunch at The Birches at 10:45 with the same group that I spent the afternoon with yesterday at Abol Pines.  And then simply waiting for the ranger to check us in.
When rain started to fall at about 1 PM, it turned what may have been an exploration day into a "stay in the hammock" day.  I spent a couple hours blogging and listening to Silversunpickups' Widow's Weeds album. I really think I was trying to generate some internal energy with some of the frantic tunes on that album.  Consider:
I'd done days of 18, 23, 25, and 22 miles to start the 100 Mile Wilderness.
Then I had a "stop at midday" 15 mile effort to Abol Pines.
Now I had a low energy 9 mile day with a "wait a day to summit" agreement.
Admittedly I was not handling the downshift in pace very well at that point.  Just let me climb!
A glorious summit day on the great peak
When dawn broke on the morning of summit day, I hungered for the climb – a starving tiger let out of his cage in a butcher shop.  I'd start climbing at 6:09 AM that day.
One other boost:  thru-hikers are encouraged to leave much of their pack weight at the base of the mountain.  Instead of hauling 30-35 pounds up the Hunt Trail, I felt like I could fly with just 12 pounds on my back.
The sign at the base noted 5.2 miles to the top:

But that also involved about 4200 feet of vertical gain.  I wasn't surprised at all to see this in front of me just 15 minutes into the hike:
Nor was I surprised to see this boulder-filled rise an hour later:
I do have to give some props to Papa Dump, who caught up with me early on the ascent and set a wicked pace up the rocks.  Here he is in action, with Garfield slightly higher up the pitch: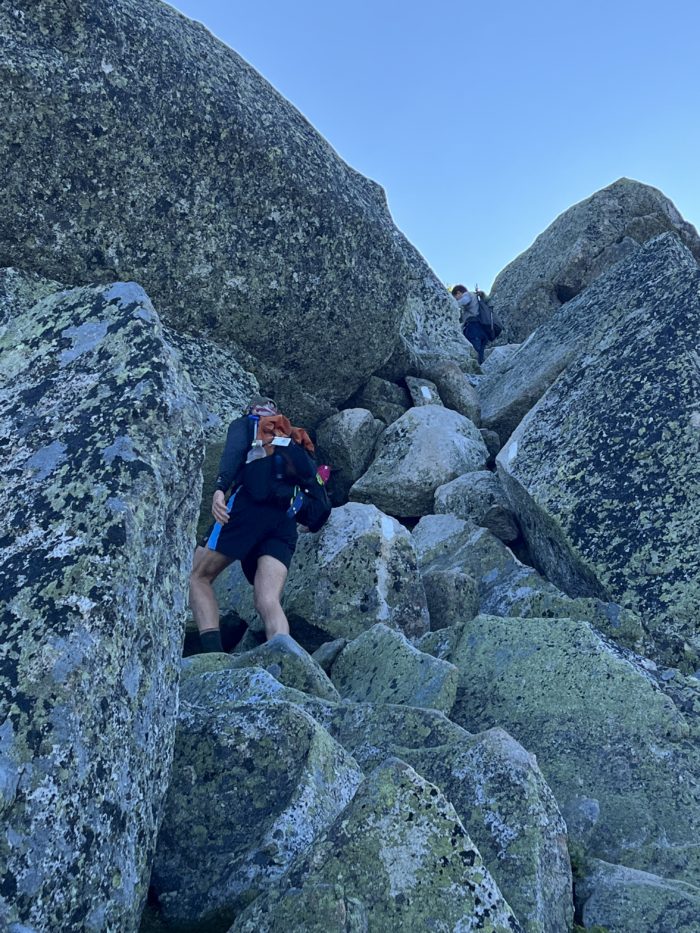 And when the initial steep ascent finally tailed off above 4000 feet, "The Table" was just a beautiful place to be:
Shortly thereafter I was at the summit in an astoundingly fast 2 hours and 45 minutes!  It would actually take me about a half hour longer to descend by the same trail – which makes me think I did at least some flying or teleporting on the ascent!
Assume the victory pose!  (Does this look kinda NASCAR to you? I wasn't going for NASCAR, that's for sure….)
It might have looked more "hiker" with the poles, but they were collapsed in my pack so I let them be.
But it wasn't just an individual celebration on top.  Many of the hikers that had been part of our recent group made their way up for a great photo:
So, going counterclockwise above me on the right, this is Poison, Ivy, Firecracker, Strawberry, Papa Dump, Straps, Croaker, Forest Dump and a guy whose trail name I don't remember that got up at 2am to join us on top.
And an FKT celebrity!
Just as a number of us reached the summit we were made aware that this man in orange had just set the second fastest known time (FKT) for a supported AT hike at just over 44 days for the 2194 mile hike.  Wow!  Way to go, Christian!
I'm also pleased to report that he was an incredibly nice guy, chatting and posing for pictures at the top.
The views at the top never stop
I'm including a couple photos from the top of Katahdin, but trust me when I say that it doesn't do it justice.  There are incredible vistas in every direction from the Big K:
And you know that if it's a beautiful place in New England that Henry David Thoreau likely was a visitor.  This plaque marks a spring above treeline named after him:
Reflecting on the experience
Having walked the ridges and viewed the surroundings of this majestic peak, I can now say "I get it":
I understand now why so many people speak of Katahdin in hushed tones, why they get quiet and distant at its mention
I now see why it's so different and special – a dominant force wider and taller than anything near it.  In my opinion, it exudes more dominance than New Hampshire's Mount Washington
And I really understand the drive and commitment of Baxter State Park to protect and preserve the wonder of this place
A history note
Many of you may not realize that the Katahdin preservation effort is the result of one man, Percival Baxter, over more than forty years from the 1920s to the 1960s.
Unable to get support for a State Park as governor, he personally began buying land parcels to create the park piece by piece.  Ultimately he donated all the land plus a $7 million perpetual fund in the 1960s to keep the space preserved and maintained for the foreseeable future.
I found these beautiful words about his vision on a Park bulletin board:
Man is born to die
His works are short-lived
Buildings crumble, monuments decay, wealth vanishes
But Katahdin in all its glory
Shall forever remain the mountain of the people of Maine
Departure, for now
As I arrived back at Katahdin Stream Campground, the hike start point, I took one last long look at the distant peak:
I was leaving shortly, but knew I'd be back again someday to this very special place.  A place which provided a perfect ending to the first act of my two act AT trek.
In my immediate future was a shower and hot food in Millinocket, but soon after that I'd be headed back to Harpers Ferry, West Virginia to start part two of my hike.  I'm excited to see where the AT will take me next!
Affiliate Disclosure
This website contains affiliate links, which means The Trek may receive a percentage of any product or service you purchase using the links in the articles or advertisements. The buyer pays the same price as they would otherwise, and your purchase helps to support The Trek's ongoing goal to serve you quality backpacking advice and information. Thanks for your support!
To learn more, please visit the About This Site page.