AT Days 88-90
Ten Mile River Shelter to Silver Hill Campsites, 19.1 miles
I typically don't sleep well in a shelter but this night I actually slept soundly entirely through the night. I was up and on trail by my typical start time of 7, headed towards Kent Connecticut for a resupply. The eight and half miles to town were not easy by any means, full of steep and rocky inclines and descents. I arrived to CT Route 341 around 10:30 and walked the .8 road walk into town.
Kent Connecticut is home to a well known boarding school, and many hikers say the town isn't very hiker-friendly. I personally had a solid experience in town, and was even able to successfully hitchhike a ride back to the trailhead from a local. The AT climbs up to Caleb's Peak, followed be a very steep and gnarly descent off St. John's Ledges. Immediately following the descent was a very enjoyable, flat 5 miles following very close to the Housatonic River.
One more climb for the day up Silver Hill capped off a busy day between hiking and town responsibilities, and I was definitely pretty tired. Not too long after I pitched my tent, Jackrabbit rolled into camp. I hadn't seen him since Port Clinton, PA, so it was good catching up and discussing upcoming hiking plans.
Silver Hill Campsites are also one of the nicest designated campsites I've camped at on trail; set in a wide open pine forest featuring a bench swing and a small pavilion with three picnic tables. Connecticut doesn't allow any stealth camping, but they sure make up for it with their frequent shelters and designated campsites.

Silver Hill Campsites to Riga Shelter, 26.3 miles
Jackrabbit also had plans of being in Great Barrington by Friday, so we both agreed on pushing a bigger day today in favor of a shorter day into town the following day. We set off Northbound together with our sights set on the Riga Shelter, over 26 miles away.
The first seven or so miles of the day were a rollercoaster of constant ups-and-downs as we traversed the Southern Taconic Mountain Range. I was thoroughly enjoying the pine forest setting and constant mountainous views. All throughout these forests I've seen more caterpillars than I've seen in my entire life. Every tree was crawling with hundreds of them.
We left the mountains about 13 miles in, breaking for lunch at a road crossing. The AT remains flat as it approaches the Housatonic River and Great Falls. During this stretch I was mostly zoned out but I noticed a small black figure moving around not too far away off trail. Sure enough, it was a juvenile black bear meandering around in the forest. My first bear sighting on the trail, after close to 1,500 miles of not seeing one. Jackrabbit was surprised he didn't see it, only being about 5 minutes ahead of me.
The Great Falls right off trail were a spectacle to be seen, and we continued on through hemlock forests as we climbed Mt Prospect. We descended down to US Route 44, and with plenty of daylight left , decided to walk .5 miles into the town of Salisbury to grab some snacks and cold drinks. Feeling rejuvenated from our pit stop, we climbed up to Lions Cliffs, finally arriving to camp around 7:30. We set up our tents, ready to fall asleep not too much longer after, but not after first reflecting on another long but great day on the AT.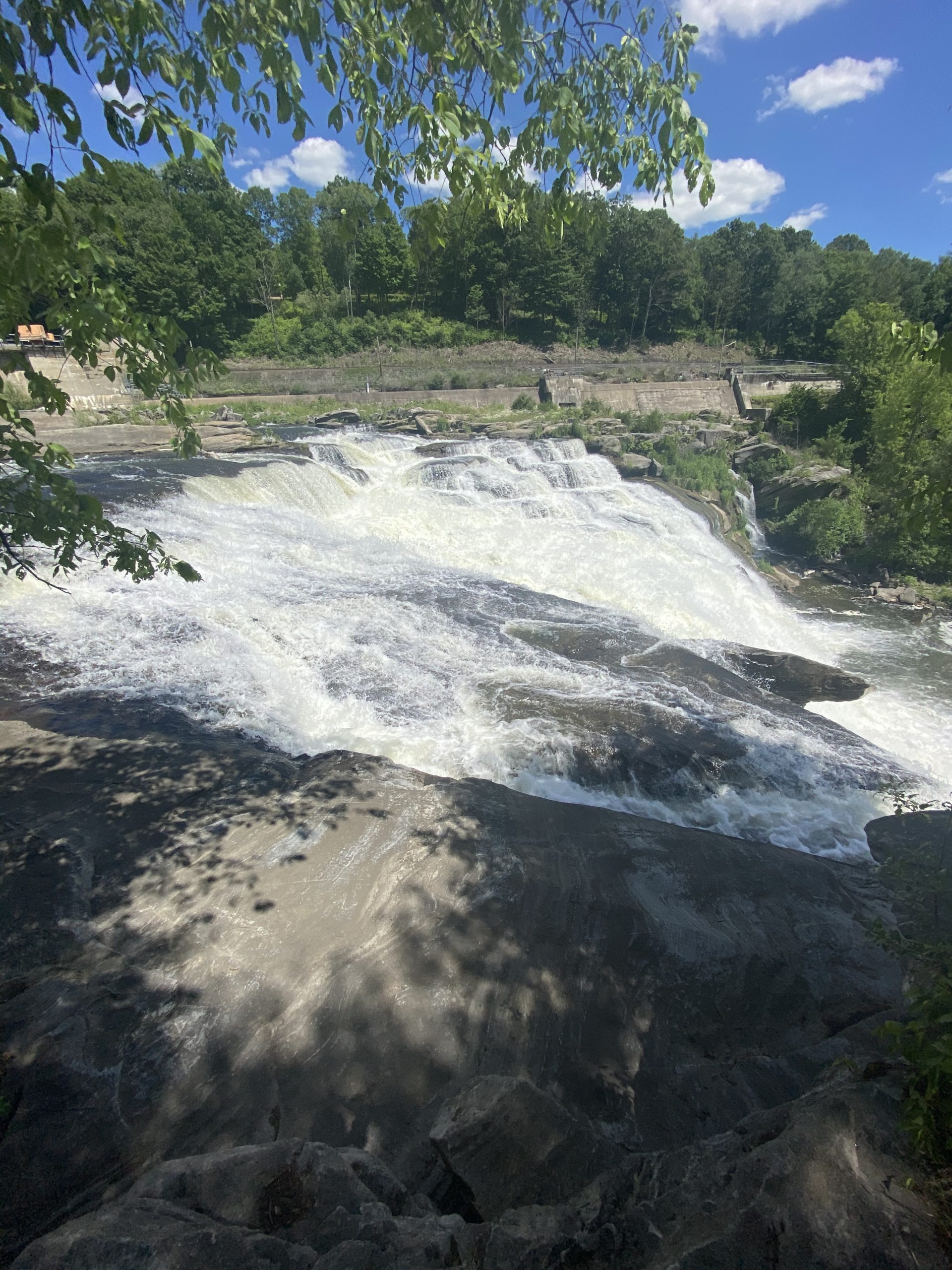 Riga Shelter to US Route 7, 18.0 miles
I almost always sleep great the night after a longer day, and was on trail headed toward Great Barrington at my normal time of 7. It wouldn't be an easy walk in the woods to town, because it never is.
Bear Mountain, Connecticut's highest peak, was the first obstacle of the day. It was an easier climb, but the descent was pretty gnarly; I even had to scoot down on my butt for a few parts. Sage's Ravine; a large stream in a beautiful hemlock forest, led us to the Connecticut/Massachusetts border. Another state down, and moral was very high. A long climb up Mt. Race followed, followed by a shorter but very steep climb up Mt. Everett.
The second half of the day was much easier than the first; we made our way through flat hemlock forests and open pastures all the way to US Route 7 where we hitched a ride into Great Barrington. My parents were coming for lunch the following day, and my friend Jason for dinner after that, so I opted to zero that day in town. The Community Center in town allows hikers to camp out back for free. How clutch!
Affiliate Disclosure
This website contains affiliate links, which means The Trek may receive a percentage of any product or service you purchase using the links in the articles or advertisements. The buyer pays the same price as they would otherwise, and your purchase helps to support The Trek's ongoing goal to serve you quality backpacking advice and information. Thanks for your support!
To learn more, please visit the About This Site page.