AT (The New Era) Journey Across 2016 – 2021 Week 11
– Tent Site to Mau Pin Field Shelter –
Waking early as the rains started lightly, the dark dirt had turned to dense clay that stuck to everything it touched. Breaking down camp, breakfast was decided to be had further down the path.
1.5 miles ahead, the path opened into an outlet near an information sign. Breakfast was quickly consumed here. Moving on, another 3.8 miles was covered. Marble Springs was used to get some filtered water from. 2.2 miles further was hiked and a flat hilltop campsite was found.
This was used for a lunch break propping feet up. Stomping, trees and leaves being rustled around was heard nearby. Watching carefully, a white tail emerged slowly from the shadows. A few pics were taken. Continuing on for 2 miles, a large creek was seen.
Gathering some water here, Over the Hill Bill was met. He was a south bound (SOBO) section hiker. He had left his wife at home with a brand new puppy, so his trail time was very limited. Traversing the final 1.3 miles Matts Creek Shelter was located. After preparing dinner and hanging food bags, Swampy and Kodiak tented in the area for the night a few hours later.
Stanimals
Waking early, a few miles were covered. The path led to the James River Foot Bridge that crossed the river.
Crossing, the air was very chilly. Going to the other side, the air had a light scent of sweetness in the air. This led to the shuttle pick up zone for Stanimals in Glasgow.
This was a house that had 3 bedrooms. Wifi, hot showers, laundry, coffee, candy and an outside laundry line and tenting grass areas were available. 2 days were spent here. A package was mailed home. Scottos was visited for lunch and dinner. Lunch was a bust because it was overflowing with hikers, so the nearby store was visited to get hot pockets and drinks. Time to move on.
The steep ascents
The next day after being dropped off early at the James River Foot Bridge, the journey went on. This was the first slack pack for 11 miles out of Glasgow. This was a hefty 2500 foot ascent. The light packs were nice to have climbing the 45 degree ups.
After 4 miles, Fullers Rock and Little Rocky Row were seen. Pics were taken. A few hikers go by.
Willy wonka, C4, Captain Jack, Fun Dip all walk by and take a break a half mile ahead or so. Hiking 5.5 miles in, a black 3 foot snake is sleeping across the path. It is gently nudged on the tail. It wakes slowly and moves on its way. Walking a further 1.8 miles, Salt Log Gap is stopped at for a brief lunch. Moving onward.
Another 4.4 miles is travelled as packs are picked up at the 11 mile mark while continuing on to 12.7 miles for the day at a tent site for the night.
The 1900s freed slaves
Early morning rustling could be heard nearby. 2 and a half hours is traversed. A close by water source is used to filter and drink a 20 oz bottle of water and then refill it again.
Moving up the path, a swaying footbridge is crossed. A gatorade bar is eaten while hiking. A few camp fires can be smelled nearby. Hiking for another hour, a small waterfall is stopped at for water and a break.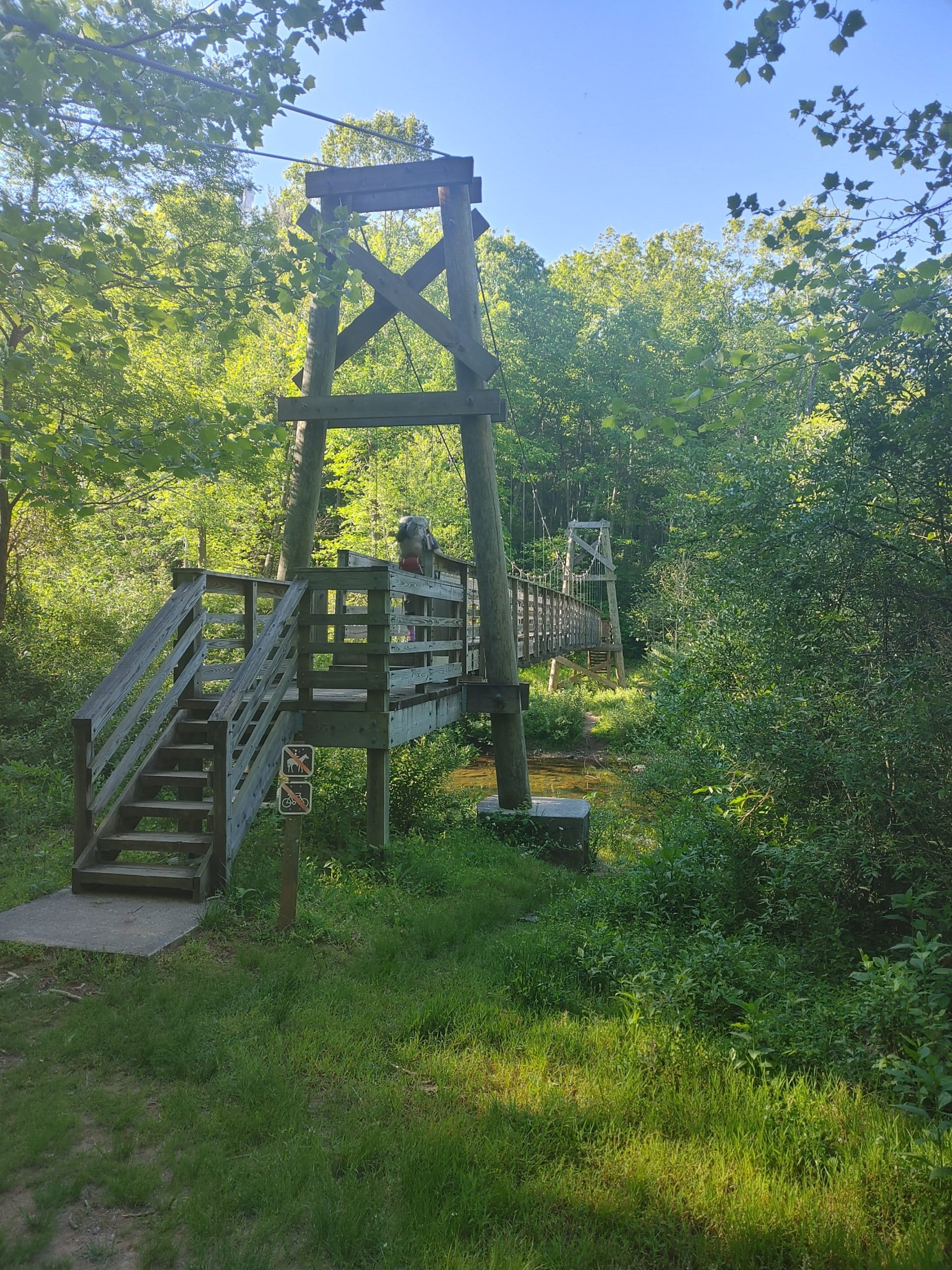 3 women trail runners with dogs go by. Walking to the 7 mile mark for the day, approximately 1.4 miles in length is an old encampment used by freed slaves.
Hiking on, Brown Mountain Creek Shelter is used for a small break. Exhausted, but determined, the 3000 foot ascent begins.
After heading towards the Cow Camp Gap Shelter, a break was taken at the junction before heading down Old Hotel Road. A family came down the trail. They offered an apple and an orange to each person. Accepting happily, the sweet fruits were devoured. Later, the descent began towards the tent site camp.
Setting up camp, Joe who was a service member and dog Lincoln, was talked with by the fire for an hour or two. This night ended with bed time.
Trail magic
Waking early, old hotel road was ascended back to the trail a half mile up. The rains began slightly. After a few hours down the way, a parking area was in view. Joe and Lincoln were parked here. He offered to take our trash. 2 girls from the prior night that were met, gave an apple each as they left for the day.
Priest mountain
Moving along 3.3 miles,
Spy Rock looked very inviting. The climb was done and packs were dropped for the final 100 foot up boulders. The view was taken in and pics were snapped. Heading back to the trail.
Priest mountain was a beast. Its ascents were long, rocky and tortuous. Only 6.6 miles to get to the Priest Mountain Shelter was unbelievably tough. It felt like climbing a recently dried waterfall. A quick break for water and food was taken at this shelter. Hiking a few more hours, the mountain was summited, then the 40 plus switchbacks were followed down to the river tent site for the night. Slow Poke was met here briefly.
Mau Pin Shelter and tent sites
Waking early, feet and muscles were stiff. The first few miles were subtle, stopping at Harpers Creek Shelter for water, snacks and energy chews. A 750 foot ascent awaited to Chimney Rock that was brutally straight up instead of switch backs that were more subtle. Moving further, 9.3 miles wasn't far off.
Arriving at Mau Pin Shelter was something to see. It had gravel tent sites, multiple bear poles, great shelter and lots of choices for over night camping. Slow Poke was here again with his hammock smiling. Greetings was said as this was gladly home for the night.
Affiliate Disclosure
This website contains affiliate links, which means The Trek may receive a percentage of any product or service you purchase using the links in the articles or advertisements. The buyer pays the same price as they would otherwise, and your purchase helps to support The Trek's ongoing goal to serve you quality backpacking advice and information. Thanks for your support!
To learn more, please visit the About This Site page.