AT State of Mind
Whistler's text was just what I needed to hear. I hadn't heard much from my AT mentor and former co-worker since this hike began. Previous to that we texted almost daily. He'd sent me tons of solicited and unsolicited advice on gear, what to expect on trail, inspirational videos of his hike last year and pitfalls to avoid. After all that help I think he was giving me space to experience the trail in my own way. He probably reasoned there'd be plenty of time to swap stories in the future but I needed to earn my stripes before then.
As I sat in a lovely but lonely campsite, three steep downhill miles (back) into Erwin, TN, I was feeling sorry for myself. The hike as I'd known it had completely flipped upside down. I hadn't realized how much of my identity as Captain Fantastic was wrapped up in me being Sapling's dad. Helping her get through her struggles… Being goofy with my daughter to make her laugh…Sharing thoughts and insights every night before going to bed. Now I was just alone in the woods and confused with almost two thousand miles to go. I was being less fantastic and more Captain Gloomy.
Whistler's text was my wake up call. He'd been reading this blog and must have sensed what I was going through based upon his own experiences. He's always told me his biggest fear for my success was weight and eating. He too had a hard time with that and it was almost his undoing. I'd already lost 5 pounds before Norovirus, and at least 5 more because I wasn't able to hold anything down for a week. I'm skinny as it is, and being 6'1" and south of 150 lbs wasn't going to allow for long term success. In his text he reminded me of all this and said never pass up a chance for a high calorie meal. Duly noted.
So who do you call when you're hungry and three miles from Erwin? Uh, that's a no-brainer. "Hi Ms. Janet. Can you pick me up in a couple hours from the Nolichuky River… and then take me to Steel Rails Coffee House for a cappuccino and muffins; then to McDonald's for cheeseburgers and fries; and then to Food City for a huge resupply?" Of course she came through and I ate myself silly that day and continue to do so. Btw Whistler, in the last 24 hours I've been in 2 hostels (The Station @ 19e and Mountain Harbour) and I've had a plate of chicken tenders and wedge fries, two HUGE breakfast plates, five cans of beer, two bags of Combos, a pint of Ben & Jerry's ice cream, and a pepperoni pizza. And tomorrow's Mtn Harbour breakfast is supposed to be insane!
But Whistler had more advice for me than just about food intake. He told me he could tell I was homesick. I don't even know if I realized it until he sent the message. Importantly, though he said he was sorry I was having to  suffer through being separated from loved ones, he showed more empathy than anything. He gave me much practical advice on how to take the enormity of what lay ahead to reach Katahdin and how to mentally break it down into bite size pieces that I really could process. But in this case Ms. Janet or Lori or any other trail Angel couldn't save me. I had to do that work myself.
On a podcast called "Mighty Blue on the Appalachian Trail" I heard someone say during a thru-hike there are three distinct components you should attend to: the Physical, the Spiritual and the Mental. I've thought about that a lot as I've walked and I agree. No doubt it can be interpreted in many ways. I always tend to see everything as very intertwined and complicated. I cannot exclusively separate those 3 pillars of a hike into their own individual concepts. I feel each plays off the others like solids, liquids and gases do in scientific theories regarding states of matter. Attend to the physical too much and your hike lacks soul… dwell on the spiritual without enough mental focus and your hike may become lackadaisical.
Finding the perfect combination of all three will take time, experimentation and patience. On the Physical side I've been carefully testing the limits of what I'm capable of doing safely. Originally I had hoped to finish in 150 days, or 5 months, but then pushed that back to 180 when I saw that it was too ambitious for Sapling. The 150 goal requires an overall average of 14.6 miles a day including days off. Making it to Katahdin in 180 days means hiking 12.2 daily miles. Because we did the right thing and started slowly in order to build ourselves up we got behind both of those goals. Then being forced to take 9 days off due to Norovirus, 6 with sickness and 3 for recovery and replenishing calories, well that really set back the timetable.
After 51 days my average stands at only 9 miles a day. Since starting back up again post-sickness I've hiked 8 days and rested on 2 of them. I've averaged 17.5 miles a day during this span with 4 days in the 20s, the longest being two 25 milers. Since I average about a 2.5 mph pace the long days took 10 hours hiking time with 1 hour worth of break-time sprinkled in. I'll back down some on the mileage in the coming days and get rest and food as I will be in Damascus in a few hours. Also, my cousin George is coming to visit and take me out to lunch this week. But my ultimate aim is to keep the mileage up to the point I can finish in late August or early September.
My food bag has certainly gotten heavier to fuel the added volume. Most of the hiker hostels and stores have scales you can hang your pack from in order to weigh them. My fully supplied pack after the last resupply was 3 pounds heavier than it was before the boost in miles. It came in at a whopping 34 pounds! But I also weighed it when I arrived and it was low on both food and water. It came in at 24.9 lbs. meaning to say every day that goes by between a 4 day resupply, which is sort of the average number of days I'm preparing for, it gets lighter.
Now the Mental, which may be the part I somehow feel most and least in control of. Obviously the term Mental can mean a lot of different things, such as having fortitude to persevere or the tactics to be most comfortable and efficient. But for me right now that word stands for dealing with solitude. Before Jerry's text I said I'd been throwing a little pity party. But lately I've realized I don't mind hiking on my own and I'm still making friends every day. Many hikers enjoy having a tramily. I'm not ruling it out but right now I'm hiking as a privateer. More people than you might think are hiking this way, though many of them aim for shelters nightly and get their socialization in there. If you stealth camp by yourself then 95% or more  of your day is being spent alone. While I'm at peace with that right now it may not be sustainable so I'm open to what the trail provides.
I've made a few new friends that I see regularly, plus I'm already catching back up to some old pals. On the first day back from being sick I walked 8 miles with TJ, one of the 20 somethings from the very beginning of my hike. While I'd been sick with Noro he had taken some time off back home in Knoxville. Then, coming into a hostel known as The Station at 19e I looked up on the porch and saw a couple tough looking guys smoking. They yelled out "Captain Fantastic!" and I realized it was Mega and Strong Legs. Strong Legs bought me a pint of Guinness to commemorate the reunion and my big-mile day crossing  Roan Mountain. Once inside the bar area I also saw Alligator, who I haven't been around in a month. In addition Tough Cookie and Trashman are still out here picking up trash from the trail and shelters. And I stayed in Moreland Gap Shelter with my pal Old School. It was fun to catch up. Still no sign of Pied Piper or Bluegrass though. Last time I saw them their health was good and they were hiking strong so it'll take awhile if I can even catch back up.
My newest friends include Cronus and his dog Zeus, Preacher Man, Sgt Pepper, Fruit Snack, and Bad A$$ and her dog Sarge. Sarge slept on the floor next to me at Mountain Harbour hostel and somehow managed to steal all my covers that night! I've also spent several days now intermittently getting to know a 21 year old kid named Opossum. He's from New Zealand and really impresses me with his guts to come here all alone at his age to tackle the AT. He's joined up with three others named Lava, Stormtrooper and Link and I went to lunch with them today at Mojo's in Damascus. Finally, my closest new friends are Smoke and Holy S#%!, a couple military veterans. I see them often and we get on well. Both are tough guys, hike hard and carry on interesting conversations.
Spiritually I do feel a profound sense of both presence and power out here. I'm somewhat sentimental and feel that people like me would have a hard time not finding meaning and connections when walking over mountains and through forests every day. One way I've found to honor the gift I've been given to have both the health and opportunity to be on Trail is by acknowledging the White Blazes that guide and assure me throughout each day. I often lay my palm against a Blaze as I pass by in a physical display of Gratitude that this beautiful Appalachian Trail has a Creator who inspired people to dream up and maintain this most amazing wonder. Thank you God!
So I hope this blog entry serves to let those who care and worry about me know that overall I'm doing okay and adjusting to Sapling going home. This is "muy dificil' and often uncomfortable, but I knew that when I signed up. You gotta pay to play out here on the AT but both the gifts received and challenges are a blessing. Thanks for reading.
And special thanks to my AT mentor Whistler!
Two more things!
1. I wanted to throw a shout out to my son Lucas. I've thought about him a lot lately due to a couple very different circumstances. The first is when I crossed Hump Mountain (cue the laugh track!) and Little Hump mountain, a few miles up from the mighty Roan. I passed by the glorious camping spot we had two years ago when Sapling and I cajoled her brother into joining us for a hike. While he didn't exactly love the whole experience enough to be inspired to thru hike the trail, I can attest that he's athletic enough to be a heck of a hiker. We had a lot of fun on that trip and passing the campsite brought a smile to my face.
Unfortunately one of Lucas's best friends passed away a couple weeks ago. His name was Andrew and he was around the same age as my son. Andrew's family asked Lucas to take part in the funeral ceremony by standing before everyone and leading them in part of the program. I'm happy and proud that Lucas is such a strong young man and a good person. Love you Son! Peace be with Andrew and his family.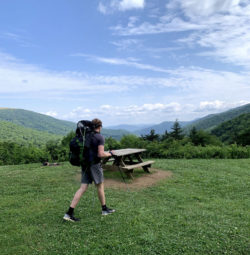 2. Sapling and I had some really great stealth camp spots. But recently I stayed in the loveliest place I've ever pitched the tent, appropriately named Beauty Spot, TN. As I was setting up two women and a gentleman walked past me. One of the women showed particular interest in my tent and pack and had lots of questions about how the trail has been so far. Her name was Beth and she said she often reads AT related books, listens to podcasts and watches videos. She's a real fan of the trail but said she didn't think she could actually do it herself. I begged to differ and convinced her to open her mind to the idea. We spoke a while longer and then she went to the parking lot to head home with her friends. Imagine my surprise when she came back 10 minutes later with some water and a little cash for a good meal in a trail town! Thank you Beth… I'm going to the Damascus Diner in a few minutes on you! Now start planning your future thru hike!
Affiliate Disclosure
This website contains affiliate links, which means The Trek may receive a percentage of any product or service you purchase using the links in the articles or advertisements. The buyer pays the same price as they would otherwise, and your purchase helps to support The Trek's ongoing goal to serve you quality backpacking advice and information. Thanks for your support!
To learn more, please visit the About This Site page.