AT (The New Era) – WV to PA – Journey Across 2016 – 2021 Week 15
– Harpers Ferry WV to Fayetteville PA –
There is much rich history associated with Harpers Ferry. A short walk from the Quality Inn to downtown was enjoyed. A section known as Virginius Island was along the way.
There was a solid quality metal and wood bridge crossing to the historically preserved area. This was believed to have been used for industrial and residential purposes reaching back to the 1800s. Heading further, a bus depot and a downtown section was walked by.
Harpers Ferry Historic Downtown
The beautiful dark stone and colorful brick architecture are still frequently used for different restaurants and stores. The sidewalks were comprised of distinct brick patterns. A sandwich shop and outfitter were on the list to visit.
A large turkey, avocado and cheese sandwich with a berry smoothie was enjoyed at the restaurant. Heading to the outfitter, 2 hats were bought. After an hour, the hotel was returned to via a 45 degree steep upward street. The next morning.
The B&O Bridge Crossing the Potomac River
The B&O Railroad Bridge was crossed with the Potomac River below. On the other side, some stairs were descended to a small gravel path that ran next to the river. The amazingly flat path was walked for 2.8 miles. A further 1 mile was hiked to some cliffs.
The Weverton Cliffs were admired for a long bit and then the trail was headed back to. The shelter was headed to for lunch.
The Edward Carvey Shelter was reached after 6.3 miles. Peanut butter sandwiches and trail mix were eaten. After 30 minutes of rest, laying on the floor with feet upwards trying to stifle away yesterdays pain, the park was next.
Gathland State Park
10 miles in, the state park was reached. There was an arch type architecture monument in place. Around 30 minutes was spent here before moving on. The shelter wasn't far off. Doing the final miles to Rocky Run Shelter, this was tonights home as the rains began. The next day.
Travelling 1.8 miles to the Dahlgren Backpacker Campground, there were showers, water, restrooms, trash cans and tenting sites available for free. Spending 30 minutes here, the .2 miles was travelled to US 40A Turners Gap.
Long Time Friends
An upscale restaurant was on the trail side. Crossing the street, Dahlgren church was seen. Heading back to the parking lot on the restaurant side, we waited for Travis to pick us up.
After driving for 5 miles or so, their home came into sight. It was a 2 story house with entrances to the basement and upstairs. This was nestled amongst the deep foliage laden forest with a small river crossing.
Around 15 years was caught up on. Topics covering work, what you've been up to and whats new were talked about for hours on end. The next day.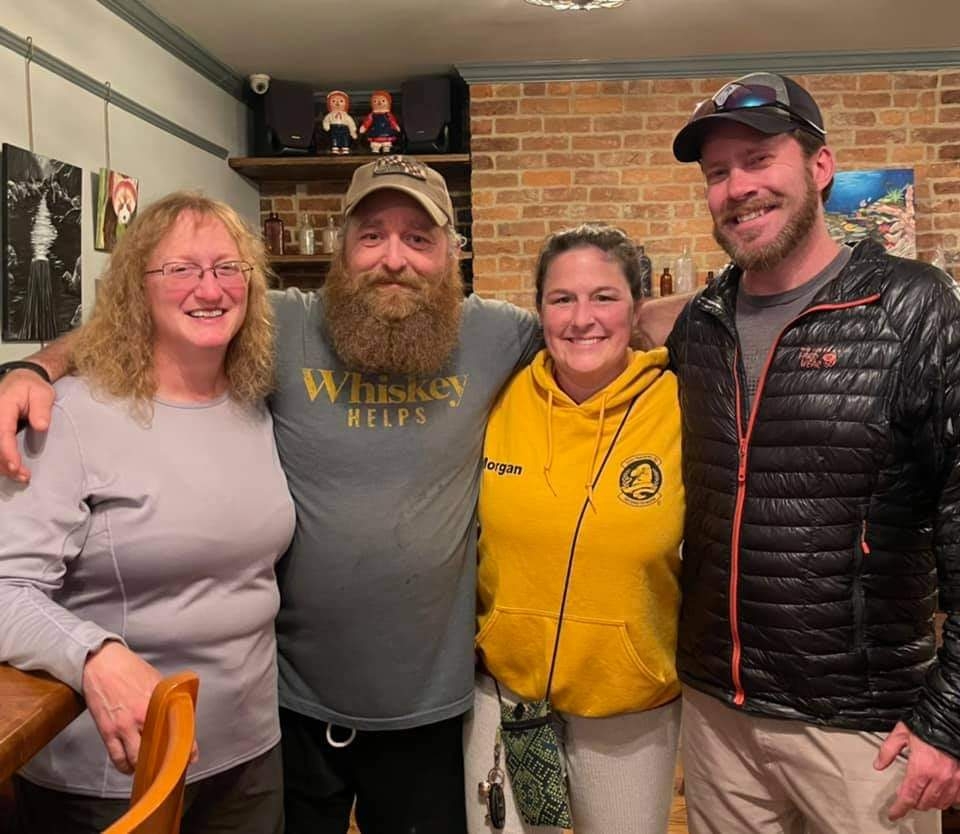 At dinner, Vesta Pizzeria was headed to. A large warrior pizza (all meat), an order of garlic cheese bread, beer and cider were ordered. After 1 hour, a few more of Travis' and Catherine's friends joined dinner. A few hours goes by and we head back to our friends place. The next morning.
Washington Monument
Being shuttled back, thanks and goodbyes are said. Hiking 2.0 miles up trail, the monument came into view.
At this point a pain started to radiate up my left calf. It was decided to head to Pine Knob Shelter 5.5 miles in. It was up for debate if this was tonights home. After much back and forth, I put on compression socks and took some Aleve, Chondroitin and a multivitamin. Onward!!! An overlook was near.
7.3 miles was travelled painfully. This brought Annapolis Rocks Overlook into the vicinity. Spending about 45 minutes here, alot of rock hopping was done. The rest of the 6 additional miles was pain stakingly hobbled. The Ensign Cowall Shelter could be happily seen. This was home. The next day.
Waking early at 530 AM started the morning. I rubbed my calf thoroughly trying to eliminate the shooting and dagger like pains from walking yesterday. Putting the compression socks on again, the journey moved on.
The day was heavily foggy. A half mile was travelled which opened into two meadows. Distant houses were difficult to see through the pea soup fog. 3 miles was hiked until a steep ascent awaited to Raven Rock Shelter.
A half mile of 45 to 60 degree switchbacks, rock hopping and stone stairs awaited. After 15 minutes of breaks and 15 minutes of climbing, the shelter appeared. 2 peanut butter sandwiches and Kodiak bars were eaten for break. The rains and thunder began on and off until it downpoured steadily for a few hours. This made rock hopping very slick. A park was a few miles away.
Pen Mar Park
Upon entering the park grounds, a mad dash was made to the nearest pavillion. Getting out of the rain felt good. A band was setting up with saxophones. Off in the distance, a tented pavillion was seen. AKA (trailname) was met here. He thru hiked the AT in 2018.
Sandwiches with turkey, tomatos, cheese, mayo and ham were devoured with chili cheese chips. Stories were exchanged over the hour spent here. Thanks was said and the journey went on. After a quarter mile, the Mason Dixon Line came into sight.
The final miles were travelled to Deer Lick Shelters. This was a tenting home for the night. The next day.
Starting early, 2.5 miles was hiked to Old Forge Park. 30 minutes was spent here while dropping off trash in a can. 3.6 miles in was walked to Tumbling Run Shelter. This had two unusual Face Trees.
The steep ascent for 1.2 miles began. Chimney Rock was reached after the grueling 800 foot upward trudge. A short 30 minutes was used for a break here.
The final milage was done heading to Route 30 Fayetteville PA to stay the night. Burgers, fries and iced tea was enjoyed for dinner this night at Flamingos.
Affiliate Disclosure
This website contains affiliate links, which means The Trek may receive a percentage of any product or service you purchase using the links in the articles or advertisements. The buyer pays the same price as they would otherwise, and your purchase helps to support The Trek's ongoing goal to serve you quality backpacking advice and information. Thanks for your support!
To learn more, please visit the About This Site page.