Baby it's cold outside …
Returning to the trail

Getting back on trail at Hot Springs was exciting, even though the weather wasn't great (rain again). I was getting close to the point where my trail knowledge from my previous section hiking experiences would soon come to an end. In the next couple of days, everything I would see would be new to me. I hiked hard as I wanted to reach Erwin within four days. There were definitely some climbs that got the heart pumping. Fortunately, the shelters in this section are pretty nice and well maintained. At Bald Mountain shelter, for example, the good folks who work so hard to keep the trail clear and the shelters clean provided an ample supply of dry, seasoned firewood. So, I got a nice fire going before climbing into my sleeping bag. I think my shelter mates (Boston, Smokin' Boots, and Alex) were appreciative. There's something soothing about falling asleep to the smell and sound of a crackling fire. I'm finally starting to feel at home in the woods.

Trail Magic

In a previous post I mentioned how wonderful it is to be the recipient of trail magic. Since my last update, I have been the beneficiary of multiple occurrences of these unplanned, but greatly appreciated, acts of kindness. The three that stick out the most to me from my recent days were from the folks shown below. First there is Steve (a shuttle driver) who was standing on the road by Devil's Gap. Steve had just dropped someone off as I was crossing the road. He waved me over and gave me a banana and a Coke (the breakfast of champions).


Next, there was the meal provided by Fresh Ground. Fresh Ground is a trail angel legend in the hiker community. He basically drives a "food truck" slightly ahead of the hiker bubble, preparing meals for those lucky enough to cross his path. I had heard on this occasion, he had prepared blueberry pancakes, eggs, bacon and coffee. I knew it was unlikely that I would reach his destination in time but I was going to do my best to make it.  Unfortunately I arrived as he was preparing to leave. Fresh Ground must have seen the disappointment in my face as he unpacked his gear and made me a wonderful fresh salad, with a buttered roll and hot coffee. It was spectacular.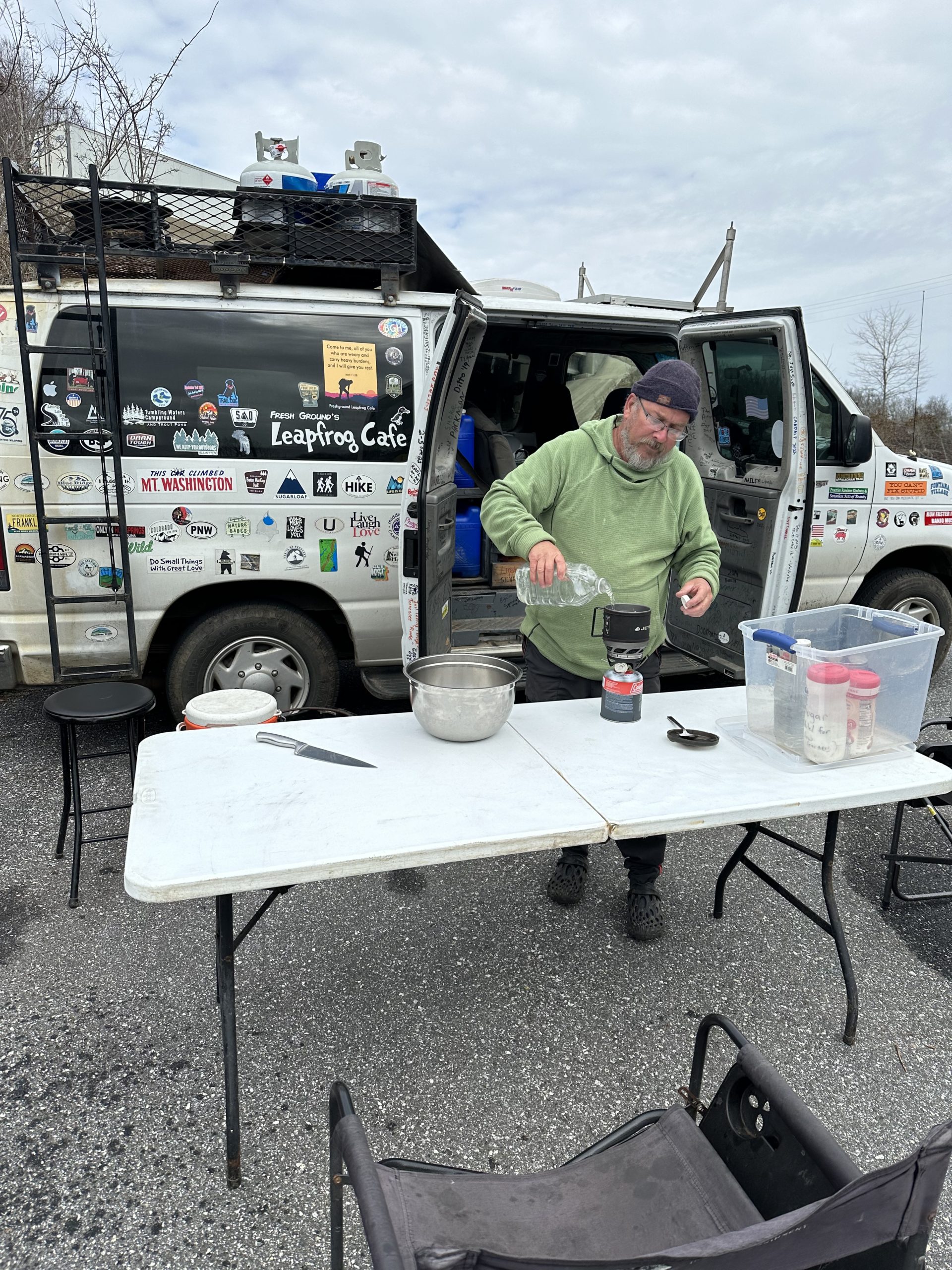 Finally, and my favorite so far, is Emoji. Emoji darts back and forth between the gaps of North Carolina and Tennessee providing hikers a warm blanket, chair, hot beverage and a large assortment of snacks. I have been blessed to have encountered Emoji 3 times so far. I hope our paths cross again!

The Weather Started Getting Rough
If you have read any of my previous updates, you are well aware that I have not had the best luck with weather so far. I have experienced a lot of precipitation (rain, hail and sleet) and high wind conditions. The temperature has been generally ok with the exception of one or two occasions. I thought my luck was changing as I got a couple of sunny days and mild temperatures – things were looking up. Then I get a call from my wife.
As I was approaching Roan Mountain my phone rings and my wife, Lori, says "You gotta get off the trail tonight".  She had spoken to the owner of Station 19 hostel and he convinced her that there was a 100% chance that conditions will not only be miserable at Roan Mountain shelter (my destination and highest shelter on AT) but dangerous. While I wasn't sure I believed her, I knew better than to argue. I was soon picked up and headed to the hostel wondering if I had made the right decision.
That night the temps dropped into low teens. The winds were gusting over 30 mph and it began to rain or snow depending on your elevation. This is a picture my hiking partner sent from the shelter the next morning (he wanted to go up despite my warnings).
As it turns out, Lori was correct. It would have been a miserable night up there.  The cold weather has remained for the past few days making the trail slick with ice and snow. It's not so bad while hiking, but as soon as you stop moving – it's bitter cold!
Hostel Hopping – "Platinum Blazing"
Wanting to keep putting miles in the book, but not having the desire to sleep in arctic temperatures necessitated a change in plans.  I decided to hike from one hostel to the next, thereby negating my need to sleep outside.
My first night was at Station 19. This is a very friendly hiker hostel. It's basically a bar with sleeping quarters up above. The owners are terrific and have tremendous knowledge of all things AT.  They also have great food and a vast assortment of beers. It would be easy to stay there for a couple days, but I wanted to keep moving. 
The next hostel I hit was Black Bear resort. This hostel is great and I highly recommend you stop by if your schedule permits.  It's clean, well run and has a wonderful setting. I imagine this place really gets hopping later in the season. 
My most recent stay was at Boots Off hostel. I chose to rent the little cabin so I could stretch out and write this update. It too has provided much needed relief from the weather. So far, the hostels have been great – I might just have to send my tent home 😉.
The forecast calls for a brief break from the frigid temps. My hope is that I can stay in the woods at least until reaching Damascus. 

The Trail Humbles

As I was thinking about what to include in this update, I thought to myself that I have only fallen three times on this trip and those falls were quite some time ago. Given how bad the weather has been, I was impressed with how well I was doing. At just about this time I was summiting a small climb near Moreland Gap Shelter. The snow was falling. There was a beautiful view. Perfect time for a picture before beginning my descent. With my very next step, my foot caught on a rock, knocking me off balance. I tried to catch myself with my trekking poles, but alas, I was too slow and down I went. Number four was in the books, ending my recent streak with no hard falls.



The next day was scheduled to be a short hike (8+ miles) from Black Bear Lodge to Boots Off Hostel. As I started the day, the temperature was a balmy 28 degrees and the snow was falling with big fluffy flakes that would ultimately accumulate to just a little more than an inch. I know that doesn't sound like much, but footing on the trail is hard enough without having to contend with snow. Being the seasoned hiker I am though, I knew I needed to just take my time and watch every step. Halfway up the Pond Mountain climb, I stepped on a root covered with an inch of fresh powder. As I picked myself up off the trail there was a perfect imprint of my body in the snow that I hoped would serve as a warning to the next person by. FYI – 1 inch of snow isn't enough to soften the blow. The good news, I fell uphill. Number five was now in the books! With extreme care, I made my way over the top and began my descent to the hostel. Descents are far more dangerous for me. Trekking poles are critical. With every step I try to firmly plant my poles and then carefully take the next step forward. Plant, step, plant, step – like a well oiled machine. Plant, step, plant – oops no plant, number six in the books. As I picked myself up for the second time in the preceding 30 minutes, I thought of the Rocky movie where Sylvester Stallone, after being knocked down by Apollo Creed for the umpteenth time, says "I'm not going down again". I was determined to get to the hostel without another mishap. I'm happy to report I made it – barely. With my streak of days without a fall back at zero, I looked forward to a day of rest.

Achievements 
Been on trail for a month
Completed North Carolina
Passed the 400 mile marker
Haven't broken anything important 
Never Been Closer,

Dozer
Affiliate Disclosure
This website contains affiliate links, which means The Trek may receive a percentage of any product or service you purchase using the links in the articles or advertisements. The buyer pays the same price as they would otherwise, and your purchase helps to support The Trek's ongoing goal to serve you quality backpacking advice and information. Thanks for your support!
To learn more, please visit the About This Site page.