Back in the Groove of Things
12 days into this year's journey, and it's already feeling so natural. There has been a reassuring familiarity of this being my second time on this stretch of the trail. It's amazing the small things you remember, such as on which side of the trail an upcoming shelter will appear, and what I ate two years ago at the diner out of sight but just down the road.
Here are the tallies so far:  12 days into this adventure: 10 days, hiking; 2 days, zeros. 6 nights in shelters or camping;  4, hotels;  2, hostels. The 3 mail drops received along the way equaled a lighter pack.  This is a very, very good thing. Chocoholic is hiking happy.
It felt odd heading out in the trail without Short Timer, but I had good company the first full day.  I hit the trail with Totem, with his newly lightened pack, and Snail Mail, who jettisoned extra food at the last minute into the hotel's hiker box.  The lighter the pack, the easier the uphills.
I had decided to repeat this section just north of Harpers Ferry because it's a relatively easy stretch which would help me regain my trail legs. However, it still can claim its victims, especially overly eager newcomers who attempt too many miles during their early days. At the first shelter that we passed, we found such a hiker. He had spent two zero days here, trying to nurse his injuries back to health, to no avail.  What he didn't know was that a superb massage therapist/physical therapist/sports trainer had just come to his rescue.
15 minutes later, Totem had helped the fellow immensely, with reminders to do several specific stretches throughout the day, every day.  Snail Mail, who does not share our enthusiasm for all things marathon/tri/health related, chose his own form of self care during the therapy session.
At the end of a good day's hike, we set up our tents on the well-groomed grounds of Tumbling Run shelters, one of my favorites. The volunteers, a father and son (now joined by his wife) have lovingly cared for this site for 27 years.
The two cabins are in great repair,  with labeling that appears humorous but is actually a great service.
The privy is one of the most attractive, clean and entertaining on the trail.  Note the (fake) doorbell.
Inside, the (fake) switch automatically adjusts the light coming through the skylight to the correct setting at dusk and dawn.
The gravel tent sites provide excellent drainage when it rains.
I felt protected with this guy watching over my tarp.
The caretakers always  take the time to talk with interested backpackers. They went out of their way to show me this beautiful lady slipper growing a short ways up the trail.
Off we went again as a trio the next morning, soon coming to an outcropping of rocks with a beautiful view of the Pennsylvania woods below us.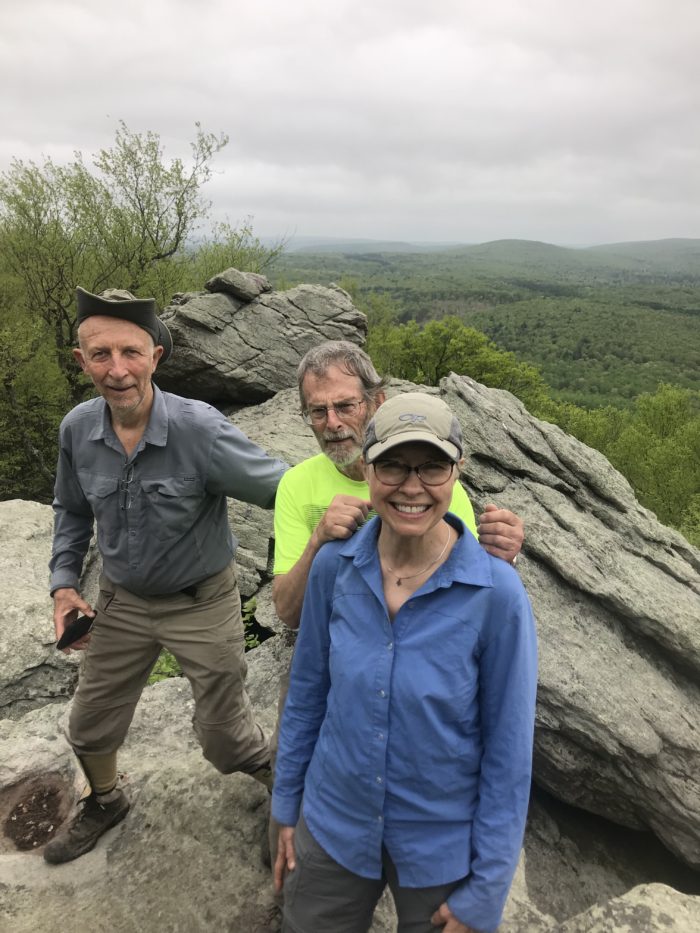 At this point I was ready to strike out on my own, as this is my usual mode of operation on trail.  There had been a really good connection with Totem and Snailmail, and I hope to link up with them again, as happens often in the ebb and flow of this community of hikers.
Ahhhh……the beauty of spring in the forest.
You can't get these brilliant greens without the  help of rain, which also produces plenty of sticky brown goo underfoot.  As I walked, I was reminded time and time again of all the hard work done by trail volunteers.
As the day progressed, I encountered an Outward Bound group from Baltimore (1 of 3 I had met)….
…a mere hint of the infamous rocks I'll experience in the near future that have given Pennysylvania the trail name of  Rocksylvania….
…a bench right when I needed a rest, thanks to all those volunteers….
…three hikers I passed whose faces looked familiar….we figured out where we had passed each other two years ago in Virginia!!!…..
Ah, the deep contentment of walking on a single track through a misty forest….
…which leads to a dense rhododendron tunnel….
….then to the darling Quarry Gap shelters…
..and their hidden treasures.
Onward to the shelter where I'd be settling in for the night.
Due to a potential storm forecast, I set my tarp low with broadside towards the wind.  Happily, only sprinkles occurred.
This little guy, right by my boots which were airing out, was a good reminder to always shake them out every morning.
Another hiker, "Sir Stops a Lot," set up his hammock beneath a tarp.  Hammock campers swear they sleep like babies in those.  I'd like to try a night in one sometime.  Alone.
The new privy was impressive up on its hillside.
Odd but true, all new privies must be handicapped acccessible.  I think that's because the AT is a National Park.  Best of luck to those in wheelchairs!
I came to the marker for the halfway point in 2018…
and another a bit further north, from 2011.  There are modifications to the trail in various sections every year, thereby changing the exact distance.  It was originally around 2000 miles in the 1930's,  and is now approaching 2200.
I was  happy to reach the Appalachian Trail museum in Pine Grove Furnace State Park before closing hours.
Although small, the museum has a fascinating collection of memorabilia from famous hikers such as Ohio's Grandma Gatewood.
At the park's general store, thru-hikers eat the equivalent of  A half gallon of ice cream to celebrate having completed half of the trail.   I passed on that opportunity.
My lodging was the Ironmaster's Mansion Hostel, a remnant from the glory days of ironmaking in this site.
I see a lot of the same people along the way who have the same basic pace that I have.  I'm often the only female, but that doesn't bother me. I enjoy the guys' humor and they're always respectful.
There were two separate dorm rooms, one for women, one for men.
Happily, I had only one roommate, Montana Hippie, who I had encountered the past few days. The two of us had the huge room all to ourselves, with no snoring.  She was using an external frame backpack from the 1990s that she still enjoyed. Heavier but easier to pack up. We had used one like this when trekking in Thailand in the 90's with our kids.
The caretaker of the mansion was a unusual fellow. He had a joke a minute, a ready smile and was a Vatican trained exorcist. He has been on lots of shows on TV about that subject, and had several stories to share with me.  Get people talking and you never know what you'll learn about them.
In a closet beneath the main staircase of the old mansion,  there was a trap door in the floor with a ladder leading to the dank basement.  This had been a hiding place for the underground railroad. It made me sad to see that, imagining people having to hide for their lives in such away.
On the way out of the park the next morning I passed a restored remnant of the furnace used in the iron making process.
Walking north through the park was beautiful, with a small beach and fishing area.
The Yogi Bear in me had my fingers itching to grab this picnic basket and run. I was a good person and resisted.  It probably was full of just gluten and dairy products, anyway. And sour grapes.
If I lived near here, I'd visit often.
But way too many rules!  I think Rule 28b says something  about not stealing picnic baskets.
The trail continued to be good moderate training ground, passing by tons of these plants in boggy areas.  Can someone please identify them for me?
I'm sure getting a lifetime serving of muddy trails, and I know there's still plenty to come.
And here I am at Mile 1078.9 from Katahdin in Maine.  This is the furthest north on the Appalachian Trail that I have ever reached. I finished my training hike two years ago at this very sign.  From now on, everything will be new for me, which I find very exciting!
Same sign, same hiker, same shirt,  but two years ago.  Imagine  how rank that shirt is by now! You're lucky this is not a scratch and sniff blog post.
I was picked up by the owner of a sweet little motel where I would spend my second zero day of this trip.
A food resupply box was waiting for me in  my room, lovingly sent by Short Timer. How sweet! A Mother's Day card was waiting inside the box.   I read while scarfing down some chocolate.
The town of Holly Springs has sweet little historic houses and sidewalks that were soon to be rolled up on this Saturday afternoon
The library looks like a castle. Unfortunately the drawbridge was drawn and locked up tight this day.   Apparently Saturday is a day of rest for Mount Holly Springs.
My personal day of rest, Sunday, was a wet one.  I was so glad to be where I was,  inside, dry and  enjoying a long yoga session.
I sorted through my clothing looking for any added weight I could send home. Gloves and a fleece cap are going to the post office morning, but the extra long sleeve T-shirt (not in photo) is staying with me. I don't trust these Pennsylvania springs to be warm.
I enjoyed a delicious salmon dinner at the hotel's restaurant my first evening, but cooked my own dehydrated chicken-rice-veggie dinner the second evening. Eating out and frequent hotels adds up $$ quickly.
So tomorrow,  it's back to the trail I go! What's waiting ahead? Well, I know plenty of rocks, but also beauty and new friends to make. I'm ready, let's get moving again!
Here we go, start climbing!
Affiliate Disclosure
This website contains affiliate links, which means The Trek may receive a percentage of any product or service you purchase using the links in the articles or advertisements. The buyer pays the same price as they would otherwise, and your purchase helps to support The Trek's ongoing goal to serve you quality backpacking advice and information. Thanks for your support!
To learn more, please visit the About This Site page.