Backpacking Ouachita National Forest; Arkansas's Eagle Rock Loop
"Come to the woods, for here is rest."
― John Muir
A few weeks back Kaci and I celebrated our 10th anniversary. We decided we would spend prepping for the Appalachian Trail next year. We choose to do a 26-mile loop in Arkansas known as Eagle Rock Loop (ERL). This loop is a collection of three trails in the Ouachita National Forest. These trails are the Athens-Big Fork, Viles Branch, and the Little Missouri trails. Additionally, we chose ERL because Arkansas has been good to us as far as backpacking. Earlier this year we had a great backpacking trip on the Buffalo River Trail (BRT) in the Ozark Mountains of Arkansas. Since we had success on the BRT we decided to give ERL a shot.
We started out by driving from Jackson, Mississippi, to Mena, Arkansas. We chose Mena because of its proximity to the Athens-Big Fork/Little Missouri Junction. We were starting our hike here and it was only a short drive away. Later we found out that Mena had a very interesting history. The movie American Made, starring Tom Cruise, was about this small town and how it became the hub of cocaine trafficking in America. Anyway, we stayed at the Ozark Inn, had a big breakfast at the Skyline Cafe downtown, and headed to the national forest.
Flash Flooding
The night before we hit the trail it rained heavily, and continued throughout our first day of hiking. Now, rain is not an issue for us. We use rain gear and we have backpacked/hiked in the rain before. However, Ouachita National Forest lies in an area that is susceptible to flash flooding and there is no cellphone service. To prepare for this, we researched the area to see if it was dangerous where we cross the Little Missouri River. Since it seemed fine and the water levels were OK, we headed into the forest.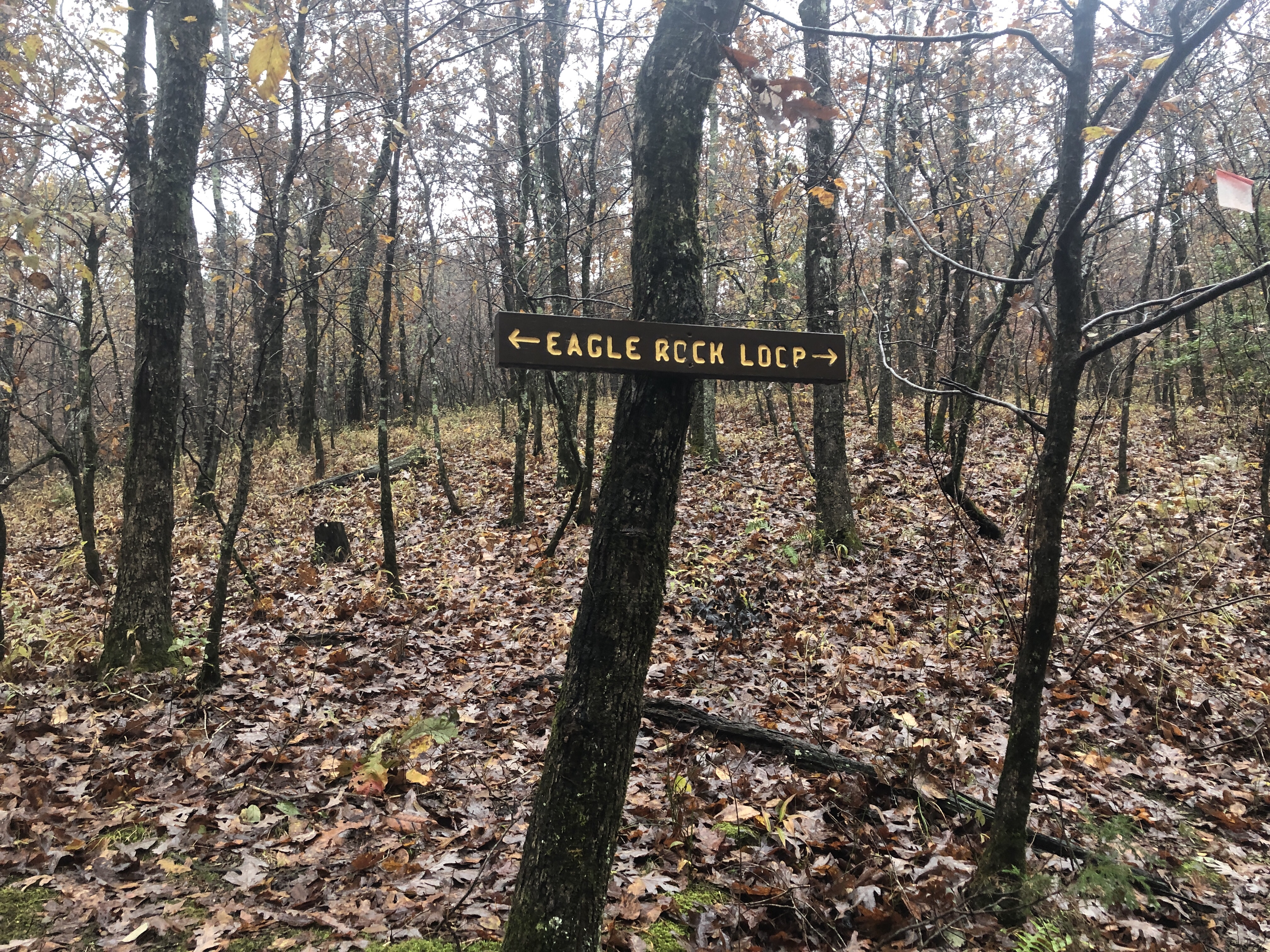 Getting Started
After leaving Mena we made the 20-mile drive into the Ouachita National Forest and parked. There was only one car in the trailhead parking lot other than ours. We got out, got our rain gear on, grabbed our packs, crossed the Little Missouri River, and headed south down the Athens-Big Fork Trail.
Day 1: Athens-Big Fork Trail
The Athens-Big Fork Trail is considered to be one of the most difficult hikes in Arkansas. On the first day we hiked seven miles over five mountains. Each of these mountains had at least a 500-foot ascent. Although that doesn't seem like a lot, Arkansas does not have very many switchbacks. So, the trail goes straight up and straight over each of these mountains.
Since it rained the entire day, each creek/stream crossing was very high and very swift. Because of this, a few of the crossings were a little sketchy. Blaylock Creek was definitely the worst. The water was thigh high and moving very swiftly. The discharge was around 500-800 cubic/feet per second for all you hydrology nerds. About a mile after Blacklock Creek we stopped for the day to get dry. We camped for the night at tent site three on the Guthook app.
Day 2: Viles Branch Trail
The next morning we were gifted clear skies. Although the temperature was low it was not too cold. We got up and continued south to the Athens-Big Fork/Viles Branch Junction. Navigating this junction is tricky but we found our way relatively quick. We hiked about four miles east toward what would be the most dangerous crossing on the loop.
Since it rained the night before we set out and our entire first day hiking, water was everywhere and moving fast. Reaching the Viles Branch/Little Missouri trail junction, we quickly realized that we would not be able to cross safely. Now, we could have waited it out and crossed later that afternoon, but we were on a time crunch. I found out later that the water was almost two feet higher than the recommended safe level to cross.
At this point Kaci and I made the decision to not wait it out and double back the way we came. Although we were disappointed that we were not going to complete the loop, we knew we would get a day in Hot Springs to relax. If we waited it out, it was likely that we would not have that time. Being our anniversary, I was glad about the decision. Later, another backpacker told me over Facebook that by the afternoon the waters had fallen to a passable level. We returned to the same campsite as the day before, clocking 11 miles on the day.
Day 3: Back to Athens-Big Fork/Little Missouri Junction
The last day we got up at daylight and packed up quickly. We made our way back toward the junction where we left our car, crossing back over the mountains we passed over our first day. Blaylock Creek by this time was ankle to calf deep and moving at a slow pace. We made it over the terrain with relative ease, covering a little over seven miles. All in all we did 26 miles just not to say we originally planned. After getting off trail we drove to Hot Springs, showered, and enjoyed a nice meal.
Conclusion
Eagle Rock Loop was a good mix of difficulty and beautiful, natural scenery. We used this hike as another shakedown for the AT, and Arkansas served us well again. If you get the chance, I encourage you to visit Arkansas and experience some of what the "Natural State" has to offer.
Affiliate Disclosure
This website contains affiliate links, which means The Trek may receive a percentage of any product or service you purchase using the links in the articles or advertisements. The buyer pays the same price as they would otherwise, and your purchase helps to support The Trek's ongoing goal to serve you quality backpacking advice and information. Thanks for your support!
To learn more, please visit the About This Site page.