The Beautiful Views are the People
Warm Morning Inside, Cold Rain Out
I sit here leaning back in a kitchen chair so full my eyes are sleepy again.  This morning, one of twenty hikers zeroing for the second day together because of really cold rain, bought a breakfast spread.  Others teamed together to cook it in the public kitchen and a buffet was set.  This is the wonder of strangers all having the same needs and coming together to meet them.
Everyone is wearing some sort of neutral functional clothing. I secretly love the removal of economic divides through clothing and accessories.  Everyone doesn't match, is wearing synthetic quick dry fabrics and is only focused on function.  Others have stepped up and are doing dishes as other hikers stroll in from the bunk room with disheveled hair and groggy eyes to find a generous gift of food.  Welcome to trail life.
The luxury of the day is flush toilets, couches, and chairs. As the crisp cold air settles in around my feet from the cracked open front door, so many stories that I've heard from the trail fill my mind.  Some funny.  Some sad.
People
It's interesting to watch so many personalities face the same journey ahead of them.  There are as many ways to hike the AT as there are people.  We've met people from Belgium, Spain, Australia, Germany, Switzerland, and even Florida.  The youngest hiker I've met was 10.  The oldest, 80.  One person's trail name is 'Frieght Train' while another's is 'In No Hurry.'
I've heard the phrase more than once that hiking the AT has restored that individual's hope in humanity.  I think it provides proof of the goodness of people beyond the daily rhetoric of the news.  The helpfulness, patience, and simple manners and conversational demeanor of hikers make every day a baseline pleasant.  Some are grieving the sudden loss of a spouse, some are carrying dreams of marriage after the hike, some are walking out their outdoorsman education, others are taking a break from working in the middle east.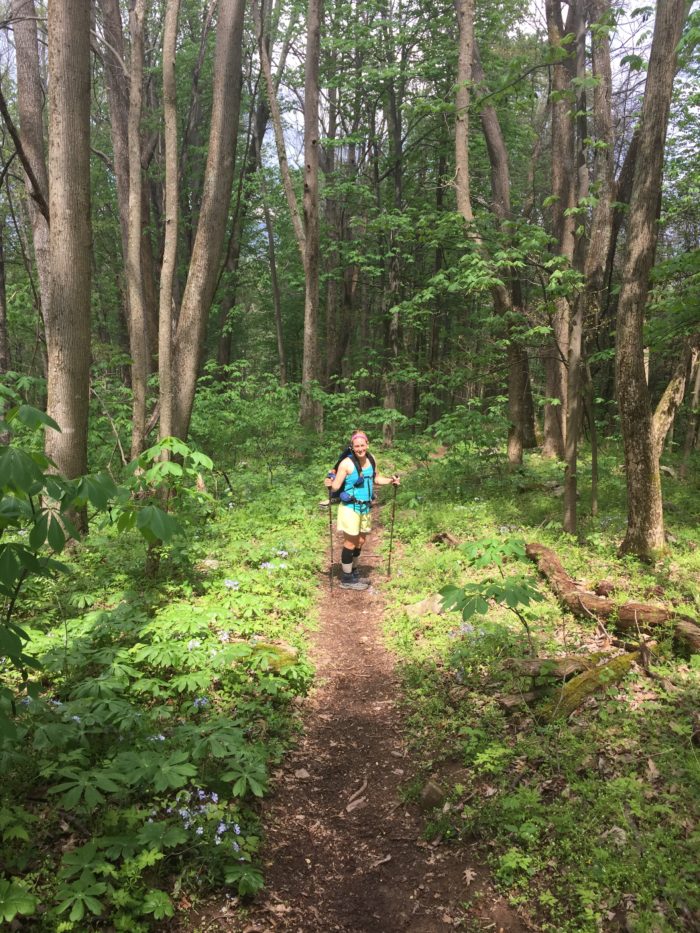 One clear understanding that I appreciate amidst trail culture is the individualism.  No one tries to tell others what they should or shouldn't do, no one tries to project their own hike as the correct hike.  Only you can know what you need, what is best for you, and why your making the decisions you are.  The difference in the individualism, and the freedom in it, is beautiful. On the other side of these decisions lies health and financial commitments that only you can take responsibility for.
One thing I can say is that I've laughed a lot.  People are funny when they have no responsibility after their fed and showered.  You meet new people everyday and share the sign posts of your life over and over again.  Where are you from?  What do you do? etc. etc.  Some conversations go deeper, last longer, and will continue beyond the trail.  I find myself nearing the quiet people and asking a string of questions.  Matador (Joel) falls happily in with the loud crowds giving cracks back as fast as they're given.
Here's some examples of the tidbits from others on the trail:
"I saw my third snake today on the trail, second rattler.  I may need to stop whistling while I hike."
"I did research on my family online.  I found out my 10th grandfather went to court for trying to have sex with a cow."
"I've had to have the bottom of both heels slit to drain the pockets of blisters beneath my calloused heels pads."
A 24 yr old that already had two knee replacements, roatator cuff surgery, and screws from college sports
Military vets seemingly make up at least a third of all hikers
One 26 yr old vet was carrying a ten pound memorial stone of his best friend killed in combat in his pack
Its not uncommon to see physically fit people drinking out of a 2L soda bottle
One couple hikes the AT every year staying only in hotels and hostels, never needing to carry a pack
"I'll have 10 cheeseburgers please." -an order I heard at McDonalds
Sometimes you are hiking around two people who are finding out they are falling in love
There are blind people hiking the trail with guides
With things laying everywhere in shelters and hostels I have yet to hear of anything stolen
Backslidden vegans consuming massive amounts of bacon and other meats on the trail
Its peaceful but entertaining when ten strangers are deciding on what movie to watch while taking a zero
I haven't heard a single complaint while 20 adults share a single bathroom
A 92 yr old runs her own hostel, by herself, running everything with some help from an 83 yr old man
One woman worked in India for a year and had her underwear stolen by a co-worker in their own NGO
Before my husband hurt his ankle I was focused on the my own discomfort, pain, and physical demands as I became accustomed to life on the trail.  More zeros have led to more time off the trail but I've found the beautiful views haven't lessened in town one bit.  The people around me are crazy like me and are in the midst of walking out one of their dreams and I get to have a front row seat to a few of them as they do.  People are a beautiful view.
You can watch videos of our hike here:  Joel Wanders YouTube
Affiliate Disclosure
This website contains affiliate links, which means The Trek may receive a percentage of any product or service you purchase using the links in the articles or advertisements. The buyer pays the same price as they would otherwise, and your purchase helps to support The Trek's ongoing goal to serve you quality backpacking advice and information. Thanks for your support!
To learn more, please visit the About This Site page.