Best Hostels on the Appalachian Trail: 2017 Hiker's Choice
Appalachian Trail hiker hostels not only provide showers and beds for weary hikers, they're the source of some of the best AT memories and are a crucial part of the trail community. For the second year in a row, we polled thru-hikers on their favorite hostels along the Appalachian Trail. Here are the results from that survey. Some favorites held their place (Shaw's and Woods Hole stuck the top two slots again) with brand-new Boots Off sliding into the Top 10, a great sign for this burgeoning facility.
Hitting the AT this year? Don't miss any of these unique, welcoming hostels. It'll be an experience you won't forget.
For the second year in a row, Shaw's was the overwhelming thru-hiker favorite. This clean, friendly hostel is either the last stop before the 100-Mile Wilderness, or the first place most SOBOs Flip/Floppers stay after stumbling out of the woods. No matter how you end up there, Poet and Hippie Chick will make you feel like you belong. They are extremely accommodating for shuttles, will slack pack, and have an all-inclusive atmosphere.
Rates: Tenting: $12, Bunk: $25, Private: $50. Breakfast: $9, Laundry: $5
Hiker Praise: "This is the first stop for SOBOs. There were many hikers there and it was a great place to resupply and socialize with other hikers. Poet and Hippy Chick were great hosts. Neat little town with some good food, plus you get the great breakfast that Poet cooks up each morning."
The atmosphere (and food) is pretty much legendary at this point, making this a must-stop for hikers as they travel through Virginia. The food here comes entirely from local suppliers, and the hostel is an organic farm, so you'll be eating really well at the communal meals. Don't be surprised if you find yourself holding hands in a circle and telling the other hikers what you're grateful for. There's a plethora of ready-made-food available for purchase, as well as yoga sessions for your aching hiker body. Enjoy their famous milkshakes, homemade breakfast, dinners, and a fridge full of food to add to your hiker tab.
Rates: Bunk: $18, Private: $30-90 depending on hiker numbers, Breakfast: $7
Hiker Praise: "Host Neville made this place special. From the yoga to the organic cooked meals it was awesome. Loved the setting out in the woods, it was so peaceful and relaxing. Could have taken a few zero days there."
The new name and ownership clearly didn't make a difference in the popularity of this hiker favorite. This classic Colonial house was built in the 1700s and can accommodate up to 26 guests with a variety of bunks and private rooms. The breakfast is enough to fill even the hungriest hiker's stomach, and the common room provides a clean, homey space for relaxing, watching TV, and playing music. Relax on the back porch or hang out on the lawn. Amenities offered include shuttle, resupply, and meals.
Rates: Bunk: $35, Private: $125. Includes breakfast and coffee
Hiker Praise: "They took us in really late after a 22-mile day. They gave us an ice cream sandwich and checked us in no problem. Cleanest hostel we stayed in, just felt like home. The owner and everyone who works there really care and makes sure this place is something special. Definitely my favorite hostel on trail!"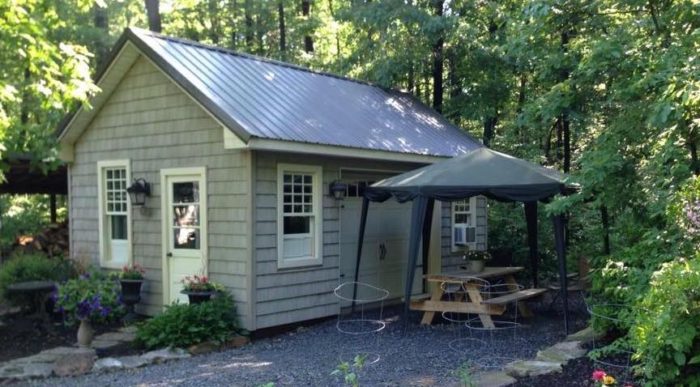 Close to the halfway point on the trail, Rock N Sole offers tenting, a retro camper, and bunk accommodations. They run an all-inclusive pricing with sleeping quarters, resupply shuttle, trail rides, and meals for $40, which makes this an easy stay. They'll also arrange slackpacking and will gladly shuttle hikers to town for medical care and other needs. Mail drops are free for guests and a small fee for non-staying hikers.
Rates: $40 for accommodations, shower, breakfast, dinner, trail and resupply shuttle. Laundry: $5
Hiker Praise: "Clean and comfortable, great food, and they have a dog! They feed you, shuttle you, and take you to resupply. Can't beat it for the price, since by the time you stay in town and pay for meals, it's usually more than $40."

This bright, clean establishment has a cozy living room, a gorgeous lawn, and fast wifi. They welcome dogs (make sure to check out the dog policy) and have a well-stocked camp store for grabbing some extra food for the next section of trail. The bunkrooms are bright, spacious, and tidy and owners offer slack-packing and shuttles to the trail/ town. Coffee, linens, trailhead shuttle, and make-your-own breakfast included with stay. Owners Serena and Justin are avid hikers with an incredible knowledge of the area.
Rates: Bunk: $33, Private: $70-100, Shuttle to different areas: $5-10
Hiker Praise: "I don't know where to begin with all of the reason I loved the Notch. The staff are absolutely amazing. They make an effort to connect with each individual guest and you can see that they truly care about your well-being. I stayed at the Notch four separate times. One stay was five days long because I was sick—the Notch staff brought me to a doctors appointment, then to the pharmacy. They understand the needs of hikers and provide all that they can to encourage them through the Whites. The hostel is incredibly clean and offers perks like a fully stocked, large kitchen, laundry, bikes to rent, and endless coffee!"
Donation-based hostels are a shining beacon of honesty, and we love them for that. Four Pines is located just over a quarter-mile from from the Newport Road crossing, in a retrofitted three-bay brick garage with bunks and showers. They run shuttles to and from the Homeplace Restaurant, which makes this stay a no-brainer. Hang out with the chickens, jam out on a guitar, and be part of this laid-back atmosphere. Don't miss the Dragon Wagon… you'll want to get a selfie with this vibrant van.
Rates: Donation-based, pay what you can.
Hiker Praise: "This was an awesome place to hang out, eat a bunch of homemade cookies, grab leftover resupply food, and jam out on the guitar."
A play on the word "hostile" this labor of love will make anyone feel welcome after stomping through the woods of North Carolina. Many NOBOs hit the spot in the frigid first month of their hike, and this place is a welcome respite from the cold. Cee Cee the hostel's proprietor will warm hiker's spirits, often compared to a "mom who just wants to feed you and make you comfortable." This homey hostel offers resupply, WiFi, laundry for guests, and shuttle services. Check out our profile on Greasy Creek Friendly here.
Rates: Indoor bed: $20, Bunkhouse: $15, Tenting: $7.50. Stay includes shower. Small fee for laundry/shuttles.
Hiker Praise: "This hostel feels like a home with a kind mother. It offered an oasis of hospitality along the trail."
You won't run out of things to do at Uncle Johnny's, a spot that pretty much requires a zero day during your trek through Tennessee. Erwin is a hot spot for rafting, boating, and fishing, and Uncle Johnny himself is a character you won't soon forget. A variety of accommodations from tenting to shared rooms to private cabins will fit anyone's needs, and the showers are among the best along the trail. All stays come with a shower and towel, and you can stock up on supplies here as well. Shuttle into town for meals and rental bikes round out this fun stop just steps from the AT.
Rates: Tenting: $10, Bunk: $20, Private: $30-95, Laundry: $5
Hiker Praise: Awesome location! 'We don't have beer but here's a bike,' terrific staff, good bathroom. The bunks are nice and there's a cute dog.
Be prepared to eat well here and be invited to work on their farm—a unique experience you won't soon forget. The community feel is hard to leave, right in town and within walking distance to all amenities. This hostel is clean as can be, and among the most open and welcoming on the AT. Be aware that this is affiliated with a religious establishment, if that's something you feel like you should take into account.
Rates: Work for stay
Hiker Praise: "Everyone was very welcoming and friendly! You get some free goodies on your bunk when you check in, it is within walking distance of anything a hiker could want or need and it was CLEAN! Breakfast together with everyone was filling and delicious. Loved playing board games and demolishing pizzas here with my trail family."
Brand new for 2017 and fitting right in with the AT crew, Boots Off is a serene stop in the Tennessee woods. Just a few minutes from Lake Watauga, hikers can grab a kayak and spend a relaxed day on the water. Bunks are surrounded by curtains and have your own light in each one for a private, cozy atmosphere. This facility was built by hand using primarily repurposed materials. You'll get a shuttle and breakfast included with your stay, plus plenty of resupply options. Check out our profile on this newcomer here.
Rates: Tenting: $10, Bunk: $20, Private: $50
Hiker Praise: "Jim has an amazing setup here. The bunk rooms are wonderful, private cabins available, and his renting area is top notch! Plus, his showers were the BeST on the trail. Also, Lake Watauga is right there—wonderful place to zero."
Honorable Mentions
Want to be included in future polls? Follow us on Facebook, Twitter, and sign up for the newsletter here.
Related
Affiliate Disclosure
This website contains affiliate links, which means The Trek may receive a percentage of any product or service you purchase using the links in the articles or advertisements. The buyer pays the same price as they would otherwise, and your purchase helps to support The Trek's ongoing goal to serve you quality backpacking advice and information. Thanks for your support!
To learn more, please visit the About This Site page.