Best Breakfast Buffet on the Appalachian Trail
Bama
➡️
Baxter Day 63&64
Day 63: 15.7 miles
This morning we all woke up at the Mountain Harbour hostel around 6:30am. I slept great last night in my comfortable bed and had zero complaints. We got up and packed our things before heading over to the Mountain Harbour breakfast. It's $15 and is said to be the best breakfast on the Appalachian trail. They have won best breakfast the last 13 years!
When we arrived inside the aromas were exceptional. It was truly like nothing I had ever smelt before. The spread was overwhelming. Just looking at everything I didn't even know what half the dishes were, and by god was that exciting. There were 27 hikers lined up ready to go at it. The lovely ladies who run the breakfast talked to all of us and explained what the dishes were first, then they had us all line up cafeteria style to serve ourselves. It's basically a buffet spread except once certain dishes run out they don't get replaced.
I loaded my plate up with everything in sight. Hash brown casserole, tomato quiche, French toast with a walnut honey glaze, Mountain Dew apple pie bites, sausage, egg soufflé, and so much more. There were easily 15-20 different things to choose from and they were all home made and looked incredible. Even the jams and the granola were homemade.
We all squeezed in together at a small table and dove on in. Every bite was somehow better than the last. Even the way that the foods combined together on the plate side by side created a unique and delicious combination. I had loaded my plate to capacity and still devoured it all. By the end everyone looked so unbelievably satisfied. I was sweating from the combination of thru hiker body heat and food overload. But I had never been happier.
After we ate we headed back to the bunk room to finish getting our things together to hike out. Crigas and his mom set out before us so we said goodbye to them. Then Spring Break, Sweet Pea, Tia, and I all set out as well. It was exciting adding a new member to our group!
The trail began with a bit of a climb which was pretty steep at times. It was already quite hot out and I was sweating bullets. I kept wiping the sweat from my face with my bandana over and over again just to feel it replenish itself. Fortunately with each steeper bit of climb we were rewarded with a bit of downhill or a segment of relatively flat trail.
After a few miles of walking the uphill came to an end and we had a couple miles of downhill after that. The trail also headed back into the forest rather than being on an exposed hillside, so the shade greatly helped with the heat. I listened to podcasts and zoned out. I've been listing to a lot of "Two Hot Takes" podcasts recently which have been super entertaining. The host Morgan reads Reddit posts and comments on them and it's absolutely hilarious and ridiculous. Just up my ally.
After about 4 or 5 miles I came upon the AT 400 mile marker! There I stripped off my pack and laid out to take a break right across the trail. Sweet Pea was right behind me and we lounged and snacked while we waited to Spring Break and Tia to catch up. Tia did the PCT a few years back and is an experienced backpacker among other things, but it's still just her first day on the AT. So we're trying to take it easy and not wreck her too bad. The three of us previously have been really crushing miles, so the idea of slowing our pace down a bit was actually really appealing to me.
Personally I'm in no rush to finish the AT. I just generally like to hike all day so we wind up doing big mile days. But slowing down a bit and enjoying longer breaks is going to be a nice change of pace for sure.
While we sat at the 400 mile marker I also decided to use the time to make my Bama➡️Baxter 800 mile marker! I passed it a couple of days ago but at the time didn't have the energy to make a marker. So better late than never! I'm about 830 miles in at this point.
Spring Break and Tia weren't far behind us and they joined in on our break. I did some stretching and snacking and then we were back to walking.
The next stretch of trail had a lot of downhill and was otherwise fairly flat. We even did a spur trail to Jones Falls which was a beautiful waterfall. It was the best .2 miles off trail I've done so far on the AT. The waterfall was tall and gushing. It was absolutely incredible. And just a few miles later we came upon another waterfall, Mountaineer Falls. Once again it was originally supposed to rain all day today but instead we had clear sunny skies. I couldn't have been happier.
After another handful of miles we took our second break of the day to snack and chill out. We were only trying to do about 15 miles for the day so we were in absolutely no rush. Over the course of the day we passed dozens of water sources, so we didn't have to carry practically any water throughout the day. I just filled up periodically when I needed some. That was pretty awesome and helped to keep my pack lighter. It was already quite heavy from my full resupply.
All of us took another break together and then pushed on to get to camp. We had read that there was an unmarked camp site that would likely fit all 4 of us. There was no water source there so we topped off on water and then did another .2 miles or so to camp. When we arrived Smoke and Holy Shit were already set up there as well. But there was plenty of room for all of us to fit our tents in too.
I got my tent set up and it began to lightly rain almost immediately after. Once again, exceptional timing. Inside my tent I got situated and then the rain stopped and I sat out to cook dinner. Then after a while I retreated back to my tent when it began to softly rain once again. I did my stretch routine and a big of writing on my phone. Then I called it a night.
Day 64: 17.4 miles
This morning I woke up around 6am and slowly began to pack up and get ready for the day. By the time that I got out of my tent Smoke and Holy Shit were on there way out of camp. The rest of us got packed up and once I was ready I laid out on my zlite to do a bit of stretching.
We set out around 7am and it was looking like it was going to be a beautiful day. All of us walked along nearby one another and talked on and off. Early on in the morning we passed another hiker Matt who we've been leapfrogging with recently. Then a couple miles in we passed the Moreland Gap Shelter. It was a bit early for a break so we continued on to get a couple more miles in before stopping. There was a small bit of uphill here and there but otherwise the trail was pretty cruisey.
After a couple more miles we decided to take our first break at a dirt road so that we could sit in the sun to stay warm. The weather was great but it was a bit cold without the sun out, especially once you stopped walking and cooled down.
While we rested I stretched and ate some snacks. We talked a bit about our plan for the day and how far we were trying to go. There are some camping restrictions coming up today so our options are more limited than usual. It was looking like we either had to do a short day or push for a longer day. We decided to just feel it out and see how the day went.
After our break we continued along and had a few nice easy miles of gradual downhill. I listened to a podcast and was in the zone.
We wound up doing about 5 miles and then stopped at Dennis Cove Road. Our tents were all a bit wet from the rain last night so we decided to take another break and lay our things out to dry. We had our own shanty town going on by the trailhead which was a pretty hilarious scene. It was a Saturday and loads of day hikers were parking at Dennis Cove Road to do the 1.2 mile hike in to Laurel Fork Falls. As we sat and dried our things we all ate some snacks and hung out.

Once our gear had dried we got packed up and continued along the next mile or so to the water fall. Laurel Fork Falls was absolutely beautiful. It was just a short walk off the AT and you could see the falls right from the trail. A bunch of day hikers were all hanging out enjoying the views. Spring Break, Tia, and Sweet Pea all decided to go for a swim in the large pool below the waterfall. I didn't want to get my sun hoodie and shorts wet but I also didn't want to swim half naked in front of a bunch of day hikers and their families. So I decided to abstain from the swim for today.
We stayed at the waterfall for a bit and then walked on. The trail followed along the Laurel Fork River for a while after that. That next mile or so was absolutely stunning. The AT weaved along the rocky shoulder of the river which was really unique.
At the last access point to the Laurel Fork River we all took a quick break to filter water and fill up before a fairly long climb. Then we set out to do our last climb of the day which went on for about 3 miles. It was a gradual climb to start and I was feeling strong and energized. The temperature was just right and I quickly weaved my way up the climb. There was a false summit a couple of miles in and Sweet Pea had stopped for a quick breather. But I didn't want to rest until I was at the top. The last mile was a bit steeper than the initial climb but I huffed and puffed my way to the top.
Once I got to the top of the climb there was a camp site and a trickling water source. I stopped there to take a break and wait for everyone else. We had decided that because of the camping restrictions around Watauga Lake we were just going to head to Boots Off Hostel for the night. I'd heard great things about the hostel but hadn't expected that we'd stay there. So it was a nice surprise that the mileage worked out perfect for us to spend the night there after all!
We figured we could tent there on the property or get bunks in the hostel if there was space. It might rain tonight so that sounded like an ideal plan. Once everyone else arrived at the water source at the top of the climb we hung out there for a while before continuing on. There were only 3 miles remaining to get to Boots Off Hostel.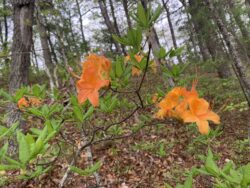 After we set out from the water I noticed that my left heel was bothering me. It seemed like the repair I had done to my shoes had come apart and the worn out shoes were rubbing horribly on the skin of my heel. I ignored it for as long as I could before finally stopping to sort it out. All of the cushion around the heel of my shoes had worn away and all that was left was the sharp plastic layer underneath. When I finally checked I saw that it had worn a bunch of holes in my socks and was scraping against my skin. There was no time for any major repair so I just wound up tucking my gaiters into my socks so that it didn't rub as much on my skin.
That definitely helped a bit but didn't solve the problem. Fortunately the last few miles were all downhill so it wasn't too bad. When I arrived at the road where you could walk over to hostel I sat with Sweet Pea who was already there. I decided to just take my shoes off and put on my Teva sandals so that it didn't bother me any more today. I'll have to figure out some way to repair it tonight. I still have to hike 40+ more miles to get to Demascus, VA where my new shoes are awaiting me.
At the road Sweet Pea and I waited for Spring Break and Tia before heading over to the hostel. We both had service so we decided to see if there was any space in the bunk house for tonight. And just our luck there were a few bunks still available. So we booked them on our phones just in case they some how filled up before we could walk over there. It's $30 a night which isn't too bad at all for a hostel. I loved the idea of sleeping inside for the night and not having to deal with setting up my tent or getting it wet if it rained.
Spring Break and Tia arrived not long after that and we all headed over to Boots Off Hostel together. They decided to tent because it was just $15 for the two of them rather than $30 a person for a bunk. Grumpy at Boots Off got us checked in and was a really nice guy. They have a small store there so I bought a few drinks and snacks. I got a fantastically odd combination of beverages. A V8, Yoo-hoo, and a coke. Why the heck not.
Grumpy showed us to the bunk room and we dropped off our stuff. Then we all headed back to the kitchen/indoor seating area to hang out. I was even able to take a phenomenal hot shower. They have a really cool set up going on over there and it's probably one of my favorite hostels that we've stayed at yet. Plus it's right off the trail. We saw some familiar faces there and also met some new hikers. Smoke and Holy Shit were also staying in the bunks which was cool too.
I did some repairs to my shoes which seem like they may do the trick. When I left Erwin I carried out extra insole and super glue just in case I needed to repair my heels a bit more. And I'm so glad that I did because this was definitely an urgent situation. Hopefully the shoes feel a lot better hiking out tomorrow morning.
After I showered up and was nice and comfortable in my sleep clothes I joined everyone else again in the kitchen area. We all cooked our dinners on our camp stoves and sat out eating together. Gio and Roxy were there too! That was an awesome surprise. While we sat we discussed plans for staying in Demascus since we were going to be there in just a couple of days. Spring Break, Sweet Pea, and I haven't taken a zero day since Franklin so we decided that Demascus would be a great place to finally take another.
We wound up booking a room for 2 nights at the Dancing Bear Inn in Demascus, VA and planned to nero in and also zero there. That sounded wonderful to me. The room could fit up to 6 people and had 4 beds so Gio and his dog Roxy are going to join in on it with us as well! Splitting the room between the 5 of us was actually really cheap too which was great.
The rest of the night we all just hung out in the kitchen area of the hostel talking with one another. It was a really fun night and such a cool turn of events for the day. This morning I really wasn't expecting that we were going to be ending our day at a hostel.
Later on in the evening once it got a bit later we all parted ways and Sweet Pea and I headed to the bunk room. The bunks at Boots Off are pretty cool because they all have privacy curtains, a plug, and their own small light. It's certainly the most privacy that I've felt in a bunk room so far on trail.
I had service so I laid on my phone for a bit scrolling on the internet and writing a bit for my blog. Then I did my stretches and called it a night.
Affiliate Disclosure
This website contains affiliate links, which means The Trek may receive a percentage of any product or service you purchase using the links in the articles or advertisements. The buyer pays the same price as they would otherwise, and your purchase helps to support The Trek's ongoing goal to serve you quality backpacking advice and information. Thanks for your support!
To learn more, please visit the About This Site page.