Body, Mind, Spirit on the A. T.
Updates first! My body is in Harpers Ferry, my mind is recalibrating and strategizing for the rest of the way to Katahdin, and my spirit is sky high making this symbolic halfway milestone with a great traimily.

Listen to the whisper
… or the yell will take In you down. In my last post, I talked about reframing, I want to dig a little deeper.  While I do believe in the power of mind over matter I also think it's important that we listen to our bodies. The trail has taught me the importance of hearing the small voice before it becomes the loud scream. The easy example is having to go to the bathroom. Once I even have the inkling I need to go, I better start looking for a good spot. if I ignore it, I may have a situation on my hands before the right spot is found ☺️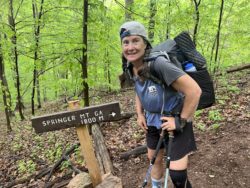 Pain is the same. I believe it's a balance between hearing when your body needs attention determining the urgency of dealing with it versus trekking on and when you do have the time making sure you are addressing it. Otherwise not only will it take more time to deal with a bigger problem but you may have suffered unnecessarily in the meantime.
I started to have a pain in my lower ankle that was completely manageable so of course, I kept hiking. At camp that night, I knew it was a problem when I changed to Crocs because it was swollen and tender to the touch. I wanted to ignore it. Not simply because I was lazy and just wanted to eat and go to bed, that was part of it, but I didn't want to give it attention. Like if I somehow acknowledged the injury it would be worse and if I ignored it it would magically get better. But I had learned from my blister toes that mind over matter has its limits. So I got advice and kinesiology tape and was able to be relatively pain-free for even big mile days.
The Nothing Box
I have been in search of this elusive cube of mental emptiness. My husband has a yogi level access to his nothing box, mostly on Sundays. I am jealous as my squirrel brain reorganizes nuts 24-7.   The mind takes a lot of energy and hiking demands a strict allocation of resources. Something has to give and I have found that my internal energy manager has developed a great system. I envision her crunching the numbers and studying spreadsheets to determine exactly when she turns my brain to low power mode, then off…while hiking.

When in this state the miles melt away. You are aware of everything in detail yet it is also a blur. The body seems to say, "sit back and relax, we got this" and your mind is in the passenger seat. I usually come out of it when I trip or another hiker appears and I can't remember what had been thinking about for the last hour. It is bliss.
The Trail is Listening
My spirit talks to the woods.
My trail mate and I had a situation where we had the opportunity (and sort of needed to) do a 29.8-mile slackpack over the 3 ridges from VA 56 to Rockfish gap in Waynesboro. I found myself thinking of all the special events I have helped manage. Here I was doing a trail marathon over crazy terrain, carrying my aid station, and having to find and filter my water.  While not a race,  I did have a time constraint with the sun going down and a shuttle ride to meet.
I was doing my best to keep a fast pace but at times it felt like I was in a time warp where I swear I have been hiking for an hour but somehow only covered a mile. I had been feeling good until the pressure of trying to finish earlier than I was going to be able to. This is all in my head, I wasn't even talking out loud to myself as I am apt to do on days like this where I've been hiking alone for 10 hours.  And then there was trail magic.
Just as I missed the pick up time and was struggling to keep my spirits up for the last 3 miles, a nice older gentleman hiking by asked about my story. He explained that he was just going a little further down the trail and then turning around and was happy to give me a ride back to the hostel. Um, yes and thank you!
The trail provides is the proverb. I believe the universe can hear your spirit best in nature. I was fortunate they heard me and sent me a Trail Angel named Vintage! Not only was I able to slow down but he gave me the locals inside tour. He pointed out a beautiful hidden lady slipper and he told the story behind the remains of an old homestead.
We emerged out of the woods, near a highway, over to a parking lot with a deteriorating old Howard Johnson… No finish line party, cheering people or friends, just me and Vintage and I couldn't have been happier!
Shout out thank you to family and friends who show up for me near and far. To all the Trail clubs and volunteers who make the trail possible.  The Denton shelter and Blackburn cabin were highlights. Also the Hostels!! Stanimals and Cross Trails were wonderful.

Virginia is for lovers but ready kiss that State goodbye as my trail affair continues onward.
Spitfire
Affiliate Disclosure
This website contains affiliate links, which means The Trek may receive a percentage of any product or service you purchase using the links in the articles or advertisements. The buyer pays the same price as they would otherwise, and your purchase helps to support The Trek's ongoing goal to serve you quality backpacking advice and information. Thanks for your support!
To learn more, please visit the About This Site page.