Bright Lights, Big City (Days 101 to 105, Delaware Water Gap to Port Jervis)
Day 101
Start: Delaware Water Gap
Finish: Campsite a mile past Beaver Pond
AT Miles Hiked Today: 14.9
Overall AT Miles Hiked: 1,307.9
Miles To Go Until Katahdin: 881.2
I slept like a rock in our hotel room in Delaware Water Gap. We had the option of a free hostel downtown, but I'm so glad Reindeer and I got a private room at the local hotel. My body was in rough shape from the last 75 miles of Pennsylvania, which is where they decided to stick all the rocks in the entire state.
We were up around 7 and packed up by 8. The Apple Pie Cafe was our stop for breakfast again today, and just like yesterday, it was the best breakfast I've had on the entire trail. I got an avocado goat cheese and tomato omelette with a side of blueberry French toast. So good!
As we were sitting outside digesting, we ran into a bunch of familiar faces passing by – Chicken Fried and Ninja, who told us that Nilla may be off trail – which would be a huge bummer! We also ran into Nemo, who did a 40 mile day on the day where it rained all day last week. What a machine.
Eventually Reindeer and I decided to get moving. We sluggishly made out way back downtown where the trail headed out over the Delaware River. We also crossed out of Pennsylvania and into New Jersey!!
We had a few miles of flat road walking over to the State Park in New Jersey, and then had a nice gentle climb back up into the mountains. Lots of day hikers out in this section, which looks to be significantly easier than going south into Pennsylvania.
At the top of our first climb we came to Sunfish Pond, a beautiful glacial lake. It is one of the seven natural wonders of New Jersey! How does one create a natural wonder of a state? Is it voted on? Does the governor just declare it as so?  Either way, it was so beautiful up there. We sat with Ninja and Chicken Fried and enjoyed the view.
Reindeer and I were feeling super sluggish all day today. I'm not sure if it was the heat or what… part of me thinks it's because we had a nearo yesterday into town and our bodies got used to the rest. I think we both need to take a few days off. Luckily we will be headed into NYC in a few days on a bus out of Port Jervis!
We had our first good water source of the day at a stream a few miles later, and soon after summited Raccoon Ridge. While we were chatting with a day hiker, a group of 20 or so young boys came up with their camp counselor. I could see them eyeballing Reindeer and me, so I wandered over and we all started talking. I let them try on my backpack. Good times had by all!
Reindeer and I decided to hike a short ways off trail to the Mohican Outdoor Center to get a soda. We were both still really feeling sore and tired and we only had about 4 miles left on the day. It turned out to be an awesome decision. They had cold soda, WiFi, and even handed out fresh chocolate chip cookies to the hikers as we waited out the hot hours of the day.
We reluctantly got up to hike the last few miles to our campsite. Water is tricky here, so we stopped at a spring and packed out water for the rest of the night and tomorrow. When we arrived at our site, who was there but 60 Cent, the older gentleman that Jason and I camped with a few days out of Duncannon! It was good to see him again. It's a really nice site and it's just Reindeer, 60 and me camped here tonight.
We are hoping to push bigger miles tomorrow to give ourselves time to catch a bus into NYC with daylight to spare on Thursday. We will see, hopefully we both feel better in the morning!
Day 102
Start: Campsite a mile past Beaver Pond
Finish: Bushcamp just past Sunrise Mountain parking lot
AT Miles Hiked Today: 19.0
Overall AT Miles Hiked: 1,326.9
Miles To Go Until Katahdin: 862.2
We were up early, but not early enough to catch 60 Cent, who was packed up and out before 6. We rolled out around 7:30 and made fairly easy miles. According to our guidebook, this was being developed for homes before being purchased by the park service, hence the extremely flat and easy terrain! We quickly got to our first water source, a stream flowing near a road crossing about 0.2 from the trail.
The day got hot and rocky from there, but there were some beautiful exposed ridgelines with large slabs of rock to walk on.
At Culver's Gap, around 14 miles into our day, we stopped for a quick rest. The plan was to do another 6 or so miles to leave ourselves an easy day into Port Jervis. But, it was so hot! We looked down the road and saw a gas station sign. Well, we have time for a Coca-Cola, right? But as we walked down, we discovered it was a mechanic that sells gas, which is apparently a thing in New Jersey. But right next door was a bar, with a bunch of backpacks out in front. Well, maybe just one beer, right?
We enter to find Ninja, Chicken Fried, Reverend, and 60 Cent, among a few other hikers and a smattering of locals. As we sit down at the bar, a non hiker asks us if we are thru hikers. We say yes, and he smiles and tells the bartender to put our first drink on his tab. Nice! A little trail magic in the bar! We swap stories with him, and he hiked GA to Harper's Ferry in 2010. Matty Bones is his trail name.
As Reindeer and I finish our beer, we order another. Our generous former hiker asks the bartender what the total alcohol tab is for all the hikers. He then picks up the entire booze tab for all hikers, plus another drink for everyone. Hooray! Except, we still have like 6 miles or so left to hike today. Reindeer and I look at each other and shrug. Sometimes you just gotta be open to what the trail throws at you, right?
Reindeer and I have a bit of a shine on at this point, and we're getting ready to take off, when Matty Bones comes up to the bar again. He looks at us, looks at the bartender, and orders 3 Jager bombs. "No!!" Reindeer and I cry at the same time. If we do Jager bombs, there is no way in hell we are hiking out of here. He looks at us again and says "Well, what about Tic Tacs?" Orange vodka and red bull? Well, it would be impolite to turn that down, right? We all go outside on the porch and take the shots with the other hikers.
Oh my, how this day has taken a left turn from our plan of crushing big miles. I don't drink much at all, and as we are walking out of the bar, I realize that I am drunk. The good news is that we are walking out of here, not driving! The bad news is that we have a hot, rocky climb out of the gap.
We slowly, slowly pick our way up the mountain, moving one mile in an hour. Reindeer has a shine on too, and he falls and busts up his leg, but we can't stop laughing. What a ridiculous day. This is our first time drinking and hiking. It's harder than you'd think.
We load up on water at the shelter 3 miles out of the gap. Fortunately those Tic Tacs had red bull in them, so we still feel energized enough to do a few more miles, and now that we've sobered up a bit, we can walk a bit faster than 1 mph.
We end up bushcamping just past the sunrise mountain parking lot. It was pushing 7:30 when we got to camp, which is really late for us. We set up, ate and went straight to bed.
Day 103
Start: Bushcamp just past Sunrise Mountain parking lot
Finish: High Point State Park / New York City!
AT Miles Hiked Today: 8.8
Overall AT Miles Hiked: 1,335.7
Miles To Go Until Katahdin: 853.4
We awoke to an arguing couple walking down the trail around 6:15. She was very clearly not happy to be hiking, and was taking it out on her partner. We were bushcamping a little off the trail and were hidden, so they kept right on arguing as they passed.
It was a super foggy morning, with water dripping off the leaves and getting us wet as we hiked. It was humid and hot, which got us even wetter. Still, we were excited to get to Port Jervis and catch a train to NYC, so we flew down the trail.
The trail was surprisingly rocky as we hiked, but the elevation wasn't too bad, with no climbs or descents over a few hundred feet.
We made fantastic time, arriving at the state park before 11. The staff give thru hikers a free Pepsi, so we went inside to grab a soda and ask about rides into Port Jervis. They gave us the number for a local cab company, which we called. They took over an hour to get a cab out, but we eventually got to town.
Our first stop was the local pizza restaurant for a hot meal! We killed about an hour waiting for the train, then hopped on the train into the big city.
It was so strange to be on the train with real people. They were mostly coming home from work and were all dressed up in fancy clothes. They smelled of cologne and business. Very strange after being surrounded by hikers.
My first thought was how beautiful everyone was. My god, I was never this beautiful back in the real world, was I? Everyone had perfect hair, matching clothes, and clean fingernails. It was awful!
My second thought was how LOUD the city was! Ambulances, cabs, New Yorkers screaming, babies crying – it was a lot to take in after the relative solitude of the wilderness. I wanted to wear my earplugs just walking around town!
I met my college roommate of two years and best friend Matt at Penn Station. He looked right at me and didn't recognize me, and kept searching the crowd for me. I laughed and waved my arms, and he cracked up. This is his first time seeing me with a beard! We took the subway back to his place, grabbed some chipotle (ok, a TON of Chipotle), and spent the night catching up.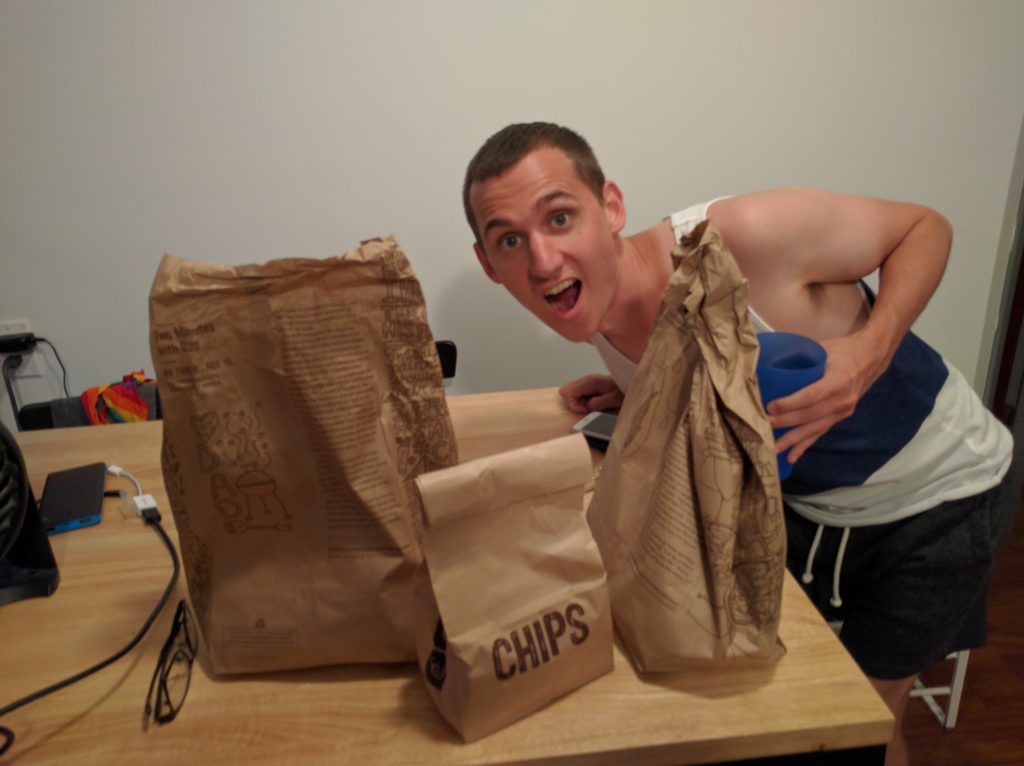 Days 104 + 105
Start: High Point State Park / New York City!
Finish: High Point State Park / New York City!
AT Miles Hiked Today: 0
Overall AT Miles Hiked: 1,335.7
Miles To Go Until Katahdin: 853.4
What a blur the last few days have been! I visited friends in Manhattan, got fitted for a groomsman suit, watched movies, hung out poolside on long island, went to a music festival, and got absolutely no rest. I thought you were supposed to rest during zero days? Clearly nobody delivered that memo to me. Enjoy these photos of my escapades. Matt, Teddy, Cynthia, Sheel, Justin, and Brian: Thanks for an excellent time in the big city, see you all again soon!
Until next time, happy trails!
-Slice
Affiliate Disclosure
This website contains affiliate links, which means The Trek may receive a percentage of any product or service you purchase using the links in the articles or advertisements. The buyer pays the same price as they would otherwise, and your purchase helps to support The Trek's ongoing goal to serve you quality backpacking advice and information. Thanks for your support!
To learn more, please visit the About This Site page.