Stunning Views and New Friends
Hi, folks, for the second time this evening. It's gonna be a shorter post  than usual, thanks to my previous post about safety on the trail. That means only 8,000 words instead of 10,000.
Everything continues to be great on the trail. I began the week with two days of hiking over the Roan Mountain area with a new friend I met while being shuttled to the trailhead.
This two-day experience basically involved a morning-long uphill through forests,  followed by walking up, down and across (seeing a theme to this thing called the AT?)  the balds   (high, treeless meadows), and ending with an equally long down to finish it off.
Kushagi and I matched up well in speed of hiking, desire for breaks, and interesting topics to try to talk about while gasping from .
We came to a large open space that, now empty, once was once the site of a fine resort hotel. It straddles the state lines of TN and NC. Back in the day, it was legal to drink in TN but not in NC. A white line was drawn down the center of the dining room, as well as the long banquet table. Guests could drink on one side of the table but not on the other. The sheriff came occasionally to observe carefully, and, perhaps, to sit on the TN side himself?
On both days, we were never really sure which state we were in at the moment. So no drinking for us.  In truth, it's the added weight of a can or a bottle that makes most backpackers teetotalers while on the trail.  Now, when coming into a town at the end of the day…
Below: entering my sixth state on the AT.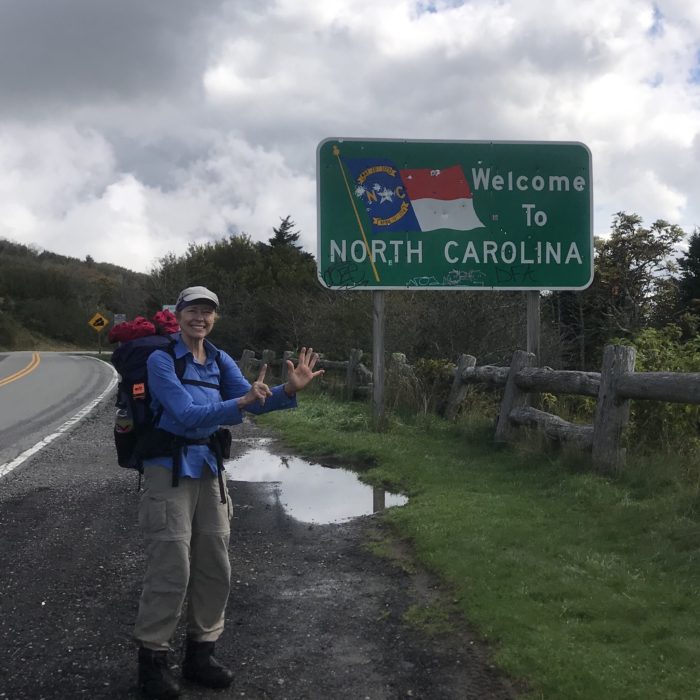 We enjoyed lunch on our first day at the Roan High Knob shelter, the highest one on the entire AT, at 6,186 feet.
When we finally  climbed out of the forests into the balds,  occasional light rain and clouds came along.  But the rolling fog only added to the ethereal  feeling of the experience. However, one could easily get lost without carefully following the white blaze .  (See my previous post. We saw people going up this mountain in flip flops with no water, rain jackets, etc.)
The clouds rolled in and the clouds rolled out throughout that first day, revealing amazing views of distant mountains, surely the towering Smokies, just ahead of me.  (Cue nervousness and slight apprehension.)
The balds were not flat.We climbed laboriously up to the top of one, walked carefree for a few moments, and then down and up the next one. But the views were our reward.
We spent that night in one of the most famous shelters, the Overmountain Shelter, a converted barn.  At the turnoff for the shelter, the AT intersected with the Overmountain Trail.  This was the route some of the Yanks used to the site where they won a decisive battle against the Brits in the Revolutionary War.  More details?  You're at your electronic device, my friend. Go to Wikipedia.
We shared the shelter with five other hikers. It's extremely popular because of its uniqueness  and expansive view.  There can be over 100 people camping in the barn or on its grassy field on weekends.
Kushagi and I chose to sleep upstairs on the second floor for protection from the wind, where we found a nice light/dark contrast between the boards of the end walls.
 
The second day on the balds involved  more ups and downs, with even more fog rolling around us. This made it mysterious and then rewarding when the view would appear.
After the previously mentioned final downhill for the day,  we finally reached our goal: cool drinks at a craft brewery/hostel. And with that, I said goodbye to my new friend as he headed back home to the Nashville area. He's an amazing guy with many talents, including being  nominated for a Grammy in the music education field. First person I've ever met who as been  worthy of such an honor. Good luck, Kushagi, I'll be checking on that!
The next day, back to hiking by myself. Within ten minutes I met a young woman who was accompanying an older hunter (poor eyesight? I'm getting nervous…).
It's bow season for hunting deer.  I'm sure glad I wasn't wearing this T-shirt from my first triathlon.
Seeing my bright red rain jacket folded in a small bundle on top of my pack, she said, "You'll probably be safe enough with that." Safe enough isn't good enough for me. My rain jacket has now been repurposed.
That day's hike involved:
a. Trees
b. Uphills
c.  Downhills
d.  All of the above
You can probably figure that one out.
The highlight of the day was my lovely little solo camping spot: in a bowl-like meadow amid old apple trees, with a nearby spring for water for dinner.  Every  now and then I'd hear a loud thump, jump out of my skin, and then remember it was just an apple falling from a tree. Happily, none  fell from the tree above me.   The coyotes were in full voice that night as they howled together across the valleys, which was fun to experience. One was quite close.  However, I had neither poodle nor cat that they might wish to snack on, so I didn't feel at risk in any way.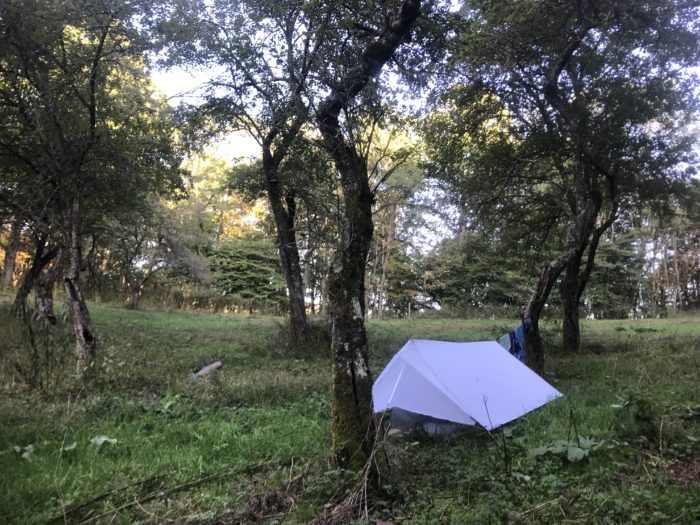 The next day, while having lunch at Cherry Gap Shelter, a group of men, members of the local trail association, came to look closely at the building and the location. They were beginning the process of replacing the old shelter with a new one. It would be a contest among design students in the local high school and  funded by  the AT license plates sold in TN and NC.  And, interestingly enough, according to the local  regulations, it had to be handicapped accessible with a ramp. Not a road around for miles, only rugged trails.  Good luck getting up there to use your ramp, folks.
My solo campsite that night was not far from another spring, as well as a dirt road. It didn't look like it would be used a lot, but that was wrong. Pickup trucks constantly went up and down the road, day and night. Later I learned local teens were heading up to a scenic spot I would get to the next day. But they weren't there for the scenery as much as the partying.  No photo of this camping spot. It didn't deserve it.
The next day, via trail instead of dirt road, I too arrived at that party place, the bald called the Beauty Spot.  As you approach the crest of a bald, you get excited about what view  might await you.
This  didn't disappoint. It looked like a sea of foam with islands protruding through the white sea.
A beautiful, cloudless Saturday, and several couples and families  were enjoying camping at this spot.  No partying at the moment.
As I began the long, knee-challenging descent toward Erwin, TN,  I met lots of other hikers, which made the trip longer but much more interesting.
One pair of hikers were two women who used to work together but now live in different states. They still have managed to maintain their friendship.  One actually had the same names as I do, Ruth Lynn.   The three of us enjoyed a wide-ranging conversation for ten minutes, including the value of essential oils. I don't think my husband would talk about that with others on the trail.  In fact, I'm absolutely sure of it.
Another good conversation took place with a couple who were walking up to Beauty Spot.  It turned out they are ultrarunners, so we enjoyed talking about various races we have run. I shared that I was considering going to church the next day, and Rick offered to pick me up and take me to their church, going an hour out of his way. A lunch invitation was also included, so how could I refuse? It's exciting what can happen when you open up and are friendly with people.
Well,  I eventually ran out of people to talk to and finally reached the bottom of the hill, Erwin, TN. My lodging is the iconic Uncle Johnny's Nolichucky Hostel. Because of a zero day,  I  have my own room, half of a cozy little cabin.
As planned, Rick picked me up Sunday morning for their contemporary church service in historic Elizabethton. On the way to a local  restaurant, we passed by a beautiful covered bridge, the oldest one in TN, and in excellent condition.
At lunch,  I got to meet Rick's parents and Michelle's two step-grandchildren. There was much interest in the AT and animated conversation with the two charming children. It was a real pleasure being with these hospitable  people.
And now I wrap up this post after another fine zero day. Was I able to limit the length of the post? Of course not. I just have just too much I like to share with you.
In one week,  I'll finally get to see my hubby again, after five weeks apart. It's about time!
Till then,
Chocoholic
Affiliate Disclosure
This website contains affiliate links, which means The Trek may receive a percentage of any product or service you purchase using the links in the articles or advertisements. The buyer pays the same price as they would otherwise, and your purchase helps to support The Trek's ongoing goal to serve you quality backpacking advice and information. Thanks for your support!
To learn more, please visit the About This Site page.