Captain Fantastic's Diary of the Smokies, part 1
We're finally being forced to fully embrace AT culture by staying in shelters. From previous blogs you'll know that both Sapling and I have had some bit of anxiety about doing so and tend to find stealth sites where we have the privacy of our own tents. But now we've entered the Smokies. 
The Smokies are one of three areas on trail where you need to have a permit to legally enter. It'll set you back $40 if you're a thru hiker and once you're in you've got 8 days to get back out. The trail bisects "Great Smoky Mountain National Park" to the tune of 72 miles, beginning at Fontana Dam and roughly ending 30 miles south of Hot Springs, NC.
It's hard to know what state you're hiking while in GSMNP. I never saw a sign saying we'd left NC, but when I checked the weather it said I was in Tennessee. The trail loosely follows the border of the 2 states and seemingly meanders in and out of them like a butterfly attempting to fly a straight line.
To preserve nature there are much tighter rules and regulations in the Smokies. If I ever end up in jail and a fellow inmate were to ask what I did, it would be quite embarrassing to tell them I got busted for tent camping in the Smokies. But there are signs posted with big fines and threats of incarceration for doing it. So if you can't tent camp and you're here for almost 75 miles, that's going to be a bunch of nights in a row in a shelter.
I'm beginning this Diary in Shelter the morning after our first day entering the park. I'm surrounded by a discordant symphony of snoring featuring what sounds to be out of tune tubas and French horns. Then there's the occasional fart which brings the whole show to a quick intermission before starting back up. I miss my tent.
Day 1
I awoke in the wee hours to booming, not so distant thunder and lightning. I was safe in my very first shelter, the cheekily named Fontana Dam Hilton because it has a charging station for phones, flushable toilets and a shower. It's also the largest shelter on trail by holding 20 hikers per night. We were located a half mile from the dam itself, and about 2 miles from Fontana Resort.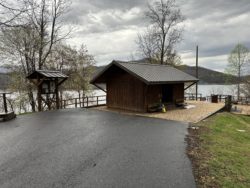 The quick and  powerful bursts of light bouncing off the lake were beautiful- but obviously dangerous. I had a bit of concern for Sapling because she had chickened out the night before when she saw all the people spread about laughing, talking and having a good time, so she went to a nearby tent pad and set up. It is a little bit intimidating. There's a culture to the shelters, each one slightly different based on its occupants. And there are unwritten rules to decipher without getting the stink eye, which some could care less about, but Sapling and I don't like rocking the boat in these types of situations.
So as the winds picked up and the rain and lightning started up I wondered if my daughter was okay. Turned out she was fine. So fine in fact that she'd entered the unoccupied men's bathroom at 2am to unplug my "brick" emergency back-up charger and exchange it for hers. There were several young women at the shelter and none were too keen on hearing the news that the men's room had a much faster electronics charging station than the solar powered one down near the Shelter and lake. Women and their public restroom envy!
Around 9:45 am we set out hiking for what was sizing up to be one of our hardest days yet. Since we had taken a shuttle into the resort the day before and resupplied our food at the general store the packs were very heavy; plus we had over a vertical mile of climbing in front of us over the next dozen miles. But first we had to cross the Fontana Dam itself. We felt special because they were doing construction on it and it was closed to vehicles. But after a quick jaunt around some jackhammering workmen we had the whole dam to ourselves and walked right down the middle of the road.
Once back in the woods we were required to submit our printed permits into a brown metal box, stating the date we were entering. We had overdressed for the day since climbing makes you heat up quick, so we changed into shorter sleeves. While doing that two bearded section hikers walked by us. They didn't need permits since they weren't thru hiking, but they did have to fill out an itinerary online saying which shelters they'd be sleeping in each night during their hike through the park.
The climb from the lake to Shuckstack Tower is 5 miles long and quite steep. I told Sapling I'd wait for her at the top as I've been feeling really good on the bigger climbs and wanted to push myself hard on this test. I wasn't the only one. Somewhere between the first and second mile I came across a friend I'd made at the shelter named Waldo. He was sitting next to a couple friends on a rock and I said hello to them as I went by. Within 5 minutes I heard the click clack of hiking poles and when I looked back there was Waldo hot on my heels. I stepped aside to let him by but then picked up my pace to stay close with him. It was pretty evident we were in a friendly climbing contest and I was feeling good. Waldo finally tuckered out from being in front and we switched places again. Every now and then a switchback would present itself and allowed me to see where he was. Pretty soon he was gassed and I arrived at Shuckstack Tower alone. We talked about the hike and got to know each other better. He's a great guy, a strong hiker and he helped one of the harder climbs go by much quicker. Thanks Waldo!
While waiting for Sapling I decided to take the short but steep Blue Blaze trail up to the Shuckstack Fire Tower. It stood on an exposed peak and was being absolutely buffeted by the day's strong winds, sustained at 30+ mph and gusting to over 60. I climbed the stairs to the second of about six platforms before I chickened out and came back down. That said, Cookie, Bryan and Seaweed all made it to the top. I tip my cap to them for that. It took more guts than I had.
Once back on terra firma I found a log being bathed in sunshine and took a catnap. When Sapling arrived we used the log for a picnic table and enjoyed lunch. Lately we've been taking soft tortilla shells and wrapping them around Jack Link's Beef and Cheddar Cheese Sticks. Beats peanut butter every day, that's for sure.
We still had 7 long miles to the the shelter and plenty more climbs and descents. Opening day in the Smokies was tough. In fact, statistically it was easily our hardest day of climbing- 7k feet elevation gain in 12 miles. But we ambled in to Mollie's Ridge Shelter with an hour of daylight to spare.
Day 2
I peeked over at Sapling around 6am in the Shelter. She was in the lower row of bunks next to mine and sound asleep in the corner. I'd given her a Benadryl the night before as she, along with several others, were coughing and sneezing constantly. Spring had arrived in the Appalachian mountains and so to had allergy season.
Several of the men were already awake. On the outside of the shelter was a bench and a table and I could hear the scraping of sporks on metal pots as they grunted a lot and presumably ate oatmeal. The winds were still high and it was in the lower 30s. They must have been really hungry. I pulled my sleeping quilt over my head and wished I'd taken a Benedryl too.
The Shelter truly came to life around 7:45. By this point everyone was zipping and unzipping, clanging, bonking, banging, and the wooden platforms of the Shelter were creaking and moaning. There was no use fighting our fate now so we joined in. After quickly getting dressed into our warmest gear we heated water and had breakfast. I noticed that the two bearded section hikers we'd seen at the Smokies trailhead were whispering quietly and didn't look happy. Their names were Jared and Noah and though they didn't have individual Trail names they'd been calling themselves "The Sexy Beard Club". They had come from Atlanta and were attempting to hike the full distance of the Smokies, but yesterday had taken its toll on Noah's hip. I'd given him some ibuprofen the night before but it hadn't helped much.
Noah was obviously hurting and I could tell by the look on his face he was really down. But the writing was on the wall- they'd be turning back rather than risking it to push forward. With only one road crossing in the 72 mile trip it was certainly a wise choice. He kindly gave me a phone charge from his brick charger, though it only added about 2 percent in 10 minutes because my phone was too cold to take the amps. I wished them well and said goodbye once we were packed and ready. They were some really nice guys and I hope they'll come back and complete their goal soon.
Sapling got up the trail ahead of me and since I'd talked to Jared and Noah quite a bit I was last to leave. I decided to make a pit stop in the woods to answer nature's call on a cold windy mountain. It's moments like that I miss plumbing. Coincidentally, once moving again I saw what had to be bear skat sitting flush in the middle of the trail. I'd noticed similar piles and couldn't tell if it was from a dog or a bear. But it was always an odd brownish-grey color that I didn't recognize, and plus, no dogs were allowed in the Smokies. I'd overheard Seaweed that morning say that in the middle of the night he watched a round shadow moving about near where we'd hung our food from the bear cables. I was sure I'd found the culprit and snapped a glorious picture of the turd.
Excited about my discovery I set off in pursuit of Sapling. While it  was cold and windy, it was also full sunshine and I was moving quickly to get warm. Perhaps too quickly as I tripped over a root I hadn't seen and stumbled forward. Without my 30 pound pack on I'd have easily corrected myself and not fallen. But the weight on my back propelled me forward and I was out of control. I slammed into the ground hard and slid through the leaves, rocks and mud. Thank goodness a tree hadn't been in my way as it could have been much worse. My second fall of this trip ended with a bloody forearm which I attended to with my meager first aid kit. The hardest part had been getting back up. I'll never pass a turtle flipped on its back again without stopping to lend a hand.
One of my most memorable moments of the day, and surely for the entire trip, was summiting the famous Rocky Top mountain of Tennessee. Sapling had made it up there before I did and was laying on a rock in the sun when I arrived. It had been a very steep climb to get there and I huffed and puffed as she lay peacefully. When I'd regained my breath I shattered the silence with a most beautiful verse and chorus beginning, "Wish that I was on ole Rocky Top, down in them Tennessee Hills, ain't no smoggy smoke on Rocky Top- ain't no telephone bills…" Sapling loved it so much she made me do it again so she could film it- or did I hand her my phone and insist she record me singing on the mountain? I just can't remember.
After eating lunch we tackled the final 5 miles into Derrick Knob Shelter. It was tough going as we mainly descended slowly down loose scree for a couple miles. However, the final pitch to the Shelter was very steep going uphill and we stopped quite a few times to catch our breath and sip water. The day had started cold and gotten warm, but was cold again as we reached our destination at 6:45pm. The Shelter was packed but only held 12 people. Tenting is allowed when the Shelter is at capacity and Sapling and I happily found a couple spots for ours.
We ended the day going over to talk with our young friend, the Pied Piper. He'd made a fire in the stone fireplace near his bunk on the right side of the Shelter. We ate our supper and caught back up on the progress of his ailing ankle, which was slowly getting better. As the sun set and our bellies had been filled we headed to the tents. It had been a good, hard day of hiking.
Affiliate Disclosure
This website contains affiliate links, which means The Trek may receive a percentage of any product or service you purchase using the links in the articles or advertisements. The buyer pays the same price as they would otherwise, and your purchase helps to support The Trek's ongoing goal to serve you quality backpacking advice and information. Thanks for your support!
To learn more, please visit the About This Site page.