Captain Fantastic's Diary of the Smokies, part 3
Day 4
Sapling was excited this morning.  All she needed to do was hike 5 easy miles to Newfound Gap, the only place in the entire Smokies where the trail actually crosses a road.  Her boyfriend Brennan was coming and she was going to take a couple days off trail in the Maggie Valley area. Since we needed to be there by 11am we woke up at 6:45. That's early for us. Like the song says, "The things we do for Love."
Since we essentially camped in a mossy rain forest everything was wet and sticky. My absolute least favorite thing about backpacking is dealing with grungy gear and muddy tents. But it wasn't gonna pack itself and we didn't want Brennan waiting so we got it done and were hiking by a little after 8.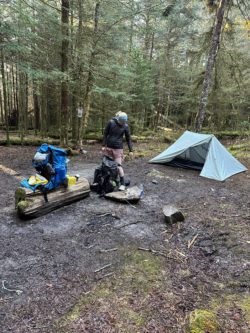 The hike itself was fun. There were twists and turns, water crossings and bridges. And it still had that Ewok forest look as the whole day was spent between 5 and 6 thousand feet elevation. Even better, three miles in we popped out of the woods and walked next to a paved parking lot. El Humidor and Footloose were there performing my dream Trail Magic… donuts and coffee. They were a splendid young couple who had thru hiked the AT just last year as a honeymoon trip. Footloose jumped out of her foldable chair to let me sit down. I looked at Sapling since we were pressed for time but she indicated Brennan had texted he was running a half hour late. So I took off my pack, sat down and feasted on a donut buffet with a bottomless Cup a Joe while we swapped stories with El Humidor and Footloose. Thanks guys, that was perfect!
We headed back into the woods for the final couple miles. The sloped mountains running above and below the trail were stunning in their April attire. Whereas 2 weeks ago they'd been covered in dead brown leaves, now lovely green and white flowers were sprouting up like a carpet on the mountainside. I couldn't stop taking pictures and admiring the views. Apparently I wasn't the only one. When we arrived at Newfound Gap I was shocked at the spectacle which greeted us. The huge parking lot was packed with people, cars, buses and shuttles everywhere. A church was in the middle of it all doing a huge trail magic. While Sapling waited for Brennan by the entrance to the parking lot, which traffic was backed-up to enter, I made a beeline to the church's offerings and chose Cool Ranch Doritos and a YooHoo. Strange combination but mighty tasty.
While talking to a kindly church member at the magic he mentioned it was Spring Break for many school systems, hence the flocks of tourists. They were crawling over everything to take pictures of their friends, family and nature. One lady was climbing up a rock to take a picture of a flower. I wanted to point her back down the AT where I'd just been 20 minutes ago, surrounded by millions of flowers and no people. But I decided against it. There was a certain feeling of electricity in the air as everyone that had come up to Newfound Gap was laughing and smiling. It had a power of its own and was really cool.
Sapling and Brennan had found each other and then found me in the melee. After introducing Brennan around to some other hikers we knew we tossed our packs in his car and headed down the mountain and into Gatlinburg for lunch and a resupply. Gatlinburg was packed… and I mean packed. It was surreal. It's one of the great tourist towns for people that might enjoy tourist towns. It's certainly overwhelming, but from the safety of a slow moving car the people watching was amazing and possessed its own type of charm.

Brennan asked where we wanted to eat at about the same time we were going past a frontier themed restaurant called Davy Crockett's. A car had just left a pole position space that Sapling and I noticed simultaneously. We hollered and pointed, "There!" Brennan impressively beat out our other contenders and we were set… until I noticed the throngs of people sitting on everything outside the place waiting for a table. Reasoning that every restaurant in town would be the same way we forged ahead to put our names on the wait list. When the hostess told us it would be 45 minutes my hopes for getting back to the trail and knocking out an additional 11 miles before sundown were dashed. But I didn't want to ruin the moment and was about to concede when an absolute stick of Dynamite lit up the rest of my day. As we turned to join the others roasting in the sun for the chance to eat overpriced flapjacks a ginger-haired woman with a large straw hat stormed the hostess stand, proclaimed we were with her and dragged us toward a 4 person table that had just been cleaned saying she didn't want to eat alone. None of us had ever seen her before but this was too good to pass up.
Turns out our new friend was named Sunshine. She was a hiker, and not just an AT hiker but an IAT hiker, meaning the International Appalachian Trail. Without getting bogged down in details I don't really understand, the IAT is like an Oreo. The AT is the filling in the middle. On both the Northern and Southern ends other trails meet it. Sunshine had started at the bottom of Florida and before she arrived at our start point in Georgia she'd already walked 1,500 miles. Up North she will continue into Quebec, where her hike will end. And I've heard that from there you can take connecting trails that will get you all the way to Norway!
Sunshine entertained us with stories and laughter for much of our meal. She's in her early 30's and has certainly learned to take life by the horns. While wolfing down thick pancakes, eggs, bacon, grits, coffee and fruit we all shared an amazing hour together I won't soon forget. 
Our new friend jumped at our offer to make a resupply run to the grocery store and then be taken the 15 miles back up to Newfound Gap. While driving to the store I plugged in my phone to charge it up for the last few days in the Smokies. The last song I had Spotified was "Rocky Top" a couple days back, so it automatically kicked back in and we all sang along while driving down the road. Sunshine is from Texas and had never heard it before but later told me she liked it so much she couldn't get it out of her head. If YOU search for it yourself select the Osbourne Brothers version.
I was the last one out of the store and chuckled when I saw Brennan, Sapling and Sunshine kicking a hacky sack back and forth in the crowded parking lot. As we headed out of town, listening to more music, Sunshine abruptly turned to me and said she'd do the 11 miles to Peck's Shelter with me. She'd told me earlier she was planning on only going to the Shelter 3 miles from Newfound Gap and then taking an afternoon nap. I personally thought the 11 miles was out of reach in daylight because it was going to be past 3 o'clock by the time we got going, but I nervously agreed.
Saying goodbye to my hiking partner Sapling for a couple days was odd, but she was really happy to see Brennan. She has a plan to make up the 35 miles that I'll share later. So we hugged goodbye and they drove away. Sunshine and I started up the trail and I immediately knew her quality as a hiker was light years ahead of mine. Unlike almost everyone else she didn't use trekking poles. She floated powerfully and effortlessly over terrain I stumbled across and jib-jabbed at with my hiking sticks. But I'm a determined kind of guy and wasn't getting left without a fight. I spent the next 5 hours holding on for dear life. Sunshine waited a few times while I dealt with the repercussions of my habit of over-drinking coffee. We took a short blue blaze after 6 miles or so miles to marvel at Charlie's Bunion, the big draw for the adventurous tourists of Newfound Gap. In fact, we stopped several times to take in the views because it would have been a crime not to. We talked often and were comfortably dead quiet for long stretches. I got to know a remarkable young woman who has seen her fair share of pain but battles back with grit and moxie. Here's to you Sunshine… I'd have named you Lightning.
We made it to Peck's Shelter just after sundown. Once again it was packed and many people were tenting on sloped spots. I got the worse one and as I type this I keep fighting off rolling right out the side of my tent. The big buzz in this camp was that a bear had shown up three times that afternoon, poking around and seeing what people had for food. They'd run him off the final time where I'd pitched my tent. As I settled in to go to sleep someone yelled out, "Captain Fantastic, you're our first line of defense!"
Yikes!
Day 5 
It felt strange not to have my hiking partner around. We normally camp next to each other and have breakfast before packing up and setting off. But on day 5 I awoke and it was very quiet in my vicinity. Farther off I could hear the zip-zip of tents opening and closing, but no one asking me to heat up water for coffee or trying to borrow my chapstick.
Before leaving my tent for the first time in the morning I like to jam the sleeping quilt, pad and pillow into the impossibly tiny stuff sacks they reside in throughout the day. This creates enough room in the tent to get dressed and makes it easier not to misplace smaller items like my glasses or the headlamp. Despite feeling sore from yesterday I worked with a determined purpose to be up and hiking by 8:30 am.
Day 4 had been my biggest day yet at 16 miles and that left a little over 20 to the edge of the Smokies. I was focused on getting out today. The terrain in GSMNP is beautiful and reveals the most amazing views you can imagine. The park is vast and you can hike for long stretches in almost complete solitude. But what I haven't liked were the crowds of people at the shelters. 
Several factors seemed to influence the problem. First, to minimize the impact of people on nature there was only one campground along the AT's route. Second, most shelters weren't built to accommodate any spillover tent camping, though it had become a necessity due to the usual capacity of 12 hikers per structure almost always being exceeded. Since I had a propensity for arriving late each evening I was always the odd man out. But because camping on the ground wasn't intended, almost all the land was pitched at angles more suited for a ski run.
So I decided that I'd follow up my biggest mileage day so far with an even bigger one and bid the Smokies goodbye. After wolfing down my usual 3 bags of Maple & Brown sugar Oatmeal and a cup of coffee I set off. Peck's Corner Shelter, like most above forty-five hundred feet, had been built a good half mile off the AT in order to place it near a water source. I passed a few other hikers on this Blue Blaze, always giving them plenty of notice that I was coming up so as not to startle them.
It's always heartening to see your first white blaze of the day and to be hiking. It's invigorating actually. So I tried to  settle into a steady pace I hoped to keep up for around the next 10 hours. It only took a few minutes before I heard footsteps behind me. I stepped aside and saw that it was Riddle, one of the 20 somethings who is earning his name by coming up with one riddle per week that his friends can solve. And they are hard! We exchanged hellos and I watched him slowly grow the gap between us, wishing I had the ankles, knees and hips of a younger man. Two more of his crowd came by and I felt like the old guy driving below the speed limit in the right lane of the interstate. I competitively picked up my pace reasoning that I had a long ways to go and a strong start would set the tone to get it done.
For the rest of the morning I played leap frog with two of the kids in front of me. Shamrock, surprisingly not Irish, was from Germany. I'd catch her going uphill but she'd easily walk away from me on the downhills. Riddle took frequent opportunities to take breaks at vistas. And sometimes we'd all the walk together and talk, which was challenging for me given our speed and my need to concentrate on the millions of loose rocks littering the trail. But it helped the first half of the day fly by.
Speaking of flying, Riddle had read online that there was wreckage from a plane crash visible a short scramble off trail. He located the spot because, I'm guessing, another hiker had put a chair sized piece of it a few yards from where we needed to bushwhack to get down the mountain and find it. I was surprised at the somber and respectful tone my young friends had as we stared at the site. After some silence Riddle began reading about what had happened from his phone- I presumed Wikipedia. In 1984 an Air Force plane, with two young men on-board around the same age as Riddle and Shamrock, crashed into the mountain at 450 miles per hour. The debris was strewn across 20 acres but no cause for the crash had ever been identified. None of us spoke much as we looked on and reflected. I took a few pictures. It really seemed heavy and important for those 2 and I wondered why. Maybe they were relating to the the Airmen's age.
Riddle and Shamrock were only 3 miles from their Shelter by this point, while I still had 11 to make my goal of the final Shelter in the Smokies near Davenport Gap. I politely eased away from the scene of the crash and found the same pace as before. I felt better now than earlier as the sun was out and for the first time in the Smokies I was hot. I stripped off my rain/wind pants and debuted shorts and short sleeves for the first time on Trail. 
I was getting hungry so I downed my second candy of the day, a King Sized Snickers. I normally put one of those in the right hip pocket of my pack, and 2 packs of peanut M&M's in the left. I promised myself lunch at mile 13 because there was also a water source there. 
Lunch was serene and peaceful as I sat on the flat edge of a soft, mossy-covered rock with my feet perched on the bank ahead and water trickling beneath the underside of my knees. I ate my usual Jack Link's Beef and Cheddar sticks wrapped in a soft tortilla and some Fritos. I didn't want to get up and hike again as I was pretty tuckered out by this point. But I was on a mission, plus I had one more blue blaze sight seeing trip I wanted to squeeze in.
Two miles later I came to the .6 mile sidetrail to see Mt Cammerer, which purportedly had some of the best views in the Smokies. It was going to add a somewhat rugged extra bit of hiking to go to-and-fro but I'd read in several comments on FarOut that it was worth it. And it was! I ditched my pack in the woods and just took my phone and hiking poles. The unique stone octagonal building was built as a fire Lookout in the 1930's. It never gets old when you climb and climb and climb a mountain, and then you get your first unobscured view from the top. It literally took my breath away. I was about to leave after having gone inside and then rested on the deck, but 3 guys approached. They looked tired and thirsty and I noticed they were wearing clothes you'd go to the mall in. But Man did their spirits lift when they saw the view! I took a picture for them as they posed together and then they did the same for me.
After gathering my pack the rest of the hike was a long 5 mile downhill to Davenport Gap Shelter, GSMNP's final northbound shelter a mere 1.5 miles from it's border. It went smoothly as this part of the trail had been graded for horses almost 100 years ago when they brought up the materials from the valley below to build the tower. But when I arrived at the shelter it was business as usual. The place was full-up. There was only one somewhat suitable spot next to the right side of it. After a 21 mile day to finish off GSMNP I was going to have to settle for what was available. I pitched my tent on a nest of large black carpenter ants. Bees flew all around me and into the tent once erected, which I chased out with my hat. I climbed inside to lay down as darkness fell and listened as 2 guys came out and sat near my tent to share a joint and cough a lot. Once they were gone I tried to fall asleep. I noticed a familiar smell that I had attributed to the weed. Suddenly it dawned on me that I'd set my tent up in the spot people stumble out of the shelter to pee in during the night.
Adios Smokies!
Epilogue 
To celebrate a grueling 5 days in which I hadn't showered once (though I did wash my hair in the restroom sink at Davy Crockett's a' la Hiker Trash!) I booked Sapling and I a room at an awesome hostel I highly recommend, The Discerning Hiker. Ken's the owner and an avid hiker. He built the place by hand and it's beautiful. After Brennan dropped Sapling back off with me, Ken and his wife took us into the town of Newport, TN for dinner at Cracker Barrel and a Walmart resupply run that should easily get us to Hot Springs. Thanks for an amazing day and evening, Ken and Jenny! Your place was like a home away from home.

With clothes washed, foot care attended to, electronics charged, communications made to family and friends, and a wee bit of R&R we're ready to roll.
Hope you enjoyed the Diary of the Smokies as much as I did. Great Smoky Mountain National Park is gorgeous. Just try to avoid coming here during Spring Break!
Affiliate Disclosure
This website contains affiliate links, which means The Trek may receive a percentage of any product or service you purchase using the links in the articles or advertisements. The buyer pays the same price as they would otherwise, and your purchase helps to support The Trek's ongoing goal to serve you quality backpacking advice and information. Thanks for your support!
To learn more, please visit the About This Site page.