A Look Back at the Last 1500 Miles
So it has been awhile since we have last found the time to write and ever since we left Virginia the trail has started to absolutely fly by. Every other day it seems as though we pass yet another milestone. Currently, we just crossed over the New York / Connecticut border. If you haven't been following us on Instagram this is what we've accomplished within the last month: we completed Virginia, made it to Harper's Ferry (the unofficial halfway point), crossed the Mason-Dixon Line signaling our passage from the south to north, made it officially halfway through the Appalachian Trail, and have hiked through the entirety of Maryland, Pennsylvania, New Jersey and New York.
After being content in Virginia for what felt like forever it has been a little overwhelming to achieve so much in such a short period. Soon we can check 10 states off out of the 14 in total and we know that the rest are going to fly by as well. Surely, before we know it, we are going to be in Maine thinking to ourselves "where did all the miles go"? Seeing as it's been so long since we last published a blog entry I thought I'd catch everyone up to speed with some general thoughts on each state and provide a few of our favorite moments along the way!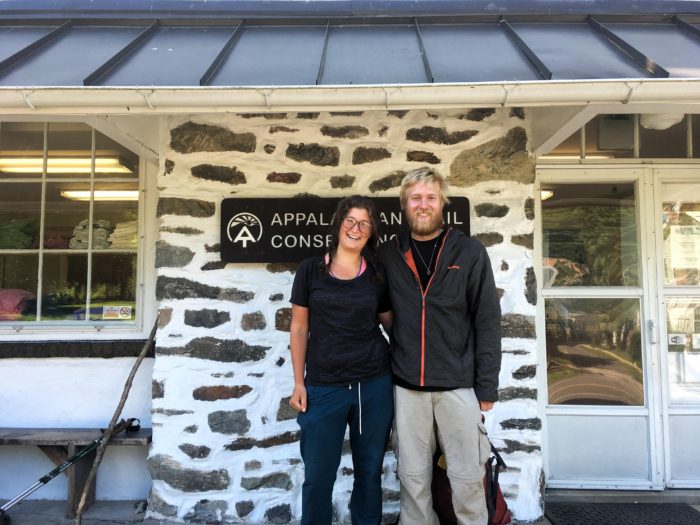 Virginia / West Virginia
As most of you know, the majority of the first half of the trail takes place in the state of Virginia. In regards to the "Lover's State" there are two common sayings that circulate on the trail. The first is that Virginia is flat. After hiking all of the state's ~550 miles of trail I can truly tell you that no, Virginia is definitely not flat. Furthermore, whoever started that rumor is a lying scoundrel and should be severely punished for giving false hope to hikers! In fact, Virginia had some of the most challenging climbs we have experienced on the trail thus far. The second saying is that due to the length of the state you acquire what is known among thru-hikers as the "Virginia Blues". While we talked to many people who were more than ready to leave, Hannah and myself absolutely loved it there. The only case of Virginia Blues we had was when we had to cross over into Maryland; knowing we were leaving one of our favorite states on the trail behind us.
Virginia hit all the sweet spots for us! The hiking was challenging, the pastoral landscape breathtaking and the generosity of the hiking community so undeniably apparent. There were so many memorable days like exploring the Grayson Highlands, taking a zero in Woods Hole, waking up at 1 A.M. to night hike up to McAfees Knob for sunrise and so much more. Then, there were the smaller moments. Such as staying the night at the Captains, the stunning trail magic in the Lindamon School, and our pizza party at the Partnership Shelter. If I had to chose a favorite memory or event it would have to be our night hike up to McAfee Knob!
We left Four Pines Hostel at 1 A.M. with a mission to hike 10 miles in the darkness to reach McAfee Knob for sunrise. Neither of us had done much night-hiking prior to this but we had talked about it a bunch and were really excited to give it a try. At first it felt very strange and eerie to be on the trail in the dark. Sometimes you would look into the woods and see a pair of eyes looking back at you which would really get your adrenaline going. When you were in open fields the moon provided more than enough light but as soon as you were under tree cover you had to rely on the vision provided by the headlamps. It was wild to hike in complete darkness, under a sky full of stars that melded into the valley which was lit itself via houses and street lights.
Having arrived at the knob with about 30 minutes to spare we sat and waited with a few other hikers as the show began to start. The array of colors we saw that morning is unparalleled to any other sunrise I have laid my eyes on. As we sat on the knob or around it we slowly watched the whole valley come to life. Everyone took turns getting their quintessential picture taken sitting on the ledge before continuing on their way. We made it another 7 or 8 miles before passing out after lunch.
Maryland / Pennsylvania 
Maryland is a very short state and with our trail legs in full gear it went by extremely quickly. While it's difficult to pinpoint any distinct moments we found the state incredibly interesting for two reasons. The first was that there is Civil War history everywhere. It seemed like every couple of miles there was something worth checking out. From historic fields to giant arches the landscape was filled with things to commemorate and inform. The Washington Monument stands out as a favorite, especially as climbing to the top provided a great 360 degree view of the state.
The second reason was that it was the start of the trail for many Northbound Flip Floppers. These are people who start at Harper's Ferry and walk to Katahdin before returning and heading south. While our pace was significantly faster than most it was fun to talk with those who ended up at the same shelter. The difference between us and them was extremely apparent. Many of the challenges they were struggling with were things we had figure out long ago. Often it was hard to relate with them but it really gave you a sense of how much we had grown as hikers since leaving Springer Mountain nearly 3 months ago.
For the most part, we found that the Pennsylvania rocks everyone goes on about were highly exaggerated. The state is nearly entirely flat (with a few climbs up and down the ridge line) and the southern section is nearly rock free. There are wide expanses of hiking through groomed trail or farmland and the PATC does amazing work on the shelters in that area. That being said, as we entered the tail end of the state we encountered some of the rockiest trail either of us had ever encountered.
Luckily for us, we had a friend join the trail with us for a month starting in Pennsylvania. It was a nice place to start for him because the terrain was relatively flat and for us because we could see the trail through a new set of eyes. It's quite easy to fall into the mindset of stacking miles in Pennsylvania and doing big days to get through the state. Howler (as he came to be called) wanted to explore the trail for everything it had to offer so we slowed down and regained some of the sense of wonder we had lost since Springer.
The best find was definitely on a little side trail off of one ponds not listed in AWOL's guide. It was on a side trail of one of the campsites. Normally we aren't fans of doing bonus miles when we can avoid it but someone had mentioned a semi secretly swimming hole, and Howler was set on finding it. After a short detour we were standing in front of a pond with a rope swing to the side. Howler immediately stripped and was the first one in. For the next little bit we all took turns swinging into the cold pond and beating the heat. It was refreshing to be reminded that the trail isn't something to be rushed through and that the best moments often require taking small detours.
New Jersey / New York
New Jersey and New York made us fall in love with the trail all over again. Somehow, it turned the tedious chore of climbing over endless rocks from an annoying pain to an absolute joy. For the most part, the flat boulder fields that extended for miles and miles in Pennsylvania were combined with hills in these states making for some of the most technical climbs we've had to date. Having to put away the sticks and be on all fours, looking for places to put your hands and feet was tough but rewarding when you made it to the top. Sometimes you would have to throw your bag up first just because it was too dangerous or difficult to attempt it otherwise. We think the rain definitely added an extra element of risk to many of these climbs but to us it just felt like more of an adventure.
When our 100th day on the trail rolled around we thought we would celebrate by going to the antithesis of the trail: New York City. I had never been and couldn't think of a better time to take a day or two from the trail to go explore. There we got to spend the day sight seeing, hanging out with Hannah's family and enjoying all the food we could eat. The contrast between the city and the trail was extreme but we did spend the majority of the day in Central Park so clearly we are still being drawn to green spaces.
New York has had some very pretty parks and you can tell that the trail is very well cared for. Harriman State Park, and Bear Mountain stand out as some of the best maintained trail we have encountered thus far. When walking in the Clarence Fahnestock State Park we took a .2 mile detour to a beach on the first sunny day we had had in what felt like weeks. We had only gone 4 miles since that morning but decided to soak up some much needed vitamin D on the beach and stay in the free thru-hiker tenting area. We even rented a row boat for an hour to paddle around and relax.
We are so excited for what's to come in the last leg of our journey. From what we've been hearing it's home to some of the best spots on the Appalachian Trail. Over the next 6 weeks and ~ 700 miles remaining we are going to be walking through New England; where the majority of our friends and Hannah's family reside. It truly feels like we're walking home and cannot wait to spend time with them after such a long period of wandering around in the woods. It's going to be a packed last few months on the trail full of weddings, cabins with parents and outings with friends. In combination with some of the toughest terrain we will face on the trail still to come and my VISA running out in mid August we definitely have our work cut out for us. That being said we're ahead of schedule and couldn't be happier to take all of our available time and enjoy every moment of what this incredible trail has to offer.
Affiliate Disclosure
This website contains affiliate links, which means The Trek may receive a percentage of any product or service you purchase using the links in the articles or advertisements. The buyer pays the same price as they would otherwise, and your purchase helps to support The Trek's ongoing goal to serve you quality backpacking advice and information. Thanks for your support!
To learn more, please visit the About This Site page.