Celebrating Easter with Subway and Beer (4/15, 4/16, 4/17)
Day 49, 4/15: O'Lystery campsite -> Chestnut Knob shelter (11.6 miles)
I slept really well in my tent. It was dewy outside so my sleeping bag got some condensation on it. Our group slept in and relaxed while eating breakfast. I ate the rest of my English muffins and cream cheese that I topped with Nutella. I had 6 halves to eat and after eating 5, I was full, so I gave the last half to Bri and Sitting Bull. Now all my food fit well in my bag. First Sargent came up as we were packing up, and stopped to talk for a few minutes. We slowly got on our way and started the long, steep climbs. I powered through the morning climbs, but I was sweating a lot. It was hot and humid, and I wasn't used to sweating this much. I was trying to drink extra water to keep up. I felt fine besides the sweating, so I kept up the pace with the others.
After one of our breaks, I felt like I was slowing down, so Bri, Captain, Sitting Bull, and First Sargent went ahead and Rash, Piñata, and I kept a slower pace in the back. We were enjoying our slower pace when we crossed a bridge and found the 4 of them with their feet in a shallow stream. They had small pieces of rolled tortillas between their toes and were watching the fish pick at them. We stopped to sit with them for a while and replenished our water. I decided to carry a full 2 L, increased from my normal 1 L, because it was so hot. The added weight wasn't fun to hike with. We were getting ready to do a 2,000 ft climb over 4.5 miles and I wasn't planning on being stuck mid climb without water.
Me, Rash, Captain, Piñata, Sitting Bull, Bri, and First Sarge by the water
Sitting by the river with tortilla toes
The climb sucked. It was hot and I was sweating and tired. We powered through it, taking a few breaks along the way. There were rain clouds in the distance, and we were hoping they weren't coming towards us. We all stopped at the pond near the top of the climb to rest and eat snacks in the blazing sun. I reapplied sunscreen.

Sitting Bull resting, Bri collapsed on the ground, and Captain in the distance
After resting, we got back to hiking, me towards the back with Rash and Piñata. The rain clouds were shading the nearby mountain range and made for a beautiful scenery. We were only 2 miles from a shelter up ahead, which we were planning on taking a quick break before pushing on 10 miles to the next shelter.
Rain cloud scenery
We had only been hiking for a few minutes when I started to feel funny. I felt lightheaded, I had trouble focusing, and I was afraid I might pass out. Piñata was in back of me, so I figured if anything happened she'd at least see and be able to help. It wasn't far to the shelter, so when I got there, I told the group I wasn't feeling well and I wasn't going to push onto the next shelter like we were planning. It was already 5:30 and the next shelter was 10 miles away, so we'd have to night hike. Captain didn't take a break at the pond, and had already decided he was staying the night when we arrived.
We discussed the issue for a little while and people decided what they wanted to do. Sitting Bull and Bri decided to push on, and First Sarge, Captain, Rash, Piñata, and I stayed back to sleep at Chestnut Knob. We'll have to up our mileage for the next few days to make up lost time, but we feel more comfortable doing that than night hiking and losing out on more sleep. Night hiking leads to the cycle of going to bed late, sleeping in late, getting a late start, and finishing late which leads to more night hiking. We wanted to break the cycle early.
I mixed some Gatorade and drank it, ate some food, and felt a lot better. There were 4 section hikers from Virginia Beach and Newport News so I talked with them about home. Chestnut Knob is on a partial bald, so we were treated to a really pretty sunset. Our group decided to get up earlier than usual to make up the extra miles, so we turned in before 9.
Day 50, 4/16: Chestnut Knob shelter -> Helvey's Mill shelter (24.2 miles)
The day hikers woke up at 3:00 AM and started packing up, but they used their white light on their headlamps instead of the shelter friendly red light, so we all woke up. We fell back asleep and slept in until First Sarge woke us up (our request since he gets up early) around 6:30. We wished each other Happy Easter, plus 50 days on the trail for me, Rash, and Piñata. We ate breakfast and got on the trail as quickly as we could in order to get the miles in.
Beautiful sunrise on the partial bald at Chestnut Knob
Our morning hiking, what Sitting Bull and Bri night hiked last night, was very rough. The terrain on AWOL looked relatively flat and easy, but it was tough. There were several steep climbs that made gaining extra time impossible. I stopped to put on sunscreen and lost Rash and Piñata.
I was cruising along, listening to The Emperor of all Maladies on audible. After a short descent, I ran into Captain, Rash, and Pinata sitting on large boulders before a dirt road with a few cars parked. They were eating trail magic! Captain had a string cheese left and gave me one. Even though I wasn't too tired and could have pushed on without a break, I stopped anyway.
The 4 of us pushed on together. I called my sister since I had reception and talked to her on my headphones. My mom was with her so I got to talk to her too. All of the sudden, I felt something pushing back on my face. I was wearing my ball cap so my peripheral vision wasn't great, and I ran right into a tree branch with my chin and arm.
Since we were planning on doing 24 miles today, I was being cautious to not overdo it early on. I was nervous from how I felt yesterday. I slowed down and put on my audiobook. A few miles later I met them at Jenkins shelter, which is the shelter we were originally planning on pushing on to yesterday, and the shelter to where Bri and Sitting Bull night hiked. Captain was excited about this shelter because of Leeroy Jenkins, and he wasn't disappointed when someone graffitied "Leeroy" on the sign before Jenkins. We also saw on Guthooks a picture of the privy, which was just a seat in the woods with no walls. They were really excited to get a picture of "the throne". Unfortunately, the privy had since been redone and they added walls.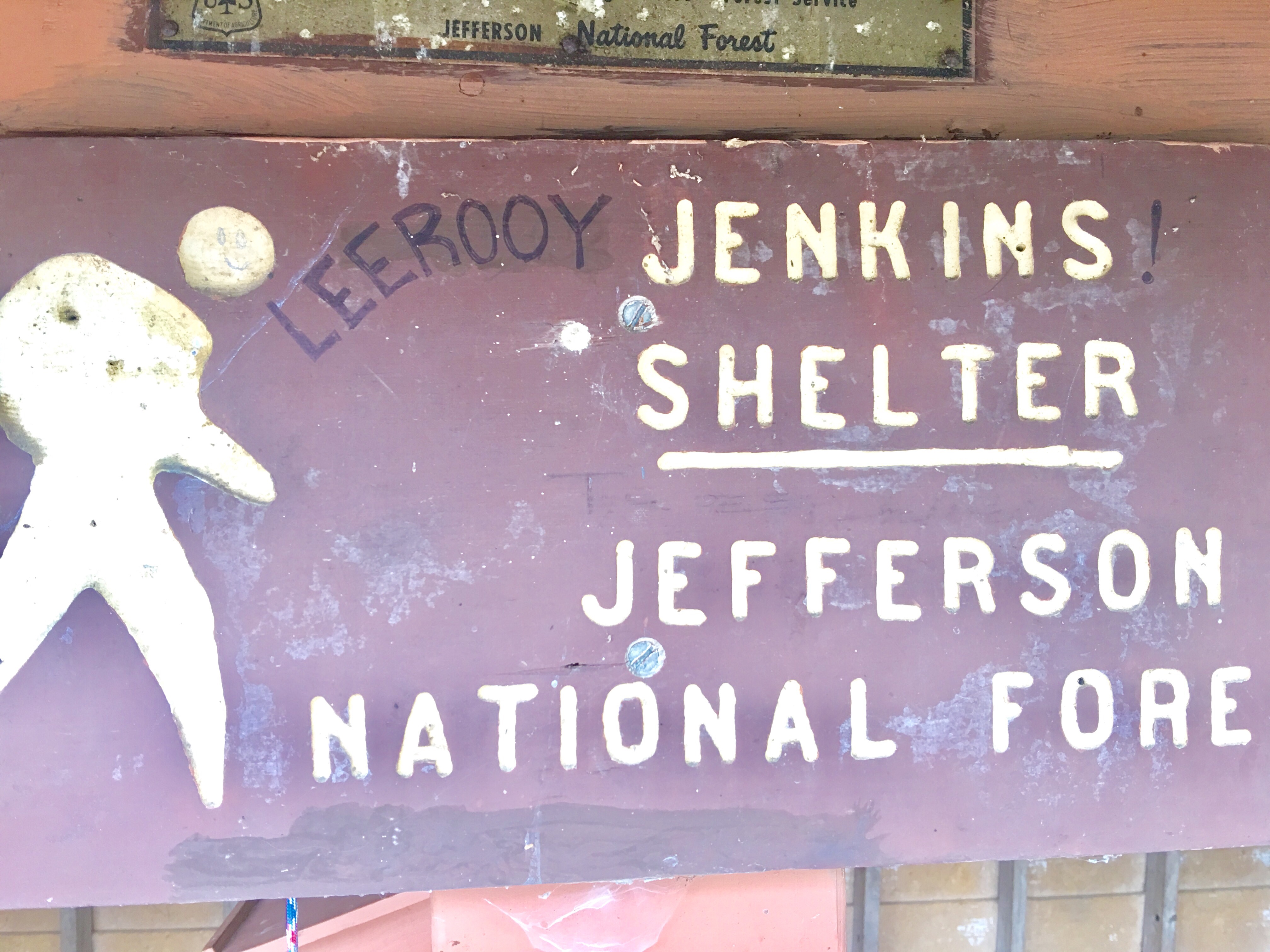 "Leeroy" Jenkins shelter
A day hiker left a basket of Easter eggs with candy on the table with instructions to leave the trash for her to pick up! Yesterday, Bri showed us she packed out her own Easter eggs and candy to have an Easter egg hunt, and she was sad we wouldn't be there to participate. First Sage joined us for our lunch break and brought Spam (ham for Easter) and gave me a little piece. I forgot how salty Spam is.
Easter basket from a day hiker
Sarge with his Easter "ham"
The 4 of us were packing up to go when Captain came back from the woods and said he threw up. He wasn't feeling well, so we stayed at the shelter for a little while longer until he felt like he could push on. I was nervous about leaving him on the trail alone after he had another episode of dry heaving, so Rash and Piñata went ahead and I hiked behind Captain. We hiked along an exposed mountain with the sun beating down, which didn't help matters. We slowly got to the top and met back up with Rash and Piñata sitting on a log, and the 4 of us hiked together.
We took lots of long breaks since Cap wasn't feeling well. After a break, I stopped to put on my pants and jacket since the sun was setting and it was chilly. They hiked ahead, and I hurried to catch them. A few miles later, I passed a father and son with a tent and a small campfire on a wide part of the trail on the side of a mountain. That was a little strange. They said my friends were a couple minutes ahead. I hustled to catch them because it was getting dark, and around the bend I found them taking a snack break. I was starving myself, so I got out my crackers I use for tuna and chowed down. I also found a fiddlehead fern (one of the edible plants on the trail) I attempted to eat but it was disgusting. I stuck with my crackers.
Fiddlehead fern
We pushed on, and only had 5 miles to go. We broke out the headlamps and night hiked along the road for over a mile. We passed a church with cars in the parking lot and contemplated stopping to see if they had food for Easter. We were all starving. We decided not to and pushed on. We crossed I-77 over a bridge and saw the cars and trucks whizzing by underneath us.
The sign at the base of the last climb
Our last part of the day was a steep, mile long climb to the shelter. Captain, who had been going slow all day, zoomed ahead with Piñata, and Rash and I stayed in the back. That climb was horrible. It was pitch dark, straight up the mountain, and I was hungry and tired. We finally make it up the mountain and turned to start the long 0.3 mile blue blaze to the shelter. We were hoping since the shelter is so far off trail, no one would be there and we would have the shelter to ourselves. When we finally arrived, we heard voices as we approached. It was Bri and Sitting Bull! They had just been in town and packed us out Easter magic: Subway sandwiches, beer, and candy. We were all starving and exhausted so their timing was perfect. We sat around talking for a while, and then with full stomachs, turned in. I usually stay up listening for mice, but for the first time on the trail, I was so exhausted I fell asleep immediately.
Day 51, 4/17: Helveys Mill shelter -> Wapiti shelter (24.2 miles)
We all slept in, still exhausted from the previous day. I tried getting moving with some purpose because we had another huge day ahead, but standing was a near impossible task. All our feet were so tender and sore that even standing was a chore. We popped Ibuprofen and pushed through the discomfort to make breakfast.
Bri and Sitting Bull left, then Rash, Pinata, and I left. We were still concerned how Captain was feeling but he said he was doing better and would catch up with us later. I hung back behind the group so I could hike at my own pace. Not long into the hike I rounded a corner and came across a massive black snake that I initially thought was a branch across the trail.
Huge black snake
I initially became nervous because if Captain saw this, he would freak. I checked back around the corner to see if he was in sight. He wasn't, so I watched in awe as the massive thing gracefully glided up the embankment, making the steep climb look effortless without legs.
It was lightly raining, just enough to be annoying. I didn't put my rain jacket on, but I wore my buff on my head. There were tons of trees with strange white blossoms flowering which peppered the landscape nicely.
White blossoms
I came across Sitting Bull and Bri, who announced that we passed the 600 mile mark! They took my picture and I headed on while they still enjoyed their break.
600 miles
We I stopped at the shelter for lunch with Rash and Piñata. I broke out my stove and cooked a pasta side for lunch. It was a bit chilly and still rainy, and I wanted something warm that would fill me up. Bri and Sitting Bull joined us, along with a SOBO hiker, Mario.
We were running behind schedule to get our miles in and get to the shelter before dark. I was tired from the day before so I let people pass and tried hiking at my own pace. Coming to the top of a hill I found Sitting Bull sitting on a log, staring off into space. I said hi, not thinking much of it, and kept hiking.
The rain was picking up, and after I crossed a long bridge, I found Rash, Piñata, Bri, and Captain huddled under the stairs on the other side, talking to a man with a dog. I put on my rain jacket and the others started hiking. We still had 6 miles to go and it the evening was fast approaching.
I caught up to the Bri, Piñata, and Rash train with Bri bringing up the rear. She had her earbuds in. She was already a little freaked out about staying at the shelter where a few 1980's murders happened (we dubbed the shelter the "Murder Shelter"). I ran up quietly behind her and yanked on her pack. She might be the one to murder me tonight if I keep messing with her.
Rash was keeping a crazy 3 mph pace, but he got tired and let Bri and Piñata take the lead. They booked it ahead and Rash and I brought up the rear. I stopped when I saw an awesome little salamander and took a picture.
Salamander
The rhododendrons leaves were chocked full of rainwater, so each time we brushed against them, which was often, we got showered. Everything was wet, including my phone screen, which made it impossible to take pictures or check Guthooks for my location. The last 3 miles of the day were horrible. My feet decided to hurt beyond what I thought was possible. I was shuffling towards the end, and every rock and root felt like a knife.
I crossed a dozen bridges that were all very slippery. There were shoe marks on one bridge that indicated someone slipped. After walking around a gorgeous but eerie lake, the shelter finally came into sight. I was physically spent for the day so I was relieved to see it. Beetle and Friendly Ghost were there, and there was still room in the shelter, so I took a spot. Bri was already tenting.
I went to get water down an eerie blue blazed trail that led me north on the trail down a rhododendron tunnel. There was still a bit of daylight outside, but it was completely choked out in this tunnel. I didn't bring a headlamp so I got water as fast as possible and tried not getting lost on my way back. Everything about the shelter was creeping me out.
Sitting Bull and Captain finally arrived. Sitting Bull was hanging out on the log because he didn't feel well. He thought it was dehydration. He set up his tent and Captain stayed in the shelter. We stayed up and giggled and talked for hours. At one point Captain sang the Witch Doctor song (oo, ee, ah, walla walla bing bang) and Rash said that those are the sounds He makes when he tries to stand up in the morning. Captain laughed so hard that he kept laughing throughout the night at Rash's comment.
Affiliate Disclosure
This website contains affiliate links, which means The Trek may receive a percentage of any product or service you purchase using the links in the articles or advertisements. The buyer pays the same price as they would otherwise, and your purchase helps to support The Trek's ongoing goal to serve you quality backpacking advice and information. Thanks for your support!
To learn more, please visit the About This Site page.