This is what the AT's all about, baby!
Channeling My Inner Woo
Woo Hwang is one of my favorite Survivor players. Maybe not the smartest (shouldn't have taken Tony to final 3, man), but still one of my favorites.
So what does the CBS TV show Survivor have in common with the AT?
Well, on Season 28, the beaches of Cagayan were hit with terrential rain. For days, the players got dumped on. With a poorly built shelter and no real escape from the rain, they stayed wet and miserable.
While most of the tribe cried about being cold and having pruny hands, there was another player who took it in stride – Woo. Woo was shown in the rain, bare chested, with a big smile on his face saying " this is what Survivor's all about baby!".
As we encountered a lot of rain this week, I tried to embrace the same mentality. If you want to hike a dry trail, the AT isn't for you. Rain is part of the hike. So my mantra for the week, as the rain came down, was "this is what the AT's all about baby!".
Day 14
After spending almost 2 full days at the hostel, I figured I better get back on trail, despite the day's rainy forecast.
There's a shuttle in Franklin that stops at a few places in town, including the hostel, and takes passengers about 10 miles up the mountain back to Winding Stair Gap, where we last got off the trail.
When I boarded the shuttle around noon, there was a slow, steady drizzle. With less than 5 miles to the next shelter, I thought the rain would be no big deal.
By the time we got to the gap, it was a full on down pour. Bonsai and I were the only people on the shuttle, and the bus driver told me if I'd changed my mind about hiking in the rain, we could ride back to town with him.
I probably should have taken him up on this, but instead I laughed, as we got off (wearing our rain coats for the first time), and started walking.
I sloshed along in my wet shoes, keeping my head down as water ran down my face. My lightweight rain jacket soon soaked through, and I was cold.
Bonsai's rain jacket was also soaked, and sagged pitifully over his little body. While he normally runs around, sniffing the trail's edges, he was now staying right by my side. He kept looking up at me, as if saying "why are we doing this, mom?". I kept apologizing to him.
After what seemed like forever, we reached a sign marking the shelter. Some shelters are right next to the trail. This one was another half mile off the trail. Great.
It was an average size shelter, with room for 6 or 7 people. There were already 4 people inside, with clothes and gear hanging from all directions.
I got Bonsai settled and opened my pack to find my warm, dry base layers. What I found instead were wet base layers and a wet sleeping bag. I'd had them in an old dry bag that hadn't been put to the test in a while.
Seeing this, two of the folks in the shelter, Jenn and Tim, mentioned someone had left a bag in the shelter. They had not opened it, but it was about the size and shape of a sleeping bag.
Excited that this bag might have something warm and dry inside – but also very skeptical – I opened it. And what do ya know! Inside was a heavy, flannel-lined Carhartt-style jumpsuit. It appeared to be in hardly worn, fine smelling condition. So I quickly got out of my wet clothes and put it on. It even kind of fit me. This was some trail magic from the gods, I thought.
Four more people joined us in the shelter later that evening. It was a full house. Two of them hung hammocks from the rafters, while the rest of us set up our sleeping pads in the shelter. This was my first time sleeping in a shelter with Bonsai. As I mentioned in my last post, I'm not a big fan – but when it's raining, it's a great place to be.
Thanks to my jumpsuit, I stayed warm, and between mine and Bonsai's body heat, my sleeping bag dried considerably well.
Day 15
Unlike the day before, today was beautiful. I hung as much stuff on the outside of my pack as possible – socks, tent, etc – in hopes that it would dry some. It didn't dry, but did keep my pack from turning into a smelly, fungus festering mess.
At camp that night, I met back up with Jenn, Tim, and Nick from the night before, and Lat showed up as well. The campsites here were 100 yards or so from the shelter, up on a ridge. We all pitched our tents here for the night, cooking our dinners together at the small picnic table.
Lat brought a huge can of tamales up with him, with the plan of using the can to create a camp "oven" and bake brownies. First though, he had to open the can (no can opener) and eat the tamales (apparently disgusting), which provided good entertainment.
There was also talk of a potential campfire. But of course, before we got to the brownies or the campfire, rain moved in. We all scattered to our tents and that was good night.
Day 16
10.7 miles to A. Rufus Morgan Shelter
It rained all night, and was still raining in the morning. I had little motivation to get out of the tent, so we slept in for a good while.
Finally, we made moves and found that it was only raining on the ridge. Once down the small hill and on the trail, it was no longer raining. This was a relief, but still, starting late in the day is hard for me, and the 10 miles that day felt challenging.
Day 17
Zero
The weather forecast often changes on trail, but today's had remained consistent all week – it was going to be a stormy day.
Knowing my gear wasn't well water-proofed (a problem I've since remedied), and just having a bad rain attitude in general, I decided to zero at the shelter for the day.
It was a good decision, as it did rain all day. But I ended up with a case of the rainy day blues. Rather than enjoy the dry shelter and relaxing day off, I moped about, fixating on how wet and stinky all my stuff was. Some days on trail won't be fun, and this was one of those days.
Day 18
19.9 miles to Cody Gap
After taking an unexpected zero, we had some miles to make up, making today our longest day yet.
About a mile from the shelter, we arrived at the NOC (Nantahala Outdoor Center). This is a popular hiker spot, as there's a large outfitter store, food, beer, lodging, and more all situated along the banks of a beautiful river. But since we were coming through at 7 am, it was a ghost town.
We stopped by the river for a quick pack breakfast (english muffin with pb&j for me, jerky for Bonsai), and kept moving. Wish we could have been there at peak time, but it just didn't time out that way.
But let me just skip to the best part of the day…
Remember Jenn and Tim? At Stecoah Gap, around 15 miles into our day, they were set up (alongside their beautiful camper van), handing out bratwursts with all the fixings, salad, brownies, and more to the hikers coming through.
After a week of bad weather, it was an especially wonderful treat that boosted everyone's morale. It was also great to see them again. Bonsai made himself right at home, and was also happy to see his bestie, Tim.
Earlier in the week, Tim generously shared a bag of beef jerky with Bonsai. Another day, he gave him a huge serving of leftover mashed potatoes that sent him into a blissful food coma. Now, at Stecoah Gap, Tim served him a warm, delicious bratwurst. There's no better way to Bonsai's heart.
Jenn and Tim are true trail angels and I suspect future hiking friends!
Day 19
9.9 miles to Fontana Dam
Today was bittersweet. Because I'm entering the Great Smoky Mountains tomorrow, and dogs aren't allowed in the Smokies, I had to part ways with Bonsai for a few days. That's the bitter part.
The sweet part is I got to see my friend, Elizabeth! After getting up early and hiking 10 miles, we met Elizabeth and her friend Jennifer at Fontana Dam. We all went out to lunch (loaded pork nachos with a side of Mac and cheese for me). Restaurants are always a treat after days on trail, and going with a friend made it even better!
After lunch they drove me to the laundromat, a stop I'd been eagerly looking forward to.
Elizabeth will be taking care of Bonsai for me during this stretch, and even though it's only a few days and I know he will be well-loved, I still got a little teary eyed when they drove away.
I did my laundry and then took a shuttle over to the shelter. The shelter here is super nice, and therefore referred to as the "Fontana Hilton". It's right next to the lake, with beautiful views and all the amenities a hiker could ask for – water spigot, picnic tables, charging station, and real bathrooms with running water and flush toilets.
There was a big group staying at the shelter, including both new and familiar faces, and we had a great time staying up late, hanging out by the fire.
It's now past noon the next day, and I gotta wrap this up and get on trail. Miles to hike! Mason sent me a fun activity for the week (scavenger hunt), which I'll share in the next post. Oh, and here I am sporting the necklace he made me last week ❤️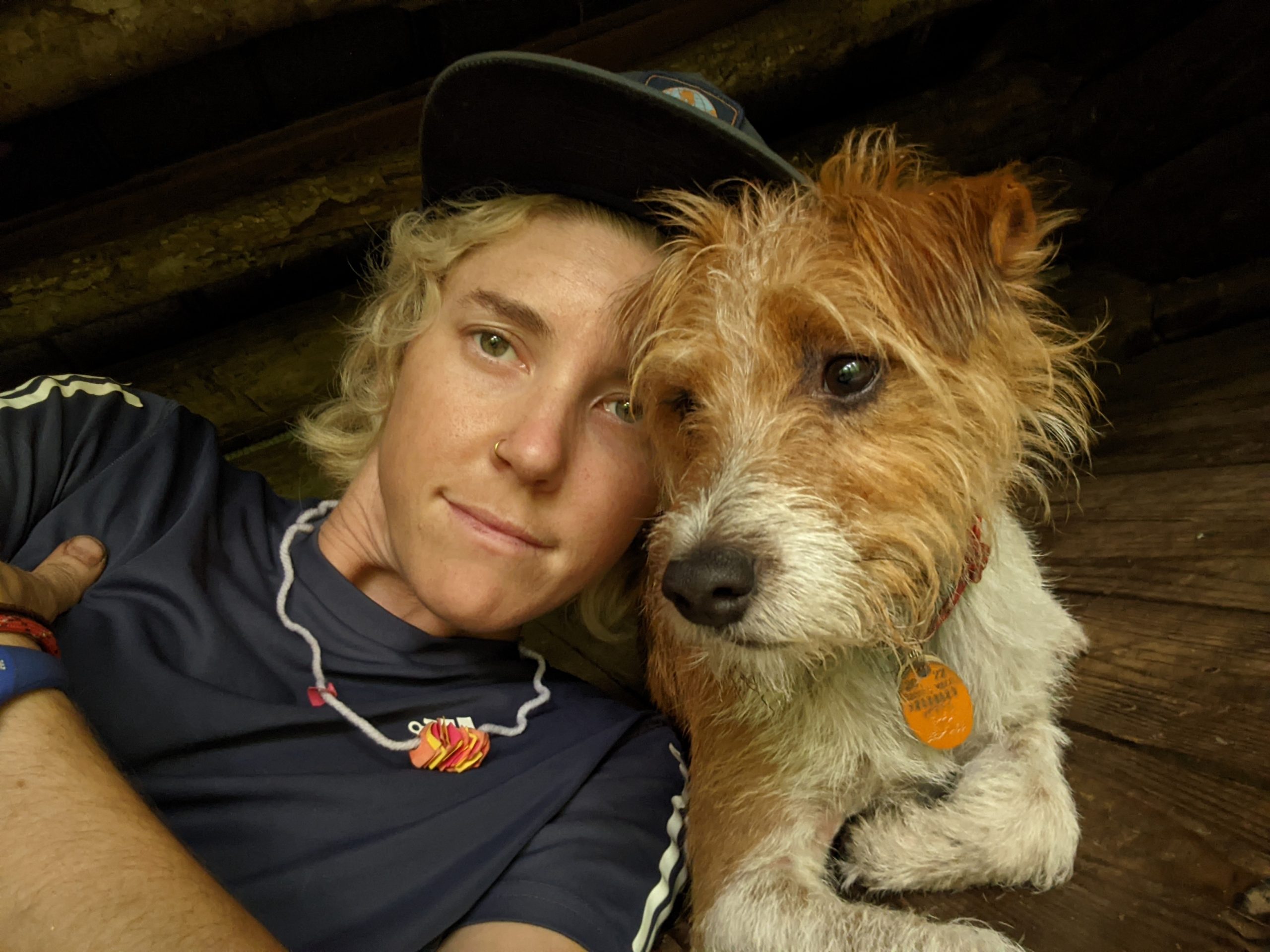 Affiliate Disclosure
This website contains affiliate links, which means The Trek may receive a percentage of any product or service you purchase using the links in the articles or advertisements. The buyer pays the same price as they would otherwise, and your purchase helps to support The Trek's ongoing goal to serve you quality backpacking advice and information. Thanks for your support!
To learn more, please visit the About This Site page.