Closure to My Hike after All These Months
I've been putting this blog off for a while. It has been almost four months since I summited Katahdin (Aug. 14) and it's time to bring some closure to my hike. I kept delaying because I didn't want it to be over. As I approached Katahdin, I didn't want it to be over even though I felt physically beaten down and longed for family and home. By completing this blog post I feel like I am taking another step to mentally separate from my thru-hike and move forward.
Post-hike depression is real. I don't mean clinical depression, but just a general malaise that comes with running over the same old ground, over and over again. Being on the trail was a new experience every day. The environment changed daily, and I encountered new people almost daily. My world view was from the mountaintops. I was impacted daily by the weather and its effects on my emotions and physical well-being. After the heat wave (and bugs) of MA, I encountered an uncharacteristically high level of rainfall in NH and ME. Rain made for treacherous terrain when traveling over the rock slabs of NH and ME. I, like most hikers, fell numerous times in a day. Hiking for a day or two in the rain is tolerable but hiking in the rain for anything more than three days is miserable.
After the White Mountains of NH, I encountered quite a few fast-moving ultralight thru-hikers who had started their hike much later than I had. At first this was disheartening but I shrugged it off as I realized we were hiking two entirely different hikes. The ultralight thru-hikers I conversed with were miserable in the final leg of their journey. They were often negative and just wanted the hike to be over. Some traveled without tents or mattress pads. They were reliant on shelters for sleeping at night. They did not carry a set of dry camp clothes, nor did they have stoves to make hot food. I, on the other hand, traveled slower but with basic comforts in my backpack.
I had been traveling with Gypsy since VT. He hiked faster than I did. We would interact together when in camp but rarely hiked together. We enjoyed each other's company and liked planning together. By the end of the trip he wanted it to be over. This meant continuous high-mileage days. I, on the other hand, wanted to slow down and take in my surroundings. We reluctantly parted ways, just days before the end of the trail.
My extended stay at Antlers Camp Site was a high point of my trek.
I then ran into New Girl, a section hiker on her own spirit walk. Her positive attitude was infectious and we summited Katahdin together. I remember sitting apart from each other at Katahdin Stream on the return hike from the summit. We were together but didn't speak; each separate in their own thoughts. I contemplated all the experiences that had led me here. My thoughts were flowing like the river I sat next to. The river was crystal clear, without algae or grass to cloud things. I felt the cool air rising up from the surface of the water and began to realize that it was over.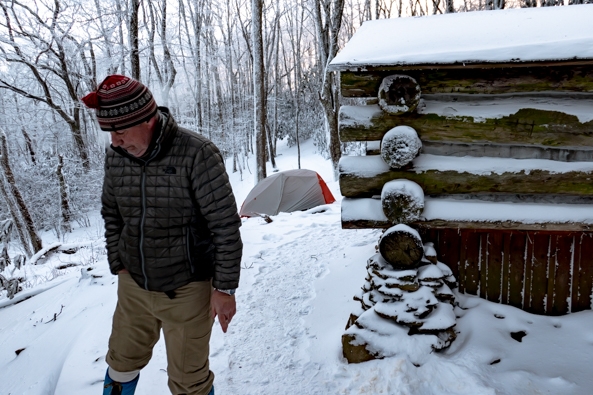 When I arrived in Portland, ME, I was met by Chef, a friend I had met on the second night of my thru-hike. It was extremely cold and getting dark at the end of my second day of hiking. The shelter was Gooch Gap. The shelter was full and the tent sites were overrun with people. I walked past Chef and said I was looking for a site. He said there was room on his tent pad and that I could set up my tent there. I was relieved to hear this and after chores and dinner, I remember conversing with him in the dark as we lay next to each other in our tents. We hiked together until the Smokies and he eventually ended up getting off the trail for family reasons. It was great to see him in Portland and not have to worry about transportation.
I am slowly processing my digital photographs and am currently up to VA. The photographs from the beginning leg of my journey can be found on my website victorperrotti.com (go to projects). After I get all my digital photographs up, I have monochrome film to develop. When the film project goes up, I will be making another blog post.
As I integrated back into society, my thru-hike begins to feel more like a dream. I miss viewing the world in terms of foot travel. I miss the numerous small towns I passed through. I miss the ease by which thru-hikers engage each other in conversation. I realize, now, how very little I really need to get by. The pain and struggle fades and I remember the many highs I experienced on my travels. I am grateful for the support I received from family and friends, for I would not have been able to do it without them. Each step of this hike is now a part of who I am.
Affiliate Disclosure
This website contains affiliate links, which means The Trek may receive a percentage of any product or service you purchase using the links in the articles or advertisements. The buyer pays the same price as they would otherwise, and your purchase helps to support The Trek's ongoing goal to serve you quality backpacking advice and information. Thanks for your support!
To learn more, please visit the About This Site page.