Coco and Magnus — Days 108 through 111 — New Jersey, Bears, and Bullfrogs
6/23 Tuesday — Day 108
The quintessential day on the AT. It couldn't have been planned better. We exited the strange lodging known as Pocono Inn and made our way for the fourth time to Village Farmer. A delicious breakfast sandwich and coffee and we were on our way back on the trail fully refreshed from our zero.
We crossed the Delaware River and entered New Jersey! State #8! As we walked along the service road, a bus pulled up that was filled with young hikers. Their driver/leader asked us questions and shouted our responses back to the kids.
Within half an hour of being in New Jersey, we saw two bears. The first bear scampered off. I wasn't entirely thrilled with the response the other bear who was sitting just beside the trail abound twenty feet ahead of us. Magnus and I were with three other hikers, and we all had to put poles in the air, speak loudly, and make noise to get him to leave. The bear panted and looked bored with us and finally crossed the trail to head up the mountain.  About an hour later, Magnus and I were confronted with yet another bear, but this time we were alone. Magnus heard a sound in the woods, and I did not. A few minutes later I did — and it sounded big. Maybe a deer, but it was a heavier, slower, bigger sound. In a bit there was a clearing through the trees and there was our bear. All 400 pounds of him. For the past several minutes he had been slowly pacing us — thirty feet into the woods and about twenty feet behind us. Much scarier than a still bear. Magnus kept his cool better than I did and we played the same game we had with the earlier bears: high poles and loud, low, monotone voices. We kept walking at our same pace and shortly thereafter the bear lost interest in us. Safety once again.
Trail Magic! Former AT hiker (and PCT and CDT) Irish and his friend Mike gave us fresh fruit, candy, beer, and water.
Yes, there were two intense thunderstorms and each lasted approximately five minutes with drizzle in between and didn't occur until late in the afternoon when the cooling off was welcome. Apparently, some of our fellow hikers had waited until late in the afternoon to start in hopes of escaping the rain and ended up hiking right into it. (This particular incident was cause for the trail name Roker for one guy… I do believe he's also a Trials blogger, so I'll allow him to tell his story.)
Remember how I avoided the blueberries from the Superfund site? No longer! We feasted on wild blueberries as we hiked.
We passed a swamp with several beaver dams and kept going until we found a suitable campsite. We found a spot just as the skies were opening up again and put up our tent like a pit crew. Just in time for a brief blast of rain. Luckily, we had those trail magic beers to keep us busy as we waited.for the rain to pass. Just as quickly as it came, it left. We were able to watch a very long and striking sunset from our tent.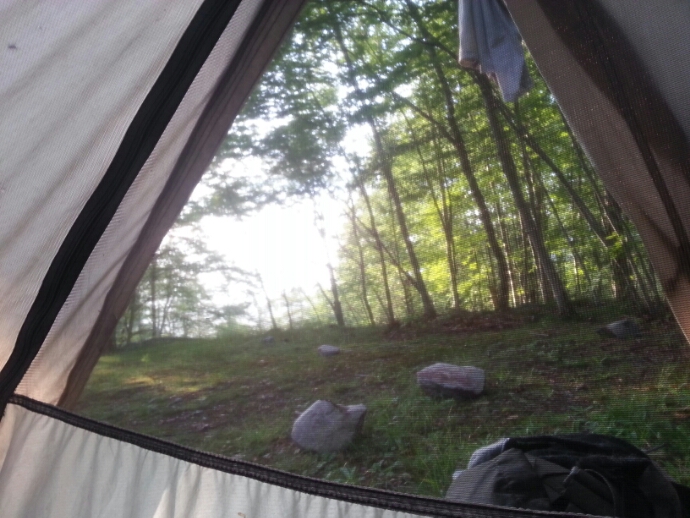 With our recent bear encounters, we were a little nervous about tenting alone. We hadn't seen other hikers since early in the morning. We braved the night alone with our poles and knives kept close.
Quintessential AT day complete.
6/24 Wednesday — Day 109
We survived the night and nary a bear attack!
New Jersey is so beautiful! Do people know this? I did not! We saw three wild turkeys on this day, which is so delightful. Turkeys make sounds that are simply hilarious. Speaking of hilarious sounds, bullfrogs make such odd noises. They're somewhere between a pluck on an old guitar with loose, worn strings and the weird sound my stomach makes.
Our guidebook showed that a coffee shop was just off the trail. Magnus and I were rather excited about it, but Joe To Go is very closed. Not even water from the spigot. But I was determined to spend my money and indulge myself! We continued on to Gyp's Tavern. I really didn't intend for it to be that kind of afternoon, but it was that kind of afternoon. Plans changed.
Once inside the cool, dark, inviting tavern, we started the slowdown. It was Doc and Forward's fault! Just kidding. I take full responsibility for my actions. We had a few beers with these fine fellows and then continued on our way. They stayed at the tavern for what legend says is six pitchers and a stumble back onto the AT for the first decent campsite. Magnus and I took the more athletic version which we expected to be about seven miles powered with a few airplane bottles of whiskey. Once again, plans changed.
The view from Culver Fire Tower was lovely and marked the end of our most significant climb for the rest of the afternoon. Ahhh, we'd arrive at our campsite soon. No! Another bear. A huge bear. And then lots of large rocks creating perfect bear dens all along the path. No, we decided not to stop where we planned. Not only did the area appear to be prime bear habitat, the campsite listednin our guidebook was nonexistent. Future hikers: there is no campsite prior to Mashipacong Shelter. Mashipacong Shelter, on the other hand, has lovely tenting spots not mentioned in the AWOL guidebook.
This day was a lesson in being flexible and being resilient to changing circumstances. A surprise 20+ mile day in gorgeous New Jersey with some drinks with new friends and an enormous bear.
6/25 Thursday — Day 110
Magnus and I knew that we were the only thru-hikers at the shelter but that distinction became very clear when we were the first ones out of camp. We made it to High Point State Park headquarters quickly. There we were treated to Cokes just for being thru-hikers. Thank you, High Point SP!
In addition to being friendly and supportive, High Point SP boasts a large collection of Photoshopped postcards. We bought fourteen and actually cleared them out of one design. That clear winner was a shadowless buck as tall as a pine tree hovering above a stream. As the postcard declared: majestic.
We merrily hiked along to the park's lake beach singing, "Snack bar! Swimming! Showers!" We did partake in all three attractions and found ourselves very relaxed and clean at the end.
Surprisingly, we still did not see any other thru-hikers. Only as we were hiking into Unionville, NY did we finally see another thru-hiker. Swahili was the only thru-hiker we had seen in 26 hours. This is rare, but somehow we had been hiking between bubbles. While it was fun to feel like we had the woods to ourselves, it was reassuring to see others.
Unionville offers thru-hikers free camping behind one of their town buildings. Likely the nicest campsite we have stayed in so far. I made the formal arrangements by obtaining a permit from Horler's Grocery. It was a very involved process that consisted of providing my name and contact information. Not only does the grocery store offer the essential service of providing permits, they have reasonably priced resupply, sandwiches, breakfast, beer, coffee, and allow hikers to charge devices on their porch. And, perhaps most importantly, Barbara is absolutely lovely. Also — Annabel's Pizza is simply divine. Eggplant pizza. Caesar salad pizza, too. Why waste your time with two separate plates when you can have one? Seriously though, it was delicious.
6/26 Friday — Day 111
In the morning, Magnus and I left the town of Unionville, wandered through their cemetery, saw an abandoned factory, and entered the Wallkill Reserve. In the swampy reserve we saw ducks and swans and heard more bullfrogs.
The terrain since mid-Virginia has been somewhat less challenging and the peaks have been considerably lower. It's never easy, but it's been a little softer, a little kinder. We hiked Stairway to Heaven. Here I felt the AT directly challenge my legs to ascertain whether I could still climb. I learned that, yes, in fact I can still (in the words of Milkman) "charge up a mountain." This, by the way, is one of my favorite compliments I have ever received. Maybe I charge a little slower over boulders, but I still can do it.
For nearly a mile, the AT is a boardwalk over more swampy terrain. I have been excited for this stretch since before we started our hike. I loved it. It was beautiful and didn't disappoint.
In the evening we said goodbye to Wren whose section hike came to an end. We hope to see her again in New Hampshire when she vacations with her family. Wren — you're so awesome! We miss you already!
Ticks have been found. We are on high alert and dousing ourselves with bug spray. Already we're hearing reports of hikers and friends with tick-borne illnesses. This is so scary and makes me concerned every time one of us is lethargic or sore. To make things confusing, we are regularly lethargic and sore. Hiking over 1,300 miles and living outside in summer heat probably does that.
Affiliate Disclosure
This website contains affiliate links, which means The Trek may receive a percentage of any product or service you purchase using the links in the articles or advertisements. The buyer pays the same price as they would otherwise, and your purchase helps to support The Trek's ongoing goal to serve you quality backpacking advice and information. Thanks for your support!
To learn more, please visit the About This Site page.
Comments
1
Great post! Glad you are proclaiming the beauty of the Garden State! It is a simply lovely place and home to some of the best rock and roll musicians in the world.