Coco and Magnus — Days 144 through 149 — Hiker Hysteria, a Soldier, and a Hailstorm
7/29 Wednesday — Day 144
* Magnus and I stealth camped the night before between Smarts Mountain and Mt. Cube. What a fine choice we made. Through the night we heard some kind of motorized vehicles in the distance. Turns out it was a helicopter, ATV's, and chainsaws. A woman needed medical attention at the top of Mt. Cube. The helicopter was circling both peaks and, obviously, there was a lot of commotion at Hexacuba Shelter. I don't know the full story or her current status. This was the third incident within the previous two weeks that I knew of.
* On a cheerier note, lots of blueberries and raspberries! And Bud Light trail magic.
* We made a game of running down a mountain trying to stay ahead of the hikers behind us. I don't know what kind of machines they were made of, but they made us work for it. In the game they didn't know they were playing. We prevailed as victors.
* We stayed at Hikers Welcome Hostel and tented in the backyard. Great place and highly recommend. Legion is fantastic.
* Hostel = trail gossip. Lots of it.
* Neema and Odie from Hiker Yearbook stopped by — the last time we saw them was on Day 3 of our hike in Georgia!
* Sometimes hikers get together and hysteria ensues. This time the topic was Moosilauke. The first large mountain of the Whites the AT passes over and sometimes referred to as the second most challenging mountain on the AT after Katahdin. Based on the hiker conversations, you'd believe the north side of Moosilauke is a vertical face of stone strewn with daggers and the bodies of fallen hikers with faded memorial wreaths withering and morosely flapping in the cold, misty wind. I was losing my mind. Completely wrapped up in the fear spreading like a virus. The solution for every other hiker was slackpacking southbound. Climbing the steeply sloped rockface side and descending the other regularly steep north side. Magnus felt that the first challenge of the Whites should be met in the way we intended to do most of our hike — northbound with our packs. I was conflicted but ultimately agreed with Magnus that we'd hike out northbound with full packs.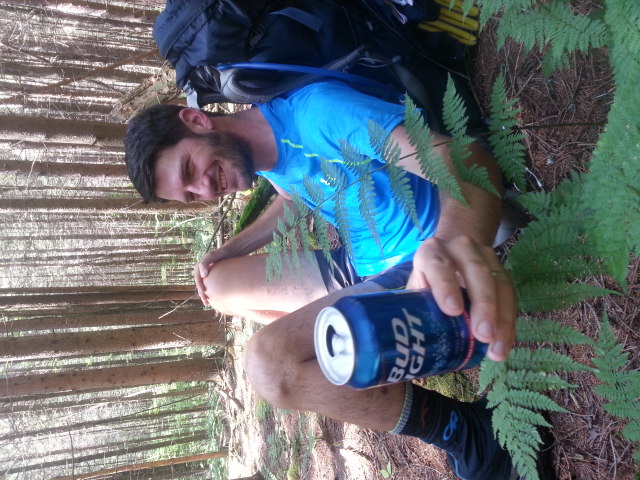 7/30 Thursday — Day 145
* My fear returned in the morning as other hikers gathered together their day packs. Once again I began doubting my abilities. Both Magnus and Legion assured me I would be fine. I'd survive. Suck it up, weirdo. We did it. The climb up was awesome. The lengthy alpine zone was exquisite. A filmmaker hired by Dartmouth asked Magnus and me to be a part of the recruitment video he was making. Why not? I'm sure my agent would have advised me to decline the gig without adequate compensation, but y'know, I'm not getting any other work while I'm out here. (Hi, Veronica! I agree with you.) I gotta say. I think Magnus and I were really convincing as hikers.
* We ate lunch with Funk near the summit protected from the wind by some rock walls. The storm clouds began to roll in. Packed up our stuff and Magnus and I continued on to the other side of the mountain. The storm was going to be big. A thunderstorm would be dangerous descending the north side of Moosilauke, so we set up camp at Beaver Brook located right above the strenuous area. It started raining in the early afternoon and didn't stop until sometime in the middle of the night.
7/31 Friday — Day 146
* Sunrise directly into Beaver Brook Shelter. Spectacular.
* A truly humbling day. Two hours to hike the 1.5 miles down Moosilauke. Wedges of wood sometimes were affixed to the large boulders for some kind of foothold.  An enormous waterfall was located alongside the trail. A lot of need for slow, safe footing but we did it! The rest of the trail was deceptively challenging. Often I had to scoot down on my butt to get down boulders. Sometimes there was only a crack for a foothold when going up. A lot of hand-over-hand climbing.  What we thought would be a mere 13-mile day was reduced to only nine. And we were exhausted. A group of college students started hiking around the same time we did and for some of them it was their first experience backpacking. Those poooooor guys. They showed up at the campsite almost four hours after we did.
8/1 Saturday — Day 147
* Yellow got married! Magnus and I were sad not to be able to be there. Congrats, Yellow & Pat!
* Kinsman Mountain with both of its peaks was just fantastic.
* We stopped in at Lonesome Lake Hut, the first White Mountains National Forest hut on our journey. On Lonesome Lake we heard an eagle cry. It was insaaaaannnneee. I don't know why everyone wasn't freaking out. I'm pretty sure people were more interested in the way Magnus and I were reacting than actually hearing the eagle.
* Ran into a Revolutionary War reenacctor. Y'know, the uzhe. He wanted to know how his uniform would hold up as a soldier marching. The result: not well. Very hot, uncomfortable, slippery leather soles, and his accoutrements were not ergonomic.
* One of Magnus's friends from high school and her family picked us up at Franconia Notch. Hooray!
8/2 Sunday — Day 148
* Zero day! Many errands and very fun hangouts. Jordan, Michael, Cora, and Ellis were very kind in indulging our every wish. Cora even proved to be a stellar assistant in de-packaging and re-packing all of our food.
8/3 Monday — Day 149
* A bittersweet drop-off back at Franconia Notch. We had such a lovely, relaxing zero but the mountains required climbing.
* At last, Magnus and I were off to climb Mt. Lafayette. We thought. We actually got lost and ended up walking to The Basin, whatever that is. About an hour later, we managed to find the AT again. Mt. Lafayette for real this time! On the way we met Mirage and Tank who knew who we were from shelter journals. Not only did they know who we were, they knew about Magnus's trekking pole that he left back in Pennsylvania!
* On further up the mountain. Franconia Ridge is all above treeline and one of the most gorgeous places I have seen on the AT. It was so clear it felt like I could see forever. I could see clouds forming. Then joining. Then turning dark. Then shooting lightning and thunder. All within about twenty minutes. No tree cover and we were the tallest things out there holding onto metal poles. Danger. We were too far to turn back, yet not quite over the highest peak. Somewhere in between. We moved as fast as we could. Rain started falling and the lightning was getting closer as the sky grew darker. A steep mile side trail led to Greenleaf Hut but we still had Mt. Lafayette to climb before we could get there. At last we reached the peak and immediately turned onto the side trail to get to the safey of Greenleaf Hut. Rain began to fall and we moved faster. Unfortunately for us, moving toward the hut also meant moving toward the black sky and piercing lightning. I was looking at these things in this order on repeat: feet/trail, Magnus,  hut, lightning. At last we reached Greenleaf Hut. The mountain was barely visible through the clouds that surrounded us. We dashed inside, inquired about work-for-stay and received it. We said our greetings to fellow thru-hikers Turbo and Peacedawg and shared our stories of getting to shelter. Within ten minutes the hail began. Lots of hail and no visibility. The hut was completely full. Not only were they hosting all the guests, but many had become stranded due to the unexpected hailstorm. A group of about fifteen kids on a day hike were ushered into the hut for safety by their group leader. By the time the storm cleared, it was too late for them to hike off the mountain — they didn't have headlamps. Those kids, like us and a few stranded hikers, slept on the dining room floor. We were so happy and grateful to have dry shelter for the evening. Once the storm cleared, we saw an outstanding sunset.
Affiliate Disclosure
This website contains affiliate links, which means The Trek may receive a percentage of any product or service you purchase using the links in the articles or advertisements. The buyer pays the same price as they would otherwise, and your purchase helps to support The Trek's ongoing goal to serve you quality backpacking advice and information. Thanks for your support!
To learn more, please visit the About This Site page.