Coco and Magnus — Days 160 through 166 — Croutons, Creeping Snowberries, and Campfire Songs
8/14 Friday — Day 160
* Serious day that began with the Mahoosuc Notch. This famed area is a mile of trail known as the most challenging on the entire Appalachian Trail.  Again, this stretch of the trail drives home the idea that "trail" is simply a conceptual term. It means to get from one physical location to another physical location.
* Funk, Magnus, and I traversed the length together. Safety in numbers, friends. I couldn't be more grateful for the presence and assistance of these two. Moving through this one mile took almost two hours.
* How to describe the Mahoosuc Notch… how to describe. Imagine you have taken a day-old baguette that happens to be the size of an entire mountain, and made croutons with it. Some pieces are torn, some are expertly and evenly chopped up. Now shellac them all. Some still retain some rough texture and many are smooth. Shake up all the mountain croutons and spill them into a deep and steeply slanted valley. They're all toppled over each other, covering the ground completely. The ground is impossible to see most of the time. Just massive croutons piled up creating negative space and unsure footing and racing hearts. These are the boulders in the notch. The sunlight doesn't make it in and the boulders are in a beautiful, jumbled mass. Sometimes caves are created. It's mostly cold from the streams running beneath the boulders, ice in some places. The temperature fluctuates at least twenty degrees depending on the presence or absence of a stream or river. On average there's a width of approximately fifty feet between the walls of the valley. Navigating how to get from south to north is completely up to you.
* Twice I had to take off my pack to be able to go under and between boulders. Many times I had to slide on my butt. I also learned a more poetic name for this expert move — tactical sliding. I'm in.
Magnus Crawling through the Mahoosuc Notch
* My legs are not very long. My arms are not very long. My confidence in surety of footing is not impressive. In one particular area, I could not find a way to go north. I climbed the full length east and west multiple times to try to find passage. I either could not reach or the boulders were so slanted that I was certain I would end up in a tangled up pile in the graveyard of lost water bottles below. More troubling would have been how to get out of that situation. Just me and the water bottles forever, waiting for other hikers to throw down unwanted ramen to me. Countess of the Mahoosuc Water Bottle Consortium, reigning leader. Such are the fantasies of a thru-hiker. In one spectacular display of teamwork and mutual support, Magnus and Funk helped me cross. Magnus (who is above average in height and long of limb) straddled two boulders. He secured his foot on one to create a hold for me. As I crossed from a separate boulder, I placed my foot alongside his. Physics! Still more work to be done. There was a large expanse of slanted boulder that I couldn't find a way to make across without another step that would surely end with me sliding down. Funk, who had already crossed, managed to secure himself and give me his arm to grip for additional support. I crossed. It only took three of us to get me through, but I made it through the Notch.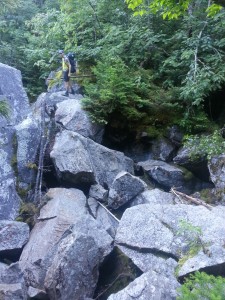 * The difficulty and focus required to make it through the Mahoosuc Notch put me into a meditative state for the most part. The rhythms of moving, breathing, and evaluating felt to be occurring simultaneously and without any effort. A complete immersion in mind and body.
* I found Jacoby's trekking pole and Funk so very generously and kindly carried it until it could be returned to its rightful owner.
* After Funk, Magnus, and I completed hiking the Mahoosuc Notch, we stopped for lunch on the other side. We ate in almost complete silence for most of our break, triangulated equidistant with approximately 20 feet between each of us. Clearly, we each had a need to process the previous mile in some kind of privacy. The previous mile was intense.
* Magnus and I split from Funk and we proceeded to hike the Mahoosuc Arm. Magnus was tired. I was invigorated and straight up crushed that mountain. It was the most confident I had ever felt climbing and I was much more sure-footed than I had ever been. Apparently, I had to drop down to the lowest level of confidence and make it through for me to believe that I could do this and, in actuality, had already been doing it for months. Sometimes I need to slap myself in the face. Some areas of the Mahoosuc Arm are completely exposed as you rock climb your way up steep boulders. It feels very vulnerable. Magnus said that this is the only part of the trail that gave him the heebie-jeebies.
Mahoosuc Arm
Magnus is Tired
* At Grafton Notch we considered going into town, but not such an easy place for a hitch. So, we stealth camped. Too tired to move on, too unmotivated to get to a hostel. We just wanted to sleep outside and congratulate ourselves on a hard day with well-deserved rest. And it rained. But only while we were eating dinner because that's just the way that it goes.
* The morning began launching out of Grafton Notch and up the Baldpates. There were steep stairs leading to the first West Baldpate peak and then a more exposed, rockier ascent up the second East Baldpate peak. as well as Old Speck Mountain. We were able to hike alongside DG for awhile which was awesome because he is awesome. (One of my favorite things is listening to him laugh hysterically from a quarter mile away while he's listening to podcasts.)
* When we reached East Baldpate, it appeared that thunderstorms were on the way. This is one of the great inspiring factors of getting to town in a timely manner. Booked it to the road where several other hikers had been waiting for a hitch for sometime. I made the bet that I'd get us a hitch within thirty minutes on this poorly traveled road in Maine. Within ten minutes, we were all in the back of a pickup on the way to Pine Ellis Lodge in Andover. Though it has its disadvantages, there are some benefits to being a small lady on the AT.
* We were dropped off at the hostel where we quickly scored some bunkbeds. So many friends at the hostel – DG, Wye Not, Mau, Jacoby, Wharton, and my apologies if I'm leaving anyone out. This is a hostel truly for the hikers and they know what we want — a shower with lots of washcloths and soap options, clothes-for-borrow while we do laundry, and space to relax.
* After we all thoroughly scrubbed away the previous days' grime, we went to… wait for it… AYCE pizza/salad/soda buffet at the Little Red Hen. Sometimes it feels like it just all works out. Our little table of hikers may have put that restaurant out of business. I'd apologize for our appetites, but they knew what they were getting into.
* Resupply at the general store was, well, generally successful but we all ended up purchasing expired food due to no other options.
* This mass group of well-fed hikers spent hours on the porch in borrowed clothes drinking beer and sipping whiskey. Shortly after getting back to our accommodations, the rain that seemed imminent earlier in the afternoon decided to finally made its presence known as a downpour that could not be ignored. The rain came down in curtains waving in front of us. The street and walkway to our bunkroom became small, steady rivers. We carried on with the chatting, mending, and sipping and the skies became unhinged. I could have lived on that porch with those people under those circumstances for the rest of my life.
8/16 Sunday – Day 162
* Our proprietors gave us rides back to the trailhead. At this point in our journey it feels as though every person has one thing on their mind and it is to finish. Whatever it takes to finish. If that means getting rid of nearly everything in your pack, so be it. If that means slackpacking as much as possible, so be it. If that means staying at every hostel you pass, so be it. Everyone seems to be analyzing his or her own ideas of what thru-hiking is and sticking to whatever ethos has been cultivated over the previous six months. There's not always agreement, but there is a  general respect for each other's choices. One thing that no one seems to have any patience for anymore, however, is that of the know-it-all hiker. We all "know it all" now to varying degrees based on experience. If there is such a thing as a professional hiker, we are it. There's also an understanding that what works for one does not work for another. There's a fine but distinct line between sharing tips, knowledge, and experience and telling someone else that they're doing it wrong. There is no wrong. We are all elite hikers.
* Though the rain had formally ceased, it was extremely misty. As Magnus and I hiked past a pond we could not see where it ended or began. Everything was a nebulous flow between air and water.
* Up a long hike over Old Blue Mountain we finally found the elusive
creeping snowberries
! I believe we learned about these from one of the libraries in a hut early in The Whites and had been searching  for them ever since. They look and taste just like Tic Tacs. Nature! Promptly after shouting 'OHMYGODCREEPINGSNOWBERRIESTHEY'REJUSTLIKETICTACS!" Magnus and I met Flask. Guaranteed that if this had been the beginning of the trail, my name would have been Tic Tac or Forager or something.
* Over many rotting bog boards we hiked on and on with no opportunity for stopping. No place to camp. This terrain is not friendly to overnight guests. We did reconvene with Flask and Meatstick and joined forces to try to find a place to live for the evening. As we all hiked we became hungry and discouraged and maybe one of us was experiencing some low blood sugar frustration. We stopped to eat dinner and filter water at a small stream. One of the most wonderful things of hiking the trail is having sleepovers with your friends every night and being able to camp next to them. One of the difficult realities is that proper resting space can be scarce and there's a shortage of resources. More often than not, the trail provides. About 100 yards later, we found a stealth spot large enough to accommodate all of us, including DG who came along. I was so grateful that we didn't need to night-hike an additional four miles to the next campsite. Also, I had the rare pleasure of discovering I had a beer stashed away in my pack. I even managed to share it with my pals. We made a fire and hung around til closing time. An extremely fine night.
8/17 Monday – Day 163
* The day was very hot. I was very tired.
* A new trail had been blazed over Bemis Mountain. Thanks to this very new trail, the blueberries right along the trail were abundant. A blueberry will never taste as good as a wild blueberry on a mountain that you've hiked months to get to. I have tasted this blueberry time and time again.
* We reached our first river to ford. The water was so low we just rockhopped across. We had no idea how different this fording experience would eventually become. (That's called foreshadowing, folks.)
* It got hotter. I got more tired.
* We saw a grouse. Magnus yelled "Chicken!" We also saw a weird, flesh-colored caterpillar thing.
* On our way to camp at Sabbath Day Pond Lean-to, we passed Moxie Pond and it's tiny sandy beach. It was so perfectly lovely. We dropped our stuff at our campsite, set it up, then carried our dinner back to Moxie Pond for swimming and a lakeside meal along with DG and another SOBO hiker.
* We turned in early and heard a loon calling on Sabbath Day Pond. Very few other hikers were at the campsite and no other NOBOs.
8/18 Tuesday – Day 164
* In the morning, Magnus and I took our packs and breakfast down to Sabbath Day Pond in hopes of catching a glimpse of a moose and missing some of the heat. We were unsuccessful in both but saw so many leeches in the water. Little black ribbons of nightmares effortlessly slipping between rocks and twisting around each other endlessly seeking. Horribly beautiful.
* We hiked hard and fast. We met Glamper who happens to live where I grew up. Then there was trail magic at Little Swift River Campsite. I binged on granola and have never felt better about this decision. We met Link. Glamper, Magnus, and I booked it to the trailhead for Rangely. We decided to go into town again. The level of hiker hunger that had emerged in recent days was unprecedented. Though it had only been a couple days since our most recent hostel stay, our food and energy were low and we needed more.
* At the trailhead, Glamper, Mangnus, and I were rewarded with ice cold beers from a few former thru-hikers who had started their own hostel. We were going to the other hostel, though they were still hospitable and shared their wealth with us.
* The owner of Farmhouse Inn picked us up and we were on our way. Their hostel is a beautiful home still undergoing renovations. It is a sight to behold. They even have a calf massaging chair. I did not know such a piece of furniture existed. Many friends old and new at the hostel — Finn, DG, Ambassador, Bloomer, Flask, Doc (part three),  Big Easy, and Starcrunch.
* In a large party, we went to dinner and consumed everything within sight. Then ate ice cream. The pattern continues.
* At night the sky was so clear and the area so dark that even with the ambient light from the house nearby, I could see the Milky Way. I must have stood there for ten solid minutes just staring at the sky. At some point Flask came and joined me and it was a very lovely moment in my life.
8/19 Wednesday – Day 165 
* In the morning, Finn treated all the hikers and proprietors to breakfast. Thanks, Finn!
* Back to the trail in the humid heat.
* 90% of the trail complete!
* Magnus and I ran into some incredible friends who were slackpacking southbound. It felt like finding a million dollars to run into Samaritan, Swahili, Peacedawg, Turbo, and Milemarker.
* Saddleback Mountain offered so many beautiful views of open ridgeline in the alpine zone.  After a hard, steep climb up Saddleback Junior, we made it into camp at Poplar Ridge Lean-to and planned out our final two weeks of hiking.
* At camp, someone made a campfire so I was obliged to enjoy the perfect evening with other hikers who would end up being very wonderful friends. After a bit of cajoling and being offered a shot of whiskey, I sang a song to provide some entertainment and distraction. I hope the other hikers enjoyed it as much as I did.
8/20 Thursday – Day 166
* Under 200 miles to go!
* Magnus and I reached Oberton Stream and it was a hiker pileup. There was plenty of trash talk crossing the stream. All day long there had been long hiker trains on and off and we all ended up here crossing at the same time.
* Several hikers went into town. Starcrunch, Big Easy, Hillbilly, Twister, Mau, Jacoby, Magnus, and I all stayed at the Crocker Cirque Campsite. It was a surprisingly large campsite with a lot of spots and plenty of fallen wood for a fire. So, naturally, we built up a massive fire again. Twister did a great job of supplying me with compliments and whiskey, so two more campfire songs were sung.
* So close to the end. I felt myself lingering over every evening just to make sure I was absorbing it knowing that soon the adventure would be coming to a close.
Affiliate Disclosure
This website contains affiliate links, which means The Trek may receive a percentage of any product or service you purchase using the links in the articles or advertisements. The buyer pays the same price as they would otherwise, and your purchase helps to support The Trek's ongoing goal to serve you quality backpacking advice and information. Thanks for your support!
To learn more, please visit the About This Site page.