Coco and Magnus — Days 173 through 177 — Two Inches, Puns, and Trick Bagels
#tbt to my 2015 Appalachian Thru-Hike…
8/27 Thursday – Day 173
* 95% of the Appalachian Trail completed. By the end of day, 99.4 miles to go.
* Since Magnus and I stopped our hiking early a couple days ago In Monson due to the rain (and rain and rain), we had to make up those extra three miles. Then, we arrived at the southern end of the famed One Hundred Mile Wilderness. Upon arriving at that trailhead we experienced some morning trail magic and ran into many lovely friends. A delightful 9am treat. Thank you, Oida and Jim!
* Together, we hiked into the 100 Mile Wilderness. While in town, many hikers chose to have a resupply bucket strategically hidden at a predetermined location to make pack weight a little more manageable and calories a little more plentiful. Magnus and I opted not to take advantage of the drop service and to just do the 100MW as we thought we would originally.
* Right before the first shelter of the day, the stream was so swollen that the trail had been completely washed over and it was difficult to cross. Big Easy gave me some great help in crossing so I wouldn't have to get wet.
* There was some rocky terrain, but nothing too difficult and all very pretty. We all arrived at Little Wilson Falls which were, in actuality, immense. Absolutely massive. The water was cascading so very intensely that it created wind that was constantly blowing all of the surrounding plants.
* Soon after Little Wilson Falls we reached Little Wilson Stream. Again, an example of how everything in Maine is an understatement. The heavy rain over the past several days made this a rushing, dangerous river. The current was so strong that it would have been impossible to cross where it appeared that the trail did. We had to blaze a side trail along slick rocks that were angled into the river. Eventually, we came to a log that connected the north and south banks and was approximately six to eight feet above the river which was punctuated with large, protruding rocks. The log was slick from moisture and absolutely smooth like it had been sanded and shellacked. The only foreseeable way to cross was to straddle the log and use your hands to lift yourself up and forward several inches over and over again. Getting across the angled rocks to the log itself was difficult enough. For perhaps the second time on this hike, I saw fear in Magnus's eyes. I went first. Once situated on the log, I had to propel myself across. The log was slick, my backpack heavy, and looking down was a necessity. The log was completely clear and the river below me was deafening and rushing past as a reminder of what my other option was. I hopped myself across in two-inch increments while I repeated the mantra "two inches" to myself the whole way across. Hands down thumbs touching, "two inches," press, lift, hop, settle, balance, hands down thumbs touching, "two inches," press, lift, hop, settle, balance. I made it to the opposite side of the log where Jester was the welcoming committee and helped me and everyone else dismount. Everyone was amazing. My hands were shaking when I finally got off and adrenaline was surging through my body. I watched Magnus and Twister cross behind me, and saw  Jacoby and Mau making their way across the rocks to the logs. Mau lost his footing and slipped on the rocks. I thought he hit his head (just his elbow) and he started sliding into the river. Before you know it, I took off my pack. Almost instantaneously, he was able to keep himself from getting completely submerged and let out a whoop that I'm pretty sure is only possible from a Marine. Everyone made it across, and we all cheered one another on.
* Then there was Big Wilson Stream complete with another river fording opportunity. This time, a rope was strung across the river to assist with crossing. Big Wilson Stream was as intense as Little Wilson Stream with many slick, angled rocks on the river bottom. The water came up to my waist and danced around the base of my backpack. With the pressure and strength of the water pushing down over half of my body, my foot slipped and I started to go under. With a full backpack on in a raging river, I went under the water. I just remember feeling so determined. Not frightened. Just NO, STOP IT, you stupid effing river, STOP IT. And then very quickly I was up, pulling myself above the water and over to the shore. Again, all the hikers waited for each other and encouraged each other. No hiker left behind. We were in it together.
* There were more instances of small fordings and a trail of just water. Our feet were soaked all day. So much for drying out the boots while in town.
* One final massive fording experience of the day at Long Pond Stream. Again, Maine, with the understatement. Is it supposed to be a funny joke? I don't get it. Knock it off. These were raging rapids. Raging. Thankfully, there was another fording rope available. Though the water here only went up to my upper thighs, the riverbed rocks were of vastly different heights and sizes and the intensity of the current was formidable. The current nearly took off my lace-up hiking boots from both of my feet. Again, the Team was there and we all supported each other.
Hold Tight, Photo by Jester
* Magnus and I finally made it to camp after 7pm. Over 18 miles through one of the most intensely physical and demanding days of my life. The campsite was crawling with hikers and very few decent tent spots were available to begin with. Luckily, mental and physical exhaustion has a generous side and that is to allow your body to completely release and ignore any other discomfort. The sun was down by the time everyone was finally set up to eat. All the tents and hammocks were scattered up and down the mountain, headlamps highlighting each hiker's quiet, contemplative evening. With all of the excitement of the day, the area was nearly silent. Magnus and I congratulated each other on a good day with some whiskey.
8/28 Friday – Day 174
* 2,100 miles!
* There was a beautiful view from Barren Ledge accompanied by a lovely early morning climb. I spent a fair amount of time talking with Prefontaine. You know when you know that there's something more between you and another person? Here was this situation. I just kept asking questions and getting answers until what I got was gnawing at me. His mom lives in Phoenix where I grew up (and a lot of my family lives) and we were born in the same small town in the same small hospital in Indiana on the same day. BOOM. We're twins. Just kidding — we're actually a year apart, but without a doubt our parents crossed paths and we crossed each other's paths while I was in utero and he was a wee babe. So exciting, right?
* Up and down all day. We passed through Fourth Mountain Bog which was filled with pitcher plants.
* Lots of breaks on this day, and still so very tired. I suppose the multiple adrenaline rushes of the day before and over 2k miles of overwork and undernourishment will do that to you. Magnus and I stopped to stealth camp with Big Easy and Starcrunch a little less than half a mile from an official camping spot. The sites have been overloaded recently and none of us wanted to be concerned about there not being enough space. Here's the thing — no one ever wants to go south. Ever. That means we would have all continued north and there are no guarantees that there would be any suitable campsites. As has been true in the past, it could possibly be many miles.
* The pole for our tent broke. Fewer than 100 miles and a broken pole. Oh well. Duct tape. Perfectly fine. Only has to last a few more days. Who else has a home for 6 months that cost about $2/night? If I haven't said it enough, the
MSR Hubba Nubba NX
tent is the best thing and possibly my favorite piece of equipment. It's worth its weight in gold (though, it's pretty light, so I don't know if that's a very appropriate analogy).
* In addition to a rich inner world that I enter every day when I hike, I entertain myself with creating puns. I think I'm hilarious, so it all works out. Someone (Magnus probably) came up with the idea of Katahdin-ners: an Appalachian Trail themed restaurant. Some items on the menu: Maine Entrees, Mac & Cheese Knob (seriously, just say it fast and it sounds like McAfee's Knob), Shenandonuts (Starcrunch, you are my hero for inventing this one), Great Smokey Mountains of Brisket, Hiawaseafood Platter, and so on. I spent a lot of time laughing out loud about these. The great thing was also that I'd run into people taking breaks and they'd be like — "hey! I've got another one!" It turned into a large group exercise. Simple lives create simple pleasures.
* It was such a beautiful, sunny day, and I was so grateful for such lovely weather.
8/29 Saturday – Day 175
* The day began with a river fording. It was not too deep and there were no rapids. To be honest, I rather enjoyed it. It was a very pleasant way to start the day. Only four more mountains until Katahdin. It was a much easier day than the day before. There was a stretch of Alpine zone on the top of White Cap Mountain from which there was a clear view of Katahdin. In many previous days there were conjectures of seeing Katahdin but from this viewpoint it was absolutely obvious which was the mountain in question. So close.
* The trail was beautifully maintained north of White Cap Mountain. So many steps and rocks for avoiding mud.
* I saw a mink! I was looking at a rope strung across Gulf Hagas Brook and saw a dark brown mink on a boulder. He scurried away before there was an opportunity to immortalize the experience with a picture. That's okay. Locked in the vault.
* In one of the particularly rocky areas, Magnus's foot slipped between two rocks and his foot got caught. Amazingly, he was not injured. Every step is still risky no matter how close to the end.
* Again, Starcrunch, Big Easy, Magnus, and I stealth camped. This time we passed a lean-to, forded a river, then found a decent spot for our tents. The duct tape held strong.
8/30 Sunday – Day 176
* This was a long, 21-mile day. We were able to hike relatively quickly due to the good terrain, though we lost a lot of speed at the end of the day. Tired, hungry, and Magnus's foot was bothering him. We stopped at Crawford Pond on a sandy beach where we ran into Hot Sauce and spent a little time relaxing with him. We took a lot of breaks throughout the day and hiked almost completely alone. As the trail is coming to a close, it feels as though every hiker has a heightened awareness of a journey ending and the need to have quiet contemplation.
* There were a lot of mushrooms that looked just like bagels. This was hilarious and frustrating.
* In seeking a stealth spot, we had to hike an additional two miles to get somewhere. Magnus and I were fighting fatigue and hunger by the time we stopped. It seemed that there were no suitable surfaces for a tent, so we eventually settled on a spot. Not ideal, but we would have needed to hike many more miles if we did not stop there. While Magnus was setting up the bear hang, the tree fell. It was somewhat terrifying. No injuries, no harm.
8/31 Monday – Day 177
* Another day over 20 miles. The only fording was accomplished through rock hopping. We ate lunch while gazing at Katahdin from Nesuntabunt Mountain.
* Slo-Mo gave us some of her extra snacks which was incredibly helpful and immensely generous. I like to think that we did her a favor by lightening her load, as well.
* Rainbow Lake was very pretty and seemingly out of nowhere, there were around a dozen canoes on the water as well as strapped to trees.
* Our last night sleeping on the trail was spent with Twister and Hillbilly. Though it would still be several days until the end of the actual trail, the plan was to stay with my mom and brother who were coming to Maine to provide support.
* I was very sad about finishing out this trip and also excited to move on to other adventures. I've become so comfortable with living outside and spending a lot of time with myself. It did not seem real that this would be the last night for me to sleep on the Appalachian Trail during my thru-hike. How did I get here? In retrospect all of the preparing seemed so far away and insubstantial — preparing a house to become a rental property, giving away most of my belongings, leaving jobs that I adored, moving my few belongings into a storage facility, finding a temporary home for my cat… And now my final night sleeping in a tent on the Appalachian Trail. I guess, one thing just leads to another.
* The campsite was very close to Rainbow Lake. The sunset view was gorgeous and a fitting sendoff.  Dark clouds slowly rolled in and only revealed a sliver of orange between the trees on the horizon and they large, grey clouds overhead. Even the spring for water was ideal and the loons sang.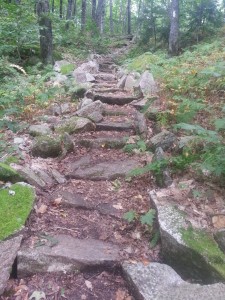 Affiliate Disclosure
This website contains affiliate links, which means The Trek may receive a percentage of any product or service you purchase using the links in the articles or advertisements. The buyer pays the same price as they would otherwise, and your purchase helps to support The Trek's ongoing goal to serve you quality backpacking advice and information. Thanks for your support!
To learn more, please visit the About This Site page.