Coronavirus Concerns: Watching and Waiting
I sure picked an interesting year to do a thru-hike. After years of dreaming and 12 months of planning, I stand ready to begin the Appalachian Trail with my kids. We have transportation in place, reservations at Amicalola Falls in two weeks, and six weeks of food prepared in advance. Despite my preparations, I am in a holding pattern because of the coronavirus. I not canceling my entire trip quite yet. However, I am thinking a lot about what is best for me, my family, and others around us.
UPDATE: The Appalachian Trail Conservancy has asked thru-hikers to postpone their hikes. My April 1st starting date is no longer an option. What am I changing my plans? Because the trail communities that line the AT pour their hearts and souls into supporting thru hikers, now it's our time to show them the same love by staying home.
Resupply Problems Loom
We have enough food to last us until Damascus, Virginia, and resupplies from a family member who will be delivering us food every few days. My plan was to visit Walmarts for resupply once I reached Virginia. With the food shortages from coronavirus, I am concerned about being able to get necessary supplies. Will food be available? If there is food, will there be enough quantity to supply a family of seven? I won't be in this position until May, so I am hoping the supply chain has bounced back by then.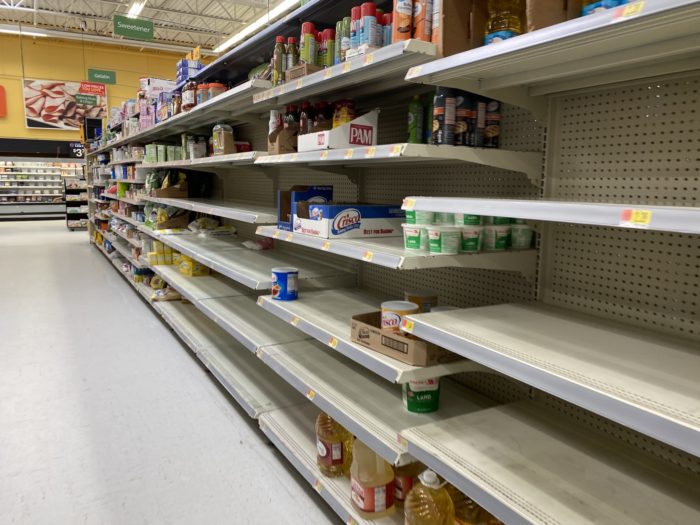 Getting Sick on the Trail
Being away from people and getting outside probably is one of the best things we could do to avoid the coronavirus.  I won't be relying on shuttles, nor staying in hostels because a family member is supporting us the entire way. I also plan to avoid shelters, so our risk will be lowered.  Still, we may not be able to avoid getting sick.  I have a safety net, but that only helps so much. Do I want to be so far away from home if one (or all of us) gets sick?
Closures Are Not Convenient
Everything is closing down—from ski areas to state parks. This is one of my biggest concerns. Will Amicalola Falls shut down and my overnight reservation canceled? What happens if I get my permit for the Smokies and then all national parks are closed down? Will the ATC forbid hikers from walking the AT? I still have a few weeks before I start, but there are so many unknowns. I wish I had a crystal ball that could see a few weeks or even a month into the future. Will things calm down in a few weeks or will it be worse? My gut feeling tells me it will get worse before it gets better.
Responsibility to the Community
I have to consider my family, other people on the trail, and the community where I will be hiking. Walking with six or seven kids, I certainly will look like a traveling tribe of infectivity. Communities that are trying to limit their exposure to the virus may not appreciate a large group visiting their town.
This scenario also assumes we are healthy and able to hike. What if one of us gets sick, what then? Before coronavirus, there would be a large community to help us. Now that assistance likely won't be available, and I don't want to strain the resources of a community already under duress.
At the same time, many shuttles, suppliers, and hostel operators rely on AT traffic to earn their summer income. Though I won't be relying on shuttles or hostels, there may be times when I could use them.  When the coronavirus epidemic is over, I want to be there to support those who make a living off the AT. Hopefully, it will be this hiking season.
Not Ready to Abandon, Willing to Adapt
Leading up to this trip, I've had to be flexible in my plans, and I will continue to be flexible. Right now, I am in a holding pattern—watching and waiting for when the time is right for the trail and the time is right for us. Fingers crossed, I can find that perfect timing this year. I am not going to force it, though.  I don't want to be "that hiker" who hurts the community by hiking when it's not prudent. Because of the coronavirus,  I am considering  alternate plans that balance my family and the community's interests.
Plan B: Flip-Flop
An April 1 start is highly unlikely, so I am strongly considering waiting to start until late-April. It would give the coronavirus epidemic some time to play out and communities to rebound. Services and public areas also may be open again, too. We could hike as far as we can using our current food supply (six weeks worth), hop up to Maine to resupply and then hike back down as far as we can. Unfortunately, we probably won't finish the full trail as we have to be done by early September. We would get as many miles under our belt as possible and call it a hike. With full support from a family member, we could do it while minimizing our exposure or contribution to the coronavirus epidemic.
Plan C: SOBO
I am in the fortunate position of being able to start a SOBO hike in June as easily as I could do a NOBO hike. The biggest hurdle is our outlook. We had our sights set on Georgia with the warmer temperatures, new scenery, and a trip to a new part of the country. We've hyped it up so much that starting in Maine will be a letdown. It will take some coaxing to get everyone on board with this plan, but I believe our perspective will change once we get in the woods.
The biggest detractor to a SOBO hike is timing. We've planned our work, school, and sports schedule around an early April departure and a late August completion. If we leave in June, we cannot do the entire trail. We could do only half, if even that. We may have to be content with a long section hike and put "finishing the AT" on our long-term bucket list.
Plan D: Rural Section Hikes
It's my last choice, but I may be forced to delay my hike until 2021. In the meantime, we can hike an area like Maine and be fully supported without having to rely on a shuttle or a town to resupply. We can hike with minimal impact to others on the trail and those in the communities surrounding the trail. No, it won't be a thru-hike this year, but it still will be an adventure. We also can wait to do this during the summer when this epidemic hopefully will be over.
Affiliate Disclosure
This website contains affiliate links, which means The Trek may receive a percentage of any product or service you purchase using the links in the articles or advertisements. The buyer pays the same price as they would otherwise, and your purchase helps to support The Trek's ongoing goal to serve you quality backpacking advice and information. Thanks for your support!
To learn more, please visit the About This Site page.