Cutting pack weight by HALF and lessons learned!
Ok, folks! I will be the first to admit that prior to leaving for the PCT I truly believed I needed everything in my pack.  After researching gear, reading blogs and watching videos for well over a year I thought I nailed it. Boy, was I wrong!! As time passed on the trail contents of my pack changed drastically. With the Sierra section only two weeks away I became quite concerned about the increased pack weight expected and my shoulder injury. As a result, I chose to leave the PCT and switch to the AT this season with my total pack weight being reduced by half!  
Contents of my pack for the High Sierra section of the PCT. Base weight: 21.5 lb
Click here for gear details. Gear listed with quantity zero means that the item was previously included in my pack.
Contents of my new pack for the AT. Base weight: 13 lb!!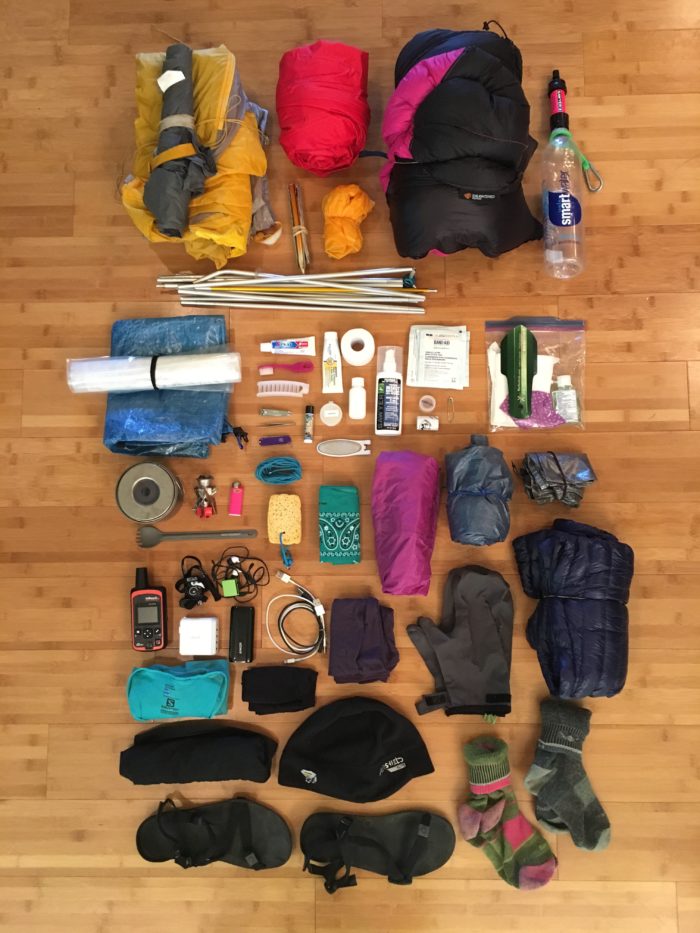 Click here for gear details.
Top 12 Pack Weight Lessons Learned
1. Leave the stuff sacks at home!
As someone that loves being organized, I never trusted those that recommended not using stuff sacks. It was only when I desperately tried reducing my pack weight, as a result of my shoulder injury, that I gave in to peer pressure and dropped the stuff sacks. Low and behold gear does pack better without stuff sacks!
Stuff your tent, sleeping bag, inflatable sleeping pad and clothing into the crevices in your pack. You'll be surprised how well it all compresses!
Use ziploc baggies for toiletries and electronics. They weigh less and use up less space when lying flat.
Weight saved: No change as stuff sacks were already dropped.
2. Ditch the pack lid, you don't need it!
Never in my life did I think I could survive without the lid on my pack as this goes along with my need to be organized. Surprisingly enough ziploc baggies inside my pack provide just as much organization.
Weight saved: 4 oz
3. Expensive cuben fiber tents are cool but aren't necessary
The Z-Packs Duplex cuben fiber and a variety of other one-man tents are popular among thru hikers. I, however, was truly thankful for my two-man Big Agnes Fly Creek HV UL2 tent on several occasions. It withstood 80 mph winds while also housing an additional hiker that feared her one-man tent using hiking poles would not survive. The added space will be nice when camping in the rain on the AT as all of my gear will be stored inside. For the added weight, it's worth it for me to "go big"!
Weight added: No change but my tent weighs an additional 21 oz when compared to the Z-Packs Duplex tent.
4. Sleep systems really do make a difference
A good night's sleep plays a huge part in my well being with my sleep being disrupted on several occasions due to sleeping pad failure. Not only myself, but many hikers, shared the same complaint about the Thermarest NeoAir X-lite inflatable sleeping pad. It slowly deflates over the course of the night requiring that it be re-inflated around 2 am. It's also incredibly noisy! I did slip my sleeping pad inside a Cocoon mummy silk liner which helped reduce the noise. When using the liner for additional warmth as it's intended to be used I was disappointed in that I actually felt colder. My new sleeping pad of choice is the Exped Synmat Winterlite. It's overkill for the AT as it's a 4-season sleeping pad but will be great for trips at home in Washington State.
Weight saved: 1.6 oz
5. Sawyer Mini works just as well as the Sawyer Squeeze
I know, I know. Everyone talks about how the Sawyer Squeeze is superior to the Sawyer Mini. The Squeeze was used initially for this reason but the o-ring frequently fell out with this altering the seal. After my water bottle leaked on me day after day, I switched to the Mini which is what I previously used at home. My filtering practice is also a little different from others as the filter remains attached to my water bottle at all times. I drink from it like a straw rather than filtering multiple liters of water at a time. Clogging was never an issue as water sources were typically flowing versus stagnant pools.
Weight saved: 1.6 oz
6. Food bags and cooksets are truly a personal preference
Countless varieties of food storage bags and cooksets were used on the PCT. I found it interesting how few hikers use the freezer bag system and prefer to eat from a pot.
Food storage: After realizing that an Ursack was not necessary in the desert I quickly sent it home. I did, however, prefer using two versus a single smell-proof Loksak Opsak as keeping meals and snacks separate made it easier to choose items. Most hikers also used the Opsak bags while a few chose to use ziploc baggies. For the High Sierra, the BearVault BV500 and Ursack would have been used for the anticipated 10-day hauls. My new ultralight AT food storage set up is the ZPacks cuben fiber bear bag and Coghlan's odor proof bags.
Cookset: I've always been a fan of the JetBoil systems and have refused to switch to a lighter weight stove for fear of instability. Truth be told, I tend to be really clumsy. After watching others use ultralight stoves on the PCT, I'm switching to the MSR PocketRocket 2 and Snow Peaks Ti-Mini Solo cookset. Only the 10 oz cup will go with me as I never boil more than 8-10 oz of water per meal.
Insulated Cozy: Cozies work really great by speeding up the cooking process and I loved mine but here's a tip for how to drop the weight. Put the freezer bag meal inside another ziploc bag in the event it leaks. Put the double bagged meal in the pocket of your puffy jacket or wrap it in your sleeping bag. Voila! Insulation without carrying the extra weight.
Weight saved: 48.8 oz!
7. Pare down toiletries to the bare minimum but sponge baths are lovely!
A lot of hikers carried items for many miles that went unused. One item that I wasn't willing to give up was my sponge from Trader Joe's. Every night I would take a brief sponge bath with only water. Oftentimes there wasn't enough water available to wash off soap. I just felt better going to bed after washing my face and cleaning my feet. With this practice my pedicure remained intact for a solid month on trail. It's the little things, right?!?
Weight saved: No significant changes as I did a pretty good job of packing light from the beginning.
8. Winter gear weighs a LOT!
Much of the weight dropped is a result of not needing winter gear for my time spent on the AT. Base layers, rain pants, fleece mittens, gaiters, ice axe, microspikes and winter weight Buff will all be left behind. If I were to continue hiking the PCT, all of the gear on my gear list would remain as I'm happy with each piece.
Weight saved: 63 oz!
9. Electronics are important but don't have to weigh a ton!
Garmin InReach: This was probably the most prized item in my pack as it served as my lifeline. With the two-way text messaging feature I never felt alone. In addition to the safety features, it was used to check weather reports, stay in contact with other hikers on trail, communicate with family at home to schedule resupply box shipments and make lodging reservations and allow friends and family to follow my progress via an interactive map online. Highly recommended it!
Battery pack: Many hikers carried heavy 10,000+ mAh battery packs but I found that the additional weight wasn't worth it. The Anker 5200 mAh pack that I carried was more than enough in that my electronics remained fully charged with battery life leftover after five days on trail. Use of my phone was limited to Guthook's and the camera as the internet immediately drained the battery. I also found that I really enjoyed "checking out" while on trail which explains the lack of blog posts. Others blogged and surfed the internet daily resulting in the need for the larger battery pack.
Wall charger: Although the Anker wall charger I chose is heavier than most, having four versus 1-2 ports was incredibly useful when outlets were at a premium.
Headlamp: I found that I never used my headlamp except for a handful of times while in camp. We typically woke up at sunrise and went to bed at sunset negating the need for a headlamp. I also never, nor planned to, hike at night. Have reduced weight for the AT buying switching from the Black Diamond Revolt to the Petzl e+Lite.
Weight saved: 3.6 oz
10. Town clothes are nice but not necessary
You'll quickly get over trying to look good while in town. Everyone else is wearing clothing from hiker boxes, rain gear or base layers while doing laundry. You'll fit right in!  While grocery shopping in Big Bear I wore a men's XL cotton t-shirt with a rock band's logo and size 36″ pants from the hiker box that were clearly too big for me. Hikertrash at its best! My AT pack, however, does have a lightweight set of dry clothes only because it rains a LOT on the AT! Will be nice to have something dry to put on in camp as my PCT rain pants and base layers will be left at home.
Weight saved: 15.7 oz
11. Socks, socks and MORE socks!
Take care of your feet from DAY ONE! Once a blister shows itself it takes forever for it to heal unless several zeros are taken in a row. Band-aids are useless! Don't even bother taking them. Blister care kits vary significantly among hikers as no one form of adhesive works for all. In my case, blisters were best managed by changing out my socks every 90 minutes, letting my feet and insoles dry out and taping potential hot spots with athletic tape before they turned into blisters. I eventually cycled through all three pairs of  Darn Tough socks, including my sleep socks GASP!, as mileage and time spent on the trail increased. Nights were warm enough that sleep socks weren't needed.
Weight saved: No change as the same sets of socks will be used.
12. Camp shoes are GREAT!
If wearing hiking boots, I highly recommend packing camp shoes as I wore mine everyday, multiple times a day. It was nice to have something to wear while letting my feet air out and to help keep dirt out of any blisters that were present. I chose the Z-Trek Xero sandals because they're lightweight, compressible and can be worn during water crossings.  Crocs were also common but don't stay on as well during water crossing as sandals with adjustable straps. Lots of complaints about cheap thong flip-flops not staying on were shared by hikers.
Weight saved: No change as the same sandals will be used.
Side by side comparison of my new AT pack on the left and High Sierra pack on the right.
The Osprey Exos 58 was to be switched out for a Gregory Diva 60 for the High Sierra as the Exos is not built to carry heavy loads. Exos is used here as a visual comparison.
Final weigh in:
AT pack with 13 lb base weight + 5 days food + 1 L water = 24 lb
PCT High Sierra pack with 21.5 lb base weight + 10 days food + 3 L water = 48 lb
With the pack changes made it is my hope that my shoulder injury will continue to heal allowing me to rescue this year's hiking season. If not, suppose it's on to Plan C! I don't give up easily. 
Until next time…
Consider following my Instagram or Facebook feeds to see how my new gear plays out as I thru hike the Appalachian Trail starting May 23rd. Wish me luck!
Affiliate Disclosure
This website contains affiliate links, which means The Trek may receive a percentage of any product or service you purchase using the links in the articles or advertisements. The buyer pays the same price as they would otherwise, and your purchase helps to support The Trek's ongoing goal to serve you quality backpacking advice and information. Thanks for your support!
To learn more, please visit the About This Site page.
Comments
12
Thanks Aaron for the post. Good luck on your AT adventure.

There are still some things they can shake off..

I'm sure my gear list will change with time on the AT as well. Feeling uncertain about how the weather differs from that on the PCT and clothing selection. Can always order new or have something mailed from home, right? ?

If your shoulder is still hurting I would recommend a Bicycle Tour…same gear but

Try bicycle touring you use the same gear…Surly Troll is a great bike

I gave up triathlons because I hate cycling so much. Great suggestion, though! ?

This is a great article. The number one mistake that newbie hikers make is to overpack. You are going hiking bro, not moving house lol! http://easytravelgear.com/

Well done! A great piece to be shared with others. Will be sure to direct individuals to it.
Curious what your actual list is side by side.
And enjoy the trail, wish I was back out on it.

Thank you for the tips! I'm just curious though….do you mean "carbon fibre" or is Cuban fibre something all together different?

@Trish – Cuben fiber is the lightweight material used to make ultralight gear that is now most often called Dyneema or DCF.

Best way to care for blisters is with a needle or pin. Poke a small hole and drain it. As the new skin underneath heals, the old skin protects it.

Thank you for all of the information. I am constantly trying to balance between weight, comfort and safety. I think your kitchen weights are off. You are showing 1 oz for a fuel canister and the smallest is about 7 oz. Also, you have your cup at 1 oz and I think you said in the article it was 10 oz. I would love to see if you have any further updates. I am looking at the AT for 2024. My total pack weight with consumables is 24.45 (5#food and 1 liter of water). Thanks again for a great article!