Damascus – Happy Halloween!
Day 127
To our surprise, we had the loft to ourselves. Only two other hikers occupied the lower level. The weather at higher elevations can be harsh and unpredictable. Strong winds battered the walls of the shelter and a thick fog rolled in, creating puddles on the trail. We layered up and headed out after enjoying our coffee in dry loft.
We made our way carefully as everything was slippery along the ridgelines and slowly descended.  Soon the wind died down and the fog evaporated. The humidity started to rise, we knew we would get rain at some point later today.
We passed through a few final open fields, then left the Grayson Highlands behind.  We already can't wait to come back.  The trail climbed up near Whitetop Mountain.  The sun worked hard to burn off the fog, and we received excellent views of the valley below.
The AT then followed along the Creeper Trail.  This is one of the many popular recreational spots near Damascus, dubbed Trail Town USA.  We saw families riding their bikes down the old rail trail that is now the Creeper Trail. Eric has fond memories of riding a bike along this trail during Trail Days in 2011.
We strolled into camp around 4:30 p.m.  Reports are calling for rain this evening and overnight.  This didn't stop us from having a fire though.  It showered on and off a few times but nothing too crazy.  Hayley enjoyed the night reading by the fire, and Eric had enough signal to play chess online.  Tomorrow we'll be in Damascus!
Day 128
It rained on and off throughout the night.  The morning seemed humid and we knew the rain would continue.  This was our first time hiking in the rain for a long time.  Thankfully it was warmish out and the rain wasn't constant.  It would have been a different story in colder weather.  It helps knowing there is a hot shower waiting for us.
The trail climbed over a few PUDs and meandered parallel to the Creeper Trail for a while.  This is one of the several nationally recognized trails that run through Damascus.  The Creeper Trail stretches 34 miles from Whitetop Station to Abingdon.  It started as a native-American footpath, and later it was used by pioneers, including Daniel Boone.  Beginning in the 1900s, it became a railroad.  It got the "Virginia Creeper" portion of its name from the early steam locomotives that struggled up the steep grades.  Virginia Creeper is also a vine that grows in this area.  Now the trail, with 100 trestles and bridges, as well as many steep grades and sharp turns is used for recreation.  Most notably biking.
We arrived in town a little after 11 a.m.  Damascus is known as the friendliest town on trail and home of the Trail Days festival.  Eric has fond memories of his time in Damascus in 2011.  He spent about five  days in town (during his thru-hike) and participated in all the festivities Trail Days had to offer, including the hiker parade through downtown.
We had ate the last items in our food bags for breakfast and sought sustenance upon entering town. The first thing was saw was a Subway, that will do! Once full on Subway footlongs and fountain soda, we checked out one of the several gear stores next door.  We started to feel slightly chilled from being wet, so we checked into the hostel, eager for a hot shower and dry clothes.
Once cleaned up, we set off to complete our town chores.  Eric's Dad sent a mail drop to the post office, a new pair of waterproof shoes.  Likely the final pair!  We checked out another gear store and picked up a few items, then completed our food resupply.  We may have actually purchased the appropriate amount of food to get us to Roan Mountain. Finally, we are getting it right!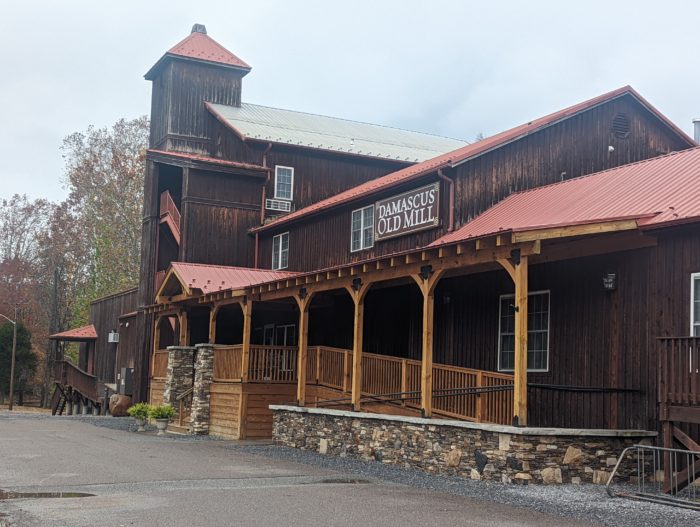 We met a few other SOBOs (Back Track, Lennon and Grazer) in town and enjoyed a chill afternoon at the Broken Fiddle Hostel.  This is a very relaxing place.  The host even did our laundry for us while we sat in the backyard drinking a beer.
Around six p.m. we set out to find dinner.  All restaurants were unfortunately closed on Monday (also due to the holiday).  The struggles of being in a small town…  Time to improvise like thru-hikers.  We headed back to the Dollar General that we resupplied at. Eric settled on canned clam chowder and Fritos.  Hayley went with spaghetti-os and Texas toast garlic bread.  Not bad…a lot of carbs and calories for your money.  Our wallets and stomachs are happy.
We did enjoy walking through downtown, which was lit up for trick-or-treating.  It was fun seeing everyone in costumes. It was nice to feel like we were part of the real world once again. Happy Halloween!
Tonight will be our last night in Virginia.
Affiliate Disclosure
This website contains affiliate links, which means The Trek may receive a percentage of any product or service you purchase using the links in the articles or advertisements. The buyer pays the same price as they would otherwise, and your purchase helps to support The Trek's ongoing goal to serve you quality backpacking advice and information. Thanks for your support!
To learn more, please visit the About This Site page.