Damascus: The Second Friendliest Town on the AT
Update covering days 39-44.
Day 39
Woodchuck Hostel
Zero Day
Day 40- LOOKOUT'S BIRTHDAY!
Stopped at mile 486, camped at Woodchuck's Hostel
miles: 17.2// mm: 486(slack-packed)
mood: all the smiles!
Day 41
Thomas Knob Shelter
miles: 11.3// mm: 497.3
mood: Two and a half smileys
Day 42
Massie Gap, Grayson Highlands State Park
miles:3.8// 501.1
mood: four smileys, then one smiley, then four smileys (read on for explanation)
Days 43 and 44
Damascus, VA: Trail Days
Zero Days
Damascus, VA…. What is there to say? Our hopes could not have been higher as we descended into the town, memories of Hot Springs in all its glory fresh in our minds as we prepared for a glorious and much needed zero day.
We quickly realized that yet again, we had hit town on a Sunday, a day on which, typical of all small southern towns, the bars are closed. This turned out to be a moot issue in Damascus because the town didn't even have a bar…not a single one! Luckily, there was a Mexican place which sold bottled beer. We showered and laundered at Wood Chucks and then made a beeline for the brew. With no other watering hole prospects, and a strict no alcohol policy at the hostel (which we totally and completely followed), we decided to go to the grocery store to get stuff to make an Asian dinner, a cuisine I've been craving since we hit the trail. We went back to the hostel and cooked a great meal of instant Asian everything, accompanied by our choice of beverage, which did NOT include a bottle of wine and some beer stashed in our cabin. Tummies full and thirst quenched, we looked forward to the following day of relaxation.
Damascus has a great park with a river flowing through it, so we spent a good part of our zero Monday there, catching up with Paddington, with whom we were reunited that morning. The next day was a significant day in the calendar year—my birthday! Wanting to neither forego a day of hiking nor my birthday celebration, we discussed a way to do both. If we slack-packed during the day on Tuesday, we could put in a good number of miles, and arrive in town to cap off the day in style—dinner at a nice restaurant which, coincidentally, was the only one in town that served wine.
For those of you who are unfamiliar with hiker vernacular, slack-packing is when you do a day hike with just enough water and food for the day and the person who is slacking, brings your gear and meets up with you at an agreed upon point on the trail. This is a good way to either get a lot of miles done in a day or to give your body a break, hiking easy miles without the 20-30 pounds on your back.
Our plan was set. On my birthday morning, we headed out for an easy, short 17 mile day. Paddington and Rico carried water. I carried my birthday balloon, until it started flopping around, and then Rico carried that, too. Rico found a three pack of My Little Pony crowns at the dollar store, and the boys were good sports, wearing them all day with me. The trail was littered with lots of birthday wishes. It was a great day. When we got back to Damascus, we headed over to the fancy restaurant in our fancy hiker clothes aka the least smelly ones only to find that the restaurant was closed–ON A TUESDAY, of all things–in preparation for Trail Days. I tried my best to control an inevitable meltdown as I realized this would be the first birthday in years without wine. Fortunately, I was quickly distracted by the Cavalier Cafe and their wide variety of fried food and homemade milkshakes. I indulged more than necessary, and we stayed until close, watching TV on the café's screen. Overall, it was actually an awesome day, and it turned out to be one of my most memorable birthdays to date.
The next day we set out with a plan to make it to Marion, VA, where we'd be reunited with my sister and head back to Damascus for Trail Days. Oh, the best laid plans….
The first night out of Damascus was fine. We started slow and fairly late in the day, but only had about 12 miles to go, so we took our time. We were really excited to get up Mt. Rogers because the next day we'd be in the Grayson highlands with wild ponies. Well, we lucked out and saw a small herd of them just off the trail on our way up to the shelter. It's amazing how docile they are, so used to humans. According to state park regulations, petting the ponies is prohibited. However, for the record, we saw these ponies before we saw that sign, so in our minds, we were in the clear. Plus, after hiking 500 miles and entering a state notorious for the long, slow haul, anything out of the ordinary is exciting. Honestly, I think we would have taken our chances regardless. At the shelter, we made a fire and cooked s'mores. It actually got quite chilly that night, validating many warnings to not shed your winter gear until after Mt. Rogers. Advice well heeded!
The next day, we were practically giddy as we made our way through the Grayson highlands. Pictures truly don't do it justice. Being up at the top of the ridge, with rocky terrain but completely unobstructed views, communing with wild ponies who come up to you to show you affection–or to lick you because you're incredibly salty from sweat—it doesn't get much more awesome than that. We also hit the 500 miles mark, which could only be appropriately celebrated by blaring "500 miles" on my iPhone for hours. Literally, hours. As we headed down from the highlands, our pace slowed to a crawl, and we started talking about how nice it would be to be picked up early by my sister. This was Thursday at mile 501; she wasn't due to pick us up until Friday at mile 530. Rico and I went back and forth with each other, repeatedly calling said sister to see what alternate—read earlier—meet-up options were possible. We finally decided that the best plan of action was to back track a mile to the parking lot for Grayson Highlands and wait for sister-to-the-rescue to fetch us–in about three hours.
Looking back, I'm not quite sure this was as necessary as we deemed it to be at the time. In our defense, I think most hikers would agree that once an idea of town, a shower, and real food get planted in a hiker's trail-addled brain, it is all but a done deal.
It was awesome to see my sister, our trail logistics person and an overall gem of a human being. We went into Boone, NC, for dinner, a brewery visit, and an awesome night's sleep on comfy cotton sheets. If I haven't already sworn my love for cotton on this blog, constant reminders will continue to be forthcoming on the heavenly quality of non-sticky fabric.
Trail days
What is there to say? Honestly, it was like a music festival…but minus the music and plus a smorgasbord of smells. It didn't really matter as I was insanely happy to be reunited with my family from DC–a cadre of two sisters and a friend, who is basically family. They've been hearing about the trail since we decided we were going to do it, and it was great to have them catch a glimpse of the magic and madness that is the AT. They also brought a monster, non-hiking tent. It was downright luxurious to be able to walk into a tent instead of the usual squat, sit, and scoot. We spent much more time walking around then we usually do on zero days, and the air was hot and sticky. I don't think it was as relaxing as the sisters may have expected, but the opportunity to catch up with them meant a lot to us. We also got to reunite with some of our early hiking gang– Lightning, Bonobo, and China Rock, who had since completely left us in the dust.
All in all, the weekend was a blur, going much too fast. But I must admit, after a fragmented week, we were ready to get back on the trail and do what we have come to do best—crush those miles—a new normal we have no desire to change, at least for the next few months.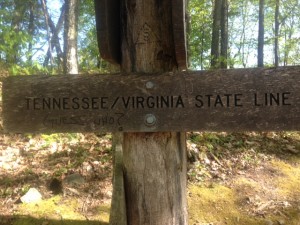 Affiliate Disclosure
This website contains affiliate links, which means The Trek may receive a percentage of any product or service you purchase using the links in the articles or advertisements. The buyer pays the same price as they would otherwise, and your purchase helps to support The Trek's ongoing goal to serve you quality backpacking advice and information. Thanks for your support!
To learn more, please visit the About This Site page.