Day 119 – Soul Searching
I was woken up at 11:30PM at night to the sound of fireworks right next to me. Somebody drove out to this remote pond at nearly midnight, to set off not 1. Not 2. Not 3. But 4 boxes of fireworks. They were all the same box of fireworks too, no creativity in this bunch. Do better Mass (I'm just salty I didn't get up to take pictures of firework reflections off the pond).
I got up for real just before 6AM. I got to see the sunrise over the pond which was nice. Surprisingly this pond and campsite did not have too many mosquitoes. I took a dip in the swimming area of the pond before departing around 8.
The hiking today wasn't bad. I'm really enjoying the scenery in Massachusetts. There are a lot of old growth pine forests with a lot of space between the trees. Many of the forests I've walked through up until now have been very densely growing tree thickets. The change in scenery has been a welcome one. Wide trails, large boulders, and moss galore.

I had 18 miles planned to an enclosed cabin,  located at a pond with a dock. Do shelters get any better than that? Along the way I encountered a trail magic stand. I almost missed it to be honest. I was heading up a road crossing to the trail when I turned around and saw the stand in the other direction. They had an array of sodas, snacks and ice cream sandwiches. I drank 3 sodas and packed out another one.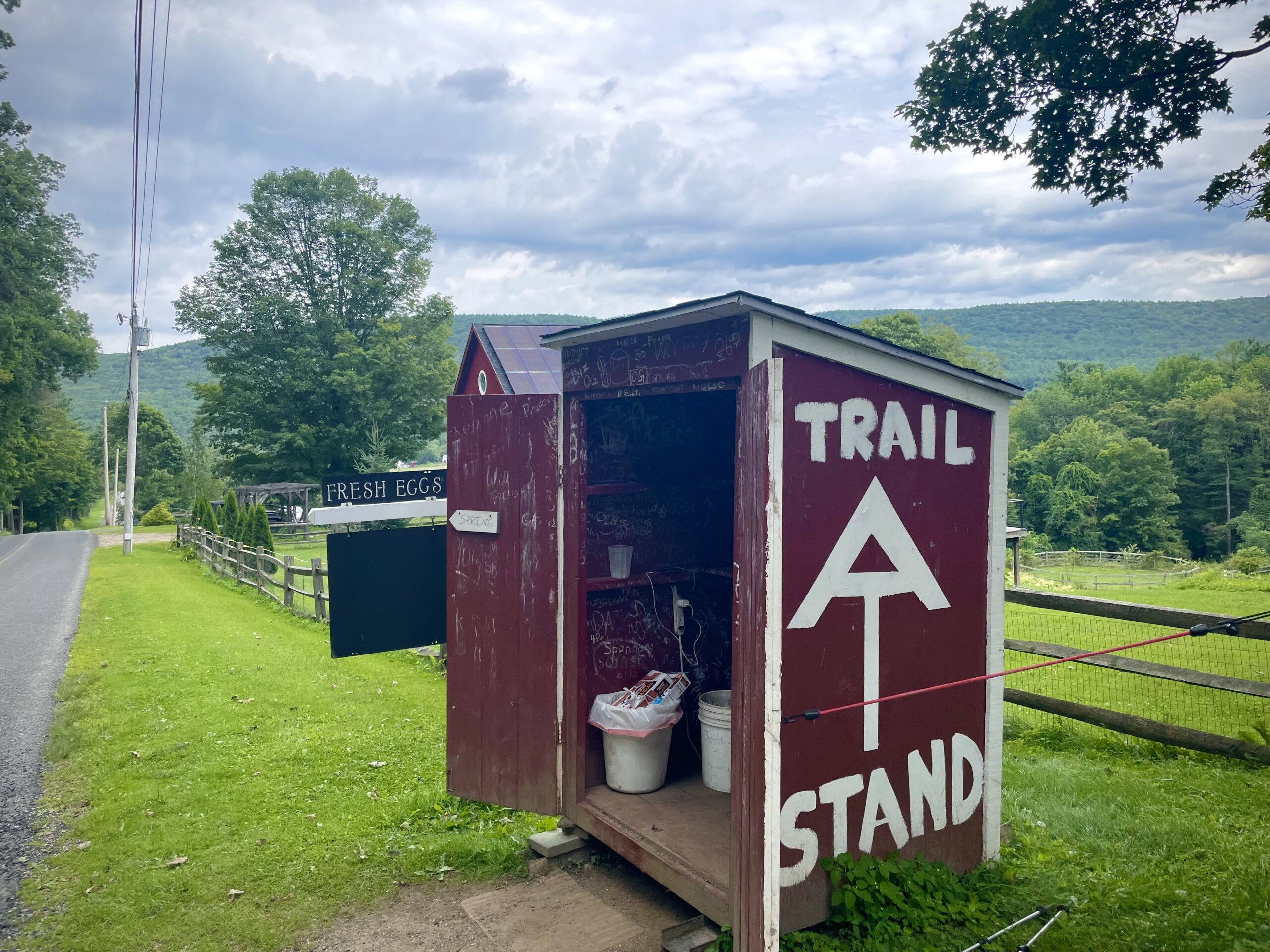 I got in my feels today about "reclaiming my hike." Not that I had "lost the hike" by any means, but there's a freedom I've found in hiking alone. Nobody to coordinate with about where or when to stop. No pressure to keep up if you want to stop somewhere (even if it's just pressure you're putting on yourself). All timelines, weather considerations, and food planning are up to me as I see fit.
I find myself pushing bigger miles, not to keep up with anyone, but because I'm setting out to achieve the daily goals I set for myself. It's a feeling that is extremely satisfying. It's been chicken soup for my hiker trash soul (if you will). In a way, I've pushed the reset button on my hike. The final 650 miles or so are my choose-my-own-adventure book.
I'll be crossing into Vermont early next week and these last 3 states are something I've really been looking forward to. I see them as a cathartic end to this journey, and a part that I want to be all my own.

That seems and sounds counterintuitive however. I've said throughout this journey that it's made better by the people you surround yourself with. Then why would I want to be alone for the finish line? It's not that I want to be alone, I just want to be able to decide the details of these final three states.
I want to come away happy that all the decisions and outcomes of the final three states were mine and mine alone. If I let others dictate the decisions of a hike, that I later regretted, it would bother me. So better I own it now (if that makes any sense…). Either way, I will still be around people and whether it's familiar faces or new, it's going to be fun.
I've enjoyed the tramily life and all the friendships made along the way. I expect them to  last long past the end of this hike. I'm sure I'll run into Chiquita, Rabbit, Hatcher and Stanley again, if not on trail, then off it. But for now it's best I hike my hike. (For anyone wondering, there are no hard feelings, no drama, nothing of substance to report. Everyone is still on trail and doing the damn thing, all the way to Maine)
I met a large number of SOBO hikers today, and saw new and familiar faces going NOBO. Familiar faces included Buttercup, Tiger, Fireball, and Waffles. They all ended up at the Upper Goose Pond Cabin for the night as well.
I got in just after 4PM and after claiming a bunk immediately headed down to the dock.  I'm jumped in the water with my hiking clothes on. The water was cool and so very refreshing.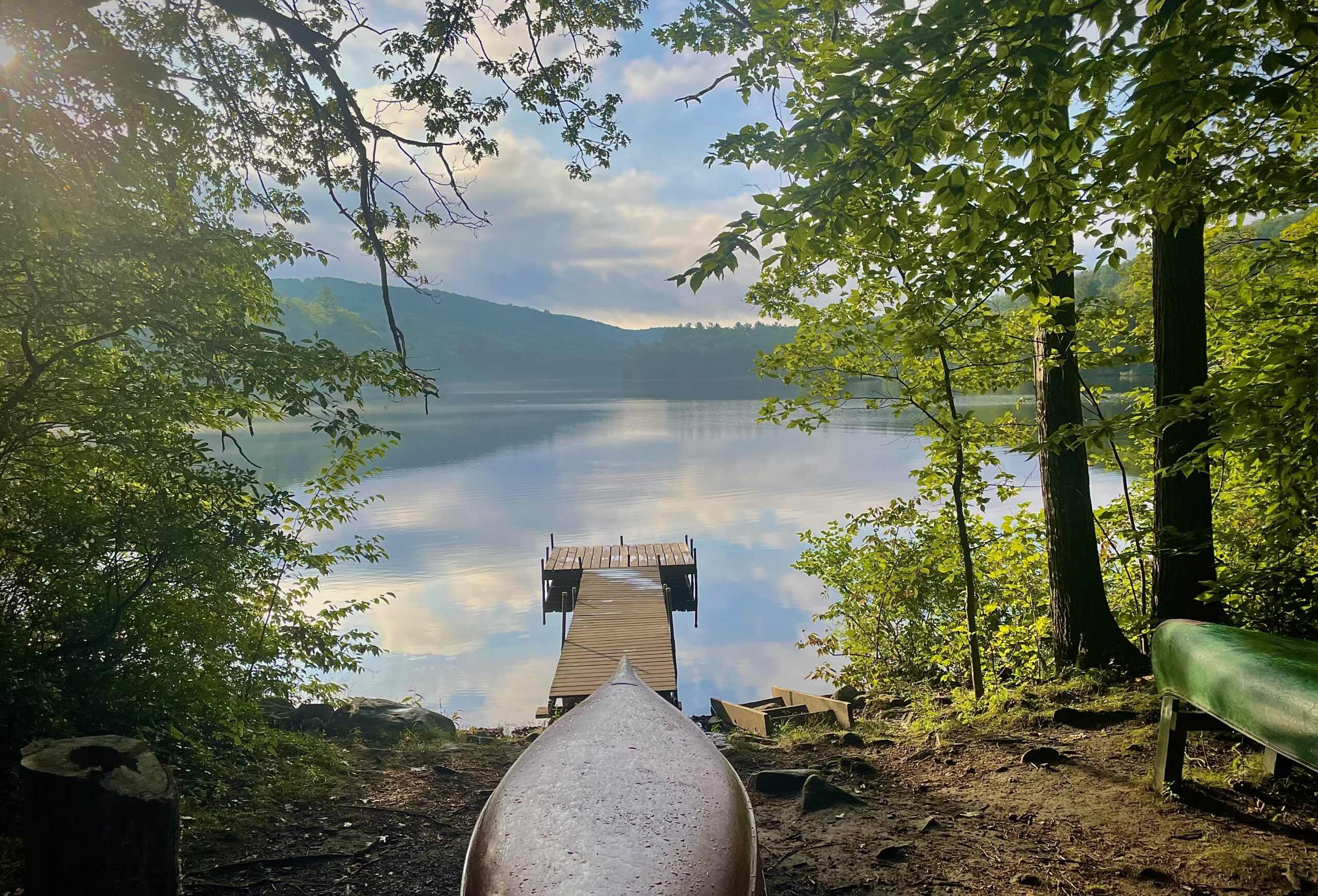 I washed my shirt and hat in the water and air dried while chatting with Waffles and another SOBO hiker. We talked about future thru-hike aspirations and other shorter trails that interested us. Waffles and the Cabin host, Vlobster, were both familiar with my hometown and asked if my family was affected by the fires in 2018.
There were a number of small/medium sized fish hanging out around the dock. Waffles was feeding them ramen noodles he held between his toes. They tried to see if I had food between my toes when I wasn't looking. My leg unconsciously kicked out of the water like somebody had hit my knee with a reflex hammer. Waffles said "that sounds like a big fish!"
I changed and hung my wet clothes up to dry on the porch. By the time I brought my dinner back down to the dock to eat, the mosquitoes had come to congregate as well. I ate hastily and returned to the safety of the 4 walled, 2 story cabin.
I chatted a bit more with Vlobster who was in Aviation in the Navy. I also chatted with a hiker named Sugar Daddy. He was a former Army medic and was stationed at the same base in Honduras as me, but in the 90s.
Pretty wiped from the early rise and longer day, I got into bed before 9. Vlobster makes pancakes in the morning but only from 6-7AM. Tomorrow is looking like another early day. A long one too. 20+ miles into the town of Dalton, MA. The early start should go a long way to get into town on time. I think another morning dip in the pond is in order as well.
Until then, stow away in my pack for day 120 on the Appalachian Trail.
Affiliate Disclosure
This website contains affiliate links, which means The Trek may receive a percentage of any product or service you purchase using the links in the articles or advertisements. The buyer pays the same price as they would otherwise, and your purchase helps to support The Trek's ongoing goal to serve you quality backpacking advice and information. Thanks for your support!
To learn more, please visit the About This Site page.