Day 32 – Crossroads
Today was a unique one. Our group unexpectedly fractured into 2, hopefully only temporarily. We all woke after roughly 12 hours of sleep if we include yesterday's nap.  I was feeling significantly better. Probably 95% overall but let's round up to 100% for all intents and purposes.
The hiking started early (for us), right around 8:30AM. We were one of the earlier groups out of camp anyways. We were eyeballing 16 miles to Hogback Ridge Shelter. The terrain for the first 10 miles was pretty cruise-y. It started with a climb to Big Butt Mountain Peak. A peak more famously known as the inspiration for Sir-Mix-A-Lot's 1992 hit single "Baby Got Back". Rumor has it, he hiked the section with a 36L pack, base weight of 24lbs, 36 with food and water (none of these facts have been verified).
We made fairly quick work to the next shelter, 7 miles in for lunch, and got there around 11:30. While still mildly nervous about eating a real meal, I opted for trailmix, beef jerky and gummy snacks. The snacks stayed down without issue.  I was feeling good after a short break, so I following after Rabbit and Soda, leaving Sip, Hatcher and Stanley at the shelter.
3 miles of gently sloping downhill took us to Laurel Road. I found the packs of Rabbit and Soda as they had walked down the road to a nearby hostel for snacks. I checked for phone service and found a text from Sip. He said he had fainted trying to stand up from the shelter we had lunch at. He was going to stay at that shelter until tomorrow. Soda decided to stay at the hostel to wait for him. With rain in the forecast Rabbit, Hatcher and I decided to push on to the next shelter 6 miles ahead.
The uphill out of the gap was one of the steeper sections we've encountered. The 2.6 miles was roughly a 13% grade. Climbs like these are becoming well tolerated with our fancy new trail legs. We strolled into camp a good hour or two before the expected thunderstorm. To our surprise, the 3 of us found room inside the shelter. We had expected it to be full.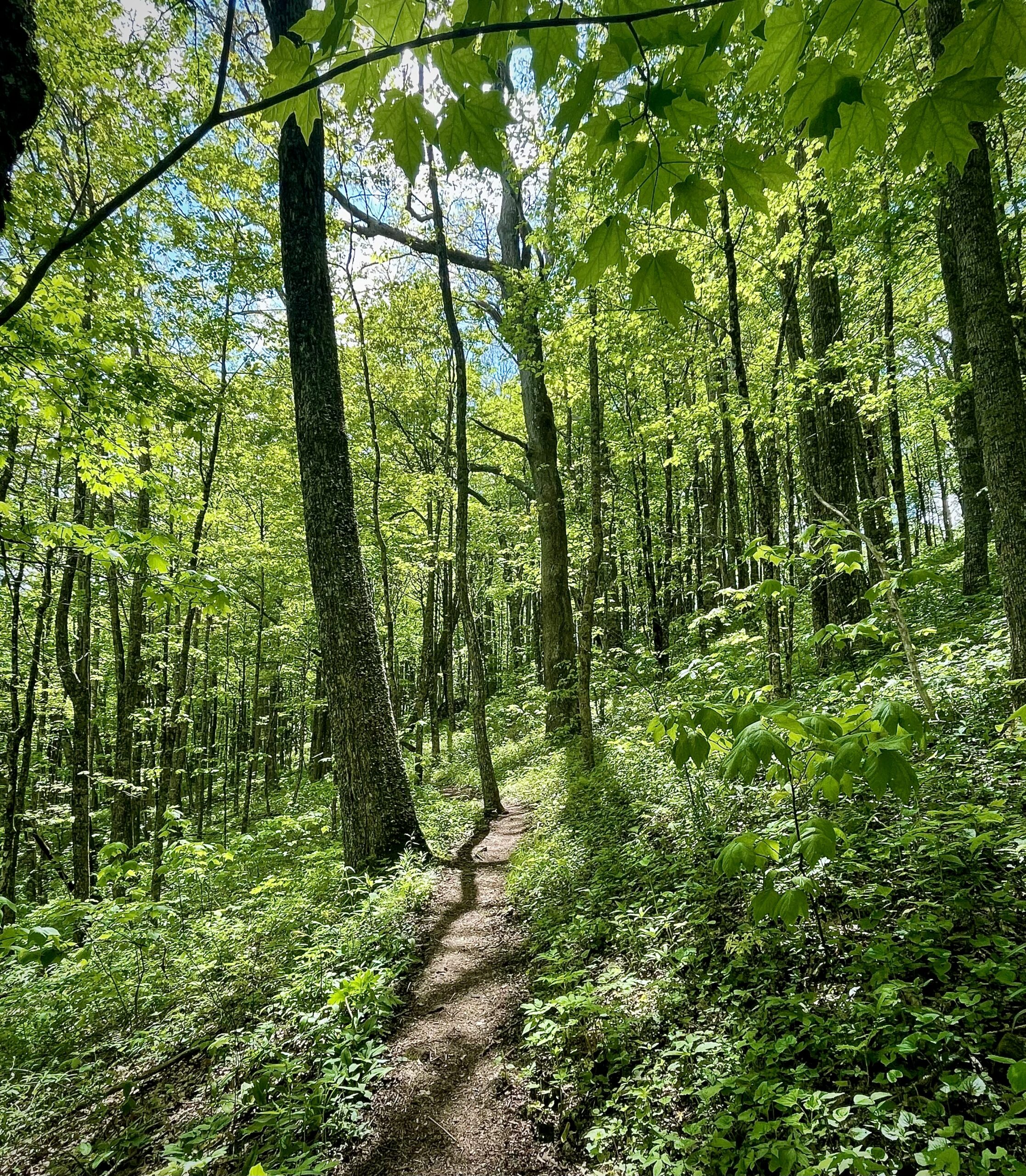 There is another whip-poor-will bird near our shelter tonight. We first encountered a bird of this kind coming out of Hot Springs. We had settled into our tents and all was quiet for maybe 5 minutes when it started. The bird proceeded to belt out its mating call for the next hour. I recommend looking up the bird call for full effect, it's extremely annoying. Rumor has it the bird call is also an omen of impending death (I'll do 3 Hail Marys for Sip tonight).
We made slight headway arranging a ride for the 5 of us to trail days. We have a few good leads but If anyone reading this knows a good samaritan willing to assist we would be eternally grateful.
The rain pittter patters on the roof of our shelter as thunder booms off in the distance. Luckily for us sounds are drowning out the bird calls. I'm hoping for a good show from Mother Nature tonight. The next couple days of weather looks decent after tonight. We're only 26 miles from Erwin so that's still potentially in the cards if Sip and Soda can make up the ground. The group is pretty committed to remaining together. Tramily life feels good.
Stow away in my pack again tomorrow for Day 33 on the Appalachian Trail.
Jesse
I feel like our friendship has only just started to blossom. Our sense of humor is eerily similar and we need more hangout sessions with Jess and Kristen. Thanks for being so easy to talk to and nonjudgmental. We need to talk to your boss about your work schedule, you're out of town far to much (I realize the hypocrisy in that request). K byeee
Affiliate Disclosure
This website contains affiliate links, which means The Trek may receive a percentage of any product or service you purchase using the links in the articles or advertisements. The buyer pays the same price as they would otherwise, and your purchase helps to support The Trek's ongoing goal to serve you quality backpacking advice and information. Thanks for your support!
To learn more, please visit the About This Site page.