Day 35/36 – Trail Days!
Trail Days was everything we hoped it would be. A great break from the trail while at the same time catching up with all our friends from the trail.
We rolled into Damascus early around 10:30AM Saturday. To avoid staying in "party" tent city so we strategically picked tent spots on the lawn in "regular" tent city. The goal was to avoid the main pathways so  loud/drunk/high/other forms of chemically altered people wouldn't be passing by us all night long, but also post up in a location that would be easy to find in the dark. We found a large pop up tent with a Canada maple leaf on it and set up next to it.
Day 1 was all about exploring. We walked the town, checked out thrift and antique stores, and of course looked at all the vendor booths. There were a number of giveaways and raffles over the weekend. I even cold soaked my feet under the bridge in the river that ran through town.
The town does a lot to facilitate the influx of 1000+ hikers. There were booths with free food, laundry, showers, haircuts, etc. Hiking vendor booths had free repairs for tents and hiking packs. Safety was a top priority as there was an abundance of police and first responders present and first aid booths. There was even a Narcan training booth to teach people how to reverse opioid overdoses. I had brought my own Narcan to Trail Days just in case, because the event has a large party drug atmosphere. Luckily it did not need to be used on anyone and I donated it to the hiker box after the weekend.
That evening the hikers migrated into the woods into "party" tent city. The location was almost whimsical. Wandering between wooded thickets and clearings there were multiple bonfires, fire dancers, drums, and laser lights. At one point a man in cape reminiscent of Fantasia, pulled a powder from his fanny pack and threw it into the bonfire. The fire began to burn blue and green after that and people began to dance and chant as they circled the fire. This went on well past hiker midnight (9PM), we'll past standard midnight, and into the early hours of the morning.
Day 2 was a busy one. We woke up and attended an all you can eat pancake breakfast hosted by the local church. 5$ for unlimited pancakes and coffee was too good a deal to pass up. At Trail Days I met another hiker with the same trail name (although spelled differently).
My trail name is "Witch Doctor"
I had been trying to avoid any names that had to do with my profession. But my friend Hammer had suggested it and I've began using it as a placeholder unless something better came along. To my surprise everyone has seemed to like so it guess it's official now. The other "Witch Doktor" I met was also in the Army previously as well.
The Granite Gear booth was one of the more popular giveaway booths. They called out trail names that had been entered into the drawings. A crowd gathered around for the drawing and I ran into Witch Doktor there. Towards the end of the drawing they called our trail name. We both walked up to see who had won. It ended up being him who won a new pack but they gave me a consolation prize of some zippered cloth storage bags.
At 2 PM our tramily made our way to the end of town for the parade. The hiker turnout for the parade was great. The earliest alumni year of hikers that I recall seeing was from the 1970s. We walked among the cheering spectators along Main Street leading downtown and we were sprayed with hoses and waterguns (as is the tradition).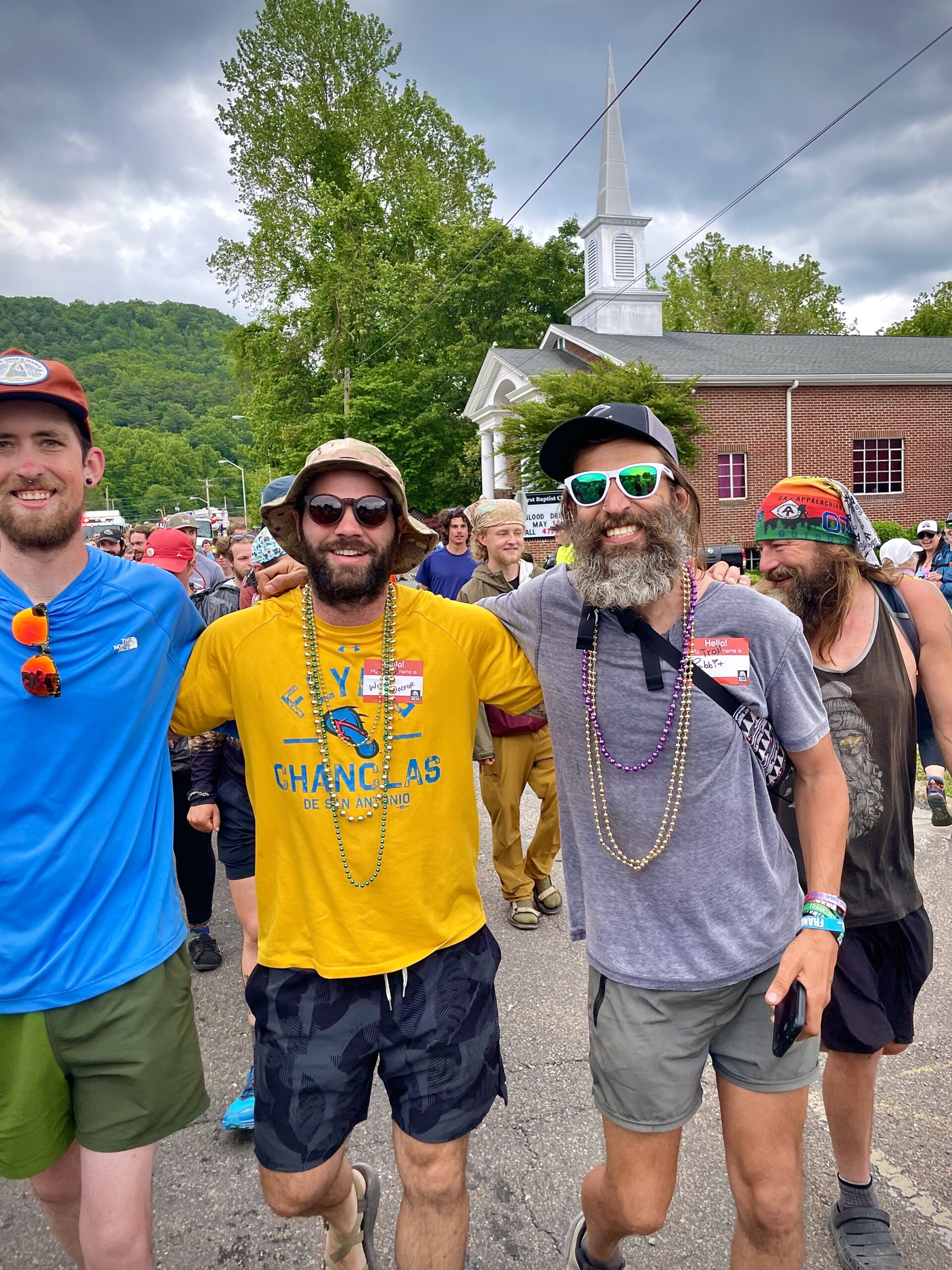 Afterwards, back in the hustle and bustle of the vendor booths we got lunch and watched an auction of donated new hiking gear. I headed back to my tent for a much needed nap before the evening.
The second night in party city was more of the same. There were more drums, bonfires, laser lights and fire dancers. We had overheard someone with a snide remark say, "This wasn't as good as last year". We found this amusing because the spectacle was impressive nonetheless and we used the comment the rest of the evening sarcastically amongst ourselves.
The night ended at our Canadian friends tent (Thumper and Oz) which included late night conversations and snacks until around 1am. Sip was also throughly roasted, first by Boston Rob, then for being too loud and lastly for looking like Stewart from Madd TV.
Tomorrow we head back to the trail and the hiking grind. It's been a fun weekend but I think we're all excited to get back after it.
Stow away in my pack again tomorrow for Day 37 on the Appalachian Trail.
Affiliate Disclosure
This website contains affiliate links, which means The Trek may receive a percentage of any product or service you purchase using the links in the articles or advertisements. The buyer pays the same price as they would otherwise, and your purchase helps to support The Trek's ongoing goal to serve you quality backpacking advice and information. Thanks for your support!
To learn more, please visit the About This Site page.