Day 41 – Don't Go Chasing Waterfalls
Please stick to the water sources and the privies that you're used to.

I woke up today, bed crammed into the nook of the roofline in the loft we were sleeping in.  It's 6AM, far too early to be up. I will myself back to sleep which is made more difficult by light streaming in the uncovered window. I generally sleep like a patient in a coma, but only given a specific set of parameters.
Pure darkness is required, I've been using my beanie as an eye mask at night. Ear plugs to block out the sound of snorers and bears (ignorance is bliss), or in a pinch some sort of white noise like a fan will do. Also a chilly environment but at the same time I need to be wearing socks (my feet like to be pampered).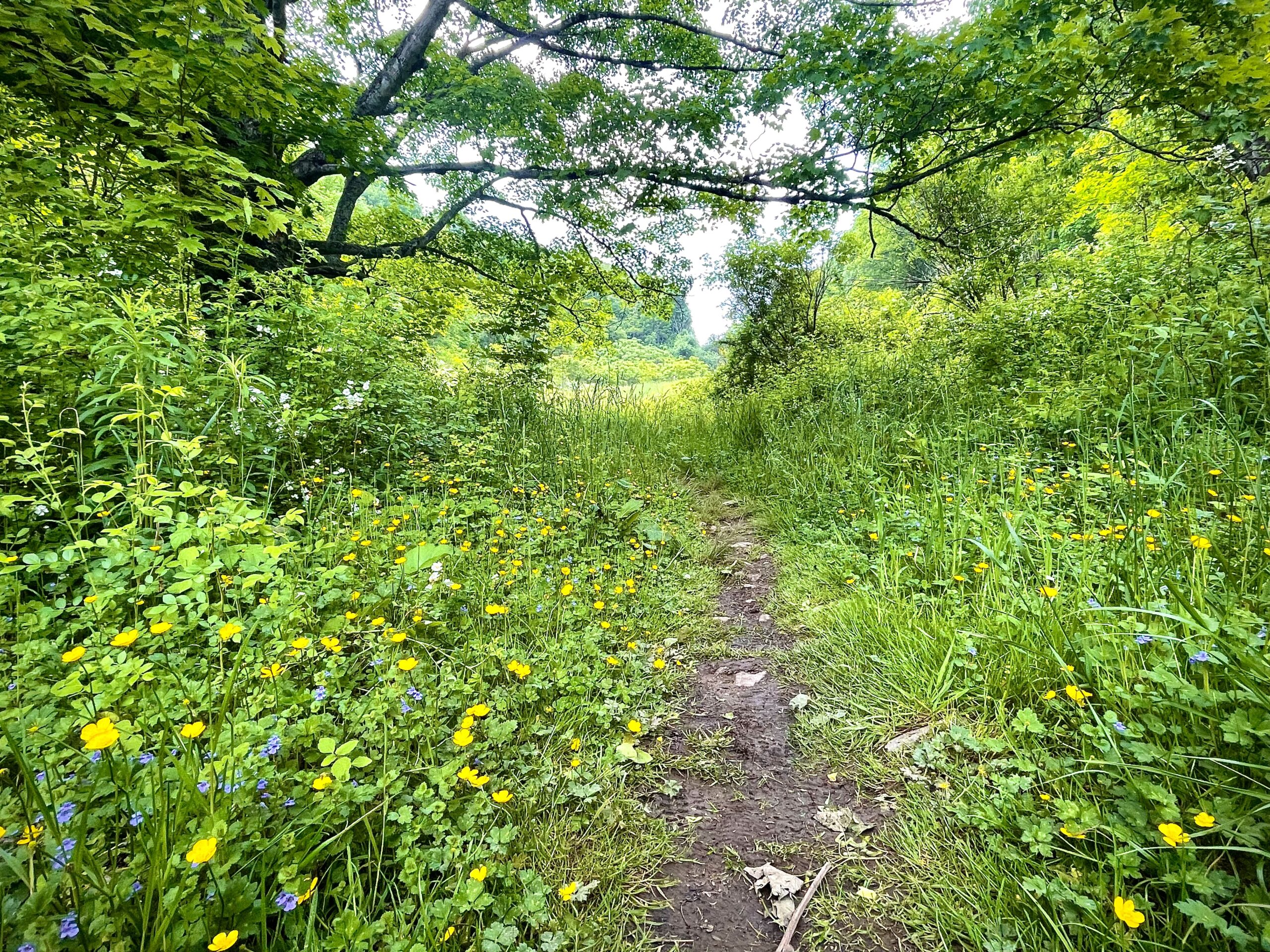 I eventually drag myself from unconsciousness around 8. Most people are gone, I remember there's a breakfast that's a big deal around here. I look around for pants or shorts. Sip did our laundry the night before (I hear Soda's impersonation of a Jewish mother in my head "He's such a sweet boy") so my clothes are probably still in the dryer. I have no idea where the dryer is. I text Sip, no reply. I'm not above getting breakfast at a B&B in my underwear, I'll do it! But I would prefer pants nonetheless. Eff it, I'm going. Sip arrives just in time with our dry clothes. Lives were spared.
Breakfast was indeed the bees knees it was made out to be. I arrived late so I missed the formal 10 minute (not kidding) explanation of what everything was. There was a dizzying amount of variety (see photo). It was all phenomenal. I'm certain everyone left more than satisfied, myself included. Oddly enough, my favorite was the parfait (Donkey from Shrek "everybody loves parfaits, parfaits are delicious").
Random piece of knowledge, compliments of Sip:
Ernest Hemmingway once said "write drunk, edit sober"
We took advantage of our last good cellular service for a few days and lounged around until noonish. We did some trail math which is below (follow along now class):
4 hikers leave a hostel at noon on a Thursday. They need to make it to Damascus on Monday when the post office is open. Damascus is 75 miles away. If they intend to hike 26 miles on Sunday into Damascus. How many miles per day do they need to hike leading up to that?
Put your calculators away, the answer is 16.3333333(forever) miles/day. Today we decided to hike 9. I'm not sure why still, you'll have to ask Hatcher. But I was game, 9 sounded easy. And it was.
We stopped along the way at Jones Waterfall. Hatcher and I cold soaked our feet in the pools at the bottom. I went up to the top to see if I could go under it. (the result of what happened, in slow motion, can be seen on my Instagram @barkleycharles)
I dried out and felt refreshed. Cold Showers are harder to come by than you'd think out here. it could have been the great breakfast also, but I felt good today. I felt like I was attacking hills and testing my limits a little more. I've been conservative and babying my joints during the hike to prevent worsening of my pre-existing achilles and knee issues. But today felt like a good day to press on the gas more. Interesting considering our previous 2 days were 16 and 18 miles respectively.
We arrived at Mountaineer Falls Shelter by 5PM. It's a 3 level shelter with a carved bear out front. The bear holds a Gandalf-like staff commanding we shall not pass. We talk about tomorrow's plans as we eat. We discussed the different ways to make a grilled cheese sandwiches, and the different types of peanut butter and fill-in-the-blank sandwiches we used to eat. Spoiler alert: peanut butter and mustard sandwiches were on the list (vomit face emoticon).
Night falls slower here as the days grow longer. It's nearly 8 and still light out. Sleep overtakes me as I reach this stopping point. Goodnight world.
Stow away in my pack for Day 42 on the Appalachian
Affiliate Disclosure
This website contains affiliate links, which means The Trek may receive a percentage of any product or service you purchase using the links in the articles or advertisements. The buyer pays the same price as they would otherwise, and your purchase helps to support The Trek's ongoing goal to serve you quality backpacking advice and information. Thanks for your support!
To learn more, please visit the About This Site page.