Days 6 – 10, or Trouble with Trilliums and Black Bears
Trouble with Trilliums
Having a tough time telling types of trilliums apart?  Me too!  Treeline, one of the ATC Ridge Runners in the Smokies, told me there are 13 species just in the National Park.  Since there are so many trilliums in the southern Appalachians, I decided to put photos of them all together here, so we could compare. BTW I've been using a copy of the Southern Appalachians Wildflowers (2002, by Barbara Medina and Victor Medina), which I bought at the Nantahala Outdoor Center (NOC).  I also use USDA and other online resources to help in identification and description of flowers and plants. All the photos in my blog are my own unless I say otherwise. Please let me know if you think I've miss identified anything. Most of the hostels and other places to stay at small towns along the AT do not have field guides (many towns however do have libraries).  So far on the AT I have only met two Ridge Runners, but I have not seen any US Forest Service, US Park Service, or other rangers of any kind to ask questions of, so it can be tough indeed to find information about plants and animals on the AT.
Large-flowered Trillium (Trillium grandiflorum); Lily Family, Liliaceae
Like all trilliums, this perennial species has a whorl of three leaves topped by three sepals and three petals. The plant is 8-18″ tall. The flowers emerge white and gradually turn pink as they get older. Large-flowered Trilliums make spring spring in the moist woods along the Appalachian Trail.  Trilliums can take 7-8 years (or longer) to get their first flower, so please don't pick them.
Painted Trillium, Trillium undulatum; Lily Family, Liliaceae
Painted trilliums have a beautiful dark pink center to the flower, the petals of which have wavy edges. The leaves have petioles at least 5 mm long, but the flower stalk is short (< 4 mm), which is also a distinguishing characteristic.
Sweet Wakerobin or Vasey's Trillium, Trillium vaseyi; Lily Family, Liliaceae
This trillium has a nodding flower below the leaves, which smells sweet, unlike other trilliums which may have a fetid, wet dog odor, which attracts gnats and flies that do the pollination.  Many trilliums have a seed covering that attracts ants, which carry it back to their nests, effectively planting the seeds and dispersing them.
Yellow Toadshade, (Trillium luteum); Lily Family, Liliaceae
Yellow Toadshade (Trillium luteum) is supposed to have a pleasant lemony fragrance, and is native to the southern Appalachians.  It has mottled grayish-green to blue-green leaves.
Toadshade or Sessile Trillium, Trillium sessile; Lily Family, Liliaceae
I love the name toadshade, presumably because of the mottled pattern of the leaves and umbrella-like appearance, just the right size for a toad.  This species ranges from Maryland south through the Appalachians, and has a wider distribution than the yellow toadshade.  This is one of the trilliums with a flower that has an unpleasant odor, and presumably pollinated by gnat sand flies.

Day 6: Hog Pen Gap – Blue Mountain Shelter
5-9-22
Miles hiked: 11.9
Total AT miles: 50.1 
AT miles left to go: 2144.1
Kinder kindly dropped us off at Hogpen Gap (GA 348) mid morning, thanks Kinder! Slow climb up to Sheep Rock Top and then down to Low Gap (3048' elev.). Then made a long slow gentle climb — passing Poplar Stamp Gap and Chattahoochee Gap — to  Blue Mountain (4025' elev.) our high point of the day. We stayed at nearby Blue Mountain Shelter (3878'). Glad to be there after the long hike.
Flower of the Day: Fraser Magnolia, Magnolia fraseri; Magnolia Family, Magnoliaceae
Fraser magnolia, is a fairly common tree in the southern Appalachians, but today was the first day I actually saw some flowers, which are large and cream colored.  The tree has smooth grey bark and get up to 70′ high and 1 1/2′ in diameter.  The large leaves have make a "W" (or "M" depending on which way you look at it) at the base.
View of the Day: Victor near Tray Mountain (photo by Twinkletoes)
Day 7: Blue Mountain Shelter – Sassafras Gap (3500')
5-10-22
Miles hiked: 12.8
Total AT miles: 62.9
AT miles left to go: 2131.3
This was another PUDs (Pointless Ups and Downs in AT lingo). First down to Unicoi Gap (2949') and GA 75, then a steep climb over Rocky Mountain (4017'), down to Indian Grave Gap (3113'), and steeply up to Tray Mountain (4430'). Had lunch just down from Tray Mountain around two o'clock. It was a short walk to Tray Mountain Shelter and the day's destination. It was so early that we decided to press on to Sassafras Gap Shelter, another 4.7 mi. down the trail.
The Sassafras Gap Shelter had the most beautiful springs that we had seen or would ever hope to see on the whole AT. A small stream sprung out from the bottom of a large tulip tree in a deep hollow and 20 feet later disappeared below ground again.
Flower of the Day: Mountain Bluet, Houstonia serpyllifolia; Coffee Family, Rubiaceae
Mountain bluets are a near constant companion along the Appalachian Trail. They're a perennial, with four-petaled blue flowers with a yellow center, and form a mound. They are common throughout the southern and central Appalachians.
View of the Day: Sunset near Blue Mountain Shelter
Day 8: Sassafras Gap (3500') – Dick's Creek Gap (2017', US 76)
5-11-22
Miles hiked: 6.3
Total AT miles: 69.2
AT miles left to go: 2125.0
The climb over Kelly's Knob (4134') was the high point of the day. We had lunch at Vista (3882′). It was a short day to meet Kinder again at Dick's Creek Gap.
Day 9: Dick's Creek Gap (2017') – Muskrat Creek Gap Shelter (4562')
5-12-22
Miles hiked: 10.8
Total AT miles: 81.0
AT miles left to go: 2118.2
We said farewell to awesome Georgia and it's mostly smooth AT trails as we crossed into North Carolina at the border on mile 78! Just beyond we took pictures at a wild looking venerable old red oak that looked like it came straight out of the Game of Thrones. Then we made a very steep rocky climb over Couthouse Bald (4708') and then down to (another) Sassfras Gap and onto Muskrat Creek. We passed a poor hiker (the pastry chef) who was hobbling along with severe blisters  ( and practically in tears), but was determined to march on.
10/10 set up as we arrived at Musgrade Creek shelter. We found a nice spot away from the others on the ridge with a view of the sunset. It was a rowdy group at the shelter, but the noise died down after it got dark. The Pastry Chef's friends went back out to help her over the last section of the trail as dusk came in. We met Hot Sauce
Day 10: Muskrat Creek Gap Shelter – Carter Gap Shelter
5-13-22
Miles hiked: 12.5
Total AT miles: 93.5
AT miles left to go: 2100.7
It was a long climb over Standing Indian Mountain (5435′), but I got a chance to soak my feet in the stream just before Carter Gap. I found the first blister on my heel, put a moleskin doughnut on it and hike down to Carter. We passed several recently posted US Forest Service 9" x 12" laminated signs warning us of bear problems in the area, including Carter Gap Shelter. The signs highly recommending that campers use bear canisters to store their food. The shelter already had eight tents set up nearby when we arrived. However,  there were no bear cables or bear boxes to store food at site, so we would have to store our food bags PCT (Pacific Crest Trail) style: throwing a parachute cord over a tree limb limb at least 20 feet off the ground and at least five from the trunk of the tree, and using a carabiner like a pulley to hoist up the bags. Far easier said then done, especially with my recovering broken elbow and Twinkletoes' recovering broken wrist from last winter's ski accidents!
Trouble with Bears:
I've never really believed in Friday the 13th… (by Twinkletoes)
…Until hiking the Appalachian Trail this year. We were on our tenth day of hiking the AT and as we neared the vicinity of Bly gap we started seeing recently posted laminated computer printed signs that said "warning: several incidents of bears taking hiker food, even those hung PCT-style, in the vicinity between Bly Gap and Long Branch Shelter. It was dated April 2022, so I optimistically figured that since it is now May we were OK. We arrived after 12.5 miles of hiking to Carter Gap Shelter (dead center in the aforementioned section) where we saw another of the same sign posted on the shelter. "This won't happen to us" I thought. Victor and I went up the trail about 500 feet or so away from where everyone else was camping and eating and hanging their bags and found a mediocre height tree to hang our bags from. We went back to the campsite and chatted with the other hikers over dinner. As soon as it got dark, there was a rustling and shouting from the group, and we found that a bear had already gotten a hung food bag from one of our new hiking friends. Unfortunately, his medications were in the bag too, as well as someone's stove and pots that were next to his bag.
One of the hikers at the camp, with the trail name of Flame quickly came up with a plan. I soon found out he's a natural leader and had been in the military. And he looks like a bodybuilder, all of which I appreciated throughout the rest of the night.
Flame proposed an "all the eggs in one basket plan". With the help of an Aussie trail friend, also about dix feet tall with a bodybuilder physique, we rehung all the food bags close to the shelter and the fire pit, way up in the tree limbs — all but those few people who did not choose to participate. Their loss!  The Aussie earned his trail name that night for his amazing high throws: Boomerang. About 10 minutes later we heard cries of "Bear!" Two young women had tied their Ursaks to a couple of trees just like the instructions say to. Ursaks are made of Kevlar and bears aren't supposed to be able to chew through them, but by the time we all ran over shouting and whistling and throwing rocks at the bears, there were bite holes and lots of bear saliva in the bags and the precious camp food was dripping out.
Hot Sauce with her "bear resistant" Ursack bear bag at Carter Gap.
I felt pretty safe with those two big young strong guys leading the charge. We pointed our headlamps into the woods and saw a really large adult bear looking back at us, seemingly waiting for us to go away so it could come back. Sure enough about 10 minutes later it circled around to the area where all the eggs were in one basket. Again, whistling, shouting, throwing rocks, and by that time it was no way I was getting any sleep.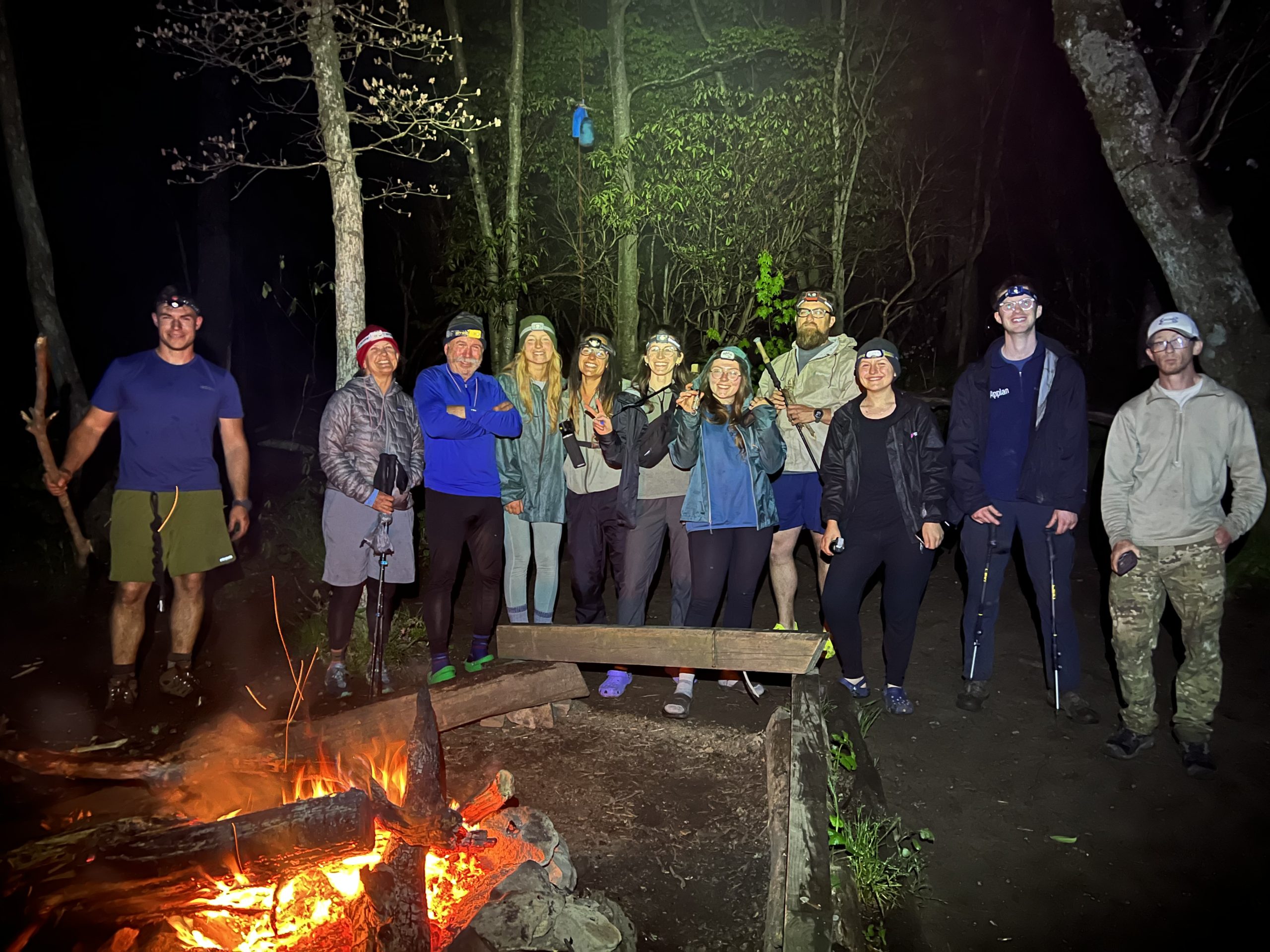 Carter Gap Shelter AT group guard their bear hang, PCT style
Victor went to bed in our tent and was soon snoring away. I tried to calm down but couldn't stop the adrenaline from flowing so I got up and stood around the fire with the group who was nervously telling jokes about bears.
Presumably the same bear that took food bags from our group on 5/13, taken at Carter Gap Shelter on 5/16/22 by Dustin.
Flame organized us into watches, so two at a time kept the fire going and the bears at bay. At least four more times between 10 PM and 1:30 AM I heard shouts as the watchers kept bears away from the trees. At 4 AM I was roused for our turn. Fortunately the bears must've gone off to a different campsite so Victor and I were spared the excitement. It was nice to watch the moon set, and then I went to bed from 6:00 to 7:15 and got at least a little bit of rest. The next day we had to hike 13 miles to our planned destination, and guess what? There was a six pack in the stream, nice and cold! Flame and Boomerang and Brooklynn, who had also been at the shelter with us, we're all there and we got to toast to our "victory". Those who had lost food to the Bears including another couple who had not chosen Flame's strategy, all got a ride to town so they could re-supply.
The emotions I experienced throughout the incident of the thieving band of bears at Carters Gap Shelter were multiple and conflicting. Of course, we were in their habitat, not the other way around. How could I feel so victorious about not letting them "win"? We had formed, at temporarily, a trail family or "tramily." The rush of camaraderie with our band of bear battlers was strong. But so was my sorrow for these awesome mammals of the woods. And we were all talking about how this problem is only going to get worse as more and more people hike in this area and frankly in many areas around the country. Should there be a limit to the number of people allowed to be in an area? Should the Forest Service or other land agencies install cables and or bear boxes at all AT shelters and camping areas? Should bear canisters be required or bear cables?
A day or so later, after hearing similar and multiple stories about the area near Carter Gap we heard that someone met a hunter with a special hunting permit going up there. They say in this area that "a fed bear is a dead bear." It's pretty obvious who's to blame.
Affiliate Disclosure
This website contains affiliate links, which means The Trek may receive a percentage of any product or service you purchase using the links in the articles or advertisements. The buyer pays the same price as they would otherwise, and your purchase helps to support The Trek's ongoing goal to serve you quality backpacking advice and information. Thanks for your support!
To learn more, please visit the About This Site page.