Day 6, Part Two: Why Am I REALLY Doing This?
I arrived at my destination for the night, the Tumbling Run shelters, at 1:30 pm. I set my stuff up in one of the shelters before realizing I had set up in the snoring shelter.

I don't think I snore much, but I didn't move my stuff. I am a really heavy sleeper and decided to leave space for lighter sleepers on the other side.
I spent the afternoon looking around the shelters. I found a newsletter from the local Appalachian Club chapter. The front page had an article titled "What in White Blazes?!" I thought, that's my joke! I had wondered if it was overused and apparently it is. But I was disappointed I hadn't remembered it when So Duck had asked what my joke is.
As I was looking for a snack in my fanny pack, a hiker approached me and asked if I had seen an older man, around 75 years old, come through. I told him I hadn't, but mentioned I saw a tent set up in the tent area. He went around to investigate.
Meanwhile I ate my snack. Then, I looked through my stuff and found dinner for the night. Since I need to keep my mileage low during my first few weeks on trail and the terrain during this stretch has been easy, I finish my miles early in the day. I tend to feel like I'm waiting around wondering if it's too early to eat dinner. I decided 4 pm was too early.
An older man appeared, and the other hiker, John, said "I found him!" Tom had been napping in his tent. John explained that they have been section hiking the AT for years together with their other two buddies, Bill and Craig. Tom, the 75 year old, started section hiking ten years ago and got all these friends on board to join him.
Tom and John chatted with me a bit and told me about their previous section hikes as Bill and Craig rolled in and got their hammocks set up in the hammock area. They always take a few days in May for their section hike. They camp together in the evenings but everyone hikes at their own pace separately during the day. I told them it was slow going for me so far because I need to ID every new specimen I encounter on the trail. John joked that Tom and I would make great hiking partners. Tom asked me what my mileage for the day was and how long it took. When I reported the numbers to him, he told me he thought I was making great time.
Tom and I were kindred spirits. I told him I grew up in Florida and he mentioned he heard more people are hiking the Florida trail. I told him I wanted to do it one day. He said he couldn't imagine hiking it, being that it was so flat. I told him that wading through the water and sucking mud was challenging in spite of it being flat. And there were incredible birds on the trail. Tom nodded. I said I thought about doing my first long distance hike in Florida, but the AT seemed like a better choice for a lot of reasons. "Plus, the AT is just magical," I added. "It is magical," Tom agreed.
"Speaking of birds, Tom said, there are interesting conservation efforts going on with some plovers around Lake Michigan, near where I live." He explained that the population of these plovers, who mate for life, was dwindling but is on the rise now. And there's a particular plover that conservationists are trying to find a mate for, to keep the numbers going up. I mentioned how similar conservation efforts have helped the Florida Panther population increase. He was familiar with that. I told him about I met a hiker on trail who helped track and tag panthers in Florida to monitor the population. He was impressed. This hiker, 3 Socks, from the reunion crew, had also helped catch pythons in the Everglades. I told Tom she was a total badass and was out with 3 other ladies for a month-long section hike as a reunion from their 2018 thru hike. Tom agreed that they were all pretty badass for doing that.
Around this time, some NOBO thru hikers rolled up to the shelter. We chatted a bit and learned that they usually stop and eat dinner at a shelter before hiking a few more miles to their final destination for the evening. I will work up to hiking more hours of the day like they're doing, but for now, I'm exercising some restraint with my mileage in hopes of preventing an overuse injury.
A while later, another NOBO thru hiker, Stickers, arrived and set up in the snoring shelter. He came to the table where Tom, John, and I were seated and made his dinner: two packets of beef ramen.
We chatted a bit before I retreated to the shelter to start getting ready for bed, starting with my elaborate stretching routine. Stickers came by to settle in and we got to chatting. I told him I was trying to maintain a daily writing practice on trail. I mentioned I was trying to blog while on trail. "With The Trek?" he asked. I said yes, and he said he was also blogging with the Trek but quickly gave it up. He felt like it was way too much to be on trail and also try to blog about it. But he commended me for doing it. I told him I didn't know if I would be able to keep it up, but I wanted to try for now. This conversation prompted him to take out his journal, and we both spent some time writing silently in the shelter together.
He told me he was all caught up in his journal after forgetting to take notes for a couple of days, and thanked me for the prompt to jot down his thoughts. He asked about my day of hiking. I told him I had been doing super slowly because of my obsession with plant ID. He smiled. "Are you using Seek?" he asked. "Yes!" I said. "Sometimes I only get to the genus though. It won't figure out the species." "Sometimes? It happens all the time!" he commiserated. We laughed. He asked what my favorite plant was so far. I joked that that was like asking which of my kids was my favorite. We discussed various plants we've both encountered, like Mayapple and Eastern Skunk Cabbage, and how once you ID something you start seeing it everywhere. Like Mountain Laurel.
We heard some birds and discovered we both use Merlin too. He asked which bird it was. I guessed Hooded Warbler, but it was a Wood Thrush. I knew it was one of the ones I had ID'd earlier! I'll get it eventually.
"Before I forget, I have something for you," Stickers said, handing me a sticker. I thanked him and said I'd put it on my bear can. He approved, saying that's exactly where it goes.
I mentioned my encounter with So Duck, which had been on my mind still. "Well, since you brought it up, why are you out here?" It felt easier to answer this time because we were chilling in the shelter and having a longer conversation than the passing exchange I experienced with So Duck. I told him that I guessed it was because I feel I'm living a life governed by fear, and I'm trying to start facing my fears. I explained that I'm not afraid of hiking the trail, but I'm afraid of other things, like blogging. "Afraid of blogging?" he said with a chuckle, surprised. "Why?" "I guess I just don't like putting myself out there," I said, attempting to explain something I didn't fully understand myself.
Stickers said it there wasn't the same kind of deep motivation for him to thru hike. It just felt like a calling. He had been hiking and backpacking his whole life and when he learned about the trail as a kid, he knew he had to do it someday. So now, at age 37, he's doing it. This is an explanation I hear commonly, and that resonates with me. We all feel "the call," but whether there's more to it or not is not guaranteed for all thru hikers.
Before we went to sleep, Stickers made sure I knew I had set up in the snoring shelter. I explained I'm a heavy sleeper and decided to make a personal sacrifice to benefit another light sleeper. He assured me that his snoring is low and unobtrusive, and he was right. I slept great that night.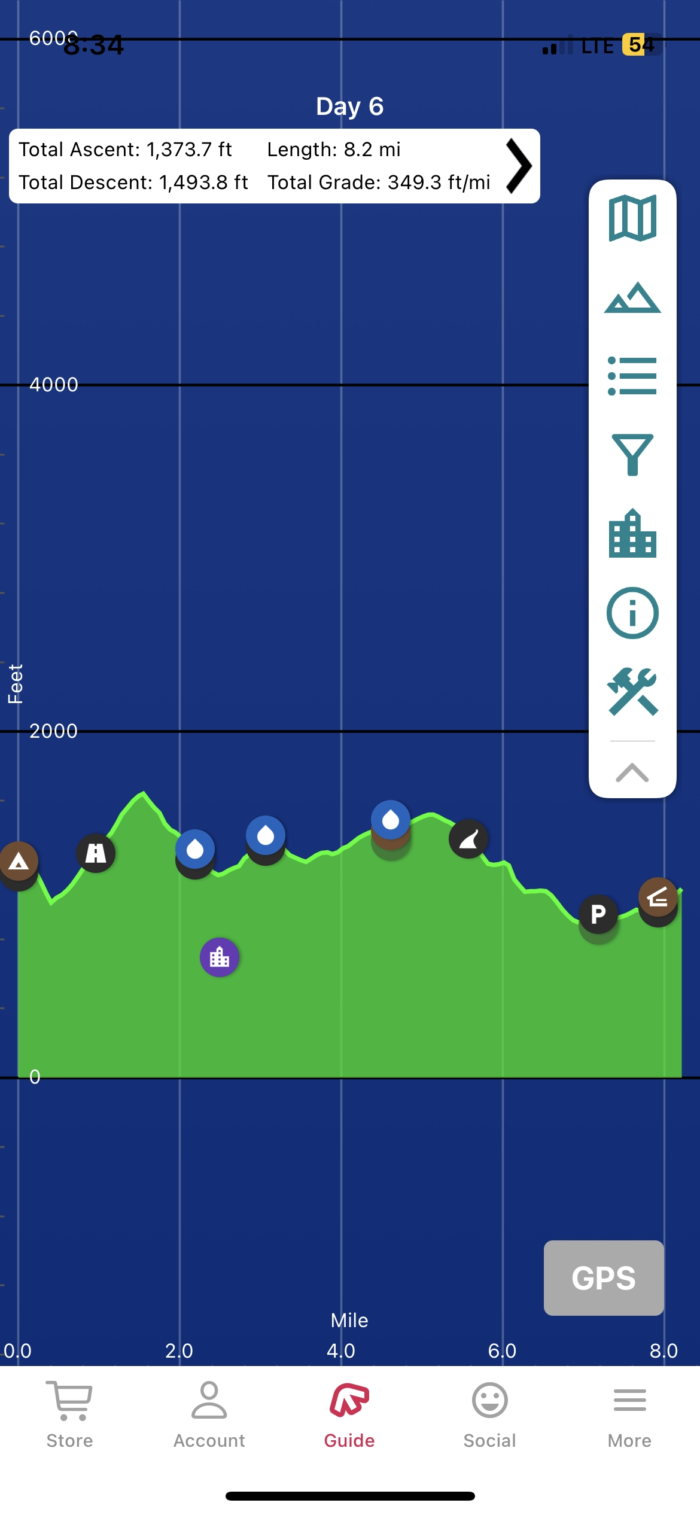 AT miles today: 8.2
Elevation gain: 1370′
Total AT miles: 51
Affiliate Disclosure
This website contains affiliate links, which means The Trek may receive a percentage of any product or service you purchase using the links in the articles or advertisements. The buyer pays the same price as they would otherwise, and your purchase helps to support The Trek's ongoing goal to serve you quality backpacking advice and information. Thanks for your support!
To learn more, please visit the About This Site page.