Day 73 – Stanimals Round 2
I woke up around 7:00 to Rabbit yelling to me, "Hey, I think some bears got into your food." My first thought was, "Not a chance." My food was in smell-proof bags, then wrapped inside my rubber bag liner, then perched in the crook of a tree, on a cliff, on a super windy night. Rabbit then plopped my bag next to the vestibule of my tent, "yeah that's what I thought," I thought.
We had breakfast with a great view of valley below. I felt ok but I know I would have preferred to sleep more, Six hours is barely enough for me on a normal day, let alone on a day spent hiking. Our plan was to make it 15.5 miles into Waynesboro to stay at a hostel. We got started hiking around 9:00.
I felt slow and fatigued this morning. Maybe it was lack of sleep, lack of food, motivation, caffeine, you name it. I had a cold soak and some Gatorade mix in my water and that seemed to give me a minor lift but today was not quite as cruise-y as the map made it look. The routes were complicated by high stair-stepping stones and complicated foot placements on the trail to avoid rocks and boulders.
This was the terrain for much of the day. I distracted myself with music and my audiobook. By the time we made it to Paul Wolfe Shelter a little over ten miles in, I was pretty wiped. I ate the rest of the snacks in my bag and laid down for 10-15 minutes. I felt slightly more refreshed for our last five miles or so.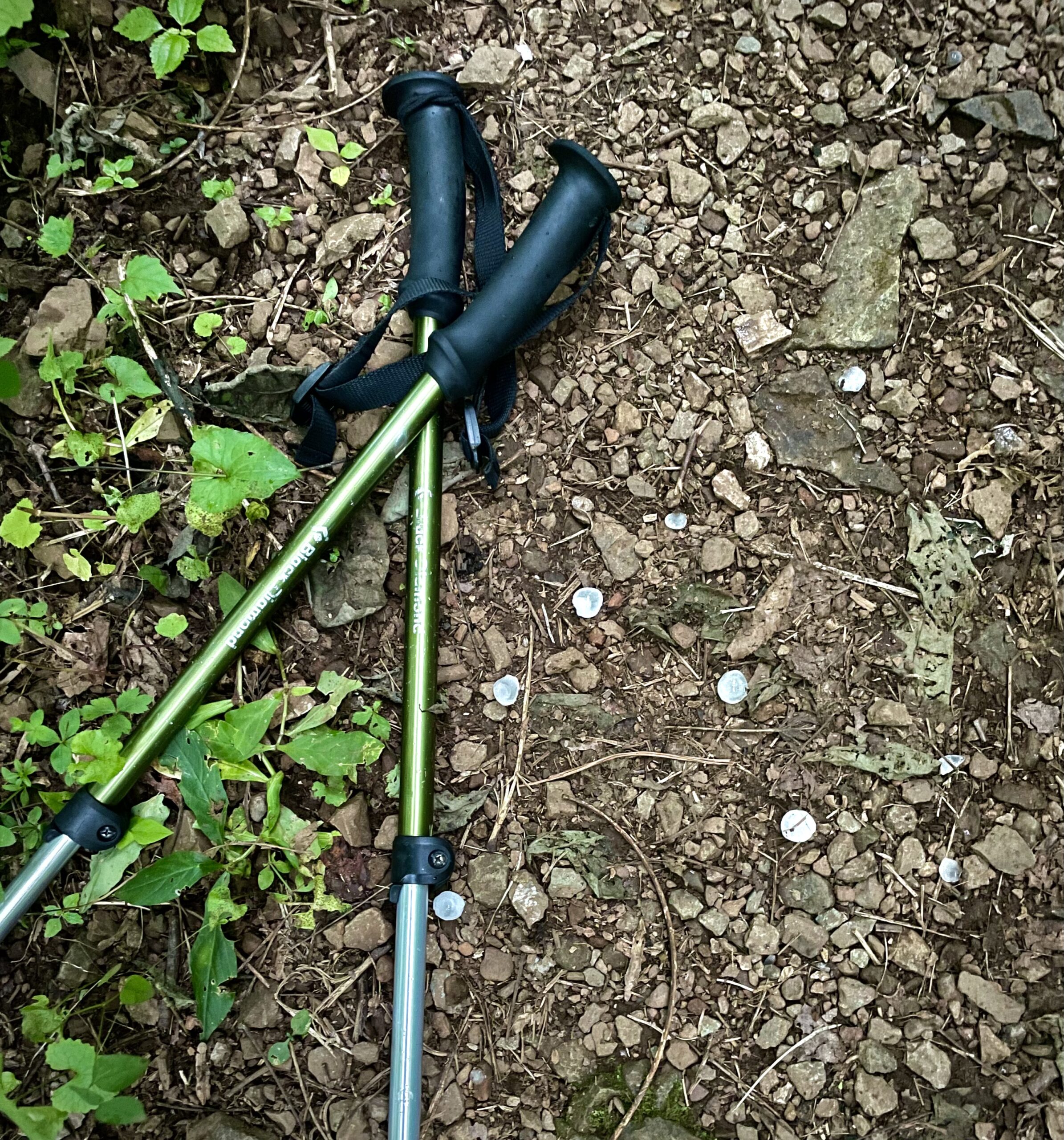 An hour into the final stretch of hiking, the trail got dark as clouds overhead glided into view. I saw the sky light up and moments later heard thunder clap. Rain started to fall and I put my rain cover on my pack. The rain transitioned to hail, roughly the size of marbles. This weather continued for 20-40 minutes out, so I turned my pace up for the remainder of the trail and got to US64 wet but on the other side of the quick storm.
We got a shuttle ride to Stanimals #2 in Waynesboro. We ran into a bunch of friends when we pulled up but many of them were staying elsewhere for the night. Rabbit and I got laundry started and got clean before heading to a highly recommended Mexican food restaurant. I'll say my CA/TX roots we're skeptical of the quality but I was very pleasantly surprised by La Sabrosita. I had room for all my fajitas this time.
Weighing myself at the hostel, I tipped the scales at 175, down 35 lbs since my start in GA. Now technically that's only down 10-15 from my normal weight but still lower than I'd prefer this early in the hike. We decided to get a second dinner at Cook Out, for which we had to use the drive-thru. We were underwhelmed by the food and I had really wanted to eat a place where I could get unlimited fountain soda drinks.
My cravings had to go without because by the time we got back to Stanimals everywhere that sold soda in town was closed and there was no stocked fridge at the hostel (which is atypical). Speaking of cravings though, I find some of natures sweet trail magic today.
We ate and played a game of Mario Cart before retiring to bed. Tomorrow we plan to eat more town food, and get some of our failed gear replaced. A sleeping pad for me, shoes for Rabbit. I'm hoping to be well over 180lbs by the time we leave. I'm mildly concerned about the weight loss and need to be more diligent about getting calories in.
We still plan to hike but given our other obligations we'll probably settle for a ten mile day.
Stow away in my pack for day 74 on the Appalachian Trail.
Affiliate Disclosure
This website contains affiliate links, which means The Trek may receive a percentage of any product or service you purchase using the links in the articles or advertisements. The buyer pays the same price as they would otherwise, and your purchase helps to support The Trek's ongoing goal to serve you quality backpacking advice and information. Thanks for your support!
To learn more, please visit the About This Site page.