Day 88 – Marathon Week, Day #5
Day 5 was one of those no good, very bad days. I woke up a little groggy (so the muscle relaxer I threw up worked at least a little bit). I had a toss-y kinda night although it was better sleep than I'd had for a week, so I'll take it.
Things went slowly getting up and I took my time making sure I could tolerate my liquids for breakfast. I did. I'm hesitating to say I took my time because time was taking me. I was moving as fast as I wanted, which wasn't very. There was no hurry.
I felt the same way I did after I threw up meatballs in North Carolina. I was run down and dehydrated. It also felt like my feet hurt, and they did. It felt like someone (me) had rucked over 35 miles the day before. The plan for the day was… well there wasn't one. We would just start walking and see what happened.
I got on the trail sometime between 10:00 and 11:00. Besides my feet feeling destroyed, I was moderately surprised I wasn't more sore everywhere else. I'm used to the 'delayed onset muscle soreness' you'll get from resistance training, and you don't get much of that out here. It's more aches and pains in your joints, tendons, and connective tissues (basically everywhere else). Oh sure, there's knots and muscle tightness, but it's completely different from doing a day of heavy squats or deadlifts.
I hiked about five miles in when I made it to a road. I knew this road led to a resupply location. After sticking my thumb out, the fourth car that passed by stopped and gave me a ride. The gentleman dropped me off in a little plaza that had a Dollar General and a deli. My first stop was at "Phil and Jerry's Meats" for a sub and some drinks. I sat at a park bench in the shade during the heat of the day, waiting for it to pass.
I was there from probably 1:00 to 4:00 p.m. They let me charge all of my devices while I ran next door to get a small resupply at Dollar General. A number of two and four-legged friends sat down with me at the picnic bench to chat during my stay. Trail adjacent town folk are always curious to chat up the vagrant hikers as they pass through.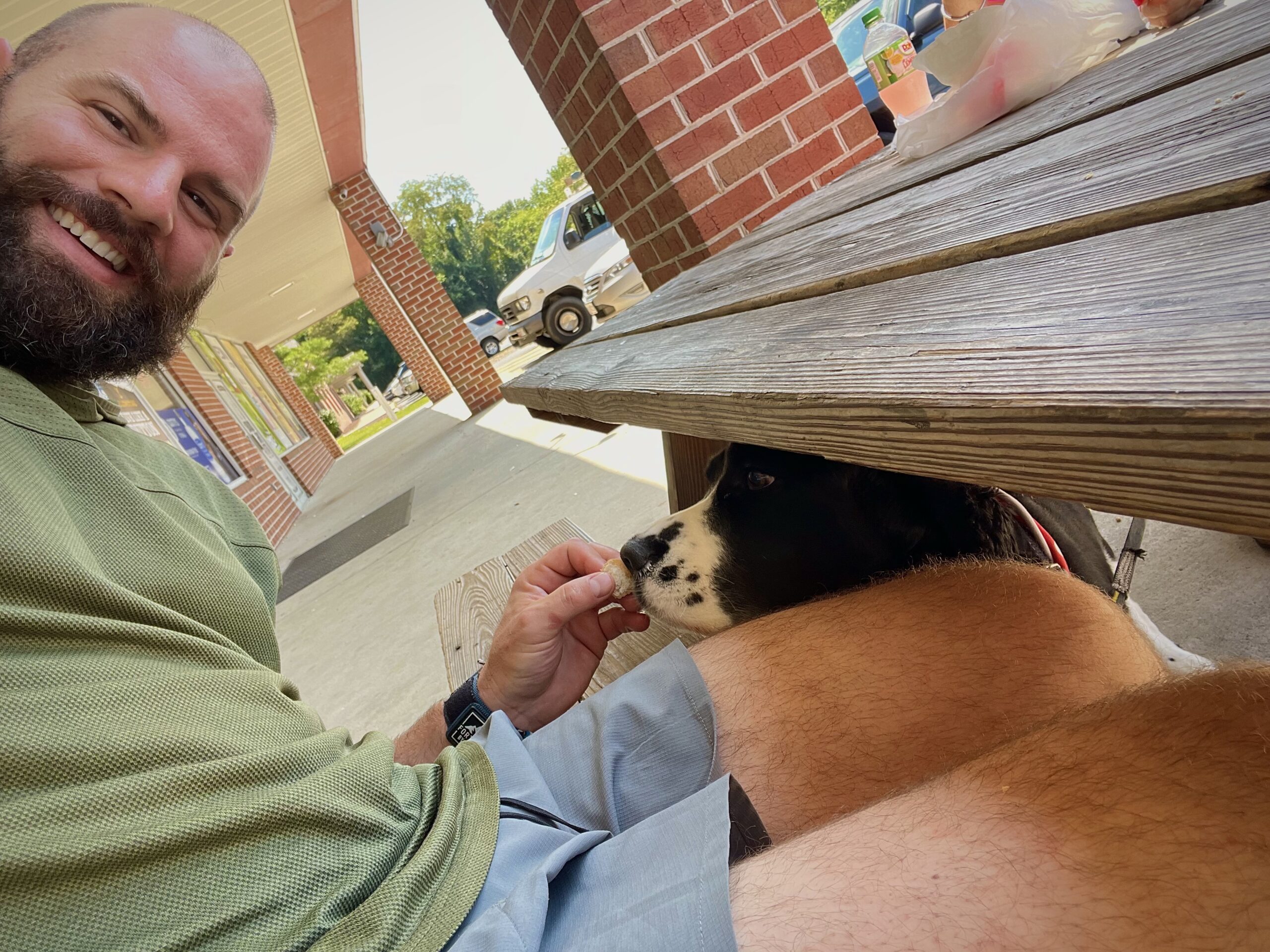 Upon leaving to get back on the trail, the first car I tried to hitch gave me a ride. The lady who picked me up runs a homeless shelter nearby (the irony was not lost on me). Back on the trail, I was still not 100% but was feeling better after the food and resupply.
As hydration returned to my body, so did some energy and I decided I just needed to get out of Maryland altogether on this day. After my five-mile morning, that left 9.5 miles to the PA border.
I saw a large male bear on trail roughly 25 feet from me (still not real). He scared off easily when I made my presence known and a formal report of hiker whereabouts was filed in some government office somewhere. My only regret was not documenting him first with a photo before scaring him away.

I've also been finding my regular hiking shirt to be less successful at keeping me cool. It's great at wicking away sweat and moisture but it's perhaps too dark in color and is holding more heat during sun-exposed areas. Luckily most of the trail is a green tunnel, but I experimented with hiking shirtless for parts of the day with moderate success. I'll continue to mess around with this and report back.
I stopped for a quick break at Raven Rock Shelter where some weekend hikers gave me more leukotape. My feet have not been in this bad of shape since Georgia (perhaps it's even worse now). The rocks in Maryland have been no joke (Rabbit concurs). My new shoes having a whole 13 miles worth of break-in, prior to starting marathon week have not helped either. I'm finding the Altra Olympus shoes to run warmer and not breathe as well as my Altra Lone Peaks did. Or perhaps I just need to subject them to a 'normal' week's worth of miles.
I made at quick detour to the crowded High Rock Ledges (it was underwhelming despite the nice sunset). Copious people were cropped to give you a halfway decent photo. I made the descent down some potentially treacherous boulders in twilight before switching on my headlamp. I did some night-hiking, determined to get to PA before the day was over. Nothing against Maryland, but I hate it right now (again nothing personal).
I strolled (limped) into Pen Mar Park, right on the border of MD/PA just before 11:00 p.m. I had booked a hotel in Waynesboro, thinking sleeping in a bed and some AC will put me in better spirits. But life reminded me I'm on the Appalachian Trail, why should I be in good spirits?
As it turns out, it's impossible to get an Uber, Lyft, or Taxi to take you this 15 minute and less than ten-mile journey at this hour. I WALKED further than that today! What century am I living in? Texted/called shuttle drivers, no answer. Texted/called the local hostel, no answer. Also did I mention the hotel was non-refundable? To say I was outraged was an understatement. So as I was out of options, I put up my tent in the most middle finger place I could think of and begrudgingly went to sleep.
Tracker numbers were as follows. We started the day at 43.3 miles. After today:
Chasing Rabbit Tracker: 47.8 miles (lost ground)
Let's recap marathon week this far:
Day 1: 27.6
Day 2: 22.6
Day 3: 23.7
Day 4: 33
Day 5: 14.5
Average: 24.3
Marathon week is not out of reach but my fucks to give certainly are.
Stow away in my pack for day 89 of the Appalachian Trail.
Affiliate Disclosure
This website contains affiliate links, which means The Trek may receive a percentage of any product or service you purchase using the links in the articles or advertisements. The buyer pays the same price as they would otherwise, and your purchase helps to support The Trek's ongoing goal to serve you quality backpacking advice and information. Thanks for your support!
To learn more, please visit the About This Site page.