Day 96 – The Devils Swimming Hole
Cabin 501 treated us well. Full bellies from pizza led to decent sleep; however, the lack of circulation lead to stale and stinky air inside the cabin. I was the sole person to not take precautions to hide my leftover pizza from mice. The gods smiled upon me overnight because my pizza was undisturbed by man or beast in the morning.
We woke and again took our time starting the day. We ate leftovers and packed out what we didn't eat for later. It was 24 miles to Port Clinton, putting us on track to catch the post office open during the week. However, with our late start, it was not likely in the cards for today. Also on the map was a water source that pooled into a pond with a rope swing. Given my strong affinity for bodies of water, this stopover was a must.
We set off that morning around 10:00. It was just five miles to the pond and we got there around noon. A fire was smoldering unattended nearby, so we struck it up with more firewood before exploring the water. The rope swing hung from a tree directly over a concrete dam-like structure. We ran along the dam and swung ourselves out into the water and dropped in. It was cold but refreshing.
The swing was fun but the rope was rather short and couldn't swing us any further than ten feet into the water. I spied another, taller rope swing at another spot on the pond. I went over to explore.
It had a rope with knots to help scale the steep descent. The rope hung over the water this time and there was a long stick to help retrieve the rope. I just had reached the stick to begin the process of grabbing the rope when it happened. Shooting pain came from my arm pit. Then a buzz next to my ear and another sharp pain on my cheek. BEES! I took off back up the hill and sustained one more sting to my scalp.
I didn't get a look at the bees, but my stings ached and burned the rest of the day. Luckily, I'm not allergic, although I considered taking Benadryl and some methylprenisolone (steroid) tablets I had in my bag. My pride injured more than anything else, I jumped back in the cold water when I got back to our other location. The water helped ease some of the sting.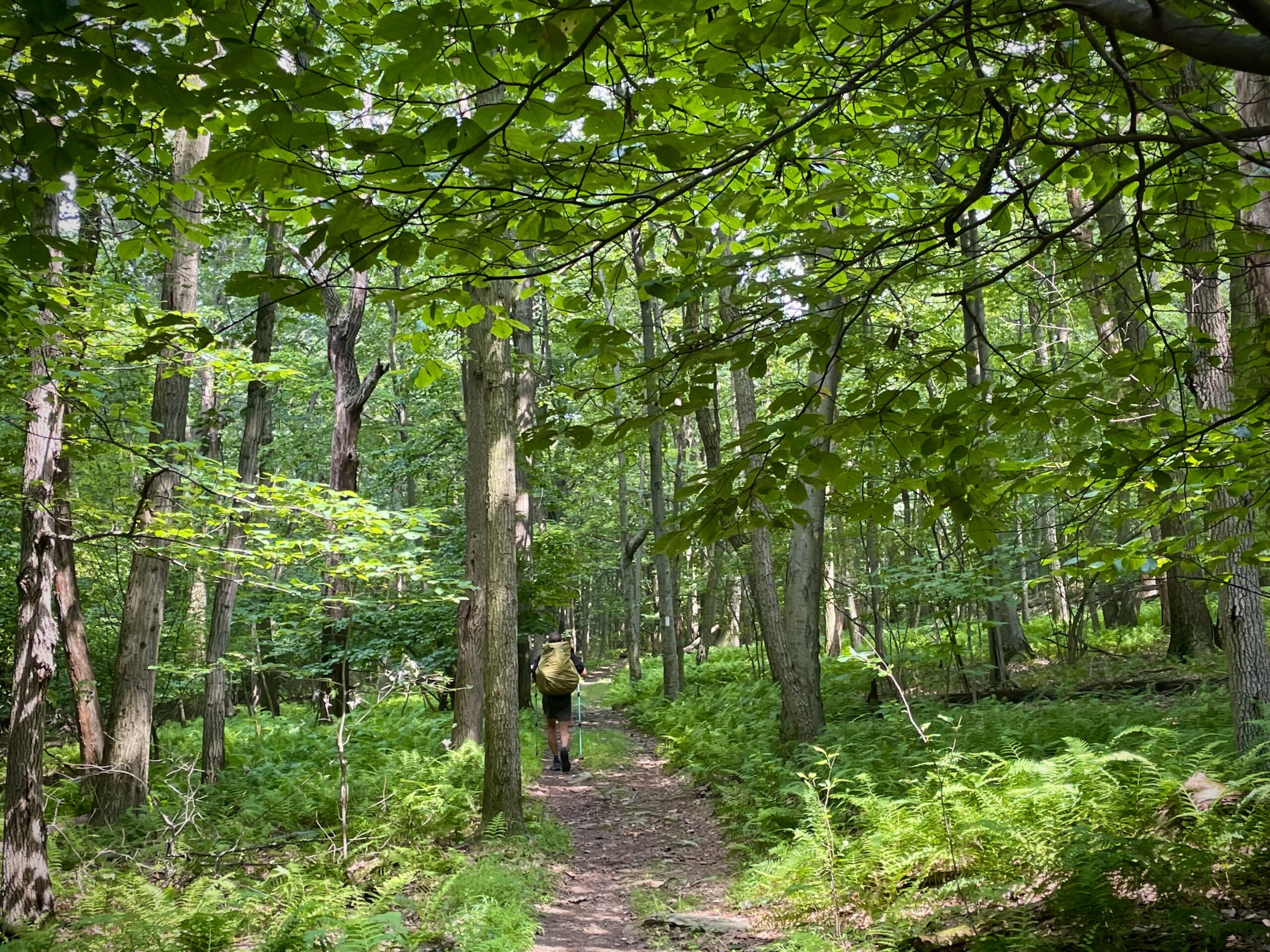 As we dried off and packed up to leave, it started to rain. Not much, but enough to put my rain cover over my bag. We had ten miles left to Eagles Nest Shelter, our stopping point for the day. We navigated more rocky paths along the way.
While not awful (yet), the rocks are slowing our pace, putting more strain on our feet and joints, and requiring more attention to where we place our feet each step. Along the way we passed the 999.9 miles remaining mark. It feels good to have that countdown be under four digits now. We passed the 1,200-mile marker on the trail as well.

We made it to the shelter just before 6:00. Dinner was my last two slices of pizza and a cannoli. I also made another fire to keep the bugs at bay. We talked and played music; apparently, we all know friends or acquaintances with various levels of musical fame. Rabbit used to work at bar frequented by rap group Three-6 Mafia. I went to high school with country singer Nate Smith.
We retired to sleep around 9:00, and as we settled into our sleeping bags, the skies opened up once again for a pretty fantastic thunderstorm. Rain came down hard on the roof and lightning flashed around us. The shelter remained dark but the forest around us lit up a light blue each time lightning flashed.
I retrieved ear plugs from my bag to drown out the rain and the snores that came from either side of me as I slept. Looking forward to town and another hot meal tomorrow (and a hot shower if I'm lucky).
Stow away in my pack for day 97 of the Appalachian Trail.
Affiliate Disclosure
This website contains affiliate links, which means The Trek may receive a percentage of any product or service you purchase using the links in the articles or advertisements. The buyer pays the same price as they would otherwise, and your purchase helps to support The Trek's ongoing goal to serve you quality backpacking advice and information. Thanks for your support!
To learn more, please visit the About This Site page.