Day 99 – Bees, and Snakes, and Rocks. Oh My!
I stirred awake from my top bunk in the basement of The Lookout Hostel. The basement was dark (which is my preferred environment to sleep) although not quite as cool as you'd expect a basement to be. I slept fairly well in the bed, and it's easier to find unconsciousness again than when I wake up in my tent. I eventually got up around 7:30.
Rabbit slept outside the hostel with Hot Feet and Radaghast. He heard what he took to be a bear in the early hours of the morning (sleep did not return as easily for him). That morning we took our time raiding the hiker fridge for soda and coffee. We also made pancakes. I regretted I didn't take the opportunity to make eggs that morning, a staple for myself at home.
Hot Feet strummed the guitar that morning as we planned out our next couple of days on the trail. We're about 50 miles from the PA/NJ border. We expect to get there in the next 3-4 days (terrain permitting).
After laundry, more food, and the last of our packing and charging, we were off just before before 1PM. The procrastination was real. The trail was fairly cruise-y by most accounts. Early on in the hike however there was a downed log which apparently was home to a territorial bee hive. Radaghast and I each took a couple stings to the leg/ankle area. Not quite as bad as the bee stings from a few days ago, but still unpleasant nonetheless.
Fresh off yesterdays rattlesnake sighting, I was on the lookout for more today. Although we did not find any rattlesnakes, I did manage to find 1 elusive porcupine, and 2 black rat snakes that preferred to steer clear of us.
We stopped for a snack and photos at "Knifes Edge." It was a rocky overlook, one of a couple on todays ridge line hike. More slanted rocks made the hiking slower than usual but the views were good so we tried not to complain much. Water was scare on the trail and we camel'd up before leaving. The water resupply was 6 miles in at Bake Oven Knobb Shelter. It was downhill off trail about 0.2 miles. We all wished we'd have gotten more water.
When not rock/boulder hopping, the ridge line was fairly flat and in decent condition. In fact it was significantly better after we passed a sign for Blue Mountain Eagle facing the opposite direction (now we know who to blame). The trail here on out was much better. Sure there were still rocks but there were attempts to put soil in places between the rocks to give some semblance of a trail. The efforts were appreciated.
I listened to more audiobook today. One of the lines from "Golden Son", the second book in the Red Rising Series today struck me as profound. "We are not our station in life. We are us. Of what we've done. Of what we want to do. And the people who we keep close." Basically meaning, your worth is not your current standing. What's matters are your accomplishments, aspirations, the company you keep.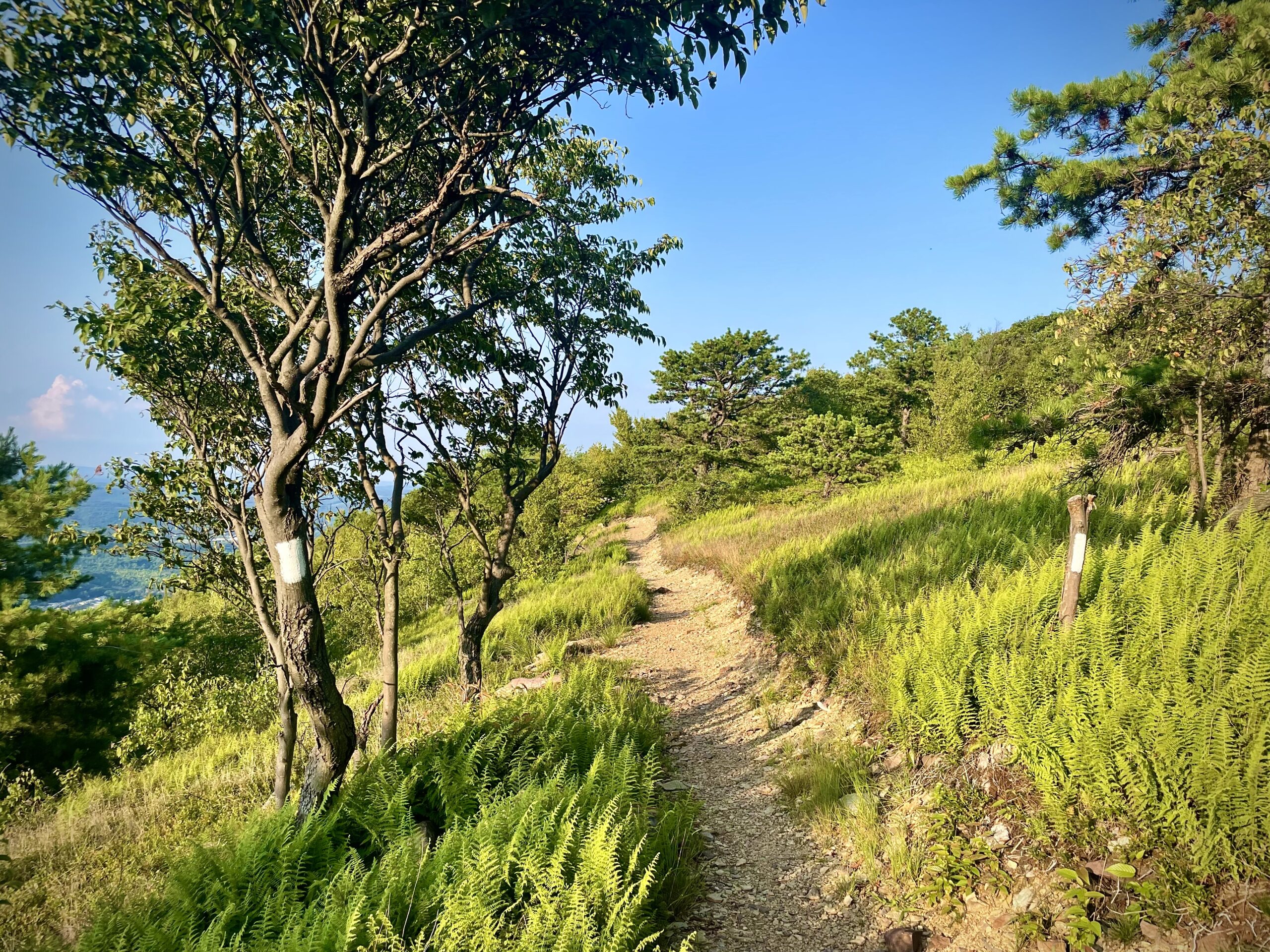 Our plan to hike into town and stay (tent) in a trail angels yard fell through (no vacancy). Instead we decided to camp on a ridge line peak. We made a fire and were able to catch a good spot to see the sunset.
I had a good phone call with my Dad and then Kristen before heading to bed. A waxing crescent moon rose to give us some ambient light. We slept in our now dry tents, sans rain fly, as there was not a cloud in the sky (although given our luck this means nothing). We intend to rise early and get the 22-mile worm in Wind Gap, PA.
Stow away in my pack for day 100 of the Appalachian Trail.
Affiliate Disclosure
This website contains affiliate links, which means The Trek may receive a percentage of any product or service you purchase using the links in the articles or advertisements. The buyer pays the same price as they would otherwise, and your purchase helps to support The Trek's ongoing goal to serve you quality backpacking advice and information. Thanks for your support!
To learn more, please visit the About This Site page.