Days 101-103 The Race to Harper's Ferry
Over the span of 9 days, 5 were 20+ mile days. I did not love it. We are incredibly proud of ourselves but dang my feet hurt. We are definitely smiles (or styles if we are hanging out with Lumen) over miles kind of hikers.  Nonetheless, even smilers have to bust out the miles sometimes, and bust we did!
I honestly don't remember much about our first day out of Shenandoah. The trail was notable for being very well maintained (thank you Potomac Appalachian Trail Club aka PATC.) There was a funny looking tree with a nice sign
And the Jim and Molly Denton shelter is probably one of the nicest on trail- it even has a shower!
We got lucky and found the one stealth site between Sky Meadows state park and the next shelter, giving us an almost exact 20 miles. It was perfectly situated next to a small spring and was just big enough for our tent to not take up the entire trail.
The next day we were pretty exhausted. We did have two big milestones- we began the rollercoaster, about 15 miles of very steep, though short, ups and downs.

We also hit 1,000 miles!
When we walked up to the 1,000 mile mark Mountain Mama and Jim were already there. They cheered, we cheered. We took photos and then we all sat down for another good long break. Bongo and Prom Queen rolled up not too long after us and we did it all again. Checking off another 100 miles never gets old.
The rollercoaster absolutely destroyed us. Going into it I told myself it was going to be challenging but fun. I have trail legs now! I've done it before as a section hike! I knew what to expect. Boy was I wrong. I guess when I did the section I was just really happy to be hiking and forgot how hard it was or something. My trail legs did very little for me. I felt like I was back on Jacob's Ladder or climbing out of Unicoi Gap. Plus it was about 90 degrees and 300% humidity. Ugh. The only good thing the rollercoaster has going for it is plenty of water.
Somehow we made it up to Bear's Den Rocks, not the end of the rollercoaster but the end of our day. We only hiked 12 miles that day and it took us almost 8 hours! Not a PR. When we were nearing Bear's Den it started to drizzle, sweet relief. We knew there was a thunderstorm brewing and wanted to make it to Bear's Chase Brewery down the road before it started.
Bear's Den Hostel was our first stop. It's a beautiful stone building, built in the 1930's as a family retreat, later bought by the ATC in the 1970's, along with the tract of land that includes the rollercoaster! Now it is a hiker hostel, owned by the ATC, managed by PATC, with a year-round caretaker on site.
When we walked up the first people we saw were Terri and Luke! They had arrived a few minutes before us and also planned to visit the brewery! They weren't going to stay at the hostel, they were just dropping their packs and heading on. We wanted to stay at the hostel for the night so we said we'd see them at the brewery and went to investigate the situation.
By talking to the few hikers we came across, and reading the scant signs around the basement, we learned that the caretaker wouldn't open the hostel until 5pm. Until then we could claim one of the bunks downstairs, take a shower, and help ourselves to sodas from the honor fridge. We decided to go ahead and shower, head to the brewery, then come back to check in and do laundry.
Showered and decked out in comfy loaner clothes we grabbed our rain coats and headed for the brewery. The sky still looked threatening but it wasn't currently raining, we figured we'd make it.
Wrong again! Not five minutes down the driveway the sky darkened, the wind picked up, the temperature plummeted and Pinky got hit with a few hailstones as an absolute monsoon drenched us in less than 2 minutes. We heard a tree crash on our right. There was thunder. We looked at each other- should we turn around or keep going? We shrugged and laughed nervously. We're already wet and we can't have too far to go, plus we can't go back without getting the beer we arranged our whole week around! So we trudged on.
At the end of the driveway it was unclear which way to go. My phone was wet and wouldn't let me pull up Google maps. We turned right but after a couple hundred feet it didn't feel right. I pulled out my phone again. This time it worked. We had gone the wrong way. Back we went. Less than a block from the driveway and across the street we found it!
With relief we stepped into the brewery. We were dripping wet. We stood on the doormat for a few minutes, trying to drip dry a bit, laughing about how incredibly soaked we were. We squelched our way over to the bar where we learned we could buy beer (yay!) but we could not buy hamburgers- the storm knocked out their power and their grill was down! Devastating. We still needed to eat something so we settled for a $20 bag of chips and salsa. Ouch.
Luckily the beer was pretty good. We sat outside and waved at dry Luke and Terri. We should have forgone the shower and just walked over with them first thing! They got burgers and a chance to enjoy the incredible view from the back yard!
By the time we finished our second beers they had burgers available again, so we ordered two and a basket of fries and another round of beers. Pinky noticed some folks across from us setting up a chessboard and went to watch. The burgers were great, the fries were copious, and Pinky won 5 games of chess! Satisfied in many ways, though still very damp, we headed back to the hostel.
Back at Bear's Den we met Glen, the caretaker. We paid for our bunks, bought a pint of Ben and Jerry's, got in line for laundry, and changed into dry loaner clothes. We spent the rest of the evening waiting on laundry. It's amazing how much time we spend waiting on laundry.
In the morning we had one of my favorite breakfasts so far on trail. There was a giant bag of Bisquik and a big griddle for MYO pancakes. For toppings there was a giant bowl of fresh blueberries and another of fresh mulberries. In the fridge there was a jar of home made preserves. There was a big pot of coffee and actual half and half to go in it. We also had the end of our Ben and Jerry's. We ate in the dining room at long tables with Flip and Tater. The dining room was the coolest room in the house- open windows on both sides made a cross breeze of the cool rainy air. It was lovely.
We didn't want to leave but we had good reason to. Only 20 miles stood between us and Harper's Ferry!! First, we had to finish the roller coaster. It was a rainy morning, for this we were very grateful, we could not have handled another hot day on the coaster. I wouldn't say that the remaining few miles were easy, but they were easier than the day before.
We were so focused on finishing that we completely missed the sign that marked our first crossing into West Virginia! Luckily we saw a bigger sign later..
Once we got out of the rollercoaster it was pretty smooth sailing into Harper's Ferry. We took an exceptionally long lunch break at a really nice shelter with a separate cooking pavilion and a swing!
Right before the last crossing into West Virginia we saw some hooligans camping near the trail- a closer look showed us that we knew those hooligans! It was Lumen, Jazzy, and Blue Skies! They were getting ready to make a second attempt at the 4 State Challenge (they had previously started from the wrong VA-WV border, the one we missed 15 miles back!)
The last 2 miles were the best. It was late and getting into the golden hour. The trail descends to the Shenandoah River then up some stairs, onto a bridge and across the river. The sun was shining into our faces and making the water sparkle.
We went up the last climb and made it to Jefferson Rock.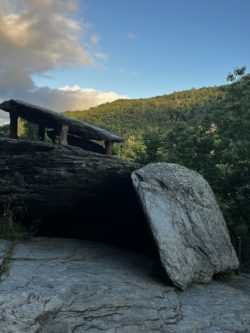 It was just us and one other couple, a rare experience at this popular spot. We took in the view and took many photos. The golden hour magic was strong.
Not 5 minutes later we were walking down some sketchy old stairs next to the church while calling Pinky's friend David. David found us quickly. We gave him several stinky hugs then he whisked us away for 2 nights of good food, good drinks, good conversation, and good doggie snuggles.
Affiliate Disclosure
This website contains affiliate links, which means The Trek may receive a percentage of any product or service you purchase using the links in the articles or advertisements. The buyer pays the same price as they would otherwise, and your purchase helps to support The Trek's ongoing goal to serve you quality backpacking advice and information. Thanks for your support!
To learn more, please visit the About This Site page.