Days 11-15 Update: Wesser Bald to Clingman's Dome!
Scrapes, breaks, ping pong and cheese curds. These were my highs and lows while hiking through North Carolina and into the Smokies. Days 11-15 sure had some ups and downs.
Day 11
Hiking from: Wesser Bald Shelter
To: Tent site 2 miles south of Sassafras Shelter
Miles: 10.8
Total grade: 602.3 ft/mile
Motivation: Meh.
Favorite part of the day: Having a soda at the NOC in the valley
Comments: This day was difficult and I didn't expect it would be originally which only made it more frustrating. For the first time, I was one of the last people to leave the campsite in the morning. I finally got hiking around 10:45. I didn't have a problem with starting late. I knew my body wanted to recover after the 21 miles I did the day before (the longest day yet). But this late start combined with an overall lack of motivation, waking up to my tent poles bent from the wind storm that night, and having to climb over a bunch of fallen trees on the path didn't do my mood any good.
I'm not exactly acrobatic when it comes to climbing over a tree trunk directly in the middle of the trail. I always manage to scrap my legs/arms. There are also a lot of thorns in North Carolina that line the path making going to the bathroom especially difficult too. The grade for the day included a roughly 2,300 ft descent to the Nantahala outdoor center (NOC) only to then have to climb back up to the same elevation we slept at the night before. If that doesn't make you hate every step, what would?
We ended up stopping short of our original goal of a shelter at mile 13 for a tent site we came across 10.8 miles into our hike. The next morning we heard the shelter was crowded anyway, and I got a spectacular view of the sunrise in the morning so overall no complaints there.
I do have one complaint though and that's my tent poles breaking after barely surviving the wind storm the night before. When I went to set up my tent, I noticed them broken and bent in two places that significantly alter the structure of my tent. Luckily no rain on day 11, but the weeks to come before my new poles come in the mail will surely be far from ideal.
Day 12
Hiking from: Tent site 2 miles south of Sassafras Shelter
To: Cable Gap Shelter
Miles: 17.4
Total grade: 506.4 ft/mile
Motivation: Almost to Fontana Dam (entrance to the Great Smoky Mountain National Park)
Favorite part of the day: I got to hike in the rain for the first time
Comments: I know what you must think. "First time in the rain?? She doesn't know what she's in for…" I've heard about the rainy days on the AT. No rain, no pain, no Maine, and all that. I've heard it and prepared for it. I guess I just got lucky. This was my first day using my rain jacket and I found it relaxing and motivating. It's cold when you stop so it's a great excuse to push on. We reached a shelter just 5 miles before Fontana Dam, so I wasn't too worried about my gear getting soaked because I'd be able to dry it at the hotel. Low stress, wet day.
Day 13
Hiking from: Cable Gap Shelter
To: Fontana Dam Road
Miles: 5.1
Total grade: 653.3 ft/mile
Motivation: A hot shower and restaurant food!
Favorite part of the day: Cheese curds at the restaurant and ping pong
Comments: We hiked down to Fontana Dam road and caught the shuttle to the resort just in time. We got to check in early and showered before walking to the restaurant for a huge meal that made our waiter question our appetite even though he knew we were hikers. Then we did laundry, resupplied, and ended the day playing ping pong in the game room.
I'm not sure if this walkthrough of my day is sounding as angelic as it felt, but you really can't beat a Nero that feels like this. Everything comes together and every task gets accomplished. Absolute bliss.
Day 14
Hiking from: Fontana Dam Road
To: Russel Field Shelter
Miles: 16.5
Total grade: 465.2 ft/mile
Motivation: Hike into the smokies
Favorite part of the day: Walking across the damn and the flowers blooming along the trail
Comments: While we were staying at the resort resupplying etc. we overheard a lot of other thru-hikers discussing the smokies. Fear-mongering might be too extreme a term but I definitely inherited the nerves from everyone around me about the smokies. I even had to skip out on the first shuttle to the trailhead in the morning because I could sense the nerves of the other hikers around me and knew it'd be better if I started separately. This ended up being the best choice because I went in with horrible expectations and was absolutely blown away. Walking across the dam helped the thru-hiking reality sink in a little more and ascending the smokies made me feel capable and resilient. It was all happening.
I ended up going an extra 3 miles than I originally planned because of how great I felt. Once I reached a certain elevation, there were wildflowers everywhere. They lined the path beautifully and added to my high spirits.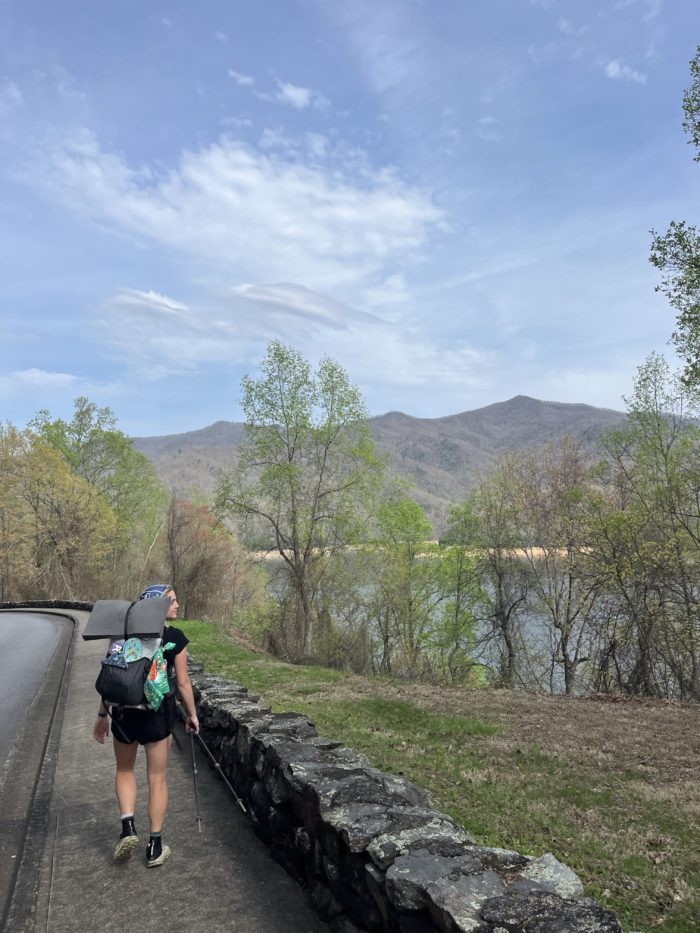 Day 15
Hiking from: Russel Field Shelter
To: Mt Collins Shelter
Miles: 22.3
Total grade: 538.2 ft/mile
Motivation: Reach Clingman's Dome/the 200-mile mark!
Favorite part of the day: Reaching Clingman's Dome and getting a beautiful view from the top!
Comments: This was always going to be a long day, but because of the extra mileage we'd done the day before, we could afford to push all the way to Clingman's Dome (the 200-mile mark and lookout point) by sunset. That became the goal of the day and I'm so glad we achieved it. When we got there there were beautiful views and lots of day-hiking families enjoying it too. At first, I was a little annoyed by the other families being there as my view was the same as someone who drove to it (you know what I mean), but then the families started asking questions and congratulating us on our accomplishment of 200 miles and it actually made the moment that much sweeter.
My only regret for this day was deciding to hike 3 miles in the dark to the next campsite. Why I thought hiking in the dark in bear country would be an easy enough idea, I'm not sure. I won't be repeating this mistake because it was horrifying, especially with the smoke (fog).
I feel like I could post a billion photos on here of the smokies, but no photo does it justice. Check out my Instagram for some videos if you're curious. This place is magnificent. I can't wait for the next two days.
Affiliate Disclosure
This website contains affiliate links, which means The Trek may receive a percentage of any product or service you purchase using the links in the articles or advertisements. The buyer pays the same price as they would otherwise, and your purchase helps to support The Trek's ongoing goal to serve you quality backpacking advice and information. Thanks for your support!
To learn more, please visit the About This Site page.