Days 138-145 New York, New York
I have mixed feelings about our time in New York. It started out really hard for us. The rock scrambles kicked our butts. It was so hot and so dry. But we got to go see our friend Zoe in the city. The trail got easier (but no wetter). While we had a bout of illness at the end, it led us to our favorite hotel stay.
I don't want to remember hating New York. I genuinely didn't love it most of the time, but I don't want it to go down in the history of our thru hike as the worst state. So I'm choosing to frame it differently for myself, and for you, dear reader. I want to remember all of New York's challenges and how we faced them so that we could come out of New York strong and happy.
So here we go…
After pancakes, egg sandwiches, bacon, and coffee we caught a Lyft back to the trail from the Air BnB. I felt bad for skedaddling quickly but we wanted to hike 17.7 miles that day. We were feeling ourselves after hiking 18 miles  into Warwick like it was nothing. Even though we got a late start, we were confident we'd do it.
It was another scorcher and water sources were scarce. We adopted the "stop at every water source we see and camel up" method (ie chug as much water as possible in one sitting + fill our water bottles.) This made for a few long breaks. By the second one, late in the afternoon, we realized we weren't going to make it 9 more miles to our planned shelter.
The trail was full of these constant rock scrambly ups and downs. We were literally hand over hand climbing at some points. It took us a full hour to do 1.5 miles! For context, when we (and the trail) are at our best we hike about 2.5-2.8 miles an hour.
We were beat after 12 miles. We saw this water angel's sign and understood why.
The water was real magic for us. The next water source was a lake and we still had a mile and a good climb to go. It was 7 o'clock and I was Done. We walked into Harriman state park, along a sketchy closed bridge, and as soon as we got back into the woods I noticed a big beautiful campsite with another hiker couple setting up camp. Perfect.
We managed to eat dinner and get our bear bags up before it was fully dark and fell into bed. Did I mention we were exhausted?
I was nervous about the next day. Since we grossly missed the mark that day it meant tomorrow would be a long day, about 17 miles. We were trying to make it to the Bear Mountain Inn, then get a ride into Peekskill so we could get on a train into NYC Saturday morning. Would we make it?
I tried to take on an attitude of flexibility. That was what had saved us today after all. It turned a very difficult day, that could have been disappointing, and was in a way, into a day we could be proud of. We struggled but we were flexible and adapted our plan to our needs. We spent the night in a comfortable campsite and we didn't overwork ourselves to get to it. Win!
So the next day we woke up optimistic. We knew our late start the morning before and our undisciplined breaks were part of the problem. We got an early start and planned our breaks around water sources. First up, Island Pond. Pond water isn't ideal but beggars can't be choosers. Plus it was a pretty pristine pond. We admired it while we filtered water.
Just after the pond came the Lemon Squeezer- an iconic rock scramble in two parts.
The hiking remained rocky for a while after that but was less scrambly, thank goodness. We made it to Tiorati Circle where we found bathrooms, a water fountain, picnic tables and a view of a big lake. We kept an eye on the time so we didn't linger too long.
To help us reach Bear Mountain at a more reasonable time we chose to take a tiny cheat of a road walk… we noticed that the road we took in continued on and cut off a corner of the trail. Remember, Pinky is a purist but even he agreed this tiny cheat was worth while. We still had a long ways to go and our last few miles had not been fast.
The road walk was fine, it brought us past some delicious and very ripe wine berries! The trail got less rocky and we started making decent time after that. We went across Black Mountain and had hazy views of the NYC skyline in the distance!
We had to cross the Palisades Parkway in the afternoon. It's a pretty large divided highway. There is a new detour around it this year but we chose not to take it. Taking the detour would add a few miles and make us skip the only water source we had for the rest of the day. No thank you.
I was getting nervous as we approached said water source. It's in a section where, normally, a few streams run across the trail. But we passed dry stream bed after dry stream bed. Finally, a spring was flowing. Not gushing, but there was enough to work with.
While we ate lunch next to the spring, a delightful day hiker stopped to tell us his whole life story and give us a Gatorade. What a treat!
After lunch we only had 7 miles to go! The trail would take us up and over Bear Mountain, a big boy with many stone steps and a stone tower on top! It was a difficult climb but had so many spots with big views! The sky also looked threatening the whole time, we were worried about a storm.
We made it up and only got sprinkled on a tiny bit. We found a bench and took in the view. We could still see NYC way far off. The most entertaining thing was all the families who'd driven up the mountain and were now posing for photos together. We sat and soaked it all in for quite a while.
The climb down had more stone steps but was also really well graded. Clearly a hike made for day hikers. It felt great. We got down as quickly as we could and called a Lyft to take us from the Bear Mountain Inn at the bottom over to Peekskill. It worked out really well. Peekskill isn't a hiker town but it had everything we needed. We ate one of our favorite dinners on trail while doing our laundry.
In the morning we embarked on our New York City side quest! We hadn't taken a zero since we got back from our 4th of July trip home and boy did we need it. Maybe that's why the past few days had felt so hard? Our two days in the city were incredible. We did a few touristy things.
We visited REI and felt like celebrities.
We ate a lot of good food, of course.
But mostly we hung out with my good friend Zoe and bopped around their favorite places. We still managed to walk a few miles each day, but we left the city feeling rested and refreshed.
Getting back on trail was about as easy as getting off trail. We took the Metro North line back to Peekskill and got a Lyft to the Inn. We specifically got off at the Inn so that we wouldn't miss the Trailside Zoo. We were getting on trail around 3pm, the zoo closes at 4:30. Perfect.
First, the trail cruises around this lake. We loved seeing and smelling barbecues at the surrounding picnic tables. We followed the signs to the pool and zoo, excitement mounting…
When we came around  the corner to the entrance we (okay mostly me) were crushed to learn that the zoo was closed!!! They are doing construction this summer so it's apparently closed frequently on week days!! So sad. We had to take a boring detour.
Fun fact- The Trailside Zoo not only has the distinction of being the only zoo the AT walks straight through, it's also the lowest elevation point on the whole trail! I've been looking forward to visiting it the whole time. I remain hugely disappointed that we missed it, but I don't think it's going anywhere. Maybe we'll hit it on the return tour.
Anyways, I quickly got distracted because crossing the Hudson River was so cool! The crossing is on a huge old suspension bridge. It's now my favorite bridge.
I watched a train come down the tracks on the side. My favorite part was when it was passing through a tunnel, some of the train was through it, some was in it, and some had yet to go in. Trains are so fun to watch.
Pinky waited for me to finally make it to the other side of the bridge. Then we had to walk on a sketchy small shoulder on this winding highway for several minutes before getting to the trailhead back into the woods. Makes you wonder why the trail maintainers are so concerned about the Palisades highway crossing (which was way less scary) but leave us to do things like this as if it's no big deal…
We had a quick, steep climb back up to a ridge then it was pretty smooth sailing. We stopped at a water source and had a delightful conversation with a Southbounder from the Czech Republic. He's finishing his triple crown with this trip!
We finished the day at Graymoor Spiritual Life Center, a monastery and rehab center. They let hikers camp on their baseball field!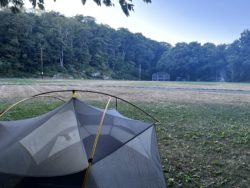 It was extremely pleasant, we heard the church bells chiming on the hour. I was worried they'd chime all night/wake me up every hour but they either don't chime past 9pm or I slept really soundly because I heard nothing.
The morning was a little slow. We lingered over breakfast chatting with a couple we first met a few days before. They are hiking with their 15 month old son! Their son is precious. We are especially taken with him because he's the same age as our nephew, they are literally just a few days apart. Andrew is a distiller at a small company in NC so he and Pinky had a lot to talk about.
Our plan for the day was about 14 miles to Canopus Lake where we could swim and/or take a cold shower. If we got there early enough we could even hit up the snack bar. Our chances were looking good in the morning. By the afternoon the heat was taking its toll and we slowed down considerably. We also discovered evidence of a possible GI problem that led us to a Google hole and the need to shift some plans…
We made it to the lake around 5:30. The snack bar closed at 5. Devastating. BUT the bathrooms were still open so we got to take icy cold showers. Refreshing.
This was another instance in which I initially felt annoyed both at myself for taking so long to do 14 miles and at the trail for being tricky enough to make 14 miles take so long. The rock scrambles had pretty much gone away after Bear Mountain but we still had some technical rock hopping that day, especially in the last mile to the lake. I tried not to beat myself up about it, but I was pissed for a bit.
I'd originally planned for us to do 20 miles the next day. Our GI disturbance threw that plan out the window. Instead, we'd hike 10 miles to a road crossing then go to a fancy hotel with a hiker rate and a free shuttle. Along the way we passed a cute shelter.
The rest of the hike was fairly uneventful. When we made it to the road we bee lined over to the convenience store down the road for ice cream and Gatorades. Kathleen picked us up from there and took us to her amazing hotel/venue.
Kathleen takes the cake as the single most kind and generous business owner we've met so far. Not only does she do a hiker rate but she picked us up from the trailhead, helped us get to the Wal Mart in town, did our laundry for free, put out breakfast early two days in a row for us, and helped us slack pack the next day. Plus she was a delight to be around. We loved everything about our stay with her.
It was going to be like 97 degrees the next day and Kathleen said she wouldn't mind slack packing us, so we took her up on it. We saw we would be crossing a pretty dry section and decided a slack pack would give us room to carry extra water so we could make it through.
We were so glad we did it that way. It was a scorcher and we only passed 2 good on trail water sources. I only had one moment when I felt like I might have been dehydrated, but I drank water and it got better.
The hike that day was pretty fun. We crossed a chill but buggy ridge then came out in some cow fields.
Then we crossed some marshy wet lands on a board walk.
Then we walked over another ridge, through some more fields and came out at the Dover Oak. A 300+ year old oak, over 6 feet in diameter! It's the biggest tree on the AT! It was impressive.
Next, we climbed up another hill and came down to Nuclear Lake. We found a spot to eat lunch on some rocks and admired the fish.
After that we were in the home stretch and it was pretty easy trail. We passed our first on trail water and filled up for the last push. About a half mile out from the final road crossing we called the pizza place up ahead and placed an order. We wanted pizza for dinner plus Pinky had left his hat there the day before and was hoping to retrieve it…
When we made it to the road we didn't have to walk too far before a nice man offered us a ride in the back of his truck. It seems he just goes back and forth between the trail head and the deli/pizza place in the evenings, we saw him make several trips. It was a welcome ride.
We ate some pizza, chatted with other hikers, and downed some Powerade while we waited for Kathleen. When we got back to the hotel we took showers and ate pizza in bed. It was a relief to be done with our 20.5 mile day.
The next morning we were so sad to leave. Kathleen dropped us off and we headed out for our final mile of New York. I was grateful to leave New York with this wonderful experience at the end, it really turned around my opinion on the state. I've still never been happier to make it to a state line…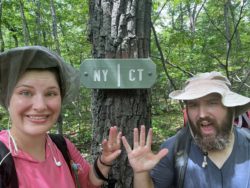 Affiliate Disclosure
This website contains affiliate links, which means The Trek may receive a percentage of any product or service you purchase using the links in the articles or advertisements. The buyer pays the same price as they would otherwise, and your purchase helps to support The Trek's ongoing goal to serve you quality backpacking advice and information. Thanks for your support!
To learn more, please visit the About This Site page.