Days 174-175 New Hampshire: Franconia Notch to Crawford Notch
Before I get into the hiking, I have to talk about the Old Colony Ski Club. It's in Lincoln, New Hampshire, a teeny town at the base of the Whites with a handful of shops, restaurants, an Inn with a brewery, and one amazing gas station/deli called Wayne's. The Ski Club is located right between Wayne's and the laundromat. We got completely sucked in.
Before taking us to the hostel, Jeff took us on a driving tour of the town- about 2 blocks long. When we got to the hostel he gave us a tour of the building- including the downstairs bar/commercial kitchen, and the communal fridge- from which he offered us each a PBR! We immediately loved Jeff and the lodge! The convenient location and multiple comfy communal spaces made it a fun and easy place to relax and get chores done.
While getting the tour of the hostel, we passed the room where Mayflower, Franklin's Mom (FM), and Pearwood were staying. The majority of the bunkrooms had just two bunks. They had an extra bed in theirs, so I got to crash with them! They got there about an hour before us but it was long enough for Mayflower to be gifted a potential new trail name from Jeff- Squirrel! We thought it was hilarious and adorable. She wondered if it was too late to change names, I told her it was never too late for a rebrand! She thought on it for a bit, but by the end of the next day we were all calling her Squirrel (and we've never looked back).
Our stay was quick, just one night, but we loved it so much we didn't have to be convinced to steal the girls' idea to come back in two days. The next section was 27 miles long. If we pushed it, we could spend one night on trail then come right back to Jeff. Plus, it was going to rain on the third day, why not go back to a warm, dry hostel?
In the morning we squeezed all five of us into Jeff's car for the return to the trail. As we were leaving town, Jeff pulled over, saying we couldn't miss the most popular tourist attraction in town. He stopped in the parking lot of a motel…? We were all trying to guess what he could possibly be showing us. The motel? The kitschy windmill behind it? Something in the parking lot??? He stopped near a sign in the grass and told us to go check it out. Pearwood gave us a dramatic reading of the sign… about the first ever reported UFO sighting, on the road we were on!
When she finished reading, we heard Jeff behind us. We all turned around to find him wearing a green alien mask!! We laughed then took a few photos.
His entertaining bit complete, we squeezed back into the car for the remaining short ride to the Franconia Notch parking lot. We said "see you later" to Jeff and headed back down the paved path to rejoin the AT. We had an absolutely beautiful day for hiking and were so excited to be heading up to Franconia Ridge on a day like this! We were a little nervous about the climb, it looked hard! But knew there would be a great reward for our effort!
When we started climbing we got into our "standard formation" with Pinky in front, then me, FM, Squirrel, and Pearwood. It didn't take long for us to stretch out and get separated by day hikers. It was the Saturday of Labor Day weekend and the trail was PACKED. It was a little annoying to have to pause to pass or get passed, but mostly it was fun to be amongst so many new people. We got asked almost constantly if we were thru-hiking, which meant we got to tell a lot of people how much fun it is to thru hike. My favorite day hiker pair was a mom and son, the son was probably two years old. He actually hiked most of the climb all by himself, only getting strapped onto mom's back right at the end! Impressive!!
The climb was tough but like normal tough. We *hiked* the whole way, no climbing! AND we did it at about a two mph pace! Along the way we ran into Buttermeister. We wound up sticking with him the rest of the day and most of the next day! FM caught up to us when we stopped at the spring near the top, but the other two were nowhere in sight. We didn't see them again until we all got to camp that night.
We drank our fill at the spring and filled up our bottles. There would be no more water until we got down from the ridge. FM was the smartest of us and not only filled her bottles but also her 2L CNOC. In retrospect, we should have taken more water but we still didn't really understand how vastly different miles in the Whites are from the rest of the trail. It was only 6.8 miles to the next water source, in normal circumstances 2-3L is more than enough water for that distance, but it was barely enough for us that day given the extreme difficulty of the terrain and how long it took us to get there.
After the spring the trail continued to be steep for just a little longer, then chilled out before getting steep again to go up to our first peak, Little Haystack Mountain. We had a bit of rock scrambling here, but it was over quickly. We had some good views to the south and could start to see the iconic ridge to the north!
From here we were solidly in an "alpine zone" that would continue for the next several miles. This would be our longest stretch so far above treeline! We continued to have a fairly technical climb until we emerged at the top of Mt Lincoln, the second highest of the peaks along this ridge. From here we had an incredible 360-degree view and got our first look at Mt. Washington, looming to our right. We could also spot the Kinsmans above Lonesome Lake, and Moosilauke beyond.
It was the biggest and most breathtaking view of the trail so far. We had an absolutely clear day and visibility was ridiculous. Our progress across the ridge was very slow because I kept stopping to take photos and videos or to just stare around in awe.
It was also slowed by the insane crowds. It was like trying to walk on the street at Disney World, there were just so many people there, more than we had ever encountered at once on trail. It made for a very odd experience, being on top of these huge rugged mountains but also being surrounded by people and being able to see the giant parking lot they all came from. I wouldn't say it "ruined" the experience or anything, it was just a lot of conflicting information to take in.
We ate lunch on top of one of the high points, almost directly across from Mt. Washington. I couldn't stop staring at it and thinking how it just kept looking bigger and bigger as we traversed the ridge. It wasn't the most relaxing lunch ever. There were so many people we had to keep shifting so as not to be in the way as everyone tried to find a place to take a break, take photos, or just walk past.
After lunch, we continued on to the final high point, Mt. Lafayette. We took some more photos and tried to soak it all in before we started the descent. I could have spent all day up there, it was so beautiful. I didn't want to leave, but we had to get to camp and still had a ways to go. To descend, the AT turned right, away from the trail that went down towards the parking lot. This meant we were now on a much less crowded trail. It was aggressively steep and difficult, though. Our pace got much slower and it was tedious as hell.
Pinky was getting close to running out of water by the time we were nearing the end of the first descent (we still had to go over Mt. Garfield, then down again to the shelter/campsite). FM had extra but before he needed to get into it we ran into Sweet Cheeks. He pointed out a flowing mud puddle next to the trail where he had gotten water. We were all ready for a break, so we threw our packs down and shoved some food into our mouths while Pinky grabbed some water.
Refreshed a bit, but still exhausted, we began to drag ourselves up Garfield. It was so so hard. Somehow, we made it to the top. It was beautiful, but we were so tired it was hard to appreciate it. There was an open rocky peak with views back to Franconia.
There's an old fire tower base up there and some space in the trees below for tents and hammocks. A few people were setting up camp up there and I was very jealous. If I had known it was an option I would have filled up on mud puddle water! Alas, I had not, so we moved on after a few minutes.
From here, we had a "short" ways to go to the shelter. It felt super long because we were so tired and it was so steep! Finally, we arrived at the turn off. We met a few people filling up at the water source. They told us we should definitely grab water so we didn't have to make the long return journey, and that the campsite was basically full! I had already been anxious about getting space, I knew there were a lot of thru hikers and weekenders, but I had been sure there would be plenty of space! Nervous, I left Pinky to grab water and walked as fast as I could to find the caretaker. If we were going to have to keep hiking to a stealth site I wanted to know ASAP- it would be dark soon!
I found the caretaker easily, he was right by the shelter, talking to other hikers. I needn't have panicked. He was a) the chillest caretaker ever, he talked in the smoothest, calmest voice, despite being absolutely overrun by hikers; b) he said he did have space for everyone; and c) I could plainly see that the shelter was empty! As I said, we were EXHAUSTED, so we quickly decided we would take the shelter space. We had only hiked 10 miles that day but it felt like 20!
FM and Buttermeister decided to also stay in the shelter. We were quickly joined by Pie, Weezy, Almost and Little John who rolled up as we were getting settled. Pearwood and Squirrel were also not far behind. Pearwood found herself a tent site next to the shelter, and Squirrel joined the shelter party. Despite the hard day, I found myself feeling jazzed about having a shelter slumber party with all of our friends!
We ate dinner together in the "living room"- all of the shelters in the Whites had designated eating areas (no picnic tables, those were now a thing of the past) usually with furniture constructed from rocks and logs and covered by a tarp or two strung from the trees. It was pretty comfy and very cute. After dinner and finding a space for our food in the very full bear boxes (luckily there was more than one!) we settled into the shelter.
Everyone was tired and ready for an early night…. but people kept showing up! Two more hikers showed up as I was getting ready for bed, and two or three arrived after I got into my sleeping bag!! I could not imagine going down that descent in the dark!! It took a while for everyone to get settled and turn their lights off… so it was a less early night than I thought it was going to be.
In the morning we woke to find that one or two of our shelter mates had dipped out well before first light. One of them was a northbound flip-flopper- he had started at Harper's Ferry on August 1 and was ALREADY in the Whites with us- on Labor Day weekend! That's a full MONTH faster than us! We knew we'd never see him again. I do wonder where he is now, though…
We managed to get ourselves packed and out onto the trail in a pretty reasonable amount of time. We stopped at the water on the way out to fill up. We needn't have worried too much about filling up there, though- we continued to literally go down the water source for the next quarter of a mile or so!
I am not over-exaggerating here- we were literally climbing down a freaking waterfall. No dry trail, no dirt path, we were stepping (or butt-sliding) down an actual stream of water!!! It was the most insane thing I had ever done. We took deep breaths, slow steps, and managed to pick our way down the slippery, wet rocks without any major incidents.
The waterfall portion was, thankfully short but it was not the end of the difficult descent. The first mile or so was extremely steep, then we had almost two more miles to the Galehead Hut, where we would take a break before climbing another 4K footer. The elevation map after the first mile didn't look too dramatic, but it's the Whites, so it was actually tough as hell.
Buttermeister was with us for this entire stretch, his presence and the chance of baked goods, leftover breakfast, coffee, and/or soup at the Hut were good motivators. We made it there in about two hours to find the place already crawling with thru hikers and completely out of food.
There were still bathrooms with running water sinks and cold water from a spigot outside. I tried to enjoy those amenities as much as I could. We ate some of our own snacks, admired the amazing clouds and mountains surrounding us, and tried to rest up before our next climb. It was only 0.8 miles to the top of South Twin but it was, of course, extremely steep.
Luckily, all of our friends were about to do the climb, too! Not only did we have FM, Pearwood, and Squirrel climbing with us, but we also had Pie and Weezy. Pie and Weezy kept saying "You can do anything for a mile!" This positive refrain gave everyone the power to get up to the top of South Twin with smiles on our faces. (Pinky and I would steal this refrain and say it to each other over and over for the rest of the trip!)
South Twin was another big rocky summit with views across to Garfield and Franconia. It was also pretty crowded with day hikers, but not quite so many as the day before. We all took another break here. It was pretty warm, and the climb had really made us sweat, so Pinky took off his shirt. When he did, he felt his thumb go through the fabric…. when he went to put it back on, we discovered it was in the funniest location!!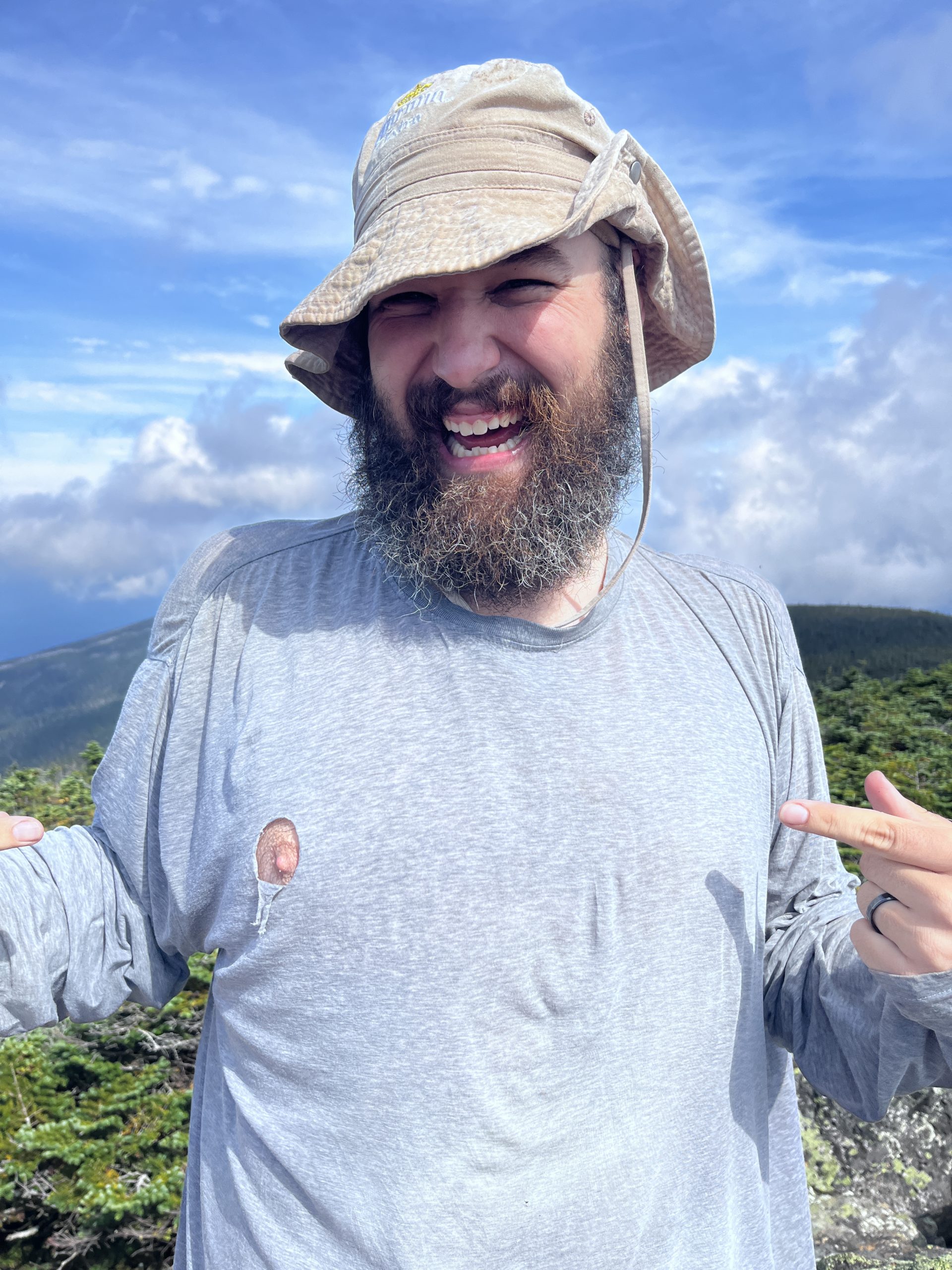 Everyone had a big laugh, including Pinky. He's a good sport, and loves a joke. He decided the nipples needed to match, so he ripped the second one, too!
Pinky's wardrobe malfunction wasn't going to stop us, though. We had covered less than 5 miles by this point and it was about 11 am! We were trying to do almost 18 miles so we could make it back to Jeff for the night!!! Allegedly, we had done the toughest part of the day. Several commenters on FarOut reported the next 13 miles as the easiest miles in the Whites. Even the folks who weren't going all the way to the road with us still had a long day, the Ethan Pond shelter was only three miles before the road. We all kept quoting the positive comments to each other as encouragement.
Of course, it was very steep getting off South Twin, but before too long we did in fact find ourselves on easier terrain. If you can believe it, there were even some *flat* moments. Honestly, at this point, I didn't even care too much about flat, I just wanted to be able to take normal steps without fear of tripping or twisting an ankle. The reprieve was much appreciated, but of course, didn't last forever.
Before long, we were nearing the summit of Mt Guyot. It was rocky and all of the rocks moved. We were walking with Pie, Weezy, Marky Mark and Cowboy, talking about our plans to get back to the Ski Club. Marky Mark and Cowboy also wanted to go that night and we were discussing the possibility of sharing a ride. We had also been talking to Buttermeister about getting Snowy Owl to pick us up. He wasn't 100% sure if he was going to make it that night, but was in touch with Snowy Owl about getting us either way. Marky Mark, and Cowboy were working on getting a shuttle. We told them we were going to rely on Snowy Owl, and also didn't think we'd make it to the road crossing at the same time as them, they were generally faster than us.
I was having a hard time talking and walking at the same time here. The rocks were so treacherous, but also our surroundings were BEAUTIFUL. We were out in the open surrounded by these ginormous mountains and it was just breathtaking. We could see another big beautiful peak ahead of us and were making our way there, prepared for another huge 360 view. Pinky, Marky Mark, and Cowboy had moved on faster than Pie, Weezy, and I. We were taking photos and videos and exclaiming about how amazing it was.
I moved on ahead of them and was trying to catch up to Pinky now that we were back below treeline. About 5-10 mins later we heard Marky Mark and Cowboy. They were coming back up! They had somehow realized that we were not on trail anymore!! What! Pinky and I turned around and alerted Pie and Weezy. All of us were shocked, we hadn't noticed a sign or an obvious turn to miss! They said we were almost a mile off trail!
I was SO MAD. We had so many miles to do and it still felt like we had barely made any progress, now this!? I rage-hiked and managed to keep up with the much faster group pretty well, the backtrack was all uphill. Before we made it to where they thought the turn was, I was tired and had slowed down. Plus we got back on the shitty wobbly rocks! Turns out, there was a sign a few feet off the trail pointing the AT to the left- we had been following some faded blue blazes denoting the Bondcliff Trail.
The AT in the Whites is actually not just the AT. The Whites are the oldest recreational area in the country and these trails existed long before the AT was even an idea in Benton MacKaye's head. In fact, his first wilderness experiences were in the Whites when he was a young man. When the AT was eventually built, they didn't blaze new trails in the Whites, instead, they just painted white blazes (very few, there were like 20 in the whole section) onto existing trails and called it a day. Because there are so many crisscrossing trails, and it's not very well blazed to begin with, it's really common for AT hikers to get turned around in the Whites. It hadn't happened to us yet and I had been feeling pretty proud, but now here we were, with 45 mins of lost time because we weren't paying attention!! (When I had time to cool off I was much less mad about the situation, and even kind of happy about it, our blue blaze took us to one of my favorite peaks, but at the time I was unreasonably pissed off.)
Back on the AT, we finished going over Mt. Guyot and headed towards Zealand Mt. By the time we got there we were pooped and very uninterested in taking the side trail to the official peak. We had done our blue blaze for the day! We ate a snack at the turn with Pie, Weezy, and Buttermeister- he was surprised to see us, but understood once we explained our missed turn fiasco. By now it was starting to be funny.
From here, began the long, grueling descent to Zealand Falls. We did most of it with Pie, Weezy, and Buttermeister. It was a brutal descent and I enjoyed almost none of the hiking. There were a few cool moments on some rock slabs, and I guess the forest was pretty, but boy I was tired of these never-ending descents. I did, however, enjoy hiking with friends. I was grateful to have these positive and energetic people around to get me out of my head a bit.
After an eternity, we arrived at the Zealand Falls hut. Just before it, we crossed water above the falls. We could see this really cool pump system pulling water and presumably pumping it over to the hut. The huts are run on generators, I'm not sure if this pump was also run on a generator or if it was simply hydro and cool engineering or what, but it was neat to see it. Despite all of my beef with the AMC and the way the huts are run, the infrastructure that surrounds them is really fascinating.
Once again, we got to the hut too late for food. Marky Mark and Cowboy were there eating the last servings of soup. Oh well, I had ramen. FM was there but Squirrel and Pearwood were nowhere in sight. We hadn't seen them since the break when Pinky's nipples broke his shirt. The girls were also planning to go to the Ski Club for the night, but they weren't going to take the AT to Crawford Notch. Instead, they were going to take the Zealand Falls trail to a different parking lot. This was a shorter and allegedly easier route than what the AT did.
For the last hour or so of our descent, I had convinced myself that I could not and would not hike the 7 miles to Crawford Notch. I was tired, I was cranky and I wanted to get to the Ski Club ASAP. Buttermeister also seemed like he was going to stop at the Ethan Pond Shelter, this might complicate our pick-up from Snowy Owl. Marky Mark and Cowboy had a shuttle arranged for 7, but we thought it would take us until at least 8 to get there. Going with the girls down Zealand Falls seemed like the easiest solution, but would we even fit in their shuttle? Plus, we would then have to come back up that way to rejoin the AT. Pinky didn't want to skip these 7 miles, and neither of us wanted to get separated from our friends when we returned to the trail. A 7-mile difference in the Whites would put us at least half a day if not a whole day behind everyone. I was stressed by all these logistics and choices!
We went round and round. Eating helped give us some energy and clarity. By the time we were done eating we had decided- we would go all the way to Crawford Notch and have Snowy Owl get us, hopefully with Buttermeister, but maybe without. Buttermeister, Pie, and Weezy headed out before us, we were lollygagging a bit on packing up. FM was still waiting on Squirrel and Pearwood, we all had no idea where they were. Finally, we said goodbye to her- and left her with an order for sandwiches and beer which she offered to grab and have waiting for us at the Ski Club. What a gem! Knowing that we would have friends, food, a warm shower and a bed waiting for us at the end of this never-ending day was a huge boost!
We set off, knowing that the elevation map *looked* flat for the next 5 or so miles, reminding ourselves of all the positive comments, and telling ourselves how cool it would be to hike 18 miles in the Whites. By this time, even though I was tired, I was pretty sure we could do it (as long as the terrain wasn't too buck wild) and I wanted the glory!
The comments were, in fact, accurate! Those last 7 miles were the best we had hiked since Vermont. We absolutely cruised and nearly hit 3 miles an hour. It was a beautiful hike. We went through a canyon thing with a huge rock slide to our left.
On the right, waaay across the ravine we could see a single bright red tree- our first hint of the fall that was just around the corner. The hiking felt so good, it was like recovery for my tired knees. We crossed a river and walked beside it- the bog boards were sketchy as hell and that did annoy me, but it was otherwise perfect.
We made it to the turn-off for the Ethan Pond shelter in high spirits. It was dusk, about 6:30, and we only had 3 miles to go. Buttermeister was waiting there. He had decided to stay there for the night, but didn't want to leave us high and dry. He offered to send Snowy Owl a message on his Garmin to tell her we'd be at Crawford Notch. None of us had cell service, we were in a pretty deep valley between some big ass mountains. We waited while he painstakingly typed out a message to her, then got confirmation that it had sent. He couldn't get a message back from her on the Garmin, but we knew it had sent, we'd just have to trust that she'd see it and come for us.
We said goodbye to Buttermeister and thanked him profusely, then we set out into the evening. We had our headlamps at the ready, sure we'd get to the road well after it got dark. Ahead of us was another steep descent. While we only had three miles to go, we didn't know if those would be like normal three miles or Whites three miles. It could take us anywhere from 1.5-3 hours to make it down! We had told Snowy Owl to meet us at 8:30, so we were hoping for 2 hours, tops.
The descent was normal!!! No rock scrambles, it wasn't even truly that steep! The trail continued to be a largely smooth dirt path. We cruised right along. We put the headlamps on when we were very close to the road, we used them for maybe 20 mins right at the end. We came out of the woods and onto a paved road. We could tell we were at a parking lot but we didn't think it was the right one. We kept walking down the road and after a few minutes found another parking area, right off the highway. We saw two hikers there- as we approached I recognized them as Cowboy and Marky Mark. It was 7:30, either their shuttle was late or something had happened.
When we got close, we called out to them and asked what was up. Their shuttle had apparently come early, then left without them! They didn't know what to do. Luckily, there was one car in the lot and the couple it belonged to was there. The boys asked them if they could give them a ride to the nearby AMC Highland Center where there was allegedly cell service. There, they could call their driver to either get picked up, or, get a room if she wasn't able to get them. We also offered for them to just wait with us for Snowy Owl.
I was starving, so I sat down to make some mac and cheese for dinner while we waited. The boys looked like they were going to get into the car, then they came back and decided they would just wait with us. Shortly after this decision was made, another car pulled into the lot.
A woman got out and asked if we needed a ride- she was their original shuttle driver! She explained that there had been a mix-up, apologized for being late, and asked what we wanted to do. The boys decided to go with her. We went back and forth for a minute then decided to do the same- we would call Snowy Owl as soon as we got signal and hopefully head her off before she left the friend's house where she was staying. That way we could save her the trouble of driving us all over the place- the Ski Club was pretty far away.
I never did get to finish making my mac and cheese, but that was okay. We had hiked our 18 miles and we were headed back to Jeff! We were able to get in touch with Snowy Owl, thank goodness.
That night at the Ski Club, I felt like a conquering hero returning home. I never thought we'd hike more than 12 or 13 miles in the Whites, let alone 18! Okay, seven of those miles were really easy, but still!! I was so so proud of us. Despite being extremely physically tired, we stayed up late hanging out with various people. We were paradoxically energized by the experience of the whole day and wanted to bask in it a little. Plus, we knew we would be zeroing the next day and could sleep in!
That night was the beginning of a three-night "vortex" at the Ski Lodge and our favorite hostel stay of the whole trail. Almost literally all of our friends wound up there and we made tons of new ones. One night we played the most unhinged game of fishbowl I've ever played. The next night we (and like 12 other people, led by Slaps) made a communal meal of curry and dumplings. We celebrated Squirrel's birthday with pie after dinner and brunch in the morning. We slept in, lazed about, and appreciated the break from the grueling hiking we'd been doing. Most of all, we loved the fellowship and the opportunity to spend time playing with our friends. It was hard to leave when the time came, but we were truly refreshed and ready to take on the next challenge- the Presidential Range.
Affiliate Disclosure
This website contains affiliate links, which means The Trek may receive a percentage of any product or service you purchase using the links in the articles or advertisements. The buyer pays the same price as they would otherwise, and your purchase helps to support The Trek's ongoing goal to serve you quality backpacking advice and information. Thanks for your support!
To learn more, please visit the About This Site page.