Days 56-60 Ponies, Pizzas and Pacas!!
The best part of waking up in a trail town is going to the town diner for breakfast. But first, we had to walk the 0.1 mi of trail thru the park that we missed when Jo drove us around. Pinky is a Purist.
The diner was hoppin but we got there at exactly the right time and were able to snag a table right away. We ate the best breakfast we've had in a while. We needed the warm fuel because it was cold and rainy outside with very little hope for improvement. Basically everyone we knew showed up for breakfast so we got to say "See you later" to everyone staying in town for a zero.
It rained steadily all day and temps stayed in the 40s. We only stopped for lunch and set a PR time for our 17 miles that day. Getting to the shelter that night was such a relief, and it was a really nice big one. We wound up sharing with only 2 other people- RP who we had met at the Lodge, and Laurel, a section hiker from Fredericksburg! We really enjoyed their company and talked with them all evening and all the next morning.
It was COLD in the morning. Putting our still soaking wet clothes back on was Not Fun. The climb up White Top mountain, 2nd highest peak in VA, warmed us up slightly but then we froze when we stopped at the top to call our moms and eat a snack. We didn't warm up again until much later in the afternoon when the sun finally came out and stayed out.
Laurel was a ton of fun to leap frog with. She knows all the wildflowers and told us the name of our favorite one! We've been calling it a "banana flower" but it is actually called a Trout Lily! Both White Top and Mt Rogers (highest peak in VA) were absolutely covered with a huge variety of wildflowers. We loved it!
Due to a very long lunch break when we were reunited with our friend Oats, we wound up setting a PR for latest arrival time to camp. We left Oats and Nick at Nite around 3pm and still had 9 miles to go!!! Woops.
Those 9 miles, while difficult physically and emotionally, were probably some of our favorite yet. As soon as we created the first hill after Elk Garden we saw our first PONIES!!!
The Grayson Highlands have a herd of wild ponies and wild longhorns! "Wild" is a bit of an overstatement, though. They are very friendly, sometimes even too friendly- they will steal food and lick sweaty hikers. We had been looking forward to this section for a very long time and we were absolutely thrilled to see ponies so quickly.
The climb up Mt Rogers was beautiful. It's another spruce and pine forest, which we love, and as mentioned before there were tons of wild flowers. We did not take the 0.5 mi side trail to the summit because we were so pressed for time, we will come back another time so Pinky can experience it.
We spent way too long at the Thomas Knob shelter searching for water and chatting with the Ridge Runner and a couple who had lost (and then found) their dog. When we got moving again it was almost 6pm and we still had 5 miles to go…
In the first mile we hit the 500 mile mark!!! We were alone so we got some mediocre selfies. Enjoy.
Then we were walking along the incredibly rocky and technically challenging ridge line. It was golden hour and couldn't have been more beautiful. We were surprised by longhorns grazing directly on the trail! And saw several more groups of ponies.
We might have gotten to camp a little faster if I hadn't been stopping to take pictures constantly. Even so, the pictures do not do the scene justice. If you haven't been to Grayson Highlands you just have to go. Especially if you live in Virginia. It feels otherworldly, hard to believe you are still in the state because it looks nothing like anywhere else.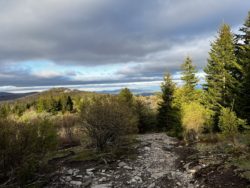 As the sun was slipping behind the ridge and night was coming on, we finally made it to the shelter at 815. RP was happy to see us, he was worried we weren't coming and he'd have to brave camping with the ponies alone.
It was just the 3 of us at Wise Shelter that night. Pinky got a kick out of seeing the place in the spring, we did a Grayson Highlands trip in February 2021 when everything was covered in over a foot of snow. Unfortunately, we did not see any pony visitors overnight but RP and Pinky both claim to have heard some whinnies in the wee hours of the morning.
The morning was cold, again, but lucky for us our clothes were dry so getting going was slightly less painful. We had another absolutely beautiful hike. The ground was covered in spiderwebs spun between blades of grass, sparkling in the sun. We had never seen webs like this before and we were mesmerized. Up on the ridge we saw more ponies and herds of cows in the distance. At the Scales.. more ponies and cows! Leaving the Highlands was sad but we felt we really got an A+ experience.
The rest of the day was largely uneventful. We had some fun climbs. Our trail legs have definitely kicked in + Virginia is famous for having gentle grades and being mostly "flat." So we really are having fun with the climbs.
We hiked about 15 miles and set up at a campsite right below a road. We had heard rumors of trail magic so we walked up to check it out. Nick at Nite's mom was there with some snacks, perfect. We chatted with her and 2 Peas in a Pod, a former thru hiker couple bopping around before heading to trail days. They let us poke our heads into their sit on top truck camper, a style of camper I have been dreaming about having one day.
The night was again chilly but the road wasn't too loud and the creek flowing next to our tent sounded lovely. The next day was a low energy day for me, I had a snotty head cold come on. We had 14 miles to cover but again, pretty easy in terms of elevation. Even with taking our time we made it to Partnership Shelter by about 5pm. We were HYPE because this shelter is close to a town and the visitor center next door has a landline from which you can call to order pizza delivery!
Of course we roped everyone in to putting down a big order of pizza. Our friend Oats was there as well as two really funny boys we've been crossing since the Smokies, Lumen and Bucket. Between the pizza, a good fire and some town goodies we had a late (1030) night with lots of laughs.
In the morning we took our time getting up, but still left the shelter at 9am, the same time we'd left every morning this week. We are Consistent. We only had 11 miles to get us to Atkins and, the pinnacle of the Ponies, Pizzas and Pacas week- Long Neck Lair, a hostel on an Alpaca farm !
The hike in to Atkins was lovely. First we were up on a ridge then we made our way down along a creek with little waterfalls, then we crossed through meadows full of buttercups and sweet smelling grass with fat bees buzzing around. We also passed the Settlers Museum and the old Schoolhouse where a local church leaves trail magic!
First up in town, as always, Food. Atkins is right on I-81 and has 2 restaurants, The Barn, open for breakfast; and El Burrito Loco, open for lunch and dinner and attached to one of the 2 gas stations. We went straight to El Burrito Loco and sclounced big plates of food. Then we grabbed some brewskis from the other gas station and walked up to the farm.
As soon as we walked up the driveway we saw the field full of Alpacas and free ranging chickens all over the yard.
Ken and Cindy greeted us, Ken produced a box of blueberries and we fed Sid the Rooster and his girlfriends. After getting settled in we took the best shower- another one with a bucket head!! (We are now firm believers that bucket showers are the best showers.) Then spent most of the evening (and all of this morning) lounging in the yard or on the porch, watching the Alpacas, chickens, and cats roam and lounge themselves.
The absolute highlight was getting up at 7am to go with Cindy to feed the Alpacas. She gave us grain and Special and I had them eating right out of our hands. We got to scratch some Alpaca butts and admire their goofy faces up close and personal. Such a treat.
Today our friends Tact and Crazy Cop are picking us up and taking us back to Damascus for Trail Days- the biggest hiker party on trail. So we won't be hiking again until at least Sunday. We are looking forward to the break and the chance to see folks we haven't seen for a while. It will be really hard to leave the Lair, though.
Affiliate Disclosure
This website contains affiliate links, which means The Trek may receive a percentage of any product or service you purchase using the links in the articles or advertisements. The buyer pays the same price as they would otherwise, and your purchase helps to support The Trek's ongoing goal to serve you quality backpacking advice and information. Thanks for your support!
To learn more, please visit the About This Site page.