Days 62-67
Day 62, 6/29/23
Holiday Inn to Black Rock Hut
20.7 miles, mile 885
I'm not sure if a 20-mile day after having food poisoning and carrying four days of food and two liters of water in our packs was wise, but we did it. I did puke on the side of the trail, but we don't have to worry about that. This morning we attempted to hitchhike for the first time outside the Holiday Inn and it did not go well. After about half an hour, no one had stopped even though I had my most charming smile on. I decided to call the hostel that we were at when we got the food poisoning and explained that we don't have a ride and have been trying to hitch and they sent over one of their shuttle drivers for us. It was super nice and very appreciated, I'm glad I called. We got hiking around 9:30 a.m. and got to the shelter around 8:30 p.m. The majority of the day felt so weird. It was like I wasn't in my body, but it was walking anyways. The hiking today was relatively uneventful with some decent views at the road. The wildfire smoke from Canada is pretty bad in VA and the views we did have were pretty obstructed with a heavy haze. We got some trail magic from two thru-hikers who are taking a little break for a bit and then hopping up to Harpers Ferry for the 4th. They gave us a small Gatorade and I had a peach and orange too. It was nice to share the miseries of the trail we have had with each other. Sadly, it seems there have been more miseries than happy memories, but I will continue to hike on. Tomorrow is a new day and hopefully I'll be feeling back to normal soon!
Day 63, 6/30/23
Black Rock Hut to Hightop Hut
21.4 miles, mile 906.4
I've walked 900 miles! Well 906.4 now, but it felt good to hit that milestone. I didn't sleep all that great last night in the shelter, but there are good tent sites at this one, so we set ours up. There is an adorable pup here named Athena. We still are not feeling great, but I didn't puke on the side of the trail today, so I'll take what I can get. We stopped in at a Wayside, which is a food place with burgers and salads and milkshakes. Kev and I both got a smash burger. They had gluten free buns! The vibes in the kitchen were immaculate; they were jamming to early 2000's music. I wasn't feeling too good, so I decided against a milkshake. There was a girl around my age and she was sitting in a booth with her Mom and Dad. She put her head on her Mom's shoulder and me being overtired almost started crying because I miss my Mom. Then an adorable mutt dog had its head out the window of a car and it was so cute I almost started crying again because I miss my dog. We continued on for the rest of the day and saw a deer but not much else. There are some section hikers here from the DC area that have a pretty good fire going, which is always enjoyable after a long day.
Day 64, 7/1/23
Hightop Hut to Rock Spring Hut
23.9 miles, mile 930.3
Whew, today was a long and hot one. I did not have the best time today but kept walking away. I'm still not feeling 100% and my stomach was hurting a bit. The coolest (and scariest) part of the day was having a bear about 15 feet away from us in the bushes. When it moved to run away from us, it looked like it was about to run at us, and I was not a fan of that. It bounded away the other direction though and we continued on. There were lots of deer along the trail today and they seem unphased by humans. We had some decent views today and it only rained on us briefly in the afternoon. The shelter was poppin but we were lucky enough to get the last two tent sites. I had a deer visitor right outside my tent as I was packing up my food. I'm hoping for good sleep after a long day.
Day 65, 7/2/23
Rock Spring Hut to Stealth Site
18 miles, mile 948.3
It was another very hot day in Shenandoah National Park. Since it is the weekend of the 4th, the park is very busy and the trail is full of people enjoying day hikes on the AT to viewpoints. I got to pet many dogs, which always makes my day a bit better. There was a family rock climbing on some cliffs along the trail and I talked with them for a bit. I was thinking today how a lot of people on their day hikes on the AT probably don't know what the trail is. This makes it interesting for them when two dirty people who smell absolutely horrible with backpacking packs on come moseying along. Sometimes we will talk to them and say we've walked to this point from Georgia. Early on in the day, we were walking along the trail and I heard rustling, and when I looked over, I saw a little snake wrestling with a salamander in its mouth. I stopped to watch for a bit before moving along. Then I saw another little snake not too long after. At some viewpoints there were soaring hawks below us in the valley, which I always love to see. Today was better than yesterday, but to be completely honest, I'm not having the best time out here, but I will walk on!
Day 66, 7/3/23
Stealth Site to Tom Floyd Shelter
20.9 miles, mile 969.2
We are done with the Shenandoah National Park section of the trail! It was another very hot day with some pop-up thunderstorms that soaked us completely. The morning started with a 4.5-mile hike to the last wayside of the park. We got there around 9:30 a.m. and I got my phone and battery bank plugged in in the bathroom outside because they wouldn't let me plug it in inside. We hung out with a bunch of other hikers we hadn't met before and waited for the grill to open at 11:00 a.m. I got a smash burger with a gluten free bun and a blackberry milkshake, which was delicious. My appetite seems to be coming back a bit after the food poisoning. Around noon, we realized we still had 16 miles to hike and got moving really quickly. We got to the shelter around 7:00 p.m., and I got set up at a very slanty tent site. The options here are not that great. Then I realized the walk to get water was 1/4 mile straight downhill, which is never fun after hiking almost 21 miles. After I finished eating, it started pouring rain and thunder was going in the distance. I think I'm a bit dehydrated and have quite the headache going, but tomorrow is a short day of 11 miles!
Day 67, 7/4/23
Tom Floyd Shelter to VA 55, Manassas Gap
11.1 miles, mile 980.3
Last night we had some thunderstorms come through, but thankfully it passed around 10:00 p.m. Today was a quick day to meet our Uncle Ryan, who picked us up at the gap. The hiking was uneventful besides the raspberry bushes the last three miles that we stopped to pick from and enjoy. We stopped at a Walgreens so I could get new headphones, sunscreen, and hand sanitizer. After that we made a pit stop at the gas station to get some drinks. I'm very excited for my tequila smash lime margaritas. Uncle Ryan made us jump in the pool before going in the house because of how bad we smell. He made sure to let us know that we still smelled awful after our swim. Our packs and sleeping bags are remaining in the garage, to say the least. The shower I took felt amazing and being able to shave my legs is a luxury. I opened my package from REI with my new trail runners. My Saucony's lasted 700 miles! I replaced them with a new color. Mom sent down a bunch of snacks and a three-day resupply for when we are done slackpacking with Uncle Ryan. We have a big 26-mile day tomorrow and then a zero planned for Thursday!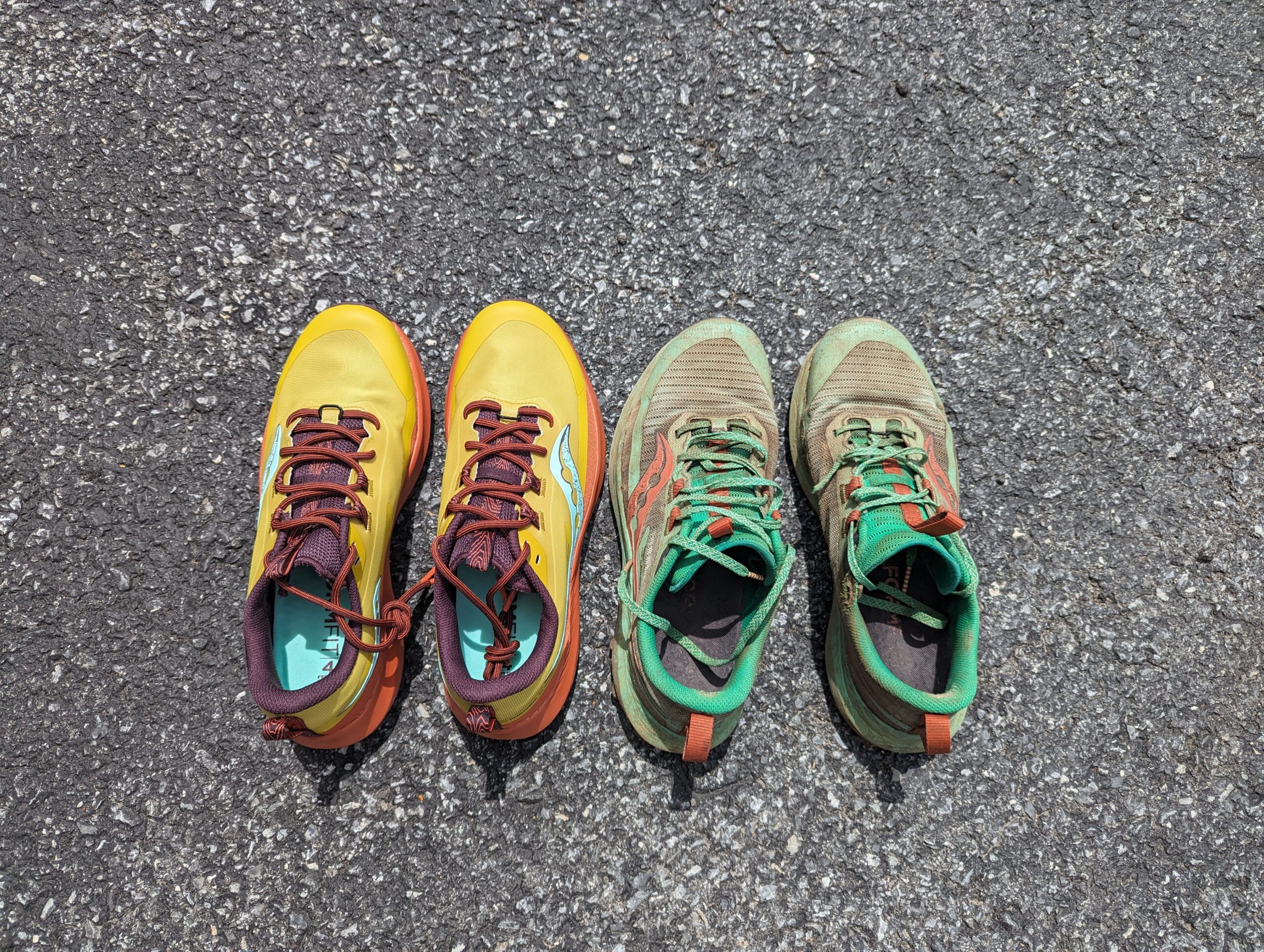 Affiliate Disclosure
This website contains affiliate links, which means The Trek may receive a percentage of any product or service you purchase using the links in the articles or advertisements. The buyer pays the same price as they would otherwise, and your purchase helps to support The Trek's ongoing goal to serve you quality backpacking advice and information. Thanks for your support!
To learn more, please visit the About This Site page.