Days 65-70 Atkins to Woods Hole
Getting back on to trail from Atkins was quite easy. All we had to do was walk through the gas station parking lot, under the Hwy 81 overpass and then bam, we were in a field and making it back towards the woods. Our first mile and a half took us through cow fields. We had to climb our first cow fence at the end of it!
Pinky was still not even close to 100% so we took a long break as soon as we found a comfy shady spot. We laid our ground cloth out and had a lie down. A teeny inch worm was making his way through the leaves and sticks next to us. We watched him for a very long time and while I went to get water Pinky had a debate with himself about the ethics of moving the inchworm onto a tree. His conclusions were ruined when I accidentally squashed the poor little buddy as soon as I returned with the water. I set the bag right on top of him!!! I was, and still am, devastated by my carelessness.
We eventually got ourselves together and started hiking again. For a few weeks we've been wanting to find an audiobook recording of The Lord of The Rings that we could listen to together. After much searching we found a playlist on Spotify with all 3 books! We put our headphones in and tuned in to chapter 1. It is the best audiobook we've ever heard and made hiking so much easier!
Since we were still getting our trail legs back on after 5 days off we did a short day, about 7 miles. Those 7 miles were still pretty exciting. We saw our first blooming groves of rhododendron and mountain Laurel..
And we hit the 1/4 way mark!
Our campsite was one of my favorites so far. We nestled our tent under some rhododendron, right next to a babbling stream. Listening to water while sleeping is one of my favorite things.
The next morning we felt refreshed and happy to be on trail. We took our time getting out of camp and chatted with everyone who stopped by to get water. One of the most interesting characters was 2. We wound up spending the whole week around him and learned quite a bit about him. He's in his 70's and an avid hiker, paddler and biker and has done some incredible trips. I'm unclear how many times he has hiked the AT but it's more than twice. For this trip he started on the Pinhoti trail in Alabama before connecting to the AT. He's also an absolute goofball and a pretty good chess player.
The days hike took us through more cow fields
and led us past not one but two trail magics! The first was from a woman who's husband had thru hiked in 1999. He died several years ago, she does trail magic on the anniversary every year. She and her friend had all kinds of snacks, drinks, first aid supplies and, my favorite, home made peach muffins. They were super sweet and fun to talk with, we hung out for an hour and a half.
Around the corner was a family from Georgia with drinks and peanut butter sandwiches. I took a sandwich for the road, we still had several miles to go.
First, we hit our first river fording! A bridge got washed out several years ago so we had to walk across ankle deep water. We changed into our camp shoes for the crossing. The cold water felt great on the feet and we stayed in for several extra minutes.
We had a big climb to do the next day up to Chestnut Knob. We wanted to camp part way up the climb so we didn't have to do the whole thing in the morning. Climbing up to the campsite was tough at the end of the day and we were happy when we made it. We were hearing rumors of a thunderstorm over night, and the sky looked threatening, so we battened down the hatches on the tent and prepared for a wet night.
We woke up dry but the air was thick with humidity. It made the already difficult climb even worse. We huffed and puffed our way up and finally made it to the top with relief. Luckily, the climb was pretty rewarding. We spent a while in open fields with great views
and ended at a big old stone cabin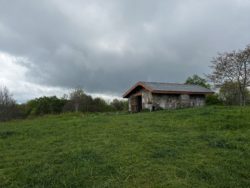 with a view down into Burke's Garden, a valley made by a limestone sinkhole.
We took a long brunch break before continuing on. The rest of that very hot day we spent up on the ridge, with no water, going up and down and up and down and over rocks and roots. It's one of those sections that looks chill on the elevation map but is in fact Not Chill. We took many breaks and relied heavily on Frodo and company to keep us entertained and motivated.
Finally we made it to the shelter. Just as we were finishing up dinner the promised rain made it's appearance. It rained, gently and steadily, all night and made for a lovely soundscape on the tin roof of the shelter.
We woke up early the next morning to a misty forest.  We wanted to get an early start so we could eat lunch at the Brushy Mountain Outpost. It was also going to be a Hot day and we wanted to get there before it got too bad.
For the first time ever we were the first people out of the shelter! Pinky was "silk blazing" (catching spider webs in the face) for the first few miles, until someone passed us. Other than a 45+ min long break at a river with 2, we pushed ourselves pretty hard and made it to the outpost by 12:30.
We were starving. Pinky ate the biggest bologna burger in the world. We split some very colorful ice cream.
I had the crunchiest BLT and a very satisfying corn dog. Plus we had fries. After all that food we settled down in the shade in the parking lot. Pinky took a nap and we didn't set out again until 4pm.
It was still really hot. And we had a mile road walk then a steep steep climb up to a shelter where the water was 0.3 mi down a very steep hill. The road walk and the climb were horrible and just about did us in. When we got to the shelter, however, we found that a local trail angel had just been up there and left 2 giant jugs of fresh water on the picnic table. He came back again later that night with a 3rd one. It was enough water for all 15 or so people who were there. He does this every day! Now that's trail magic!
It was only about 5:30 or so after we'd gotten our tent and everything set up. Pinky got in a game of chess with 2 – it had him sweating but Pinky still won! We had a fun evening with Lumen and Bucket and we met a new friend, Beans. She is sponsored by Bush's Beans, no joke. She has a can of beans at all times and has several bean themed items of clothing.
We once again got up very early the next morning. The trail would again take us near a store plus we had another 9 mile ridge walk with no water that we wanted to get out of the way before it was too hot. Along the ridge we hit 600 miles!
Getting into Trent's Grocery was a new PR for us. We got there around 3:30 after 16 miles! Pinky wanted to take a shower and do laundry. He had a pretty bad poison ivy rash that wasn't improving with just calamine lotion, he needed to start fresh. First we had to eat, this time he got a BLT and I got another corn dog.
Treebeard helped us out and let us borrow cash to pay for the shower and laundry. Pinky's wallet got lost at trail days (but was found! And waiting for us at Woods Hole!) and we didn't have any cash until we could get the wallet back. Thank goodness for helpful hiker friends!
The sky was super threatening again and we were waiting for a thunderstorm. We didn't leave Trent's until about 6pm. (Hanging there was super chill. The staff was so nice, one of them even used to live in Richmond near where Bryce grew up!) It never rained for more than 5 minutes while we were there, but the sky still looked spooky.
We had about 2 more miles to go to Dismal Falls, where we planned to camp. Along the way we noticed that the ground was pretty wet, so we figured it must have rained more up there. Later, we learned it had rained pretty hard for about 30-45 mins. We were quite pleased that we managed to miss that.
Lumen left the store before us and promised to save us a tent site. We walked through all the sites we passed but didn't see him till we were almost at the falls. He had found a perfect spot down a rock scramble, nestled between rhododendron, the rock face and the falls! We even had our own personal entrance to the falls- perfect for my pre-dinner skinny dip!
Since we'd just left the store Lumen and I had beers to go with dinner. We stayed up way past hiker midnight, till about 10:30! Talking and laughing with Beans and Lumen. The sky even cleared up enough for a few stars to come out.
In the morning it was misty and cool but the sun started peeking out by the time we left. We only had 13 miles to go to Woods Hole. The first several miles were lovely. We walked around and across streams under rhododendron groves. We passed a big pond and watched little fishes swim and listened to croaking frogs. We took a long break at the shelter and hyped ourselves up for our only climb up to the ridge Woods Hole is on.
The climb got us a bit in the end but we made it. We had Hot Hands take our photo on an overlook.
I was feeling very nostalgic all day because we were on the last section of trail I hiked on my LASH in 2018. Venus, Red Pill and I stayed at Wapiti shelter on my last night and took a break on that overlook in the morning. Mom, Wayne and Julia met us along the trail and had trail magic for us at the road crossing above Woods Hole. I still clearly remember walking along that ridge, appreciating the sun and the wind and feeling both the happiest and saddest I'd ever felt.
This time I felt much different. Making it 18 miles the day before made me feel like we were getting our mojo back. But this morning my throat hurt and I was starting to lose my voice. I was cranky and tired and just wanted to get to Woods Hole. I felt bad because we had gotten "off schedule" this week and I was worried about our ability to even complete our thru hike. I just felt yucky.
Rain started to fall in our last mile. It was a gentle rain and quite refreshing. I also finished listening to The Fellowship. I shed a few tears and then we were rounding the driveway to Woods Hole. As soon as we saw the cabin I felt so much better. We had made it!
For the first time we did not have a reservation at this hostel. We didn't know until the day before that we would in fact make it on this day so we rolled the dice, hoping there would be space when we arrived. We lucked out, they had a "safari tent" available – which was exactly where I wanted to stay. We got checked in and placed an order for the legendary bread, cheese and smoothie snack. Before we could make it back down to the house to claim it, they brought it up to our tent! So we got to snack on our personal porch with a view!
The rest of our stay at Woods Hole was just idyllic. It's a magical place. We rocked in rocking chairs on the porch and watched the goats and the pigs.
We ate amazing home made food. Many of the vegetables are grown on the property. I watched them pick the lettuce for our dinner.
We slept soundly in our cozy tent and watched the sun rise from our beds.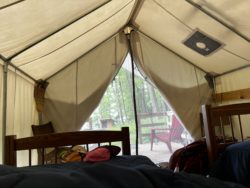 What a treat.
Affiliate Disclosure
This website contains affiliate links, which means The Trek may receive a percentage of any product or service you purchase using the links in the articles or advertisements. The buyer pays the same price as they would otherwise, and your purchase helps to support The Trek's ongoing goal to serve you quality backpacking advice and information. Thanks for your support!
To learn more, please visit the About This Site page.