Days 71-79 Woods Hole to Daleville
Leaving Woods Hole was so hard. Plus it was raining. We finally tore ourselves away, consoling ourselves that we only had 11 miles to do that day. Since we resupplied at Woods Hole the plan was to camp somewhere before Pearisburg but skip going into town the next day.
It rained steadily but gently for the first hour or two. The woods were misty and dark. The blooming rhododendron were muted and beautiful in an eerie way.
Around 2:30 or 3, the rain started picking up. We were up on a ridge and I hoped it would slow as we descended.. it did not. We were soaked to the bone by the time we stopped to fill up on water. Our plan was to fill up and then camp at the next stealth site we found. Except we didn't find a stealth site.
We made it to the Pearis Cemetery parking lot and decided it looked good enough. We set up the tent as quickly as we could in the pouring rain. It was not quick enough. When we went to go in we found the floor was covered in puddles. We don't have a towel and we were daunted by the idea of setting up in a soaked tent… So we decided to walk the mile into Pearisburg and get a hotel room!
We thought we looked pretty pitiful and expected to get a hitch easily but not one person even slowed down to take a second look at us!
I walked into the hotel office dripping wet and got us a room. We dropped our stuff and then walked around the corner to get DQ Blizzards and a pizza for dinner. Then we went back to our room, got dry, and ate dinner in bed. The satellite TV wouldn't work because of the storm so we listened to the first two chapters of The Two Towers until we fell asleep.
In the morning our clothes were still damp but putting them on in front of a heater was way better than putting them on in our chilly tent. After a quick stop at the Food Lion across the street, we set out for what looked like another wet day.
Once again nobody gave us a hitch. When we made it back to the parking lot we found more reason to feel justified in our choice to go to town for the night…. It was almost completely flooded!!!
We *did* choose our site well- we set up in the only non-flooded spot next to the sign! But we were glad we weren't out there in all that rain overnight.
Our damp shoes immediately got completely saturated when we crossed the mid-shin-high water… and they never got the chance to dry out again. The parking lot was only the first of several fords we had to do plus the trail itself was a river in many places. BUT it didn't rain! We just had to deal with residual wet from the day before.
On wet days we don't take long breaks so we usually set PRs for time or distance. This day was no exception. Including our road walk, we did a 20-mile day!! And we did it in 10.5 hours! Admittedly it was a chill 20 miles, we had an easy ridge walk. We still felt Very proud of ourselves.
In our last mile, we spotted several Ladyslippers! We still hadn't seen any for ourselves on the trail so we were really excited to see these.
For the first time, we had a shelter to ourselves that night. It was a good thing, too, because we both got sick that night. We barely slept and still felt bad in the morning. So we didn't get out of our beds until some other hikers showed up for lunch. Then we spent an hour deciding whether or not to leave.. we landed on leaving.
The 0.4-mile walk to the closest road was challenging. Miso was waiting there when we arrived. He was part of a group that was slack packing all week. We asked if we could potentially catch a ride with them. He said of course. However, he wasn't sure when the ride was coming or if there would even be space.. so plan A was hitching a ride.
Once again many cars went past without a second look. Before too long a nice man in a truck slowed down to talk to us. He said he was just going home to the next house but he could make a phone call for us (we had no service.) Pinky pulled up the number for a local shuttle service and the guy went off to call. He came back about 15 mins later and said a shuttle would be coming for us in about 30 mins!
While we waited more of the slack packers arrived. We found out that they were staying in a barn on the property of the shuttle driver, so two of them actually joined us for the ride back.
Once again we found ourselves in Pearisburg, checking back into a hotel. This time we did laundry and showered off all the mud from the day before. We also watched like 6 hours of The Office.
The next morning we got back into a HB shuttle, this time with Honeybun himself. Back again to the trail. We didn't get right on it, though. We had heard that there was a flooded-out section and that we should go around on the road. Since we didn't know if it was still flooded that morning we chose to just do the road walk to be safe. It was a surprisingly lovely road walk. We admired all the cute cabins and imagined living in them.
We started off feeling good but I barely made it to the shelter a few miles in. I felt the worst I have ever felt. It was horrible. Miraculously we made it there and I immediately laid down on the floor. I thought I just hadn't eaten enough in the morning and tried to get some food down. I had no appetite and partway through eating some Combos I threw up again.
Pinky and I were so mad. We couldn't make it one day without one of us being sick. I took some nausea medicine and laid back down. Eventually, I tried to eat. It stayed down, and after over an hour, we set out again.
Gradually I felt normal again. We decided on a short day, just about 12 miles because we knew it was going to storm again overnight and we wanted to snag a shelter space… and I didn't feel like hiking six more miles to the next one.
We got there around 3:30 so we had a long leisurely afternoon and an early bedtime. Not long after we all settled in for bed the rain started coming down. It rained hard almost all night.
We woke up around 5:30 and started a long, slow breakfast. It was pouring and we were not excited about the prospect of another soaking wet day. We kept shooting each other mournful looks and sighing. Around 8 we finally had ourselves packed up and ready to set off. The rain had slowed and we felt encouraged.
Not even an hour after we started hiking we started noticing the sun peeking through the clouds and the rain completely stopped. Our spirits brightened considerably. What followed was one of the most dramatically beautiful weather days we've had yet.
We had a few scary water crossings.
The trail took us through big open cow fields where we got to appreciate the big fluffy clouds and feel the sun on our skin after a dark wet week.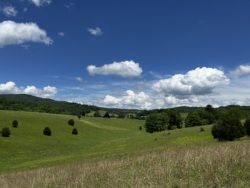 In the mid-afternoon, we took a break under the branches of the Keffer Oak, the oldest tree on the southern AT- over 300 years old! It's huge!
We climbed back up on the ridge and felt the wind pick up, blowing dark clouds overhead. A quick thunderstorm blew over us and got us wet again. This time, though, I enjoyed getting soaked. I love a summer thunderstorm! It was powerful and exciting to be in the midst of it.
As the thunderstorm cleared we found ourselves on an exposed rocky ridge with open views of the cloudy valley below. We spent a long while watching the clouds flow around the mountains.
We climbed down and arrived at the shelter. We took the easy route and snagged 2 spots inside. We were later arriving and didn't get completely settled till just after dark.
We got up early again the next morning, excited about the prospect of a dry day, climbing Dragons Tooth, and meeting our friend Madison at Four Pines. The hike started with a wet water crossing, no dry shoes for us.
We made our way pretty quickly through the first 9 miles and rewarded ourselves with a long break in a shady clearing. It was nice to take the shoes and socks off and get some sun on the toes. Most exciting, a little bumble bee landed on me and licked my hand for about 5 minutes!
The climb up to Dragons Tooth was long and difficult. Along the way, we hit 700 miles!
We were so glad when we made it to the Tooth.
Little did we know the climb down would be the longest and most difficult 2.5 miles we've done yet. We had to jump down huge rocks and scramble across steep, slippery rock faces. I fell down one of the steepest ones, bouncing on my butt twice. Now I have a very big, very colorful bruise on my right buttcheek.
Finally, we made it to the road and turned towards Four Pines where Madison was waiting. Seeing his smiling face and getting huge Madison hugs significantly lifted our spirits.
Four Pines is probably the most laid-back hostel we've visited so far. It's donation-based and located in a giant garage behind the owner's house. It's a do-it-yourself kind of place with bunks and sofas in the garage plus ample camping in the grassy yard surrounding the garage.
There are free-roaming chickens, turkeys, TWO talkative roosters, three dogs, and at least one extremely friendly cat. We did not shower or do laundry. We did take a ride to the store around the corner to get the second-best burgers we've had on trail, fries, wings, and beer. Then we spent a lovely evening with Madison under a starry, moonless sky.
The next morning was our most leisurely yet. We only planned to hike six miles to the McAfee parking lot where my college friend Zoe would pick us up. Madison didn't sleep well the night before so he decided not to hike with us. He did spend the morning with us. We lazed about in the grass and enjoyed testing out his fancy camp chair.
Around 11:30, we finally set out to hike our 6 miles. We got another cow field and a good climb up onto another ridge.
The ridge was fun and ended with a cool rocky overlook. We spent a little too long enjoying the shade and the view and Zoe beat us to the parking lot.
We shoved our stinky selves and our stinky packs in Zoe's tiny little car and they whisked us away to a few nights at Gramma's with several of my college friends. We spent a lovely quiet evening together (I wasn't the only one ready for bed at nine p.m.!)
To avoid hiking McAfee's Knob with the masses on Memorial Day we decided to zero at Gramma's on Monday. It was a great choice. We ate a ton of food, we got in a Wal-Mart resupply (and someone wound up with a 20lb bag of food! TBD how much comes out on trail tomorrow…) and we got to spend all afternoon hanging in Gramma's pool with Wonton, Zoe and Zoe's very fun cousins!
Refreshed by our pool day we set out this morning to slack pack 19 miles over McAfee's and Tinker Cliffs. I last did this section in January as a two-night shakedown hike with my friend Rachel. We ended it in a blizzard! I spent the whole snowy day thinking about how the next time I was there it would be on this thru hike. I wondered what it would feel like, if it would be easier or harder.
Primarily because I was not carrying my whole pack the hike was significantly easier. My trail legs might have helped too, but I think Tinker Cliffs would have kicked my butt more if I had 35 lbs on my back instead of 6.
Choosing to be on McAfee today was definitely the right choice. It was just us and a handful of other hikers. We sat for a long time and appreciated the view.
We also reflected on Grandmaster, the thru-hiker who died after falling from one of the ledges this weekend. We did not know him personally but feel the community's loss. Our thoughts are with his family and tramily.
Tinker Cliffs might have an even better view than McAfee's. We had another great break up there.
The rest of the hike was largely uneventful. We got some great views down into Carvins Cove towards the end.
We made it to Daleville before seven p.m., when Zoe would meet us. It was a hot hot day and I'd been dreaming of a cold drink for hours. We got a big bottle of water and a Vanilla Coke from the gas station while we waited. The cold drinks were extremely satisfying. When Zoe got there we easily convinced them to take us to Cook Out for dinner.
It's been such a treat to spend a few days with friends and get spoiled with the amenities of Gramma's house. I feel 200% better than I did this time last week when I was full of doubt. It's amazing what a change in weather, the love of friends, and finally feeling well have done for us.
Affiliate Disclosure
This website contains affiliate links, which means The Trek may receive a percentage of any product or service you purchase using the links in the articles or advertisements. The buyer pays the same price as they would otherwise, and your purchase helps to support The Trek's ongoing goal to serve you quality backpacking advice and information. Thanks for your support!
To learn more, please visit the About This Site page.