Days with Mike
Day 58
At breakfast I happily ate hard-boiled eggs and GF bread from a local bakery. Mike's dad Mark is a psychiatrist for the VA. We chatted while Mike did Tai Chi in the back yard. Then it was time to finish packing. Mike drove and I sat up front, seeing Daleville go by as well as forested terrain that I had likely hiked. We reached the trail at noon, said goodbye to Mark, and set off.
I checked in with Hobble-It and Dinglebeary. They spent last night in Glasgow at the hiker shelter. Dinglebeary is taking a zero today. Hobble-It had trouble resupplying so she is pushing hard to Waynesboro and I doubt we'll catch up.
The trail climbed from James River, though it went quickly as Mike and I chatted the entire time. We took a lunch break when the trail flattened at Little Rocky Row. There was intermittent light rain so we kept our pack covers on. Mike grew up on the east coast, but hasn't hiked the area in many years. Mist drifted through the spaces amongst green leafy trees. A multitude of blooming Mountain Laurel bushes crowded the trail.
We stopped at Punchbowl shelter. Engineer, now Skivvies, was there and I introduced Mike. Skivvies was trying to arrange a shuttle to Lexington, but low on phone battery. I loaned him a battery pack while we filtered water. Mike opened a bag of sweet potato chips to share while I shared brownie bite balls. Then we hiked another mile or so and found a great camping spot amongst trees.
Twilight fell as we ate dinner. It was silent with no breeze or bird calls. A lone firefly flew through the air. For dessert, Mike shared soft GF cookies. We joked about how he is competing with my sister Nessie for the title of master snack provider. Since Mike had too much food for his large bear canister he did a proper hang while I found a good tree for my Ursack. Then we climbed into our cozy tents.
Day 59
The forecast called for rain overnight, but I woke to find my tent perfectly dry. As we ate breakfast Skivvies passed by and praised our campsite. Once on trail it took only a mile of walking to reach the 800 mile marker. Yay, eight is my favorite number! We took a fun suspension bridge over Pedlar River and stopped for water. Mike found two tiny deer ticks on his legs so we used my Picaridin spray on our exposed arms and legs.
A campsite next to Brown Mountain creek became our lunch spot. Mike surprised me with a tasty Balsamic cheese and I happily accepted several slices. Signs told us that the area used to be home to a community of freed slaves. We saw a freestanding rock chimney and the remains of rock walls. We also encountered two eastern red-spotted newts and a turtle.
Our big climb of the day was up to Bald Knob. Then we ran into Serendipity, who was near the end of a south-bound 25 mile slack pack. I was glad Mike got to meet her. We dipped into a gap then ascended Cole Mountain, a bald that offered views of distant blue mountains. We got a sunny, light rain that quickly dissipated. There was another newt on the next descent. Wow, three in one day!
At Hog Camp Gap we took a long blue-blazed trail to a crystal clear, delicious spring. Then we pushed on a couple more miles, hoping for a ridge campsite but making do with one beside a road. Goofy and his dad passed our tents; I petted the adorable dog. His dad expected me to be farther ahead. It is the ebb and flow of the trail with differing resupply points and rest days. We did tick checks before bed and Mike found one on his thigh.
Day 60
When I woke I was still tired plus congested. I am definitely ready for my cold symptoms to be entirely gone. I had a cup of hot cocoa with breakfast and got an energy boost. Mike and I wore pants for better tick protection. The morning's terrain rolled gently up and down through sun-dappled woods. A cool breeze made the temperature perfect.
We spent our lunch break at Spy Rock, a huge rock slightly off trail. The top offered a 360 degree vista and had two depressions filled with shallow water. One had many tadpoles and the other had two mating frogs near a mass of eggs that looked like intestines. We ate in the shade on a slab of rock, finishing off the cheese and baby carrots.
It was a short ascent to the Priest massif and its corresponding shelter. We got water then began the 3,000 ft. descent to Tye River. Due to my training injury, steeply graded descents bother my left knee. I wore the knee sleeve I picked up in Roanoke and it provided great support. Two thirds of the way down we stopped at Cripple Creek for more water and a snack break.
After crossing the suspension bridge over the river, we decided to camp rather than push on. It was a lovely wooded spot full of rushing river noise. We ate dinner beside the fire ring and watched a lone lightning bug shine on and off. Mike surprised me with GF sandwich cookies for dessert. As twilight descended more lightning bugs appeared amongst the trees. We talked about childhood dreams of space exploration.
Day 61
I awoke rested and peeked outside to see Forest cowboy camped near my Ursack. He was still sleeping when we set off. Mike and I climbed Three Ridges and I could see where it got its name. Each ridge prior to the top provided a pleasant respite from the climb. We leap-frogged with Goofy and his dad. Goofy wanted to be out front, moving easily despite his orange backpack. We took a snack break on top. I got sad news that High Route is leaving the trail. I will miss hiking with him, but am glad we got to adventure together.
We swung by Maupin Field shelter to get water from its spring. It was empty and I commented to Mike how I used to always see other hikers at shelters mid-day. Of course, then several people did show up including Goofy, his dad, and Dinglebeary walking up the May-Har trail. I introduced Mike and we caught up. Dinglebeary planned to meet his girlfriend later that afternoon. He is going to zero with her for a day or two.
The trail crossed the BRP three times in the next five miles. The second crossing overlooked Three Ridges mountain and I enjoyed seeing what we had hiked. There was also a trash can and we happily dumped trash. Dinglebeary was eating lunch at a picnic table, having passed by when we stopped for lunch earlier.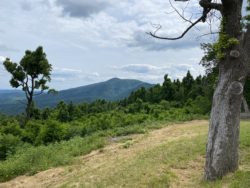 Shortly after Dripping Rock parking area, we heard a noise in the woods to our left. It was a young adult black bear with gangly legs. I watched it for a minute before it disappeared into the woods. Yay, I like seeing bears! We were running out of camping terrain and set up our tents at the next spot we came across. Mike surprised me with another epic dessert, Creme Brûlée! I first had it on our South Dakota trip last summer when Nessie brought a package. We did better measuring the water that time, but it was still delicious.
Day 62
My rain fly was damp, not wet, from a light rain overnight and into the morning. It continued in spurts while we took down camp then was done for the day. The trail took us up Humpback Mountain which featured vistas and beautiful pink mountain laurel bushes. After that it was mostly downhill. We came across two red-spotted newts, usually they are chill but one scurried away when I went for a picture.
We stopped at Paul C. Wolfe shelter for lunch. There was a nice older guy who was on his first solo overnight backpacking trip. I think backpacking is awesome at any age! We listened to his plans and encouraged him.
At Rockfish Gap we found a closed visitor center but an open popcorn food truck. A lady taking a zero day had been doing trail magic earlier and offered us snacks such as chips, bananas, and rice krispy treats. Yay, I wanted Mike to experience trail magic! Mike bought us popcorn and we snacked on it. Then his parents arrived and I said goodbye after hugs and pictures. His dad said I am a treasured guest and always welcome in their home.
Onward goes the trail… I set off, happy to be hiking but missing Mike's company. I put on my audiobook and soon entered Shenandoah National Park. A large rock made for a perfect popcorn snack break and I encountered multiple deer. Seven miles hiking brought me to Calf Mountain shelter. Yay, Serendipity was there! We made plans to hike out together and I checked in with the rest of the trail family. It started raining right after I set up my tent. I didn't mind; I wanted to sleep.
Affiliate Disclosure
This website contains affiliate links, which means The Trek may receive a percentage of any product or service you purchase using the links in the articles or advertisements. The buyer pays the same price as they would otherwise, and your purchase helps to support The Trek's ongoing goal to serve you quality backpacking advice and information. Thanks for your support!
To learn more, please visit the About This Site page.