A Tough Decision. I'm Not Taking My Dog
Or should I take her?
The months leading up to a thru-hike are filled with decision after decision.  Deciding on this gear and that gear, where to start, when to start, logistics post-hike, food to take, to resupply or not resupply, and really for me, the first and most important decision I've made (and some days am still going back and forth on) was whether or not I'm going to take my beloved furry companion, Lola.  (A five-year-old Norwegian Elkhound.)
I'm not a research junkie, so it was alarming how much time I spent poring over articles about thru-hiking with a dog.  Like most choices, one can take in all the research there is to be had, and still the choices have to be individualized and deliberate.  I already have a fair amount of experience backpacking with and without her; I've had her on-trail with my partner, I've had her on trail alone, and I've been on trail without her.  So with my research, my past experiences, and my gut instincts to guide me, here is my personal pro/con list:
Pros of Bringing Her
She's an outdoor and adventure connoisseur, she's built for intense exercise in the cold, and she would have the time of her life out there.
I've found that certain moments have been more fulfilling as a result of having her there to share them with.

Her scent is the best bear protection there is.

Warm and snuggly.

Cute.

Just companionship in general.
She is my protector in every way and is not cool with letting weirdos near me at all.

Cons of Bringing Her
I'm on a budget and can barely afford to get myself out there, let alone plan into the budget certain vaccines for her, more legit gear for her, plus expensive good food for her that would be crucial to our success.

I'm flip-flopping, which means once I finish Maine, I will have to fly back to WV, and I am exactly zero percent comfortable with putting Lola on an airplane.

More than likely, if her needs were my priority (which they should and would be), we would still be hiking way, way into December, which is something I would like to avoid.
She gets too hot in the summer.

I have very much enjoyed aspects of being totally alone on trail.
I usually end up keeping her on the leash more than I use my trekking poles when I have her with me, to the displeasure of my knees.
Once again, she's a protector, so she barks at every stranger who approaches me until they can be trusted (which usually only takes one sniff, so is this actually a con? Maybe not, but nice strangers probably don't appreciate this wolfy-looking dog in protector mode.).
Grocery shopping, post office going, and the occasional hotel, hostel, or all you can eat buffet would be much harder being just me in charge of her care (remember, I'm flip-flopping and the odds aren't necessarily in my favor when it comes to the likelihood of finding a trusted trail family).

Ultimately, I believe most of the cons would work themselves out if I truly put my mind to it, but the thing I keep coming back to is flying with her.  I have read too many horror stories and just don't feel comfortable at all.  (If you have positive experiences with flying with your dog, I would love to hear those.)
So my decision is to start without her.  I'll be starting at the Mason-Dixon Line and heading north to Katahdin during the hottest months of the year (June to September). I'm nervous about the New England states anyway, so it's just a whole bunch of "no, don't bring her" in my book.  This part of the plan is not subject to change.
But the part of the plan I'm keeping open is maybe having her join me for the SOBO part of my trek from Harpers Ferry to Springer Mountain.  
We live in WV, so it seems perfect that Burt (my boyfriend and doggy-daddy) could meet me after my flight and Lola could hike through the "easier" states with me in weather she was built for (September to December). A few caveats to the plan are the facts that I will have to depend on Burt to keep getting her into shape during the first months of my hike, I would have to skip the Smokies because dogs aren't allowed in the Smokies, and I don't feel cool with boarding her, I would have to switch to a tent because I'm hammocking it, and I would still need to spend a whole bunch of money (that may or may not be available by that time) to get her better gear and food.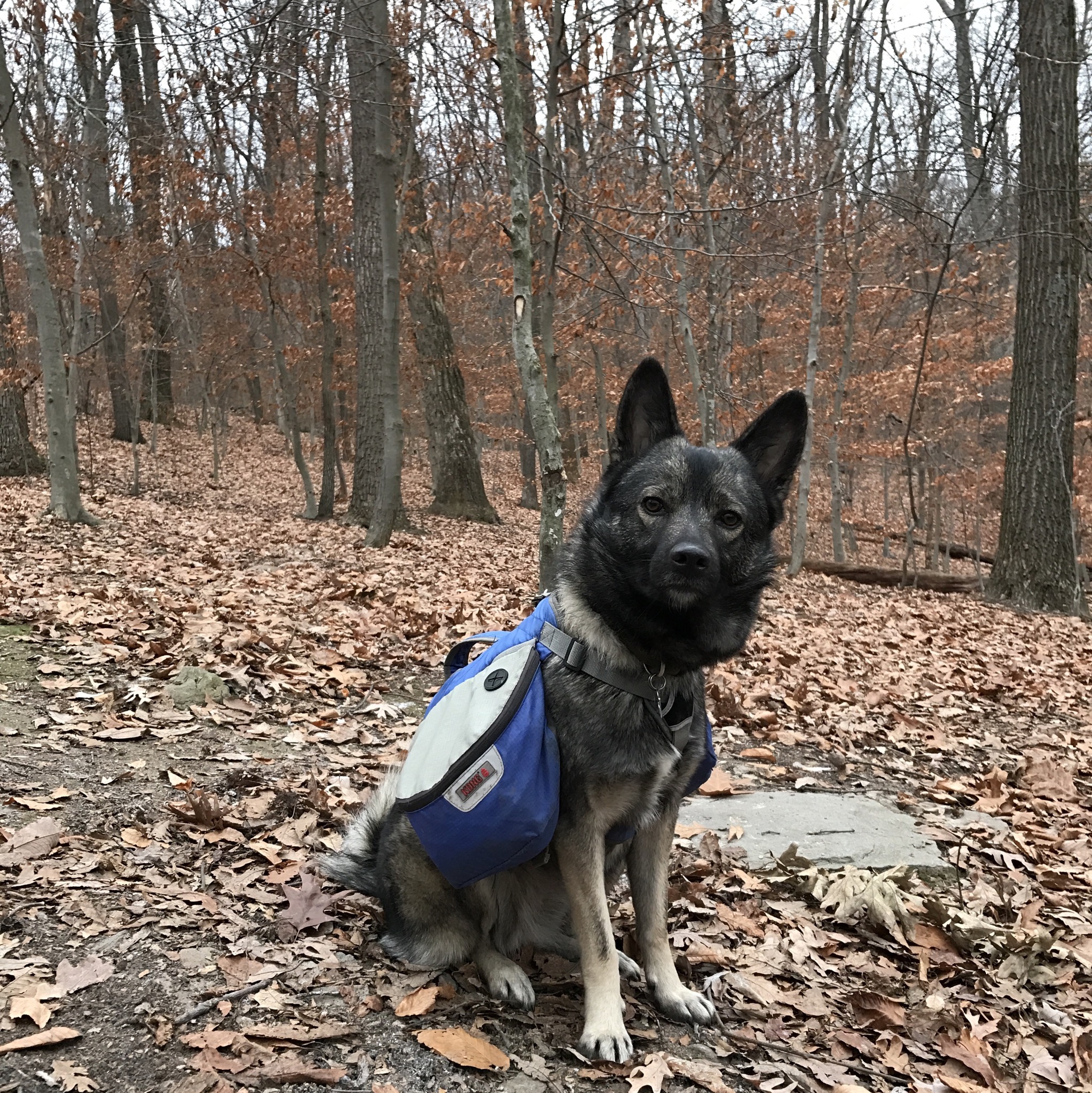 To Review
I'm not taking her NOBO from PA to ME.

I'm open to the idea of taking her SOBO from WV to GA, depending on many factors, including budget, and timing mostly.
I think it is equally important both that I go into this totally alone for my personal growth, and that I share the experience with her because she deserves a life full of adventure.  Maybe I could create a reality that is the best of both worlds?
Maybe I'm over-thinking it?
Affiliate Disclosure
This website contains affiliate links, which means The Trek may receive a percentage of any product or service you purchase using the links in the articles or advertisements. The buyer pays the same price as they would otherwise, and your purchase helps to support The Trek's ongoing goal to serve you quality backpacking advice and information. Thanks for your support!
To learn more, please visit the About This Site page.